The End of Mad Men and the Rise of Women
None of the women of Mad Men end up where they wanted to be. But they struggled, and they did rise.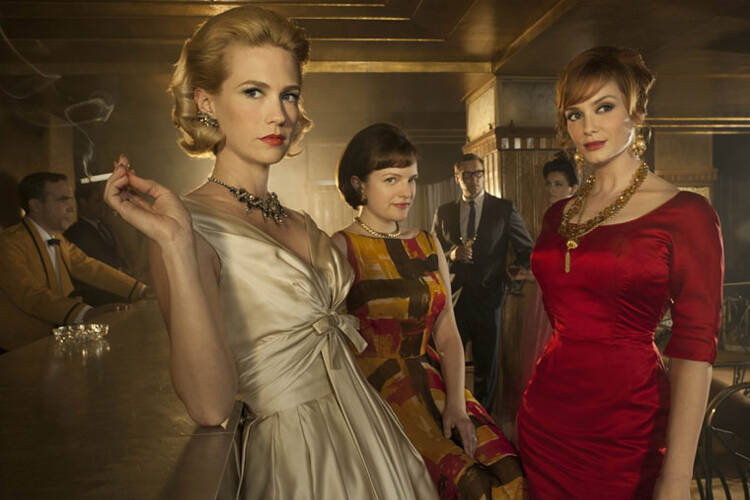 [SPOIL­ER ALERT: This recap con­tains major spoil­ers for the series finale.]
As far as I'm concerned, Mad Men could have ended on the shot of Betty climbing that impossibly high set of stairs. It's all there, in that shot: The man falls. The woman rises. That was the story, and this is how it ends.
Mad Men as a series is built around deny­ing us tra­di­tion­al nar­ra­tive sat­is­fac­tion. There are no blind­ing rev­e­la­tions, no dras­tic changes, no big, hero­ic moments. Its char­ac­ters just live.
But how does a series that's entire­ly about the lit­tle moments in life, and the slow accu­mu­la­tion of time, come to a sat­is­fy­ing end? Life doesn't end with a big, sat­is­fy­ing moral wrap-up for the audi­ence. TV shows do. I feel unsat­is­fied by Mad Men's wrap-ups for its female char­ac­ters, while also know­ing that much of it is per­fect­ly in keep­ing with what was great about the series. The char­ac­ters I root­ed for don't get big pay-offs. They get lives, defined by the choic­es they've made — lives that, with one or two big excep­tions, will go on.
Mad Men was per­haps the most sat­is­fy­ing fem­i­nist dra­ma on tele­vi­sion— beau­ti­ful­ly done, mad­den­ing­ly real­is­tic and only occa­sion­al­ly preachy. It became clear, quick­ly, that the male char­ac­ters were not the point of the show. Don the self-destruc­tive shys­ter, Roger the 20th-cen­tu­ry Caligu­la, Pete the blue-blood weasel: Sure, those guys were inter­est­ing. Fre­quent­ly enter­tain­ing. Pete alone was a non-stop whirl of weird dances and use­ful .GIFs.
But the female char­ac­ters had real things at stake. Every major female char­ac­ter — Peg­gy, Joan, Bet­ty — start­ed off in a sce­nario where­in suc­cess or lib­er­a­tion felt impos­si­ble. What we knew, and they didn't, was that the play­ing field was about to change; that the ​'60s would see a rad­i­cal re-envi­sion­ing of how sex, gen­der (and race, not that Mad Men was ever bril­liant on that front) were treat­ed. The end­less­ly ana­lyzed cred­its showed a man falling. What fem­i­nist view­ers believed was that the women would rise.
Well, it's over now. And nobody blew up the patri­archy. Instead of, as Joan put it, ​"burn­ing this place down," they each get incre­men­tal wins, which are invari­ably the pre­cise oppo­site of what they thought they want­ed. They all wind up about two inch­es away from their per­son­al start­ing lines and fac­ing in the wrong direc­tion. But we know them bet­ter now, and we can appre­ci­ate the work they put in to gain even a few inch­es of ter­ri­to­ry in a hos­tile world.
So let's try, for just one moment, to remem­ber who we thought these char­ac­ters were: Peg­gy, the los­er; Joan, the sex­pot; Bet­ty, the victim.
Peg­gy is the char­ac­ter it's been eas­i­est to root for, in part because she became an avatar for the career ambi­tions and fem­i­nist pol­i­tics of cur­rent-day view­ers. Watch­ing her do her strut down the hall­way of McCann Erick­son — sun­glass­es on, octo­pus porn under her arm, giv­ing no fucks what­so­ev­er — feels like watch­ing our­selves. A cool­er, smarter self, maybe. But we can ide­al­ize and emu­late Peg­gy now, the way male view­ers often used to ide­al­ize Don or Roger.
Yet when this show first aired, peo­ple often dis­liked Peg­gy. I knew sev­er­al view­ers (most­ly men, grant­ed) who con­sid­ered her bor­ing, or ​"mousy," or self-right­eous; in the face of the glo­ri­ous, shame­less deca­dence of the oth­er char­ac­ters, Peg­gy was the sour­puss who yelled about find­ing vom­it in the office trash can after a par­ty. And, grant­ed, it was hard to find a character's roman­tic plot line com­pelling when it most­ly revolved around awk­ward, regret­table couch sex with Pete Camp­bell. She wasn't sexy or fun. She was just smart. It didn't much endear her to viewers.
Yet we know Peg­gy now. We know that the lim­it­ed tol­er­ance for bull­shit she exhib­it­ed when yelling about puke-trash­cans ("I'm from Bay Ridge; peo­ple have man­ners") would also make her tough enough to suc­ceed in a male-dom­i­nat­ed pro­fes­sion. She's earned our respect. I don't think it's a stretch to say that most view­ers expect­ed she would earn that respect from the world: That she would become the cre­ative direc­tor of Ster­ling Coop­er, the Don Drap­er for the next gen­er­a­tion, the show's big suc­cess story.
Which brings us to Joan. Poor, poor Joan, who (and now it's time for my own embar­rass­ing admis­sion) was the char­ac­ter I ​"hat­ed" back in Sea­son 1. Joan was Peggy's adver­sary in those days: She was the woman who drank the patri­ar­chal Kool-Aid, and who imbibed of it so deeply that she not only struc­tured her own behav­ior around appeal­ing to men (hus­band-hunt­ing, boss-romanc­ing; at one point, this woman bent over and pre­sent­ed her­self like a baboon sim­ply because she knew men were watch­ing her through two-way glass) but would pun­ish and mock oth­er women for fail­ing to do the same. She told Peg­gy to lose weight if she want­ed to keep her job. She turned up her nose at Peggy's desire to be a copy­writer. When Peg­gy report­ed being sex­u­al­ly harassed, Joan told her to suck it up, because she wasn't pret­ty, and should be grate­ful for the attention.
I bring all this up because Joan, by this point, has been sub­ject­ed to more sex­u­al harass­ment and cru­el­ty than any oth­er char­ac­ter on the show. She is a rape sur­vivor. She was mar­ried to her rapist. She was made to sleep with the loath­some Herb from Jaguar to get a part­ner­ship. At one point, it seemed as if Joan's suf­fer­ing was meant to ​"human­ize" her; soon enough, it start­ed to seem like a way to pun­ish her, as if the char­ac­ter had to be put through an unend­ing gaunt­let of humil­i­a­tion and exploita­tion in order to pay for the crime of being sex­u­al­ly attractive.
Last week, it seemed as if her final pay-off would be her biggest humil­i­a­tion, with her tran­si­tion to McCann-Erick­son more or less mak­ing her part­ner­ship irrel­e­vant, and the lev­els of sex­u­al harass­ment she expe­ri­enced spik­ing off the charts. Once again, Joan was expect­ed to sleep with her male col­leagues to get by. This time, she invoked the name of Bet­ty Friedan and quit.
But here's the thing: Did you real­ly expect Joan, of all peo­ple, to be the woman who threat­ened to call NOW into the office? Did you expect Peg­gy to end the series dream­i­ly wrapped in the arms of her one true love — who hap­pens to be the show's pri­ma­ry male sex object? (Sor­ry, Jon Hamm. You're a very hand­some guy and all, but in the world of straight women watch­ing Mad Men, ​"Stan Riz­zo grew a beard" was the sex­u­al equiv­a­lent of the god­damn moon landing.)
The char­ac­ters' pay­offs are the exact inverse of what they thought they want­ed. Joan, the woman who start­ed out with the goal of land­ing a rich hus­band, winds up hav­ing to kick yet anoth­er los­er boyfriend to the curb (good news—this loser's on cocaine!) in order to start her own busi­ness. Peg­gy, the woman we've been root­ing for as a cre­ative force and a pro­fes­sion­al, gets a per­fect boyfriend and the promise that she might ​"be a cre­ative direc­tor by 1980."
As a way to show how much each woman has grown over the past decade, it's bril­liant. As real­ism, it's bril­liant: The odds that Joan could find a man who was com­fort­able dat­ing a sin­gle-moth­er-slash-CEO in 1971 were always going to be low, and so were the odds of Peg­gy some­how shoot­ing from mid-lev­el copy­writer to world's great­est cre­ative direc­tor with­in the space of an episode.
Yet, as a fan, it's hard not to feel cheat­ed. Can Joan only embrace her com­pe­tence by giv­ing up her sex life? Does Peggy's rom-com end­ing, sweet though it might be, erase the fact that she's going to be stuck work­ing in a sex­ist office, under peo­ple who know less about the job than she does, for at least 10 more years?
The big clue here — and the rea­son I'm find­ing my peace with both of those end­ings — is Bet­ty Hof­s­tadt Drap­er Fran­cis. I have a huge, admit­ted­ly strange soft spot for Bet­ty: raised to be as dec­o­ra­tive and use­less as a house­plant, trapped in a ​"per­fect" mar­riage with a man who bare­ly noticed her, oblig­ed to have chil­dren that she had no idea how to raise and whom she seemed to despise, Bet­ty was warped and strange and awful because she'd nev­er been taught how to be any­thing else. She was exact­ly what a woman was sup­posed to be, and it was hor­ri­fy­ing. I cared about her, not because she was a par­tic­u­lar­ly good or kind or intel­li­gent woman, but because she deserved the chance to real­ize how good, kind and intel­li­gent she could be.
Betty's end­ing was as beau­ti­ful as I could imag­ine for her. It was also the cru­elest end­ing Mad Men gave to any of its major characters.
Bet­ty learned to be a grown-up — or, at least, an 18-year-old — by going back to col­lege and study­ing to be a psy­chol­o­gist. And she did this just in time to die. As we leave her, she has stage four lung can­cer and six months to live. Her class­es are use­less; her ambi­tions are use­less. Her attempt to be a bet­ter per­son is use­less. Her life has been wast­ed, and now it's over, and she will die as the same Bet­ty she's always been — the Bet­ty who nev­er actu­al­ly lived at all.
She learns this. She accepts this. And then she goes back to school.
As far as I'm con­cerned. Mad Men could have end­ed on the shot of Bet­ty — warped, strange, sad Bet­ty, the show's biggest casu­al­ty of the pre-fem­i­nist era — return­ing to her class­es, gasp­ing for breath as she climbs that impos­si­bly high set of stairs. I don't real­ly care if Don Drap­er found inner peace or just an idea for a Coke ad. I don't need to know what Pete Camp­bell did with his office cac­tus. It's all there, in that shot: The man falls. The woman ris­es. That was the sto­ry, and this is how it ends.
The stairs don't go any­where for Bet­ty, it turns out. She nev­er gets to the top. She nev­er gets what she wants — that bet­ter life, that real­ized, lib­er­at­ed per­son she ought to be. We nev­er find out if Peg­gy gets the cre­ative direc­tor­ship; we nev­er know if Joan gets a life where she can be val­ued as both a sex­u­al per­son and as a com­pe­tent pro­fes­sion­al, with­out one hav­ing to can­cel the oth­er out. Their stairs don't go that far up, either. Sex­ism shift­ed in the ​'60s, but it didn't shat­ter. If you'll recall, it's still around — and is still going strong, which is why many women watched Mad Men.
But they keep climb­ing. Bet­ty, Joan, Peg­gy: We leave them climb­ing. Because that's what you do. Because you are defined not by how far you get, but by the fact that you fought to get some­where. And if even Bet­ty Drap­er can learn that much, I think Joan and Peg­gy (and you and I) can fig­ure it out.
These sto­ries weren't impor­tant because of where those women wound up. They didn't change the cul­ture or mat­ter so deeply to so many peo­ple because we were guar­an­teed a good, kind end­ing or a reward for their strug­gles. They were impor­tant because of the strug­gles. They mat­tered because they showed us women in the act of rising.