In 1381, for the first and only time, the dread­ed Tow­er of Lon­don was cap­tured from the King of Eng­land. The forces that seized it did not belong to a for­eign pow­er; nor were they rebel­lious work­ers — they were peas­ants who went on to behead the Lord Chan­cel­lor and the Arch­bish­op of Can­ter­bury who were, after the king, the country's lead­ing fig­ures. A tad more recent­ly, in the U.S. pres­i­den­tial elec­tion of 1892 a rad­i­cal pop­ulist move­ment cam­paigned for wealth redis­tri­b­u­tion and pro­found eco­nom­ic reform. The pop­ulists won five states. All of them were rural.
Descent from such rebels is typ­i­cal­ly claimed by unions and groups on the polit­i­cal left; but, over the long run of his­to­ry, the most effec­tive oppo­nents of exces­sive wealth and priv­i­lege have not nor­mal­ly been city dwellers, work­ers or unions. Instead, they have usu­al­ly been those with close links to food and the land, what we would now iden­ti­fy as the food movement.
Even today, in more than a few coun­tries, food is the orga­niz­ing prin­ci­ple behind the main chal­lengers of exist­ing pow­er struc­tures. In El Sal­vador, the Nation­al Coor­di­na­tor of its Organ­ic Agri­cul­ture Move­ment is Miguel Ramirez who recent­ly explained:
We say that every square meter of land that is worked with agro-ecol­o­gy is a lib­er­at­ed square meter. We see it as a tool to trans­form farm­ers' social and eco­nom­ic con­di­tions. We see it as a tool of lib­er­a­tion from the unsus­tain­able cap­i­tal­ist agri­cul­tur­al mod­el that oppress­es farm­ers.
The Sal­vado­ran Organ­ic Agri­cul­ture Move­ment wants much more than improved farm­ing. It is seek­ing enhanced polit­i­cal rights, long-term eco­log­i­cal sus­tain­abil­i­ty, social equi­ty, and pop­u­lar health. Ramirez calls it ​"this titan­ic but beau­ti­ful strug­gle, to reclaim the lives of all Salvadorans."
They may be small farm­ers, but they have a grand ambi­tion that is shared world­wide. But, how real­is­tic is it? Could the food move­ment be the miss­ing vehi­cle for trans­for­ma­tive social change?
The ques­tion is time­ly. Not long ago, the New York Times assert­ed that the cen­ter aisles of U.S. super­mar­kets are being called ​"the morgue" because sales of junk food are crash­ing; mean­while, an inter­na­tion­al con­sul­tant told Bloomberg mag­a­zine that ​"there's com­plete para­noia" at major food companies.
The con­text of that para­noia is that food move­ments are rapid­ly grow­ing social and polit­i­cal phe­nom­e­na almost all over the world. In the Unit­ed States alone, there have been surges of inter­est in heir­loom seeds, in craft beers, in tra­di­tion­al bread and bak­ing, in the demand for city gar­den plots, in organ­ic food, and in oppo­si­tion to GMOs. Simul­ta­ne­ous­ly, there has been a mas­sive growth of inter­est in food on social media and the ini­ti­a­tion or renew­al of insti­tu­tions such as Slow­Food USA and the Grange move­ment, to name a few.
Even at the nor­mal­ly much qui­eter farm­ing end of the food val­ue chain, agribusi­ness has had to resort to buy­ing up ​"inde­pen­dent" aca­d­e­mics and social media sup­port­ers to boost the case for GMOs and pesticides.
So where­as not so very long ago food and agri­cul­ture were painful­ly unfash­ion­able sub­jects, all of a sud­den, indi­vid­u­als all over the globe have devel­oped an often pas­sion­ate inter­est in the prod­ucts and process­es of the food system.
The direc­tion of the food movement
If food régime change is in the air, the ques­tions are: Why? Why now? And the big one: How far will it go?
The answer to these ques­tions comes into focus if we ana­lyze the food move­ment from the per­spec­tive of five dif­fer­ent ​"puz­zle pieces." If we do that we can see that there are pro­found rea­sons why the food move­ment is suc­ceed­ing and grow­ing. Such an analy­sis sug­gests that the food move­ment, com­pared to oth­er great social move­ments of the 20th Cen­tu­ry (such as the labor, envi­ron­ment, civ­il rights, cli­mate and fem­i­nist move­ments), has many of their strengths but few of their weaknesses.
The food move­ment is unex­pect­ed­ly rad­i­cal on account of hav­ing a dis­tinct phi­los­o­phy that is unique in human his­to­ry and helps explain why the food move­ment has explod­ed upon the world stage. Like any sig­nif­i­cant new phi­los­o­phy, that of the food move­ment chal­lenges the dom­i­nant thought pat­terns of its day and threat­ens the polit­i­cal and eco­nom­ic struc­tures built on them. Specif­i­cal­ly, the food movement's phi­los­o­phy expos­es long­stand­ing weak­ness­es in the ideas under­pin­ning West­ern polit­i­cal estab­lish­ments. In the sim­plest terms pos­si­ble: The oppo­site of neolib­er­al ide­ol­o­gy is not com­mu­nism or social­ism, it is the food movement.
The rea­son is that, unlike oth­er sys­tems of thought, food move­ment phi­los­o­phy is based on a bio­log­i­cal under­stand­ing of the world. While neolib­er­al­ism and social­ism are ide­olo­gies, the food move­ment is con­cerned with eras­ing (at least so far as is pos­si­ble) all ide­olo­gies because all ide­olo­gies are, at bot­tom, imped­i­ments to an accu­rate under­stand­ing of the world and the universe.
By replac­ing them with an under­stand­ing based on pure biol­o­gy, the food move­ment is there­fore in a posi­tion to sup­ply what our soci­ety lacks: mech­a­nisms to align human needs with the needs of ecosys­tems and habitats.
The phi­los­o­phy of the food move­ment goes even fur­ther, by rec­og­niz­ing that our plan­e­tary prob­lems and our social prob­lems are real­ly the same prob­lem. The food move­ment rep­re­sents the begin­nings of a his­toric eco­log­i­cal and social shift that will trans­form our rela­tion­ships with each oth­er and with the nat­ur­al world.
1) The food move­ment is a lead­er­less movement
The first impor­tant piece of the food puz­zle is to note that the food move­ment has no for­mal lead­ers. Its most famous mem­bers are indi­vid­u­als. Frances Moore Lap­pé, Joel Salatin, José Bové, Van­dana Shi­va, Wen­dell Berry, Michael Pol­lan and Jamie Oliv­er among oth­ers, are lead­ers only in the sense of being thought-lead­ers. Unlike most lead­ers I the envi­ron­ment, labor and cli­mate move­ments, they have all attained vis­i­bil­i­ty through pop­u­lar acclaim for their per­son­al deeds, writ­ings or insights. Not one of them leads in any of the con­ven­tion­al sens­es of set­ting goals, giv­ing orders, decid­ing tac­tics or stand­ing for high office. They are nei­ther bureau­crats nor pow­er-bro­kers, but lead­ers in the Con­fu­cian sense of being exam­ples and inspi­ra­tions. It is a remark­able and unprece­dent­ed char­ac­ter­is­tic that the food move­ment is a social move­ment that is both organ­ic and anar­chic. This is not to argue it is unstruc­tured, far from it. Rather, the food move­ment is self-orga­nized swarm and this absence of for­mal lead­er­ship is not a sign of weak­ness but of strength.
2) The food move­ment is a grass­roots movement
A sec­ond and com­ple­men­tary piece of the puz­zle is that the food move­ment is far more inclu­sive than oth­er social move­ments. It is com­posed of the urban and the rur­al, the rich and the poor, of ama­teurs and experts, of home cooks and celebri­ty chefs, farm­ers and gar­den­ers, par­ents and writ­ers, the employed and the unem­ployed. Essen­tial­ly any­one, in any walk of life, can con­tribute, learn or ben­e­fit. Most do all three. Impor­tant­ly too, just about any skill lev­el or con­tri­bu­tion can often be accom­mo­dat­ed. To take just one exam­ple, in how many oth­er social move­ments can a 14-year-old make an inter­na­tion­al splash? (See: Rachel Par­ent debates Kevin O'Leary on the issue of Genet­i­cal­ly Mod­i­fied Food)
This inclu­sive­ness con­tributes sig­nif­i­cant­ly to its suc­cess. The first of these is that, unlike many protest move­ments, there is no upper lim­it to mem­ber­ship of the food move­ment. It is not defined in oppo­si­tion to any­thing — it would include the whole world if it could — and so there is no essen­tial sense in which it is exclu­sive. Exclu­siv­i­ty is often the Achilles heel of social move­ments, and while its oppo­nents have tried to label it as elit­ist, for good rea­sons they have not suc­ceed­ed. Grant­ed, Prince Charles is a very enthu­si­as­tic mem­ber, but so too are rap­pers from Oak­land, the land­less peas­ants of Brazil, the insti­ga­tors of the Mex­i­can soda tax, and the urban farm­ers of Detroit, Chica­go and Cleve­land. Such groups are nei­ther elite nor elit­ist. A bet­ter analy­sis would con­clude that any­one can find space under its broad umbrel­la because the food move­ment does not dis­crim­i­nate on any grounds, least of all class. It is beyond grass­roots. Peo­ple see what they want in it because it is for everyone.
The sec­ond aspect of its inclu­siv­i­ty is that the food move­ment has bar­ri­ers to entry that are low or non-exis­tent. This is an impor­tant rea­son it has grown rapid­ly. These porous bound­aries make the food move­ment unusu­al­ly hard to define, how­ev­er, lead­ing some peo­ple to mis­tak­en­ly con­clude it is non-existent.
3) The food move­ment is international
A third uncon­ven­tion­al attribute of the food move­ment is to be inter­na­tion­al and mul­ti­lin­gual. In each local­i­ty it assumes dif­fer­ent forms. The Cam­paign for Real Ale, Via Campesina, the Zap­atis­tas, Slow Food and Europe's anti-GMO move­ment are very dif­fer­ent, but instead of com­pet­ing or quar­rel­ing, there are remark­able over­laps of pur­pose and vision among the dis­parate parts. This was on show at last winter's British Oxford Real Farm­ing Con­fer­ence where food pro­duc­ers and good food advo­cates from all over the world shared stages and per­spec­tives, both com­ple­ment­ing and each other.
4) The food move­ment is low-budget
The fourth dis­tin­guish­ing char­ac­ter­is­tic of the food move­ment is that it has lit­tle mon­ey behind it. It might seem nat­ur­al for ​"social move­ments" to be unfund­ed but it is in fact very rare. The cli­mate move­ment has Tom Stey­er, the Tea Par­ty has the Koch broth­ers, Adolf Hitler's car, chauf­feur, pri­vate sec­re­tary and of course his Black­shirts, were fund­ed by Fritz Thyssen, Hen­ry Ford, and some of the wealth­i­est peo­ple in Ger­many. Even the labor and envi­ron­ment move­ments have dues or wealthy back­ers. The food move­ment there­fore is high­ly unusu­al in owing lit­tle to phil­an­thropic foun­da­tions or bil­lion­aire back­ers. Instead, it con­sists over­whelm­ing­ly of ama­teurs, indi­vid­u­als and small groups and what­ev­er mon­ey they pos­sess has fol­lowed and not led them. This is yet anoth­er pow­er­ful indi­ca­tion that the food move­ment is spon­ta­neous, vig­or­ous and inter­nal­ly driven.
5) A move­ment of many values
Most social move­ments are orga­nized around core val­ues: civ­il rights, social equal­i­ty or respect for nature are com­mon ones. The food move­ment is unique in that it has mul­ti­ple val­ues, includ­ing human health con­cerns, ani­mal wel­fare, agri­cul­tur­al sus­tain­abil­i­ty, eco­log­i­cal sus­tain­abil­i­ty, food jus­tice and polit­i­cal empow­er­ment. Yet, even this list fails to ade­quate­ly cap­ture the range of the movement's many com­po­nent parts.
The syn­er­gy of the food movement
For an emer­gent social move­ment to have such unique and seem­ing­ly uncon­nect­ed prop­er­ties sug­gests the pos­si­bil­i­ty of a deep expla­na­tion, and in fact there is one: the food move­ment embod­ies a pro­found philo­soph­i­cal shift.
The nar­ra­tive dom­i­nat­ing inter­na­tion­al food pol­i­cy, espe­cial­ly post-1945, has been that food is a com­mod­i­ty (when it is not a weapon) and agri­cul­ture is a busi­ness. In con­se­quence, nei­ther have much to do with the envi­ron­ment or your health. This con­cep­tu­al­iza­tion of food is an ide­o­log­i­cal exten­sion of the cur­rent dom­i­nant West­ern phi­los­o­phy, which is that of the Euro­pean Enlight­en­ment. The chief char­ac­ter of this phi­los­o­phy is to be atom­istic and mech­a­nis­tic, mean­ing that in the for­mal and offi­cial worlds of busi­ness, gov­ern­ment, the law, edu­ca­tion, etc., phe­nom­e­na are pre­sumed uncon­nect­ed until proven oth­er­wise, which usu­al­ly means proven by science.
The evi­dence for this mind­set is ubiq­ui­tous. Gov­ern­ment min­istries oper­ate in sep­a­rate spheres: health is dif­fer­ent than agri­cul­ture and both being dis­tinct from envi­ron­ment. Food is reduced to the sta­tus of an indus­tri­al raw mate­r­i­al com­plete­ly mea­sur­able by yield or prof­it is anoth­er. In the Unit­ed States, the agri­cul­ture ​"indus­try" is exempt from most anti-pol­lu­tion leg­is­la­tion, and doc­tors are not required to take class­es in nutri­tion. The health require­ments and food needs of one species (humans) — and usu­al­ly just a few of those — are priv­i­leged above that of all oth­er organ­isms is a fourth data point.
Cit­i­zens in ​"mod­ern" nations are thus sur­round­ed in every­day life by insti­tu­tions and prac­tices whose found­ing ratio­nale is the ide­ol­o­gy of dis­con­nec­tion. Thanks to our edu­ca­tion, we come to see this state of mind as nat­ur­al and inevitable even though, until recent­ly, it was unique to West­ern society.
In con­trast, the food move­ment believes in some­thing very dif­fer­ent, which can be sum­ma­rized as fol­lows: The pur­pose of life is health, and the opti­mal and most just way to attain human health is to max­i­mize the health of all organ­isms, with the most effec­tive way to do that being through food.
This belief sys­tem is derived from prac­ti­cal expe­ri­ence. The food move­ment has inter­nal­ized cer­tain obser­va­tions: the poten­tial of com­post to improve crop growth and soil func­tion, the human health ben­e­fits of a var­ied diet and the suc­cess­es of numer­ous farm­ing sys­tems that don't depend on syn­thet­ic inputs, to name a few. The move­ment has also high­light­ed the pow­er­ful con­nec­tions between health, agri­cul­ture, ani­mal wel­fare and the envi­ron­ment. These con­nec­tions allow for the exis­tence of a vir­tu­ous cir­cle in which the most eco­log­i­cal­ly healthy farms gen­er­ate foods that are the health­i­est and the tasti­est. These farms are also the most pro­duc­tive. (For exam­ples in the U.S. click here.) Except for the obvi­ous­ly sub­jec­tive ones (like taste), there is noth­ing unsci­en­tif­ic about these claims.
We are famil­iar with the neo-Dar­win­ist nar­ra­tive of life-as-com­pe­ti­tion, but this slugfest inter­pre­ta­tion hides a big­ger and more impor­tant truth about life: that before there can be com­pe­ti­tion, there must first be at least two organ­isms. Life can, and often does, exist with­out com­pe­ti­tion, but com­pe­ti­tion can­not exist with­out life. In oth­er words, the neo-Dar­win­ist vision is wrong in that it triv­i­al­izes biol­o­gy. Food phi­los­o­phy replaces this view with the idea that life thrives in the pres­ence of oth­er life. We know, for exam­ple, that all of the tens of mil­lions of species on earth are inter­de­pen­dent. Not a sin­gle species could exist if all oth­ers were removed. For exam­ple, plants and algae excrete oxy­gen, which all ani­mals need. Ani­mals eat plants and algae, but excrete nitro­gen and phos­pho­rus, which all plants and algae need.
Sim­i­lar­ly, at the lev­el of indi­vid­u­als, if we can look past the stan­dard mech­a­nis­tic view of biol­o­gy offered by cel­e­brat­ed sci­en­tists like neo-Dar­win­ist Richard Dawkins, who famous­ly called organ­isms ​"lum­ber­ing robots", we can note that all bio­log­i­cal organ­isms are in fact self-opti­miz­ing and self-repair­ing sys­tems. They there­fore tend to max­i­mize their own robust­ness and health unless, as unfor­tu­nate­ly but com­mon­ly occurs, they are active­ly pre­vent­ed from doing so (e.g. by a lim­it­ed envi­ron­ment or a defi­cient diet).
So food phi­los­o­phy envi­sions life in an entire­ly nov­el way. Instead of see­ing food organ­isms, as bio­log­i­cal ratio­nal­ists like Dawkins por­tray them, as a robot slow­ly suc­cumb­ing to the teeth and claws of vicious nature, we should view food as the result of mutu­al­ly ben­e­fi­cial inter­ac­tions between vibrant and dynam­ic sys­tems. The unfor­tu­nate truth for the sup­posed ratio­nal­ists is that, as recent research into the micro­bio­me is show­ing, the food phi­los­o­phy view bet­ter fits the facts than does the neo-Dar­win­ist one. Pris­on­ers of their Enlight­en­ment ide­ol­o­gy, the neo-Dar­win­ists have turned the mes­sage of life on its head.
The ori­gins of food philosophy
Food phi­los­o­phy has three notable antecedents.
One is philoso­pher Peter Singer's famous anti-speciesist argu­ment from his book Ani­mal Lib­er­a­tion—that humans have a duty of care towards all ani­mals, with the cru­cial dif­fer­ence being that the food move­ment extends Singer's argu­ment to all organ­isms, not just animals.
The sec­ond antecedent is Gaia the­o­ry, which pro­pos­es that life forms cre­ate and enhance their own liv­ing con­di­tions. The main dif­fer­ence being that food phi­los­o­phy expands this the­sis to to soils and to landscapes.
The third is Bar­ry Com­mon­er and his four laws of ecol­o­gy. His sec­ond ("Every­thing must go some­where") and third ("Nature knows best") laws are con­sis­tent with food phi­los­o­phy. How­ev­er, Commoner's First law: ​"Every­thing is con­nect­ed to every­thing else", needs mod­i­fi­ca­tion. The rea­son is that all things are not con­nect­ed equal­ly — most con­nec­tions occur pri­mar­i­ly through food. Commoner's fourth law: ​"There is no such thing as a free lunch", is flat­ly con­tra­dict­ed by the vir­tu­ous cir­cle of the food move­ment. All eco­log­i­cal sys­tems gen­er­ate syn­er­gies, and syn­er­gies between organ­isms are free lunch­es; which is why, except­ing occa­sion­al shocks like mete­or impacts, species diver­si­ty and bio­log­i­cal pro­duc­tiv­i­ty on earth have con­tin­u­ous­ly risen over eons.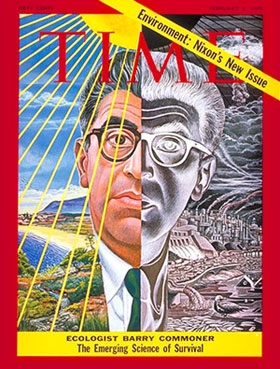 Ecol­o­gist Bar­ry Com­mon­er on the cov­er of Time mag­a­zine, Feb­ru­ary 1970. (Image: Google Images)
Like every phi­los­o­phy, food phi­los­o­phy implies prac­ti­cal con­se­quences. It becomes the task of a food sys­tem, or any sub-part of it — such as a farm — to max­i­mize the pos­i­tive aspects of each com­po­nent, so that the cir­cle can become ever more vir­tu­ous. By the same token, the food move­ment believes in the exis­tence of a down­ward spi­ral — bio­log­i­cal impov­er­ish­ments such as those that result in dust bowls. Such neg­a­tive pos­si­bil­i­ties could be safe­ly ignored were it not the case that many gov­ern­ments and cer­tain busi­ness­es seem deter­mined (even enthu­si­as­tic) to plunge head­long into them.
Food phi­los­o­phy there­fore rep­re­sents a major split from post-Enlight­en­ment phi­los­o­phy in its vision of life and biol­o­gy — which for most prac­ti­cal pur­pos­es rep­re­sents the uni­verse we live in. In so doing it high­lights how the Enlight­en­ment was not so enlight­ened. Enlight­en­ment philoso­phers used the foun­da­tion­al state­ment ​"I think there­fore I am" as the jus­ti­fi­ca­tion for effec­tive­ly dis­re­gard­ing all pre­vi­ous thought. They then adopt­ed the premise that only the tools of log­ic and deduc­tive rea­son­ing could extend this thought and tell us how to achieve true knowl­edge and spend our time. But this core pre­sump­tion was wrong. As the influ­en­tial philoso­pher of sci­ence, Paul Fey­er­abend, put it, Enlight­en­ment ideas are ​"philo­soph­i­cal tumors" that exem­pli­fy ​"the pover­ty of abstract philo­soph­i­cal reasoning".
Food phi­los­o­phy is thus in the pre-Enlight­en­ment tra­di­tion of prin­ci­ples deduced from real world expe­ri­ence. It doesn't ask: What does ratio­nal thought reveal about how we should live? It asks: what does nature reveal about how we should live? This is why food phi­los­o­phy is not a dif­fer­ent ide­ol­o­gy from neolib­er­al­ism or social­ism; rather, it is the absence of ide­ol­o­gy. So while neolib­er­al­ism and social­ism are prod­ucts of the Enlight­en­ment, food phi­los­o­phy is not, because it gath­ers its evi­dence as direct­ly as pos­si­ble from the nat­ur­al world.
To the extent it can be sim­pli­fied, we might sum­ma­rize food phi­los­o­phy as follows:
1) Bio­log­i­cal inter­ac­tions allow syn­er­gisms of indi­vid­ual health and sys­tem pro­duc­tiv­i­ty, which can be tak­en advan­tage of in good farm­ing; and,

2) These bio­log­i­cal inter­ac­tions occur pri­mar­i­ly through food, which rep­re­sents the chem­i­cal ener­gy run­ning through the system.
This phi­los­o­phy is sig­nif­i­cant in two ways. First, it explains, in gen­er­al, the form, struc­ture and com­po­si­tion of the food move­ment. Sec­ond­ly, it pre­dicts the like­ly impact of the food move­ment on the food sys­tem and soci­ety as a whole. The dis­tinc­tive fea­tures of the food move­ment stem from this philosophy.
Impli­ca­tions of food phi­los­o­phy for the food movement
The first fea­ture explained by its phi­los­o­phy is the self-orga­niz­ing and lead­er­less nature of the food move­ment. Its mem­bers act as if they were read­ing from an invis­i­ble script, which in a sense they are. It also goes far in explain­ing the lack of mon­ey. The phi­los­o­phy gen­er­ates val­ues and val­ues are often the most pow­er­ful long-term moti­va­tor of human behavior.
The atti­tudes of the food move­ment also reflect the phi­los­o­phy. Since the phi­los­o­phy is uni­ver­sal, con­struc­tive, inclu­sive, flex­i­ble and non-vio­lent, so is the movement.
To take a more detailed exam­ple, where­as peo­ple out­side of the food move­ment (with their Enlight­en­ment hats on) tend to see the issues of human health, food qual­i­ty, ani­mal wel­fare, and eco­log­i­cal and agri­cul­tur­al sus­tain­abil­i­ty as con­cerns to be solved sep­a­rate­ly (if at all), those inside food move­ment are like­ly to see them as con­nect­ed and there­fore insol­u­ble except when con­front­ed together.
As peo­ple begin to sees these issues as con­nect­ed, those who enter the orbit of the food move­ment are like­ly to move deep­er into it. Some­one who begins by buy­ing free-range eggs, per­haps for rea­sons of ethics, moves on to keep­ing chick­ens and per­haps to sourc­ing oth­er meats more eth­i­cal­ly or more local­ly. Peo­ple attract­ed to fla­vor­ful meat or pro­duce are like­ly to expand their inter­ests into ani­mal wel­fare or become loca­vores, and so on. This is why the food move­ment is deep­en­ing and growing.
The inter­con­nect­ed­ness of food issues also cre­ates an impor­tant pre­sump­tion: that any­one who advances one of these goals auto­mat­i­cal­ly advances the rest. Con­se­quent­ly, alliances between indi­vid­u­als and between orga­ni­za­tions are like­ly to form around the com­mon goals, and thus the food move­ment emerges as a syn­er­gy between issues for­mer­ly iden­ti­fied as dis­tinct, chan­nel­ing a vast reser­voir of pos­i­tive social ener­gy in con­sis­tent directions.
These are expla­na­tions for for­ma­tion and growth of the social move­ment, but the food move­ment does not exist for its own sake. Like any social move­ment, it aspires to solve soci­ety-sized prob­lems. When the food move­ment tack­les an issue, the unique fea­tures not­ed above become enor­mous assets.
There is usu­al­ly no actu­al deci­sion (because typ­i­cal­ly there is no leader), instead the phi­los­o­phy leads its mem­bers to use what­ev­er resources are at hand in the most appro­pri­ate man­ner. They devel­op argu­ments, write let­ters, make calls, avoid prod­ucts, share infor­ma­tion and so on, wher­ev­er they per­ceive the need or oppor­tu­ni­ty to be great­est, just as the work­ers of an ant or bee colony do what­ev­er job appears in front of them with­out explic­it orders.
To the multi­na­tion­al cor­po­ra­tions who are its tar­gets, move­ment activ­i­ty may feel like a piran­ha feed­ing fren­zy. Blood is scent­ed; argu­ments are sharp­ened; protests reg­is­ter on social media; more attack­ers arrive; the tar­get howls; oppor­tunis­tic jour­nal­ists pile in; maybe some leg­is­la­tors too, until final­ly the tar­get agrees to amend, label, or remove the offend­ing prod­uct, ingre­di­ent or pub­li­ca­tion. These are food swarms, and they are what direct democ­ra­cy looks like.
Fol­low­ing once again its own phi­los­o­phy, food is also a guide to action. Using its Enlight­en­ment ratio­nal­iza­tions, a gov­ern­ment can instruct peo­ple, for exam­ple, that irra­di­at­ed or GMO food is safe to eat. But it can­not make them eat it. Resis­tance based on food log­ic is always like­ly to beat Enlight­en­ment log­ic when the sub­ject is food, because it is both ratio­nal and rel­a­tive­ly easy for the peo­ple to both form their own opin­ions and spend their mon­ey else­where. The food sys­tem is per­haps the one domain where the peo­ple retain this pow­er, cer­tain­ly more than they do in any oth­er domain of pub­lic life.
In con­se­quence, time and again the argu­ments of the food move­ment: over GMO safe­ty, the ben­e­fits of organ­ic food, the dan­gers of antibi­otics in ani­mal farm­ing, food addi­tives, GMO label­ing and so forth, have gained trac­tion out in the pub­lic domain (though not always yet in pub­lic pol­i­cy). The com­bi­na­tion of sol­id log­ic and prac­ti­cal pow­er is hard to resist. Through its phi­los­o­phy, there­fore, the food move­ment is suc­ceed­ing both in build­ing itself and win­ning prac­ti­cal vic­to­ries as it does so.
Thus one can begin to see how food issues are the orga­niz­ing prin­ci­ple for a grand social move­ment. Indeed, the suc­cess­es of the food move­ment are now suf­fi­cient­ly evi­dent that major parts of the old envi­ron­ment move­ment, plus the health and well­ness move­ments, and even parts of the labor move­ment, have begun to reframe their activ­i­ties as com­ing from a food sys­tem per­spec­tive. Some have large­ly migrat­ed into the food move­ment alto­geth­er. For exam­ple, the Coali­tion of Immokalee Work­ers is much bet­ter known to the pub­lic and has been more suc­cess­ful through its food con­nec­tions than through its union ones. To a sig­nif­i­cant degree, once sep­a­rate social move­ments are con­verg­ing to become branch­es of the food movement.
We can sum up this rather com­plex state of affairs by say­ing that food is a high­ly suc­cess­ful ral­ly­ing point. It serves well because food is simul­ta­ne­ous­ly a nov­el con­cep­tu­al fram­ing for much of human affairs — strong­ly dis­tinct from the stan­dard Enlight­en­ment fram­ings of eco­nom­ics and social Dar­win­ism — act­ing as a potent orga­niz­ing prin­ci­ple for indi­vid­u­als to act around. Food suc­ceeds as a con­cep­tu­al fram­ing because it is simul­ta­ne­ous­ly anthro­pocen­tric and truth­ful, and it suc­ceeds as an orga­niz­ing prin­ci­ple because food fruit­ful­ly high­lights the prac­ti­cal bio­phys­i­cal link­ages between issues. So while most frames are arti­fi­cial men­tal con­structs that have zero under­ly­ing bio­log­i­cal or phys­i­cal sub­stance, the frame used by the food move­ment also pre­cise­ly reflects the key bio­log­i­cal real­i­ty that a uni­ver­sal dai­ly require­ment of all human­i­ty, is food. Good food. And the same is true for oth­er species. Thus, our good food also needs good food, and so on ad (almost) infini­tum. Any­one who adopts that dev­as­tat­ing log­ic has a huge advan­tage, not only in under­stand­ing how the world real­ly works, but also in act­ing on that information.
How will the food move­ment impact society?
Ideas are the cur­ren­cy of pow­er. Philoso­pher Peter Singer wrote Ani­mal Lib­er­a­tion in 1975. It spawned the inter­na­tion­al ani­mal rights move­ment and drove soci­ety-wide debates on the human usage of ani­mals for research and in agri­cul­ture. Forty-one years lat­er, the increas­ing pop­u­lar­i­ty of veg­an­ism shows his ideas are still gath­er­ing momen­tum. Singer's achieve­ment was to show that Enlight­en­ment thinkers had attempt­ed to ratio­nal­ize — rather than ditch — the con­cept of human excep­tion­al­ism, which dat­ed back at least to the Bible's autho­riza­tion of Man's domin­ion over the earth. At a stroke, Singer destroyed the argu­ments for treat­ing ani­mals bad­ly and pro­vid­ed a per­fect exam­ple of how Enlight­en­ment ratio­nal­iza­tions have func­tioned to con­strain mod­ern thought, and most par­tic­u­lar­ly the human poten­tial to do good.
Because they go far beyond our treat­ment of sen­tient ani­mals and extend to all organ­isms, the ideas of food phi­los­o­phy are sig­nif­i­cant­ly more pro­found and far-reach­ing than those of Peter Singer. Food phi­los­o­phy is an intel­lec­tu­al key to over­throw­ing mech­a­nis­tic reduc­tion­ist soci­ety. Much of stan­dard eco­nom­ics, large parts of biol­o­gy such as neo-Dar­win­ism (self­ish genes) and genet­ic deter­min­ism, reduc­tion­ist biol­o­gy and med­i­cine, which at present are the cen­ter­pieces of West­ern edu­ca­tion, will come to be seen in their prop­er light, which is as large­ly irrel­e­vant to the func­tion­ing of whole sys­tems. These are the ​"philo­soph­i­cal tumors" that stand in the Enlight­en­ment thought is the engine dri­ving our soci­eties over an eco­log­i­cal cliff, food phi­los­o­phy offers the con­cep­tu­al way out.
Enlight­en­ment thought arose in tan­dem with indus­tri­al­iz­ing soci­eties. Enlight­en­ment thinkers laid the ground­work for a mer­i­to­crat­ic and com­mer­cial soci­ety to replace feu­dal­ism, but the grand irony is that they did not them­selves gain accep­tance sole­ly on mer­it. Rather, they were select­ed for their use­ful­ness. Their ideas jus­ti­fied the nec­es­sary con­cepts the new soci­ety came to rely on: mech­a­niza­tion, indi­vid­u­al­ism and com­pe­ti­tion. Enlight­en­ment philoso­phers were large­ly estab­lish­ment fig­ures giv­ing form to estab­lish­ment thought. Nowa­days their ideas are used for pre­serv­ing this order, but since the intel­lec­tu­al flaws of that under­stand­ing are increas­ing­ly man­i­fest­ing as eco­log­i­cal cri­sis and social dis­or­der, the same process is hap­pen­ing in reverse.
But the ques­tion has long been what will take their place? As I was com­plet­ing this essay I con­sult­ed The His­to­ry of West­ern Phi­los­o­phy by Bertrand Rus­sell. Even in 1946, Rus­sell saw that a sat­is­fac­to­ry philo­soph­i­cal res­o­lu­tion to the prob­lem of how to rec­on­cile pow­er and the ben­e­fits of social cohe­sion with indi­vid­ual lib­er­ty was yet to be reached. At the very end of intro­duc­ing mod­ern phi­los­o­phy he writes that the sci­en­tif­ic enter­prise tips the bal­ance towards pow­er, but is itself ​"a form of mad­ness" in that it pri­or­i­tizes means over ends. With­out a philo­soph­i­cal anti­dote this imbal­ance will become ​"dan­ger­ous". He con­cludes, ​"To achieve this a new phi­los­o­phy will be needed."
Enlight­en­ment ideas have been devel­op­ing for almost 400 years. They are large­ly mis­tak­en, but they were also mis­tak­en when they were con­ceived. There are two good rea­sons why no over­haul took place, even at the heights of the social move­ments of the 1960s or the envi­ron­ment move­ment in the 1970s. The first is that no ade­quate philo­soph­i­cal replace­ment was avail­able. The sec­ond is naked­ly polit­i­cal. No polit­i­cal force or social move­ment was pre­vi­ous­ly in place to force the issue. The food move­ment, how­ev­er, ful­fills both require­ments, and so the pieces are final­ly in place for a peace­ful social rev­o­lu­tion of thought and action.
A final analysis
This essay has attempt­ed to under­stand how and why a suc­cess­ful social move­ment can arise, and even be called a social move­ment, when it lacks essen­tial­ly all of the tra­di­tion­al props and attrib­ut­es of social move­ments — strong lead­er­ship, orga­ni­za­tion­al struc­tures, for­mal out­reach pro­grams, mon­ey, and so forth.
This analy­sis attrib­ut­es the suc­cess of the food move­ment large­ly to fac­tors inter­nal to itself. Its mem­bers share an infec­tious vision that is con­struc­tive, con­vivial, class­less, race­less, inter­na­tion­al and embraces the whole world. That vision rests on a nov­el and har­mo­nious phi­los­o­phy. It is also deeply real­is­tic because it is bio­log­i­cal in nature; so while the remain­der of soci­ety is naive­ly get­ting fur­ther out of touch with the nat­ur­al world by adopt­ing ever fanci­er com­mu­ni­ca­tions devices, inter­net apps, high speed trav­el, Poke­mon Go and so forth, the food move­ment is busy get­ting in touch with that world and being suc­cess­ful in work­ing with it.
One issue large­ly miss­ing from this analy­sis, how­ev­er, is the imper­a­tive of con­fronting cli­mate change. The food move­ment did not come togeth­er to solve this issue. Nev­er­the­less, many in the food move­ment believe it has the tools to large­ly solve the prob­lem. The rea­sons are sim­ple. First, per­haps as much as 50 per­cent of all green­house gas emis­sions are the result of the indus­tri­al food sec­tor. Sec­ond­ly, car­bon can eas­i­ly be removed from the air and stored in soil and in the process cre­at­ing the type of soil active­ly desired by organ­ic and agroe­co­log­i­cal farm­ers. These farm­ers are still devel­op­ing their tech­niques for car­bon seques­tra­tion, but anec­do­tal evi­dence sug­gests that soil seques­tra­tion can com­bine with food pro­duc­tion to store many tons of car­bon per acre per year. Thus, as two recent reports show, the food sys­tem desired by the food move­ment can make our atmos­pher­ic car­bon prob­lem man­age­able and per­haps solve it com­plete­ly.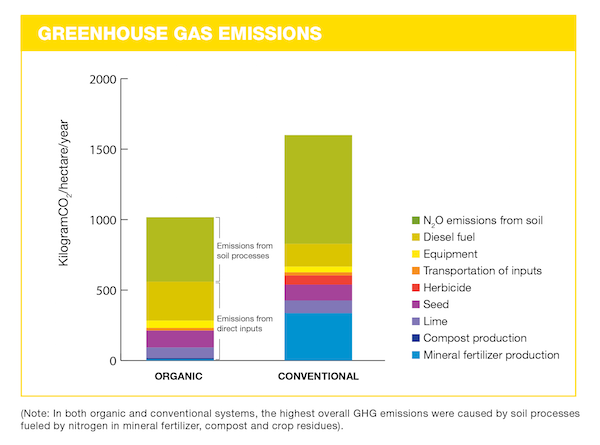 Emis­sions com­par­i­son from Rodale Institute's Farm­ing Sys­tems Tri­al. (Image: Rodale Institute)
This infor­ma­tion seems not to have pen­e­trat­ed the main­stream cli­mate move­ment. Cli­mate lead­ers seem to believe solu­tions must be tech­ni­cal or social: but wind­mills, solar pow­er, elec­tric cars, dams, divest­ment, infra­struc­ture protests, etc., are large­ly sym­bol­ic actions. Unlike reduc­ing demand for ener­gy by reform­ing and local­iz­ing the food sys­tem or stor­ing car­bon in liv­ing soils, such ​"solu­tions" do not nec­es­sar­i­ly reduce over­all use of fos­sil fuels nor pre­vent the release of green­house gas­es from dis­turbed ecosys­tems. Worse, as resource-inten­sive ways of gen­er­at­ing and stor­ing ener­gy, tech­nofix solu­tions have many neg­a­tive con­se­quences of their own.
Hope­ful­ly soon­er, rather than lat­er, the well-mean­ing but mis­led cli­mate move­ment will come to under­stand the (typ­i­cal­ly Enlight­en­ment) error of sin­gling out spe­cif­ic forms of pol­lu­tion (CO2 or methane) and join with the food lib­er­a­tion move­ment. If not, the food move­ment may solve cli­mate change with­out them.
In the ulti­mate analy­sis, the growth of the food move­ment is the people's response to the fail­ing ideas of the Enlight­en­ment. It rep­re­sents a tec­ton­ic realign­ment of the forces under­ly­ing our soci­ety and a clash of ideas more pro­found than any­thing seen since the col­lapse of feu­dal­ism and the emer­gence of the indus­tri­al rev­o­lu­tion. The out­come of this clash will deter­mine not only the future of our soci­ety, but also whether our descen­dants get to live on a plan­et rec­og­niz­able to us today. The por­tents are excel­lent. The food move­ment is pre­vail­ing because it takes advan­tage of the syn­er­gies and poten­tials inher­ent in bio­log­i­cal sys­tems, where­as the ideas of the Enlight­en­ment ignore, deny, and sup­press these poten­tial­i­ties. It will indeed be a beau­ti­ful strug­gle to turn these por­tents into reality.
"Why the Food Move­ment Is Unstop­pable" was orig­i­nal­ly pub­lished on inde​pen​dentscience​news​.org and is repost­ed with permission.
[If you like what you've read, help us spread the word. ​

"

Like" Rur­al Amer­i­ca In These Times on Face­book. Click on the ​

"

Like Page" but­ton below the bear on the upper right of your screen. Also, fol­low RAITT on Twit­ter @RuralAmericaITT]