The Girl's Guide to Staying Safe Online
It's still dangerous out there for feminist bloggers. Here's how to deal with sexist trolls.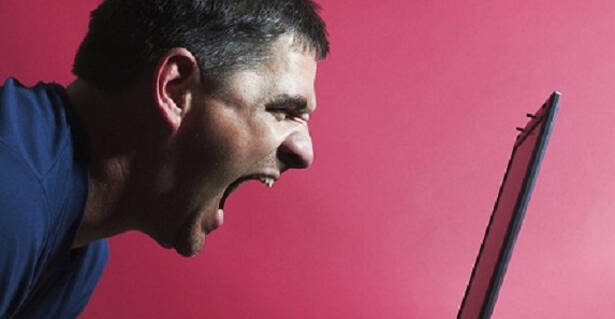 As fem­i­nists go, I have it easy. I've only received one explic­it death threat. I've got­ten rape threats, but not many. No one has con­tact­ed me at home; I've received only one anony­mous mes­sage warn­ing me that I was being ​"watched." Of the peo­ple who have called me gen­dered slurs or lied about me online, only one of them has done the same to my mother.
A widely cited 2006 University of Maryland survey shows that web users with "female" names are 25 times more likely to be harassed than users with "male" or ambiguous names.
If this seems strange – being grate­ful for only a few threats, only min­i­mal harm to my fam­i­ly, only a few dozen peo­ple who would like to see me raped or killed – then you're prob­a­bly not a fem­i­nist blogger.
For years, it's been an open secret that hav­ing a vis­i­bly female online iden­ti­ty – espe­cial­ly if one writes about sex­ism – is a per­son­al secu­ri­ty risk. High­ly vis­i­ble blog­gers such as Jes­si­ca Valen­ti report receiv­ing hate mail every day. Some have been sub­ject to cam­paigns aimed at get­ting them fired. This doesn't only hap­pen to high-pro­file fem­i­nists, or women; some peo­ple, includ­ing men, have been harassed at work sim­ply for com­ment­ing on the wrong blog. But it is a gen­dered phe­nom­e­non: W.H.O.A. reports that, in 2010, 73% of cyber­stalk­ing vic­tims were female.
In recent weeks, this con­ver­sa­tion has burst into the main­stream. UK papers have been report­ing on threats; in the Unit­ed States, Alyssa Rosen­berg cre­at­ed the Twit­ter hash­tag #Threatofthe­Day, to re-pub­lish them. Lat­er, after being irri­tat­ed by a par­tic­u­lar­ly sex­ist col­umn, I cre­at­ed the hash­tag #men­call­me­things to cov­er every­thing out­side the threats – the slurs, the rape fan­tasies, the hate mail – and saw it trend­ing with­in the day.
The Inter­net is no longer a strange hob­by; these days, almost every­one has an online pres­ence. If a major part of con­tem­po­rary life is often unsafe for more than half the pop­u­la­tion, peo­ple notice.
When I first start­ed writ­ing online, I was sure that I would be able to avoid attacks because I thought I knew the rules to the game. As it turns out, those rules are not what I thought they were. Here, then, is a Girl's Guide to Stay­ing Safe Online.
1. Don't Post the Wrong Pho­to. Any Photo.
Three years ago, I post­ed a pic­ture of myself online for the first time. In this pic­ture, I was out­doors, had a pony­tail and wore sun­glass­es. This pho­to, I thought, con­veyed two things: (1) I was out­side, and (2) it was sun­ny. My first and only e‑mail about that pho­to: ​"You're an ugly fuck­ing cunt."
A year lat­er, I changed it. This time, my hair was long, I wore make-up, had glass­es on and was smok­ing. ​"She's ​'doable' if she dropped the cig­gies, the cutesy glass­es, and the man-hat­ing atti­tude," one man wrote.
This year, I changed it again. Every­thing had changed but my face; my hair was short, I wore no make­up, and I had dropped the cig­gies and glass­es. The response: ​"Hey whens the wom­yns music fes­ti­val… Ugly sack of shit freak!!"
Becom­ing vis­i­ble – not just for women, but for all mar­gin­al­ized peo­ple – cre­ates a spe­cif­ic vul­ner­a­bil­i­ty. Pho­tos are often yanked from blogs and social media pro­files and placed in hos­tile forums for eval­u­a­tion. Pho­to­shops are made; Pho­to­shop con­tests are held. Trans and gen­derqueer blog­gers are mis­gen­dered in whichev­er way allows for the most vile hatred; fat is shamed; if the blog­ger is a per­son of col­or, pho­tos pro­vide an oppor­tu­ni­ty for extra racism.
My own expe­ri­ence has been large­ly about fem­i­nin­i­ty: I'm a white, thin, cis­gen­der woman, but a ​"fem­i­nine" pho­to (long hair, make­up) results in com­ments about anal sex, where­as a less fem­i­nine pho­to (short hair, no make­up) results in com­ments about anal rape. Everyone's a win­ner. And select­ed con­tes­tants receive an all-expens­es-paid trip to Porn Land: @Mo_Ranyart notes that he ​"took non­sex­u­al pho­tos of shav­ing my head [and] got them lift­ed from my jour­nal and post­ed on a fetish site." Attempts to have the pho­tos removed were… unsuc­cess­ful.
2. Don't Have The Wrong Name. Any Name.
Last Octo­ber, car­toon­ist Gab­by Schulz pub­lished a com­ic about Inter­net sex­ism. Titled, in part, ​"How Every Sin­gle Dis­cus­sion About Sex­ism And Woman-Type Stuff On The Inter­net Has Ever Hap­pened," it detailed a famil­iar cycle: Man says sex­ist thing, woman responds, men shout at woman, etc.
With­in 24 hours, ​"men's rights" blog The Spear­head ful­filled Schultz's prophe­cy. Their post, titled ​"Fem­i­nist Car­toon­ist Bemoans Online Resis­tance, Claims She is Enslaved by Patri­archy When Men Dis­agree With Her," sniffed that Schultz's car­toon ​"sup­pos­ed­ly depicts what hap­pened when she called some guy sex­ist." Pre­dictably sex­ist com­ments fol­lowed: ​"I bet olé Gab­by is soak­ing wet with all the atten­tion shes get­ting tonight," one Spear­head com­menter opined. ​"Shut the fuck up you stu­pid cunt," wrote anoth­er. Yet anoth­er wrote, ​"I am not being sex­ist when I say I do think your point of view is les­bic: you seem to despise all men." Schulz reports receiv­ing death threats.
So far, so pre­dictable. Except for one tiny detail: Gab­by Schulz is a guy. His biog­ra­phy – eas­i­ly acces­si­ble from the offend­ing post – shows him with a full beard, and uses the pro­noun ​"him." The com­ic was based on a con­tro­ver­sy sur­round­ing car­toon­ist Kate Beat­on. But many harassers had no incli­na­tion to fact-check: If some­one named ​"Gab­by" didn't like sex­ism, that some­one had to be a self-pity­ing girl.
Schulz isn't the only guy to dis­cov­er the fun of Writ­ing While Female. Choire Sicha, founder of The Awl, has writ­ten about the gen­der con­fu­sion around his own name. When he was writ­ing the New York Times arts list­ings, he told me, ​"The let­ters and emails that arrived for ​'Ms. Sicha' had that dis­tinct vari­ety of grand mansplain­ing tone – there was a way in which they ​'talked down' that the com­mu­ni­ca­tions for Mr. Sicha didn't have." On the oth­er hand, ​"the notes addressed to male-me treat­ed me as a grown-up – like there was an assump­tion that I had author­i­ty but I was just wrong."
This is no sur­prise. A wide­ly cit­ed 2006 Uni­ver­si­ty of Mary­land sur­vey shows that web users with ​"female" names are 25 times more like­ly to be harassed than users with ​"male" or ambigu­ous names. (Although, as Sicha's expe­ri­ence demon­strates, this isn't web-specific.)
If it's dan­ger­ous to be a girl on the Inter­net, some peo­ple on the Inter­net will avoid being iden­ti­fied as girls. But Shculz's and Sicha's accounts make some­thing else clear: ​"Ambi­gu­i­ty" doesn't real­ly work, either. To avoid harass­ment, one must eschew any­thing remote­ly girl-like: names that could be con­strued as female, sub­jects relat­ed to women, stick­ing up for spe­cif­ic women, or empa­thy for women gen­er­al­ly. In short: The only way to avoid gen­dered harass­ment is to be a man who con­stant­ly pro­claims his own gen­der, and who ignores or open­ly dis­likes women. Which is extreme­ly con­ve­nient for a cer­tain type of man.
3. Don't Be Good at Your Job.
In our e‑mail exchange, for­mer Shape­ly Prose blog­ger Sweet Machine told me that ​"the begin­ning of the end" of her career as a blog­ger was the moment blog­ging became unsus­tain­able. I knew what she meant, but I'd always regard­ed it as one of her blog's biggest successes.
Since its pub­li­ca­tion in Octo­ber 2009, Schrodinger's Rapist," by Phae­dra Star­ling, has become a part of fem­i­nist blog canon. Its expla­na­tions of street harass­ment, rape and doubt have been wide­ly cit­ed and echoed, and the phrase ​"Schrodinger's Rapist" itself has become short­hand for threat­en­ing encoun­ters. The post gar­nered 1,216 com­ments before Shape­ly Prose shut them off.
Those com­ments had to be mod­er­at­ed. And, as Sweet Machine puts it, the post ​"attract­ed so much pos­i­tive atten­tion from women that it drew incred­i­ble hos­til­i­ty from men." Mod­er­at­ing com­ments began to take up the major­i­ty of her work time. When Sweet Machine's moth­er died, one com­menter said that she must have been ashamed of Sweet Machine's weight – and signed off with ​"you fuck­ing cunt."
"Read­ing the mod queue start­ed to feel like being slapped over and over by strangers," she says. ​"The more suc­cess­ful [Shape­ly Prose] got, the more we got attacked."
This is the game, for fem­i­nist blog­gers: the more recog­ni­tion you receive, the more dan­ger­ous the job becomes. Oth­er writ­ers may be able to nur­ture ambi­tion, and pur­sue goals with­out ambiva­lence. Fem­i­nists, on the oth­er hand, live with the fear of Schrodinger's Pro­mo­tion. Every step we take toward recog­ni­tion might be the step that makes blog­ging itself an intol­er­a­ble risk. I've spo­ken to oth­er blog­gers – one of them male – who have changed pseu­do­nyms or delet­ed blogs once they got an unac­cept­ably large read­er­ship, just to avoid it. Those who stay put have paid a high price.
"[When] I first start­ed blog­ging, I'd get a string of nasty anony­mous com­ments in a row and that would be about as bad as it'd get," says Lena Chen. ​"Now, they've moved on to harass­ing me (and my boyfriend, friends, and read­ers) on inde­pen­dent­ly set-up sites designed to ruin search results. They have no qualms con­tact­ing my fam­i­ly mem­bers or employers…"
4. Every Pho­to Is the Wrong Pho­to. Every Name is the Wrong Name. Any Kind of Good is Too Good. Don't Go It Alone.
"As it turns out, there's noth­ing right, at all, ever, that you can do," social media activist Dean­na Zandt told me, in a phone interview.
This was not, con­trary to appear­ances, a state­ment of hope­less­ness. Zandt means this: That if receiv­ing harass­ment is an inevitable part of blog­ging while female, then harass­ment itself is what has to change.
"They talk about doing evic­tion defense, or fore­clo­sure defense, or even the Occu­py defense," Zandt says. ​"In 2005 and 2008, we were doing blog defense from DDOS attacks, and quick­ly try­ing to hide women's infor­ma­tion online."
But Zandt says the con­ver­sa­tion about online sex­u­al harass­ment is begin­ning to reach a new lev­el, one that could cre­ate sub­stan­tial change. ​"Women talked about it amongst them­selves, or the fem­i­nists talked about it amongst them­selves, but it's now break­ing out into a place where it has a wider con­text… We're real­ly at this moment where we can begin to define the spe­cif­ic, gen­dered, hate­ful things that are hap­pen­ing to women online as a spe­cif­ic kind of harass­ment that requires change through cul­tur­al aware­ness, and per­haps some laws." She hopes to see cam­paigns from groups like the Women's Media Cen­ter aimed at cre­at­ing enforce­able poli­cies for online sex­u­al harassment.
Ulti­mate­ly, the best way to ​"stay safe" online may sim­ply be to stay online. After all: If there's no one left will­ing to com­plain about the harass­ment, what are the odds that it's going to change?