The Global People's Climate Marches Were Massive. Here's What Organizers Have Planned Next.
Pipeline fights, legal challenges and elections are driving the next phase of the climate resistance.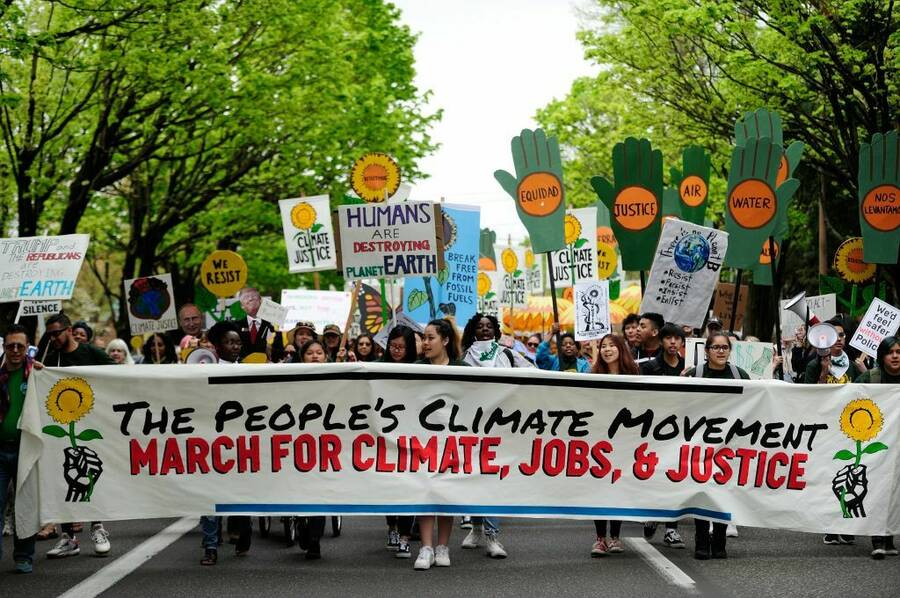 This last week­end was not the first People's Cli­mate March. That hap­pened in New York City in Sep­tem­ber 2014, and was meant to coin­cide with a U.N. Gen­er­al Assem­bly meet­ing and to ramp up pres­sure ahead of inter­na­tion­al cli­mate talks in Paris the fol­low­ing win­ter. Draw­ing an esti­mat­ed 400,000 peo­ple, that first march was the largest-ever demon­stra­tion on the issue.
'Just as the Tea Party moved politics to the right, we can now be the Tea Party of the left.'
Its fol­low-up arrived at a dif­fer­ent time, polit­i­cal­ly. Don­ald Trump is pres­i­dent, and protests with tens of thou­sands of peo­ple are becom­ing more and more com­mon — and not just in cities like Wash­ing­ton, D.C. and New York.
Sim­i­lar march­es and demon­stra­tions were a reg­u­lar fea­ture of the Oba­ma years. Com­pli­ment­ed by year-round orga­niz­ing, they seemed to work. The Key­stone XL and Dako­ta Access pipelines were tem­porar­i­ly defeat­ed. The Paris Agree­ment was nego­ti­at­ed and the Clean Pow­er Plan showed at least a recog­ni­tion on Obama's part that cli­mate change is a force to be reck­oned with.
All of these vic­to­ries could now be scaled back and more. Mustafa Ali left the Envi­ron­men­tal Pro­tec­tion Agency (EPA) short­ly after Trump announced his inten­tion to cut the envi­ron­men­tal jus­tice pro­gram Ali had helped devel­op. A more than 20-year vet­er­an of the agency, he now works with the Hip Hop Caucus.
"More folks are going to get sick, and — unfor­tu­nate­ly — more folks are going to die," he said of pro­posed cuts to the pro­grams. ​"It's real­ly that simple."
A theme among many of the peo­ple march­ing Sat­ur­day was an ener­gy around what would hap­pen in the months to come in their own backyards.
In the age of Trump, it's a prag­mat­ic posi­tion. So long as Repub­li­cans con­trol Con­gress and the Oval Office, the like­li­hood of pass­ing either com­pre­hen­sive cli­mate leg­is­la­tion or shak­ing a pro-cli­mate exec­u­tive order out of Trump seems unlike­ly. Hope for curb­ing emis­sions is increas­ing­ly falling on states and ener­gy around stop­ping fos­sil fuel infra­struc­ture is focused along those projects' pro­posed routes.
As the day start­ed to heat up (Sat­ur­day was tied as the hottest April 29th in D.C. his­to­ry), Rae Ann Red Owl spoke about the next phase of the fight against the Key­stone XL pipeline. A mem­ber of the Oglala Sioux Tribe, she gets her water from the Mis­souri Riv­er via the Mni Wiconi Project Act, which estab­lished a water pipeline that serves her home in arid Kyle, South Dako­ta, and sev­er­al others.
"'Mni Wiconi,' that means water is life. And that's why we're here," she says. ​"If you look at Trump's exec­u­tive orders, the pow­er that they have over our day-to-day lives is ridicu­lous. The jobs that they say they're going to bring put our liveli­hoods at risk and put our earth at risk."
Red Owl isn't alone in her work against pipelines. Cher­ri Foytlin, direc­tor of Bold Louisiana, spoke Sat­ur­day with two of her chil­dren about the Bay­ou Bridge pipeline slat­ed to cross through their com­mu­ni­ty. The pipeline con­sti­tutes the tail end of the Dako­ta Access pipeline in the Gulf Coast, and could threat­en some 700 water­ways — ​"if we were to let it," as Foytlin said. She and oth­ers in south­ern Louisiana are look­ing to start up an encamp­ment to get in its way.
"I believe that it is damn self­ish to put the effects of cli­mate change onto our grand­chil­dren," she told the crowd.
The resis­tance to Trump's fos­sil fuel dreams is tak­ing the fights to the courts as well. One of Trump's sharpest crit­ics at the nation­al lev­el has been Mass­a­chu­setts Attor­ney Gen­er­al Mau­ra Healey, who showed up to sup­port the march Sat­ur­day. Along­side New York Attor­ney Gen­er­al Eric Schei­der­man, she has gone toe-to-toe with House Repub­li­cans in their probes over whether Exxon­Mo­bil mis­led the pub­lic about the exis­tence of cli­mate change. The some­what iron­i­cal­ly named House Sci­ence, Space and Tech­nol­o­gy Com­mit­tee — chaired by out­spo­ken cli­mate change denier Lamar Smith, a Repub­li­can from Texas — sub­poe­naed the attor­ney gen­er­al offices and sev­er­al green groups, requests they all chose to ignore. Healey was also among a group of state attor­ney gen­er­als suing Trump over his pro­posed Mus­lim trav­el ban.
"We've sued the admin­is­tra­tion already. We'll be suing them again," Healey said.
She also ref­er­enced the 10-year anniver­sary of Mass­a­chu­setts v. EPA. In that case, Mass­a­chu­setts and sev­er­al oth­er states took the EPA to the Supreme Court over its neg­li­gence in reg­u­lat­ing cer­tain kinds of emis­sions. The deci­sion is among the most impor­tant Supreme Court cas­es in his­to­ry with regard to cli­mate, hav­ing estab­lished that the EPA has the author­i­ty to reg­u­late car­bon as part of its duty to pro­tect clean air and water. Unsur­pris­ing­ly, its repeal is being looked at by those on the right as a target.
The morn­ing after the march, around 150 peo­ple — most, but not all young — gath­ered in a com­mu­ni­ty cen­ter near Logan Cir­cle in D.C. to learn how to run for elect­ed office. ​"First we march," one slo­gan for the train­ing put it, ​"and then we run." Par­tic­i­pants split off into rooms dis­cussing strate­gies for local, state and fed­er­al bids. At the end of the train­ing, sev­er­al spon­sor­ing orga­ni­za­tions offered ongo­ing sup­port to those want­i­ng to run for office.
"Just as the Tea Par­ty moved pol­i­tics to the right, we can now be the Tea Par­ty of the left," Dominic Frongillo, co-founder of Elect­ed Offi­cials to Pro­tect New York, told the crowd in a morn­ing ses­sion. ​"We can be the rev­o­lu­tion on the left that moves pol­i­tics to a pro­gres­sive direc­tion, and start on the local lev­el. It's not going to take us 45 years."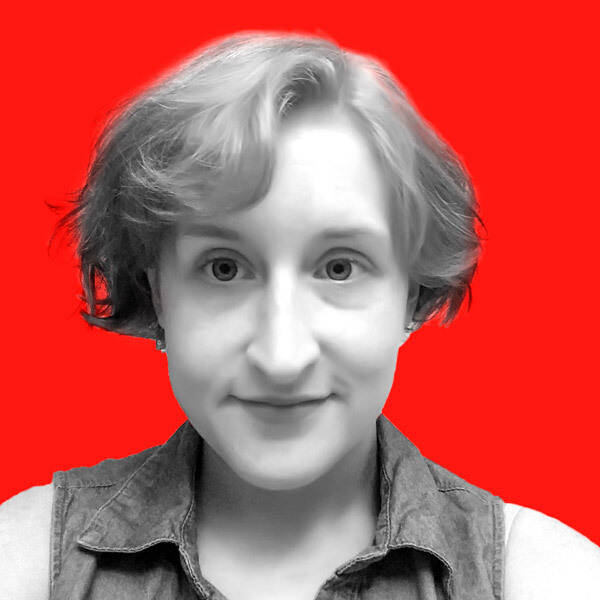 Kate Aronoff
is a Brook­lyn-based jour­nal­ist cov­er­ing cli­mate and U.S. pol­i­tics, and a con­tribut­ing writer at The Inter­cept. Fol­low her on Twit­ter @katearonoff.