The GOP Just Got One Step Closer to Taking Away Your Overtime Pay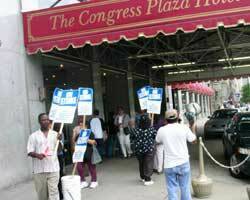 Repub­li­cans have passed yet anoth­er bill that erodes pro­tec­tions for work­ing families.
A bill Repub­li­cans have been push­ing for years that under­mines over­time pay just cleared the House. Called the ​"Work­ing Fam­i­lies Flex­i­bil­i­ty Act" (H.R. 1180), it would amend the Fair Labor Stan­dards Act to allow pri­vate com­pa­nies to offer employ­ees ​"comp" time instead of over­time pay for hours worked beyond a 40-hour work week.
The bill is being sold by Repub­li­cans as fam­i­ly friend­ly and ​"pro-work­er," allow­ing work­ers to take time off to attend to fam­i­ly needs. But Democ­rats and scores of labor and work­er advo­ca­cy groups oppose the bill, say­ing it offers employ­ees a false choice between pay and time off, effec­tive­ly depriv­ing work­ers of earned over­time with­out pro­vid­ing guar­an­tees of fam­i­ly leave or sta­ble work schedules.
The bill passed Tues­day, by a vote of 229 – 197, with six Repub­li­cans join­ing the 191 Democ­rats vot­ing ​"no." Sen. Mike Lee, a Repub­li­can from Utah, has intro­duced a com­pan­ion Sen­ate bill (S. 801) but no fur­ther action is sched­uled. The Sen­ate bill, like the House bill, has no Demo­c­ra­t­ic spon­sors. A spokesman for Sen­ate Com­mit­tee on Health, Edu­ca­tion, Labor and Pen­sions chair Lamar Alexan­der, who sup­ports the bill, said the sen­a­tor ​"hopes to see the bill tak­en up by the Sen­ate when time allows."
"With work­ing fam­i­lies across the coun­try scrap­ing to make ends meet, Con­gress should strength­en pro­tec­tions for work­ers — not gut pro­tec­tions already on the books," Sen. Eliz­a­beth War­ren, a Demo­c­rat from Mass­a­chu­setts, said in state­ment. With their vote, she said, ​"House Repub­li­cans are actu­al­ly vot­ing to make it legal for employ­ers to cheat their work­ers out of over­time pay. This is a disgrace."
"This is no sub­sti­tute for paid sick leave, paid fam­i­ly leave and the gen­uine pro­tec­tions fam­i­lies need. This is a way for employ­ers to avoid pay­ing over­time," said Nation­al Employ­ment Law Project fed­er­al advo­ca­cy coor­di­na­tor Judy Conti.
Oth­er crit­ics, includ­ing the Amer­i­can Sus­tain­able Busi­ness Coun­cil, call the bill ​"bad­ly designed, with too much poten­tial for abuse by employ­ers." Con­cerns include poten­tial wage theft, favor­ing work­ers who choose comp time over paid over­time and employ­ees' inabil­i­ty to use the comp time when they actu­al­ly need it. A let­ter from near­ly 90 groups oppos­ing the bill notes that the bill pro­vides no guar­an­tee that work­ers would get their earned over­time if a com­pa­ny goes bank­rupt or clos­es up shop.
The bill would allow employ­ers to hold the cash equiv­a­lent of over­time their work­ers earn. Employ­ees could then take those hours off at a lat­er date or cash out at the end of a cal­en­dar year. Employ­ers would also be required to pay work­ers over­time owed with­in 30 days of receiv­ing a writ­ten request from an employ­ee who changes her mind and wants cash rather than time off.
Analy­sis by the Eco­nom­ic Pol­i­cy Insti­tute shows how the bill doesn't offer work­ers any­thing new and could leave them worse off finan­cial­ly. Or, as House Com­mit­tee on Edu­ca­tion and the Work­force Rank­ing Mem­ber, Rep. Bob­by Scott, a Demo­c­rat from Vir­ginia, said dur­ing the bill's markup, ​"H.R. 1180 doesn't give employ­ees any rights they don't already have … The bill does, how­ev­er, cre­ate a new right for employ­ers to with­hold employ­ees' over­time pay."
Com­mit­tee Repub­li­cans say work­ers are being held back now by cur­rent rules and that the bill includes ​"numer­ous pro­tec­tions" to ensure employ­ee choice. Democ­rats, how­ev­er, say it does noth­ing to strength­en ​"exist­ing work­place pro­tec­tions" or ​"flex­i­bil­i­ty." Labor groups on record oppos­ing the bill include the Ser­vice Employ­ees Inter­na­tion­al Union (SEIU), Restau­rant Oppor­tu­ni­ties Cen­ter Unit­ed, Inter­na­tion­al Broth­er­hood of Team­sters, Nation­al Part­ner­ship for Women and Fam­i­lies and the Lead­er­ship Con­fer­ence on Civ­il and Human Rights.
The leg­is­la­tion comes as the Oba­ma administration's rule to extend over­time pay to work­ers mak­ing up to $47,476 (dou­ble the cur­rent lim­it of $23,660) remains in legal lim­bo. That rule was expect­ed to ben­e­fit more than 4 mil­lion work­ers. The bill also comes while most U.S. work­ers remain with­out access to paid fam­i­ly leave.
A recent Pew sur­vey found that in 2016, only 14 per­cent of U.S. civil­ian work­ers had paid fam­i­ly leave, while 88 per­cent relied on unpaid fam­i­ly leave guar­an­teed to those eli­gi­ble by the Fam­i­ly and Med­ical Leave Act.
"The so-called Work­ing Fam­i­lies Flex­i­bil­i­ty Act is not a solu­tion," com­mit­tee mem­ber Rep. Suzanne Bonam­i­ci, a Demo­c­rat from Ore­gon, said in a state­ment. It's ​"long past time," she said, ​"that Con­gress enact­ed mean­ing­ful solu­tions to raise work­ers' wages, increase access to paid sick days and fam­i­ly leave, pro­vide flex­i­ble and pre­dictable scheduling."
Eliz­a­beth Gross­man
is the author of
Chas­ing Mol­e­cules: Poi­so­nous Prod­ucts, Human Health, and the Promise of Green Chem­istry
,
High Tech Trash: Dig­i­tal Devices, Hid­den Tox­i­cs, and Human Health
, and oth­er books. Her work has appeared in a vari­ety of pub­li­ca­tions includ­ing
Sci­en­tif­ic Amer­i­can
,
Yale e

360
,
Envi­ron­men­tal Health Per­spec­tives
,
Moth­er Jones
,
Ensia
,
Time
,
Civ­il Eats
,
The Guardian
,
The Wash­ing­ton Post
, Salon and
The Nation
.