The GOP's National Right to Work Bill Is a Smokescreen—The Threat Is What Comes Next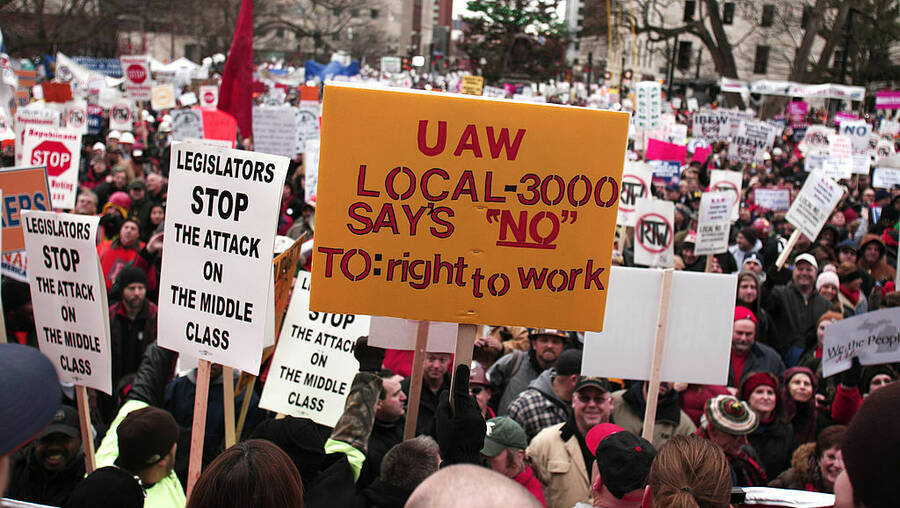 Last week, Iowa Con­gress­man Steve King intro­duced the Nation­al Right to Work Act, which would cre­ate a nation­wide ban on the require­ment that work­ers who are rep­re­sent­ed by a union have to pay for the costs asso­ci­at­ed with rep­re­sen­ta­tion. The bill was cospon­sored by South Carolina's Joe Wil­son, whose pri­ma­ry claim to fame is hav­ing yelled ​"you lie!" at Pres­i­dent Barack Oba­ma from the back bench­es of a joint ses­sion of Congress.
In the two weeks since Don­ald Trump's inau­gu­ra­tion, King, in addi­tion to the Nation­al Right to Work Act, has intro­duced bills to make it eas­i­er to fire work­ers who have union sym­pa­thies (with the Orwellian title, ​"Truth in Employ­ment Act"), to repeal the Davis-Bacon Act, which requires pay­ing pre­vail­ing wages for fed­er­al­ly-fund­ed con­struc­tion projects, to repeal Pres­i­dent Lyn­don Johnson's Ele­men­tary and Sec­ondary Edu­ca­tion Act of 1965, which has served as the mod­ern foun­da­tion for pub­lic edu­ca­tion in Amer­i­ca, and intro­duced a res­o­lu­tion to amend the 14th Amend­ment of the Con­sti­tu­tion so that it no longer appor­tions the num­ber of Con­gress­men by count­ing the num­ber of peo­ple in each state, but by ​"count­ing the num­ber of per­sons in each State who are cit­i­zens of the Unit­ed States."
Clear­ly, this is the wish-list of some­one who has a per­verse view of the nation. King has always been an extreme indi­vid­ual. The ques­tion is whether in Trump's Amer­i­ca any of his ideas should be tak­en seri­ous­ly. Almost two years ago, King intro­duced an iden­ti­cal right-to-work bill, which gar­nered 75 orig­i­nal cospon­sors, with an addi­tion­al eight with­in a week. By con­trast, King's re-intro­duc­tion this year had one orig­i­nal cospon­sor (Wil­son), with only sev­en more join­ing as cospon­sors in the week that followed.
Fur­ther­more, with­in about a week of intro­duc­ing the House bill in the last Con­gress, Sen. Rand Paul intro­duced a Sen­ate ver­sion, with 14 orig­i­nal cospon­sors, includ­ing Sen­ate Major­i­ty Leader, Mitch McConnell. This time there was no Sen­ate com­pan­ion bill.
So what hap­pened? Sure­ly Repub­li­cans are in a much stronger posi­tion to pass a nation­wide right-to-work bill now than they were in 2015 with Oba­ma and a guar­an­teed veto. But the real­i­ty is that even with con­trol of the House, Sen­ate and pres­i­den­cy, Repub­li­cans will still not like­ly be able to pass such leg­is­la­tion. In order to pass the bill, Repub­li­cans would have to get the sup­port of almost the entire par­ty in the House, and would have to get eight Democ­rats on board in the Sen­ate in order to defeat a filibuster.
In the last Con­gress, when the bill was large­ly sym­bol­ic because it had no chance of being signed into law by Oba­ma, House Repub­li­cans were bare­ly able to get more than half their cau­cus on board. (Com­pare that to the sim­i­lar­ly fruit­less efforts to repeal Oba­macare, which Repub­li­cans repeat­ed­ly passed). In the Sen­ate, too, they nev­er got close to hav­ing unan­i­mous sup­port with­in the par­ty. This time around, there appears to be even less ear­ly sup­port for the Nation­al Right to Work Act.
With the pletho­ra of seri­ous reform efforts being mount­ed by Repub­li­cans (health­care, immi­gra­tion, envi­ron­men­tal, employ­ment and so much more), Democ­rats would be wise to treat this bill for what is real­ly is: a pub­lic rela­tions stunt that has lit­tle chance of suc­cess, but is more broad­ly being used to help pro­mote right-to-work efforts in the states.
Right-to-work laws have been pass­ing in states at an accel­er­at­ed pace, with Mis­souri becom­ing the 28th state to pass such a law. Still, in sev­er­al states con­trolled by Repub­li­cans, right-to-work laws are unlike­ly to pass because some Repub­li­cans have expe­ri­ence with unions or rela­tion­ships with labor, and many employ­ers depend on the sta­bil­i­ty that a union­ized work­force deliv­ers. These leg­is­la­tors are large­ly able to keep such posi­tions that are at odds with the nation­al Repub­li­can Par­ty because they have not expe­ri­enced a bar­rage of out­side pres­sure and spend­ing. A nation­al fight over a right-to-work law would bring increased atten­tion to the issue on the state lev­el and would make it hard­er for sym­pa­thet­ic state Repub­li­cans to remain under the radar.
Fur­ther­more, King's Nation­al Right to Work Act can serve to dis­tract atten­tion away from rule changes and exec­u­tive orders that will affect mil­lions of workers.
Labor should, of course, get reaf­fir­ma­tions of sup­port from Democ­rats, and a few labor-friend­ly Repub­li­cans, but it should not fall into the trap of fight­ing a Nation­al Right to Work Act head-on. Instead, it should con­tin­ue to build alliances among oth­er pro­gres­sive groups and expend its resources in fight­ing the reforms that have a seri­ous chance of pas­sage. Labor groups should keep an eye on this bill, but save their fire for more press­ing matters.
As an exam­ple, labor should put its resources into orga­niz­ing gov­ern­ment work­ers. These work­ers are get­ting attacked on all sides and there is a great deal of anx­i­ety among them. Work­ers need pro­tec­tion, they need answers and they want to have their voic­es heard. This is the time when being a mem­ber of a union can have the most appeal, and pub­lic sec­tor unions should seize the moment to make their case to gov­ern­ment workers.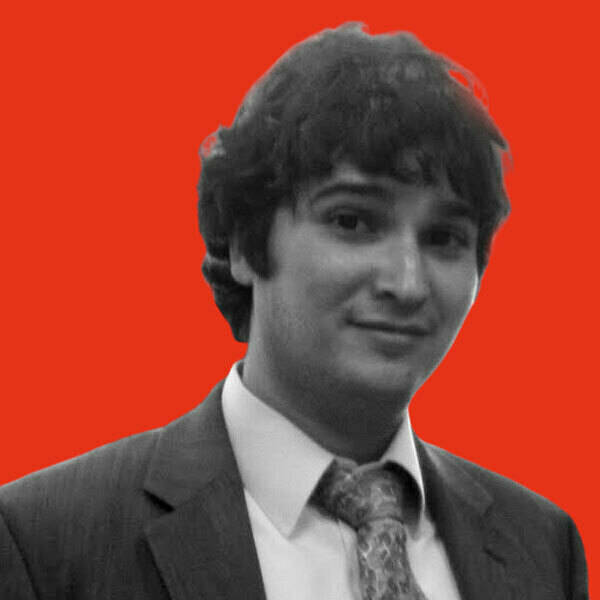 Moshe Z. Mar­vit is an attor­ney and fel­low with The Cen­tu­ry Foun­da­tion and the co-author (with Richard Kahlen­berg) of the book Why Labor Orga­niz­ing Should be a Civ­il Right.