I recent­ly went hik­ing in Yel­low­stone Nation­al Park. It is a place burst­ing with lakes and forests and canyons so large they threat­en to swal­low you up — at times, I found myself wish­ing they would.
Per­haps no sin­gle crea­ture bet­ter encap­su­lates this feel­ing evoked by the Amer­i­can West — awe­some and dan­ger­ous, hum­bling and threat­en­ing — than the griz­zly bear. In Griz­zly West: A Failed Attempt to Rein­tro­duce Griz­zly Bears in the Moun­tain West (released ear­li­er this month), envi­ron­men­tal his­to­ri­an Michael J. Dax explores the ris­ing ten­sions between the con­ser­v­a­tive Old West and envi­ron­men­tal­ist New West, and doc­u­ments how griz­zlies got caught in the crossfire.
Dax's sub­ject is, as the sub­ti­tle sug­gests, a failed attempt through­out the late 1990s and ear­ly 2000s to rein­tro­duce griz­zly bears into the Sel­way-Bit­te­root Wilder­ness along the Ida­ho-Mon­tana bor­der. This wilder­ness, cou­pled with the adja­cent Frank Church-Riv­er of No Return Wilder­ness, makes up the largest road­less area in the Low­er 48.
Count­less books and doc­u­men­taries exist to help you fall in love with the bear, to show­case their intel­li­gence, strong moth­er-cub bonds and the trans­for­ma­tive roles they play with­in their ecosys­tems. Dax, how­ev­er, explores the bear more as sym­bol than as organ­ism. He traces the West's chang­ing char­ac­ter and the broad­er devel­op­ment of endan­gered species pol­i­tics, giv­ing us the com­pre­hen­sive back­ground we need to under­stand the bear's fate, and what the Bit­ter­root defeat can teach us for the future.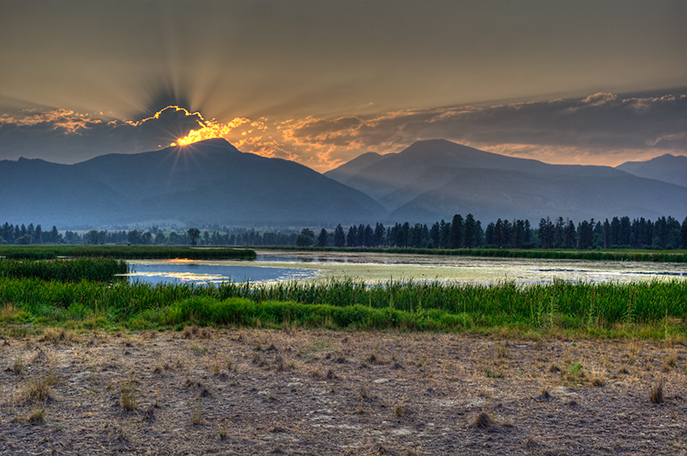 Sun­set over the Bit­ter­root Moun­tains — not a griz­zly to be seen. (Diana Robin­son / Flickr)
The Wise and the Horrible
Of the planet's eight bear species, the three found in North Amer­i­ca (out­side of cap­tiv­i­ty) are the black, the polar and the brown. (Don't let the names fool you: Black bears can be a range of col­ors, and the best way to dis­tin­guish brown bears is by their shoul­der hump and larg­er size.) ​"Griz­zly" tech­ni­cal­ly refers to one par­tic­u­lar sub­species of brown bear, iden­ti­fied by its grey-tipped (griz­zled) fur, but it is often used as an umbrel­la term for all North Amer­i­can brown bears.
The black bear's ances­tors reached our con­ti­nent 3.5 mil­lion years ago. The brown arrived an esti­mat­ed 50,000 to 70,000 years ago — still long before humans. Many North Amer­i­can First Nations, like oth­er pre-agrar­i­an (and mod­er­ate­ly agrar­i­an) soci­eties through­out the world, have felt a spe­cial con­nec­tion to the bear, who fea­ture promi­nent­ly in myths and ceremonies.
Accord­ing to Nez Per­cé leg­end, what we call the Lolo Trail through the Bit­ter­root Moun­tains ​"was estab­lished when a griz­zly bear guid­ed a lost boy through those moun­tains," Dax writes. Unfor­tu­nate­ly, Euro­pean set­tlers had long lost this respect for the non­hu­man world. In 1804, when the Lewis and Clark expe­di­tion became the first group of Euro-Amer­i­cans to see a griz­zly, they also imme­di­ate­ly became the first to shoot at one.
In 1815 nat­u­ral­ist George Ord, a man who had nev­er encoun­tered a griz­zly out­side of Lewis and Clark's reports, gave the species its ​"sci­en­tif­ic" name: Ursus hor­ri­bilis—a fate­ful PR deci­sion with 200 years of con­se­quences. While the griz­zly was lat­er rec­og­nized as a sub­species of the brown bear, Ursus arc­tos, the name stuck, and even today the bear is offi­cial­ly clas­si­fied as U. arc­tos horribilis.
Mean­while, Homo sapi­ens sapi­ens put ​"wise" in its own name twice.
Euro­pean col­o­niza­tion meant the same thing for the griz­zly as it did for the buf­fa­lo and the wolf, not to men­tion indige­nous humans: whole­sale slaugh­ter. The last Tex­an griz­zly was killed in 1890, and since 1922 the only wild griz­zly left in Cal­i­for­nia has been on the state's flag. Over the decades hunt­ing, trap­ping and habi­tat loss knocked out the griz­zly from Utah, Ore­gon, New Mex­i­co, Ari­zona, Col­orado and the whole coun­try of Mexico.
There may have been as many as 100,000 griz­zlies south of Cana­da pre-set­tle­ment, but by the mid-1900s less than one per­cent of this num­ber remained, and the species cov­ered less than two per­cent of its orig­i­nal range.
These killings were moti­vat­ed in part by a fear of attacks and jus­ti­fied by eco­nom­ic con­cerns such as pro­tect­ing live­stock, clear­ing space for ranch­ing, log­ging and farm­ing and, to a less­er extent, sell­ing the hides. Hunters sought glo­ry in the moun­tains, and the U.S. Bio­log­i­cal Sur­vey poi­soned bears and wolves in the name of ani­mal agriculture.
Pub­lic sup­port for exter­mi­na­tion was stoked by high­ly emo­tion­al rhetoric against these scav­eng­ing flesh-eaters, rhetoric still in use today. Few have ever seemed to point out that griz­zlies are oppor­tunis­tic omni­vores and excel­lent for­agers of fruits, nuts and roots — in some regions con­sum­ing up to an 80 per­cent plant-based diet. (That's more than today's aver­age Amer­i­can can say, giv­en our addic­tion to meat and diary.)
What I found most fas­ci­nat­ing is the white man's need for what Dax calls ​"ide­o­log­i­cal dom­i­nance." The grizzly's size, strength and adapt­abil­i­ty threat­ened the moral under­pin­nings of a civ­i­liz­ing project built on white suprema­cy and Chris­t­ian excep­tion­al­ism, and set­tlers had to prove them­selves king of the forest.
To prop­er­ly under­stand this dog­ma, we must look to turn-of-the-20th-cen­tu­ry wilder­ness advo­cate John Muir. In this strik­ing pas­sage from A Thou­sand-Mile Walk to the Gulf, the feisty back­pack­er both sum­ma­rizes and skew­ers the pre­vail­ing ideology:
The world, we are told, was made espe­cial­ly for man — a pre­sump­tion not sup­port­ed by all the facts. A numer­ous class of men are painful­ly aston­ished when­ev­er they find any­thing, liv­ing or dead, in all God's uni­verse, which they can­not eat or ren­der in some way what they call use­ful to themselves. …

But if we should ask these pro­found expos­i­tors of God's inten­tions, How about those man-eat­ing ani­mals — lions, tigers, alli­ga­tors — which smack their lips over raw man? … Doubt­less man was intend­ed for food and drink for all these? Oh, no! Not at all! These are unre­solv­able dif­fi­cul­ties con­nect­ed with Eden's apple and the Devil.
Muir had ​"pre­cious lit­tle sym­pa­thy for the self­ish pro­pri­ety of civ­i­lized man, and if a war of races should occur between the wild beasts and Lord Man, I would be tempt­ed to sym­pa­thize with the bears."
Con­serve or Protect?
Dax con­trasts Muir's aim of pre­serv­ing the wild with ​"wise use" con­ser­va­tion­ism — an anthro­pocen­tric ethos that has gov­erned nat­ur­al resource pol­i­cy since Theodore Roosevelt's time. It was clear that the extrac­tive ranch­ing, log­ging, min­ing and farm­ing enter­pris­es that dom­i­nat­ed the Old West econ­o­my would quick­ly exhaust them­selves with­out rec­og­niz­ing at least some envi­ron­men­tal lim­its. They accept­ed the need for mod­er­a­tion. But, as Muir had so force­ful­ly lament­ed, the exis­tence of griz­zlies and oth­er large preda­tors had no place with­in this eco­nom­i­cal­ly util­i­tar­i­an mindset.
The lega­cy of Muir and oth­er like-mind­ed thinkers (most famous­ly Hen­ry David Thore­au) did not die out com­plete­ly, and the 1960s and 1970s saw the rapid rise of the envi­ron­men­tal move­ment. As Dax writes, envi­ron­men­tal­ists saw ​"intan­gi­ble, spir­i­tu­al ben­e­fits" in a thriv­ing non­hu­man world, and nowhere was this felt more strong­ly than in the Amer­i­can West. Jux­ta­posed against the indus­tri­al­ized east coast, the West's moun­tains and forests were prac­ti­cal­ly an Eden. The region saw an influx of new res­i­dents rep­re­sent­ing a ​"New West," and the tourism and ser­vice sec­tors began to rival, then sur­pass the extrac­tive economy.
Dax attrib­ut­es the ear­ly sup­port of envi­ron­men­tal­ism to eco­nom­ic growth. More dis­pos­able income and the spread of roads and auto­mo­biles allowed nat­ur­al parks to become more acces­si­ble. This strikes me as a depress­ing irony: If over­con­sump­tion, habi­tat-frag­ment­ing high­ways and oil-gulp­ing, car­bon-spew­ing cars are foun­da­tion­al to the envi­ron­men­tal move­ment, I wish us all the best of luck.
Inter­nal con­tra­dic­tions aside, the greens had some stun­ning ear­ly suc­cess­es. For the grizzly's pur­pos­es, the most rel­e­vant was the 1973 Endan­gered Species Act (ESA), which passed the Sen­ate 92 – 0 and the House 390 – 12 and was hearti­ly sup­port­ed by Richard Nixon. Habi­tat loss, hunt­ing and oth­er human inter­fer­ence pushed griz­zly bears onto the ESA's list of threat­ened species in 1975, mean­ing that humans could only shoot griz­zlies in self-defense, and that log­ging, min­ing and ranch­ing must respect griz­zly habitat.
While the ESA had been uni­ver­sal­ly pop­u­lar in the­o­ry, envi­ron­men­tal­ists lost a lot of momen­tum once peo­ple saw how cost­ly it could be, and the act almost imme­di­ate­ly raised hack­les. In 1973, a pre­vi­ous­ly undis­cov­ered 3‑inch long fish, the snail darter, was found in the impact zone of Tennessee's under-con­struc­tion Tel­li­co Dam — a project that had begun in 1966. In 1975 the snail darter was list­ed as endan­gered, and the next year envi­ron­men­tal­ists sued to stop the dam. The Supreme Court ruled in the fish's favor, but Con­gress still want­ed the damn dam built — and through some leg­isla­tive acro­bat­ics, they got their way. Con­struc­tion fin­ished in 1979, and many thought the darter doomed. Luck­i­ly, the plucky lit­tle species was lat­er detect­ed in near­by rivers, and lived to swim anoth­er day.
The next big ker­fuf­fle was over the spot­ted owl, imper­iled by the tim­ber indus­try in the Pacif­ic North­west. What in the­o­ry is a strict­ly sci­en­tif­ic ques­tion — whether the owl should be pro­tect­ed under the ESA — became a polit­i­cal one as log­gers fought envi­ron­men­tal­ists to keep the owls off the list. The heat­ed con­tro­ver­sy last­ed over a decade, but in 1990 the owl was clas­si­fied as threatened.
Per­haps the most excit­ing ESA vic­to­ry came in Jan­u­ary 1995, with the rein­tro­duc­tion of the gray wolf into Yel­low­stone Nation­al Park. But this was a long and hard-fought bat­tle, expend­ing much of the polit­i­cal cap­i­tal that could have saved the griz­zlies in Bit­ter­root. Com­pared to bears, wolves are less dan­ger­ous to humans but more dan­ger­ous to live­stock, and many Old West ranch­ers weren't ready to undo the thor­ough job their ances­tors had done in exter­mi­nat­ing the wolves.
The envi­ron­men­tal move­ment no longer had the man­date it once had, Dax explains. The eco­nom­ic boom had sub­sided in the late 1970s, and sud­den­ly sav­ing endan­gered species seemed less urgent. Some envi­ron­men­tal­ists respond­ed by becom­ing more con­cil­ia­to­ry, but the frus­tra­tion of the Rea­gan years drove oth­ers fur­ther left. The Old West, once pro­gres­sive, had begun to rebel against what they saw as intru­sive fed­er­al over­sight and land man­age­ment. And while the New West saw wolf rein­tro­duc­tion as a crown­ing suc­cess, the Old West was far from surrender.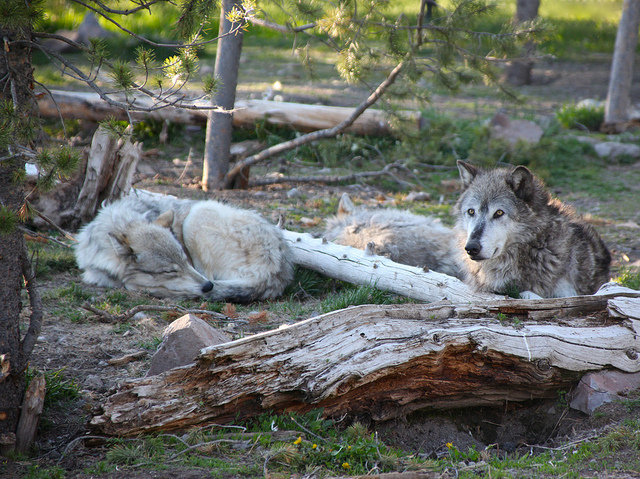 Gray wolves in Yel­low­stone once more. (Steve Jurvet­son / Flickr)
Griz­zly Democracy
Bears, like wolves, have seen a dra­mat­ic shift in pub­lic per­cep­tion over the past cen­tu­ry. These play­ful and curi­ous preda­tors, in part through ambas­sadors like Smokey and Yogi, have gone from mind­less mur­der­ers to lov­able sym­bols of the wild. The polar bear, the most car­niv­o­rous Ursos, has become the poster child of cli­mate change and Coca-Cola.
Nation­al­ly, majori­ties sup­port­ed griz­zly rein­tro­duc­tion into the Sel­way-Bit­ter­root Wilder­ness, just as they had sup­port­ed wolf rein­tro­duc­tion into Yel­low­stone. But local­ly, oppo­si­tion was loud­er and more widespread.
In the case of wolves, the envi­ron­men­tal non­prof­it Defend­ers of Wildlife coun­ter­act­ed the oppo­si­tion with aggres­sive edu­ca­tion cam­paigns, address­ing pop­u­lar mis­con­cep­tions and seek­ing to fun­da­men­tal­ly recast humanity's rela­tion with Old Yeller's cousin. The media out­reach blitz over­whelmed con­ser­v­a­tive oppo­nents, but left them alien­at­ed and angry.
Hop­ing to lim­it any bit­ter­ness over Bit­ter­root, some envi­ron­men­tal groups (in par­tic­u­lar Defend­ers of Wildlife and the Nation­al Wildlife Fed­er­a­tion) sought to imple­ment a more col­lab­o­ra­tive approach to griz­zly rein­tro­duc­tion. Ranch­ers were the main ene­mies of wolves, but with bears they knew the main oppo­si­tion would come from log­gers. In 1993 they reached out to the Resource Orga­ni­za­tion on Tim­ber Sup­ply (ROOTS) in search of com­pro­mise. The tim­ber indus­try, for their part, had con­ced­ed that rein­tro­duc­tion was like­ly, and was eager to have at least some say in the matter.
Com­pro­mise they did. The new Bit­ter­root griz­zly pop­u­la­tion would be clas­si­fied as ​"exper­i­men­tal" and ​"nonessen­tial," thus lim­it­ing restric­tions on the tim­ber indus­try, and long-term griz­zly man­age­ment would be con­trolled by a cit­i­zens' com­mit­tee — a group most­ly appoint­ed by the Ida­ho and Mon­tana gov­er­nors. Envi­ron­men­tal­ists would still get their griz­zlies, and the ROOTS coalition's plan was assessed and endorsed by the fed­er­al gov­ern­ment much more quick­ly than wolf rein­tro­duc­tion had been. Unfor­tu­nate­ly, nei­ther side escaped the firestorm they'd been hop­ing to avoid.
As the U.S. Fish and Wildlife Service's griz­zly expert Chris Servheen put it: ​"Nobody has no opin­ion about griz­zly bears." For many in the Old West, accord­ing to Dax, the actu­al threat posed by the griz­zly was of lit­tle con­se­quence. This was a region sick of the fed­er­al gov­ern­ment telling them what they could do with their prop­er­ty, sick of New West­ern­ers who'd nev­er worked the land telling them how to live their lives.
After the wolf, they saw griz­zlies as insult added to injury. The Mon­tana Stock­grow­ers Asso­ci­a­tion derid­ed ​"the government's lust for for­eign preda­tors" (the bears, like the wolves, were to be import­ed from Cana­da), and Ida­ho rep­re­sen­ta­tive Helen Chenoweth col­or­ful­ly pro­claimed, ​"The only prac­ti­cal pur­pose the griz­zlies would serve is if they ate gray wolves."
Even Ida­ho gov­er­nor Dirk Kempthorne, at first unde­cid­ed, even­tu­al­ly turned against the bear: ​"When­ev­er there's an encounter between a human and a griz­zly, the human does not fare well." After cen­turies of hunt­ing and habi­tat destruc­tion, I sus­pect the bears would beg to differ.
One Old West landown­er got to the heart of this antag­o­nism: ​"In all hon­esty, I don't think this is about griz­zly bears. This is about power."
The polit­i­cal con­tro­ver­sy would delay fed­er­al approval through the twi­light of the Clin­ton years, and while the ROOTS plan was offi­cial­ly adopt­ed by the Fish and Wildlife Ser­vice in 2000, the Bush admin­is­tra­tion nev­er both­ered to fund it. Dax lays the grizzly's share of the blame on the intran­si­gent right, but he also seems frus­trat­ed with those on the left, such as the Alliance for the Wild Rock­ies (AWR) and the Sier­ra Club, who reject­ed the ROOTS plan's compromises.
In the AWR's ​"con­ser­va­tion biol­o­gy alter­na­tive" (CBA) plan, a larg­er region of the wilder­ness would be more strin­gent­ly pro­tect­ed from tim­ber. Dax describes the CBA as ​"bio­log­i­cal­ly pure but polit­i­cal­ly inept."
The CBA object­ed most stri­dent­ly to the cit­i­zens' com­mit­tee, which the AWR's Mike Bad­er com­pared to let­ting ​"the fox man­age the chick­ens." Instead, the plan called for more fed­er­al con­trol and sci­en­tif­ic input. Bad­er main­tains to this day he is glad the ROOTS plan failed. If bears are to be rein­tro­duced — which he hopes they are — he wants it done right.
I do not quite know how to feel about this debate. I don't share Dax's con­vic­tion that prag­ma­tism and com­pro­mise were the nec­es­sary approach to griz­zly rein­tro­duc­tion — the ROOTS plan failed despite these, and some things are sure­ly worth fight­ing for. But if the CBA was tru­ly polit­i­cal­ly unfea­si­ble, wasn't the ROOTS plan at least worth a try?
Dax argues that envi­ron­men­tal­ists' reliance on courts and fed­er­al action back­fired by fir­ing up con­ser­v­a­tives, who — under­stand­ably, I think — saw this as elit­ist and unde­mo­c­ra­t­ic. From Thore­au to Earth First!, many rad­i­cal greens have shared a healthy dis­trust of the U.S. gov­ern­ment, and I won­der whether call­ing for tech­no­crat­ic con­trol over the cit­i­zens' com­mit­tee was a mistake.
It must be said that a com­mit­tee of 12 gov­er­nor-appoint­ed mem­bers, two fed­er­al appoint­ments, and one Nez Per­cé rep­re­sen­ta­tive isn't exact­ly direct, grass­roots democ­ra­cy — and states' rights in this coun­try have too often been the right to oppress.
But it's sig­nif­i­cant that locals cared so deeply, regard­less of their stance. While extrac­tive indus­tries' polit­i­cal sway had kept con­ser­v­a­tive gov­er­nors in office, local opin­ions on griz­zly rein­tro­duc­tion swung wild­ly back and forth through­out the 1990s. Per­haps a tru­ly open cit­i­zens' coun­cil could see through the mon­eyed inter­ests and inflam­ma­to­ry lan­guage and craft a mean­ing­ful discussion.
But then again, where is the voice of the bear in all this, and the ecosys­tems that griz­zlies help main­tain? Aren't they, in real­i­ty, the most affected?
As a hik­er, Cal­i­forn­ian and wildlife lover, I sup­pose I am ide­o­log­i­cal­ly part of the New West. Dax, who now works with Defend­ers of Wild­ife, seems to sym­pa­thize with the New West, too. But he is cog­nizant of its flaws, espe­cial­ly its arro­gance. Griz­zly West should inspire advo­cates to recon­sid­er our inter­ac­tions with local work­ing populations.
Towards a New New West
One New West­ern­er, at a pub­lic dis­cus­sion on rein­tro­duc­tion, said, ​"To live with the griz­zly is an exer­cise in humil­i­ty — an admis­sion that we do not and should not con­trol every­thing." This feels right to me, but it's also incomplete.
For the Old West, Dax notes, mas­culin­i­ty means con­quer­ing nature. For the New, it means expe­ri­enc­ing nature's per­ils. With the Endan­gered Species Act under attack in Con­gress and a new griz­zlyrein­tro­duc­tion debate under­way in Washington's North Cas­cades, I'd rather leave testos­terone out of it.
The griz­zly is nei­ther an ene­my nor a means to our spir­i­tu­al devel­op­ment, nei­ther some­thing to con­quer nor some­thing to expe­ri­ence, but sim­ply an equal. ​"Nature's object in mak­ing ani­mals and plants," wrote Muir, ​"might pos­si­bly be first of all the hap­pi­ness of each one of them, not the cre­ation of all for the hap­pi­ness of one."
The night before I left Yel­low­stone, I found myself in a small crowd squint­ing at a dis­tant hill­side. A griz­zly was eat­ing an elk car­cass, while a wolf lay down in wait just a few meters away. When the bear was sat­ed, she sim­ply ram­bled off, leav­ing the car­cass behind. The coast now clear, the wolf jaunt­ed over to dig in.
The crowd urged the bear to react: ​"Fight!" at least two peo­ple cried, crav­ing some car­nal sat­is­fac­tion in sharp teeth and bloody jaws. The bear, thank good­ness, paid us no mind, leav­ing the wolf free to keep tug­ging at the meat. Accord­ing to a park ranger, the wolf would bring some back to feed his pups. And the griz­zly, with the wolf gone, would return. And so it would con­tin­ue, two apex preda­tors accept­ing the other's pres­ence, engaged in an ongo­ing dance of wary respect.