The Heroin Crisis We've Ignored
A compassion deficit afflicts Black and Latino users.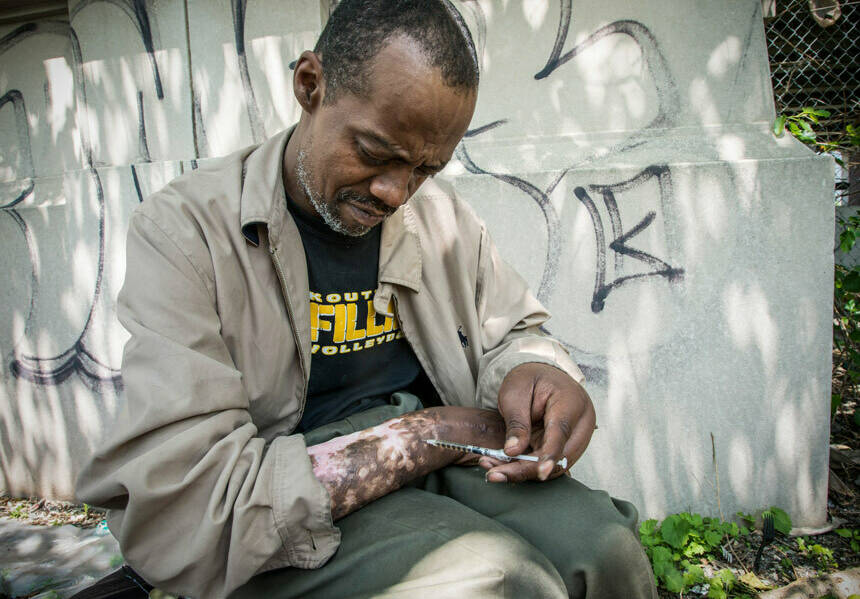 "Hola mis amores!" Melis­sa Her­nan­dez, 35, calls out as she pulls her car up in a nar­row alley between a mud­dy vacant lot and a tan­gle of bram­bles in Chicago's North Lawn­dale neighborhood.
The heroin epidemic has been a subject of growing public concern in recent years, but Black and Latino heroin users are often absent from the discussion.
It's the evening of Don­ald Trump's inau­gu­ra­tion, but that is a world away for the hand­ful of peo­ple who emerge from a vacant build­ing to greet Her­nan­dez. They are Puer­to Rican hero­in users with health prob­lems relat­ed to their addic­tions. Though sev­er­al of them have spent time in the Cook Coun­ty Jail and Mt. Sinai Hos­pi­tal a few blocks away, they have been unable to get sus­tained treat­ment. Wait­ing lists at Illi­nois' 40 pri­vate and 31 pub­lic methadone clin­ics and oth­er treat­ment pro­grams can be long, and poor peo­ple of col­or like the Puer­to Rican users often have an espe­cial­ly hard time get­ting care because of lan­guage bar­ri­ers, lack of insur­ance and IDs, and oth­er social and eco­nom­ic issues. Her­nan­dez fills the pock­ets and arms of each per­son with sup­plies: clean nee­dles, bot­tled water, alco­hol wipes, blan­kets and sty­ro­foam con­tain­ers of hot home­made Puer­to Rican food. This is a taste of home for the many hero­in users in the city's alleys, aban­doned build­ings and flop­hous­es she serves through her orga­ni­za­tion, the Puer­to Rico Project.
Her­nan­dez, a for­mer user her­self, knows how hard it is to find effec­tive treat­ment. These days, in addi­tion to work­ing as a den­tal assis­tant, going to school and rais­ing kids, Her­nan­dez is con­stant­ly on the phone with Chica­go treat­ment cen­ters and pub­lic offi­cials, try­ing to find beds for her clients.
A frail woman, wear­ing flip-flops despite the cold, walks slow­ly and painful­ly over to Her­nan­dez, who greets her with a warm hug. She tells Her­nan­dez that her hepati­tis C has pro­gressed, not to men­tion her HIV diag­no­sis. She says she no longer needs con­doms since she is too weak to walk the streets.
The hero­in epi­dem­ic has been a sub­ject of grow­ing pub­lic con­cern in recent years, Black and Lati­no hero­in users are often absent from the dis­cus­sion. Instead, media and pol­i­cy atten­tion has focused large­ly on white com­mu­ni­ties. There's a rea­son for that: Near­ly 90 per­cent of new users dur­ing the past decade were white. Hero­in use among whites cuts across age and socioe­co­nom­ic class; the drug has seeped into mid­dle-class sub­urbs as well as poor, rur­al areas. In 2013, near­ly 5,000 white peo­ple aged 18 – 44 died from hero­in over­dos­es, rep­re­sent­ing a 517 per­cent increase from their rate of fatal over­dos­es in 2000.
Out­side of the media spot­light, hero­in remains a cri­sis in many Black and Lati­no com­mu­ni­ties. African Amer­i­cans had the high­est rate of fatal hero­in over­dos­es in 2000, fol­lowed by His­pan­ics. The fre­quen­cy of drug poi­son­ing deaths has since more than dou­bled for both groups — an increase less dra­mat­ic than that of whites, but still of pub­lic concern.
The preva­lence of opi­oids in white com­mu­ni­ties has helped moti­vate a new pol­i­cy response. Many munic­i­pal­i­ties and court sys­tems are opt­ing to treat addic­tion as a pub­lic health issue, rather than a crime or indi­vid­ual moral fail­ing. This is espe­cial­ly true in the North­east (Ver­mont, New Hamp­shire, Mass­a­chu­setts), where the epi­dem­ic has hit white com­mu­ni­ties hard. Experts and advo­cates wel­come this shift in atti­tudes but lament that poor users and users of col­or still face many bar­ri­ers to access­ing treatment.
The oth­er West Side story
Kathie Kane-Willis, founder of the Illi­nois Con­sor­tium on Drug Pol­i­cy and cur­rent direc­tor of pol­i­cy and advo­ca­cy at the Chica­go Urban League, notes that while Chicago's pre­dom­i­nant­ly African-Amer­i­can West Side has become well-known as the place where young, sub­ur­ban whites go to buy hero­in, Black peo­ple are also using and dying there in high numbers.
In Illi­nois, Black peo­ple have sig­nif­i­cant­ly high­er fatal over­dose rates than white peo­ple, buck­ing nation­al trends. The over­dose mor­tal­i­ty rate is 8.94 per 100,000 for Blacks, com­pared to 5.86 for whites, accord­ing to a 2015 study by the Consortium.
Kane-Willis points to a num­ber of pos­si­ble expla­na­tions for this out­come. One is a dra­mat­ic reduc­tion in fund­ing for pub­lic treat­ment pro­grams in Illi­nois, even as the state has passed reforms such as drug court pro­grams meant to divert users out of prison and into treat­ment. Pub­lic fund­ing for addic­tion treat­ment pro­grams in Illi­nois dropped from $111 mil­lion in 2007 to $79 mil­lion in 2012 — the steep­est decline of any state dur­ing that peri­od. The pro­posed 2016 bud­get, still pend­ing as this sto­ry went to press, entails fur­ther deep cuts.
These cuts are dev­as­tat­ing for users who can't get into pub­licly fund­ed pro­grams and lack pri­vate insur­ance or oth­er means to pay for pri­vate pro­grams out-of-pock­et. Blacks and Lati­nos are more like­ly than whites to rely on Med­ic­aid, which did not cov­er methadone treat­ment in Illi­nois until 2015, when the state passed a sweep­ing ​"hero­in bill." Still, advo­cates wor­ry that the low pro­posed reim­burse­ment rates for methadone mean that many clin­ics will not accept Med­ic­aid patients.
Expe­ri­ences with police and the prison sys­tem may also influ­ence some Blacks' abil­i­ty and will­ing­ness to seek treat­ment. Kane-Willis notes African Amer­i­cans might be less like­ly to get nalox­one, a drug that can reverse a hero­in over­dose, because fear of police ret­ri­bu­tion keeps them away from nee­dle exchanges where the over­dose drug is fre­quent­ly dis­trib­uted. Mean­while, she notes that users are at high risk of over­dose in the 72 hours after com­ing out of prison, if their tol­er­ance has been reduced from time behind bars. Incar­cer­a­tion also often inter­rupts Med­ic­aid cov­er­age, mean­ing peo­ple have to reap­ply for the benefit.
Even when peo­ple of col­or do access treat­ment for hero­in addic­tion, avail­able stud­ies sug­gest their suc­cess rate may be low­er than that of whites. A 2013 paper pub­lished by the Nation­al Insti­tutes of Health report­ed that minori­ties may be less like­ly to suc­cess­ful­ly com­plete treat­ment because they are more like­ly to live in envi­ron­ments with ​"high social dis­tress, weak social sup­port and few eco­nom­ic oppor­tu­ni­ties." These fac­tors can also make relapse more likely.
Take Reg­gie, a 53-year-old AfricanAmer­i­can man for whom the crim­i­nal jus­tice sys­tem, lack of eco­nom­ic oppor­tu­ni­ty and Chicago's noto­ri­ous pub­lic hous­ing sys­tem all fig­ure into a quar­ter-cen­tu­ry of hero­in addiction.
Reggie's jour­ney into addic­tion start­ed with a series of per­son­al tragedies. One day in May 1993, in the South Side pub­lic hous­ing project where he grew up, Reg­gie went down­stairs to find his younger broth­er — who had been sell­ing mar­i­jua­na in the bas­ket­ball court — lying in a pool of blood. He had been shot. Reg­gie cra­dled him as he died. His broth­er had turned 18 a week ear­li­er, and he left behind a four­month-old son. Reggie's moth­er died lat­er that year.
"I start­ed to not care any­more," he says. ​"Every­thing I cared about was gone."
Reg­gie, then in his 30s, tried to kill him­self with pills. Then he start­ed drink­ing heav­i­ly and lived with friends ​"who par­tied 24 – 7." Need­ing some­thing stronger than alco­hol, he tried heroin.
"In the projects hero­in was every­where," he says. ​"I met this young lady, we start­ed dat­ing, she was into hero­in. I decid­ed to try it."
Lat­er, Reg­gie spent three months in Cook Coun­ty Jail on charges relat­ed to his hero­in use and suf­fered wrench­ing with­draw­al symptoms.
"One minute it was like some­one was going through my body with a flamethrow­er … the next minute it's like I'm a block of ice shiv­er­ing. I'd rather be shot than go through hero­in withdrawal."
After his release, Reg­gie went to a clin­ic on the city's near North Side and got on a methadone reg­i­men. But it didn't work, in part because the methadone made him crave crack. He held down a job in the mail room of a down­town law firm until 2007, but all his mon­ey still went to hero­in. Home­less, he now spends nights rid­ing the trains or sleep­ing on Low­er Wack­er Dri­ve, a sub­ter­ranean maze of streets under down­town Chica­go where old­er African-Amer­i­can hero­in addicts live along­side young, white recent arrivals.
Reg­gie makes mon­ey for his fix­es by pan­han­dling. His skin is cov­ered in pock marks; his hands are grotesque­ly swollen, a com­mon symp­tom of hero­in use. Reggie's friend Jim­my, who is white, notes that white peo­ple are more like­ly to give mon­ey to Reg­gie, which means that he fares bet­ter. But earn­ing enough to buy more hero­in is no victory.
"I wish to God I'd nev­er touched this," Reg­gie says.
Harsh treat­ment
In addi­tion to eco­nom­ic bar­ri­ers, Lati­no hero­in users seek­ing treat­ment may face lan­guage bar­ri­ers and require­ments to show ID, which many lack.
A hand­ful of drug treat­ment cen­ters in Chica­go cater specif­i­cal­ly to Span­ish-speak­ers and Lati­nos, but there are nev­er enough beds.
"One of the issues is edu­ca­tion; some­times they don't know where to go," says Mar­co Jacome, exec­u­tive direc­tor of Health­care Alter­na­tive Sys­tems (HAS), a pro­gram found­ed four decades ago to serve Span­ish-speak­ing alco­holics that now serves hero­in users.
HAS has 16 beds in a short-term res­i­den­tial pro­gram and 16 beds in a tran­si­tion­al hous­ing pro­gram where peo­ple can stay for up to a year. It also has 210 slots in an out­pa­tient pro­gram that offers methadone, coun­sel­ing and oth­er behav­ioral ser­vices. Users attest that HAS has been an invalu­able resource. But the need is greater.
In place of licensed cen­ters cater­ing to Span­ish speak­ers, unli­censed treat­ment cen­ters known as ​"24-hour groups" have sprung up in Lati­no neigh­bor­hoods across Chica­go. Instead of pro­vid­ing med­ica­tions, these groups rely on absti­nence and a puni­tive, tough-love, qua­si-reli­gious approach.
Treat­ment con­sists main­ly of marathon group ther­a­py ses­sions dur­ing which peo­ple are insult­ed and humil­i­at­ed, includ­ing by hav­ing their heads and eye­brows shaved.
The groups can be seen as part of a move­ment of grass­roots treat­ment cen­ters across Latin Amer­i­ca. In Puer­to Rico, such pro­grams run by an orga­ni­za­tion called the Cen­ter for ReEd­u­ca­tion of Addicts (Hog­ar CREA) make up about half the island's total treat­ment cen­ters, with 82 sep­a­rate cen­ters not­ed on a gov­ern­ment list.
In 2015, jour­nal­ist Adri­ana Car­dona­M­aguigad revealed that Puer­to Rican munic­i­pal agen­cies and state police have long been send­ing addicts from the island to the unreg­u­lat­ed 24-hour groups in Chica­go, where they suf­fer ver­bal and some­times phys­i­cal abuse and live in often squalid con­di­tions. Their IDs are some­times stolen and pre­sum­ably sold, and their pub­lic aid ben­e­fits are confiscated.
Many of the peo­ple Melis­sa Her­nan­dez serves fled from these groups. She has doc­u­ment­ed the deaths of two men who came from Puer­to Rico to these treat­ment cen­ters and over­dosed on Chicago's South Side; in fact, she and Car­dona-Maguigad stum­bled upon one of the bod­ies. Her­nan­dez is deter­mined to see the groups reg­u­lat­ed, with licensed pri­vate and pub­lic insti­tu­tions expand­ing to fill the gap.
But such an expan­sion in ser­vices is unlike­ly to hap­pen soon, espe­cial­ly with an ongo­ing bud­get cri­sis in Illi­nois and Pres­i­dent Trump's promise to slash social services.
In the mean­time, Her­nan­dez con­tin­ues to demand bet­ter for the peo­ple she helps. ​"I've seen, wit­nessed, heard about a lot of set­backs and chal­lenges," she says. ​"No ID, no this, no that. But let's just get some­one in a pro­gram and help them."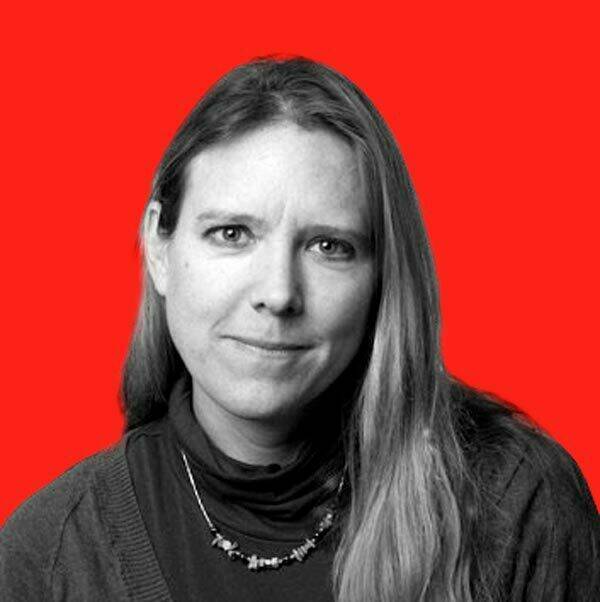 Kari Lyder­sen
is a Chica­go-based reporter, author and jour­nal­ism instruc­tor, lead­ing the Social Jus­tice
&
amp; Inves­tiga­tive spe­cial­iza­tion in the grad­u­ate pro­gram at North­west­ern Uni­ver­si­ty. She is the author of May­or
1
%: Rahm Emanuel and the Rise of Chicago's
99
%.