The Hidden Message of Amazon's $15 Wage: 'You Don't Need a Union'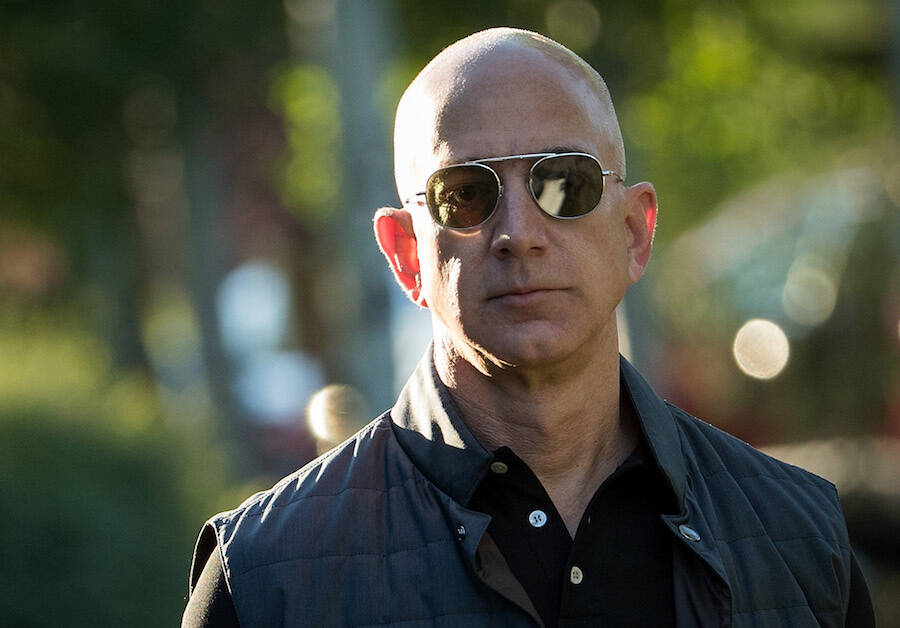 Ear­li­er this week Ama­zon announced a $15 an hour min­i­mum wage for its employ­ees in the Unit­ed States. As Ama­zon's founder and CEO Jeff Bezos acknowl­edged in a state­ment, the deci­sion was at least in part an address to ​"crit­ics": The com­pa­ny ​"thought hard about what we want­ed to do, and decid­ed we want to lead."
But ​"lead­er­ship" on work­er issues has a dis­tinct mean­ing in a tech world that tends to see itself as excep­tion­al, large­ly free of the labor dynam­ics that char­ac­ter­ize more tra­di­tion­al Amer­i­can busi­ness. The wage hike can be under­stood as a way to head off union orga­niz­ing — a small con­ces­sion to put work­ers at ease and craft Ama­zon's pub­lic image on its own terms.
The indus­try has a ​"his­to­ry of swat­ting away work­er union­iza­tion," says Mar­garet O'Mara, a his­to­ry pro­fes­sor at the Uni­ver­si­ty of Wash­ing­ton who stud­ies the tech economy.
In part, she says, this belief is root­ed in the idea that a union is ​"a sign that some­thing is wrong with your company."
Accord­ing to O'Mara, ear­ly tech pio­neers like Bill Hewlett and Dave Packard set the tone. Free mar­ket ide­o­logues, they want­ed to build a new kind of com­pa­ny, with a new kind of employ­ee-man­ag­er rela­tion­ship, a less hier­ar­chi­cal orga­ni­za­tion­al struc­ture. They believed ​"it's too adver­sar­i­al when you have a union," says O'Mara.
Though as much logis­tics com­pa­ny as tech giant, Ama­zon, at least at the exec­u­tive lev­el, has large­ly demon­strat­ed this out­look.
This is one rea­son Whole Foods, one of the few large U.S. gro­cery chains with­out a union, was a good fit for Ama­zon, which pur­chased the com­pa­ny in 2017. Whole Foods CEO John Mack­ey, tout­ing the company's high marks in rank­ings of desir­able work­places, once told Yahoo, ​"We're not so much anti-union as beyond unions."
Last week, Giz­mo­do report­ed on one man­i­fes­ta­tion of that atti­tude: a train­ing video that was shown to Whole Foods team lead­ers fol­low­ing reports that some work­ers were attempt­ing to orga­nize. Yahoo news made some of the video pub­lic. It advis­es man­agers to watch out for warn­ing signs of orga­niz­ing, such as ​"use of words asso­ci­at­ed with unions or union-led move­ments, like ​'liv­ing wage,' or ​'stew­ard,'" and to keep an eye out for changes in behav­ior, such as when ​"asso­ciates who nor­mal­ly aren't con­nect­ed to each oth­er sud­den­ly start hang­ing out together.'"
Anti-union videos are not out of the ordi­nary in indus­tries like gro­cery where union orga­niz­ing is com­mon, says Sage Wil­son, com­mu­ni­ca­tions direc­tor at Work­ing Wash­ing­ton, which advo­cates for labor stan­dards and wages in Wash­ing­ton state — though Amazon's, he says, may be more ​"effi­cient" than most.
Ama­zon said in a state­ment to Giz­mo­do that the goal of the video was to fos­ter direct and proac­tive dia­logue with employees.
Who needs a union when you have dialogue?
The Retail Whole­sale and Depart­ment Store Union, which is assist­ing the Whole Foods work­er orga­ni­za­tion effort, has applaud­ed the wage hike, but remains unsat­is­fied with Amazon's approach to dis­cour­ag­ing unionization.
"This is a pos­i­tive step, but there is still so very much more that Ama­zon needs to do to be con­sid­ered a decent employ­er, says RWD­SU pres­i­dent Stu­art Appel­baum in a state­ment emailed to In These Times. ​"Ama­zon must allow work­ers to freely choose if they want a union with­out intim­i­da­tion. Work­ers should not be sub­ject to anti-union pro­pa­gan­da and intense pres­sure when they are try­ing to orga­nize for bet­ter work­ing conditions."
O'Mara believes there are peo­ple with­in Amazon's lead­er­ship who gen­uine­ly wish to improve the well-being of the company's low­est-paid work­ers. It is also lost on no one that the move has its ben­e­fits for Ama­zon as a business.
"Ama­zon does not do any­thing that is not strate­gic and not-well thought-out," says O'Mara.
Bezos's shoutout to ​"crit­ics," and the sig­nif­i­cant orga­niz­ing move­ment that pre­cip­i­tat­ed the wage deci­sion notwith­stand­ing, media cov­er­age of the hike has char­ac­ter­ized Ama­zon as proac­tive, firm­ly in con­trol of its own narrative.
"Ama­zon switch­es from defense to offense," read one Seat­tle Times head­line. Bernie Sanders, among the most high-pro­file and vocal crit­ics of Amazon's ware­house work­ing con­di­tions, said, ​"I want to give cred­it where cred­it is due. And I want to con­grat­u­late Mr. Bezos for doing exact­ly the right thing."
Excite­ment among labor activists at the wage hike has been tem­pered by reports that it comes at a cost: the elim­i­na­tion of bonus­es and stock awards, which for some employ­ees report­ed­ly con­sti­tut­ed an over­all reduc­tion in income despite the new $15 floor.
But O'Mara and Wil­son both say that, regard­less of this down­side for some indi­vid­ual work­ers, Amazon's move will have a sig­nif­i­cant rip­ple effect in the cor­po­rate world.
"In the absence of any polit­i­cal lead­er­ship from Wash­ing­ton, we are in the sad posi­tion of hav­ing to have these mega-employ­ers lead the way," O'Mara says.
The company's move, which applies to its sub­sidiaries like Whole Foods, rais­es anew the ques­tion of the role of unions in a tech indus­try that, in part thanks to its own per­ceived sense of benef­i­cence, regards them as essen­tial­ly superfluous.
The under­ly­ing mes­sage Ama­zon is try­ing to send through the wage hike, says O'Mara, is not ​"union bust­ing," exact­ly, but some­thing more sophis­ti­cat­ed: ​"You only need a union if your employ­er is tak­ing advan­tage of you" — and Ama­zon doesn't take advantage.
"This is a, ​'Hey you don't need a union. Speak up. We're going to take care of you. We're different.'"
Andrew Schwartz
is an edi­to­r­i­al intern with In These Times. He was pre­vi­ous­ly a reporter for the Wal­la Wal­la Union-Bulletin.