We Talked with the New Hampshire Family in Andrew Yang's Universal Basic Income Experiment
The $1,000/month from Yang has changed the Fassis' lives in small ways—and kindled their imaginations.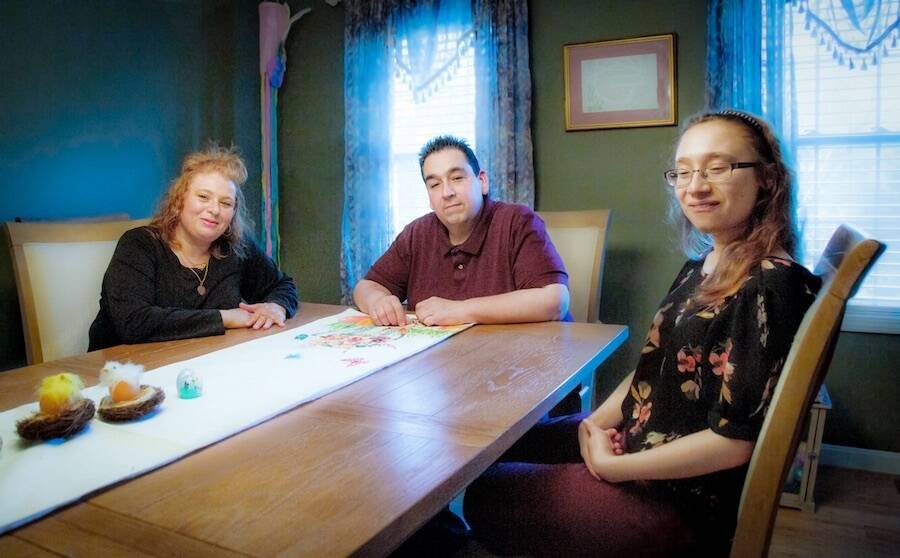 Chuck Fas­si, 49, a self-described intro­vert with a heavy New Eng­land accent, has spent much of the past two decades work­ing 55-plus-hour weeks for a busi­ness that ser­vices chem­i­cal dis­pensers for indus­tri­al kitchens. In March, he did some­thing he nev­er thought he would do: Sign up for an improv class. He says it lets him ​"use parts of my brain that either I hadn't used in a while or could use a lit­tle exercise."
Jodie believes Yang's UBI could be a "game-changer for blue-collar workers." Chuck says he "detests" his new job and, if he had a long-term UBI, would pursue a community-oriented small business.
The $100-a-month class is a non-neg­li­gi­ble expense for the Fas­si fam­i­ly, which was thrust into finan­cial pre­car­i­ty in 2017 when Chuck lost his $75,000-a-year job, just as his daugh­ter, Janelle, now 20, was mov­ing into her col­lege dorm. Chuck even­tu­al­ly got a job, sim­i­lar to the pre­vi­ous one, ser­vic­ing cor­po­rate cafe­te­rias around New Eng­land for a com­pa­ny based in North Car­oli­na. But mon­ey remained tight, and the cri­sis under­scored for the Fas­sis that long and unful­fill­ing hours at his job are a finan­cial necessity.
Then things took a turn. In the sum­mer of 2018, Janelle, an intern with the New Hamp­shire Young Democ­rats, attend­ed a talk by an obscure Demo­c­ra­t­ic pres­i­den­tial can­di­date, entre­pre­neur Andrew Yang, who was referred to as the ​"Asian Bernie." Yang's key­stone pro­pos­al is a uni­ver­sal basic income, or UBI. Under his pro­pos­al, the gov­ern­ment would send every cit­i­zen over the age of 18 $1,000 every month, no strings attached. Yang is pilot­ing his idea by per­son­al­ly giv­ing the mon­ey to one per­son in New Hamp­shire, with sim­i­lar plans for one per­son in Iowa. Janelle nom­i­nat­ed her parents.
Dur­ing an inter­view for the pro­gram, Chuck talked over turkey chili about his tumul­tuous dis­charge from his long­time job. He had rebelled at work­ing 60-hour weeks — and, as a man­ag­er, hav­ing to ask oth­ers to do the same. But los­ing his job made him fret about how to pay the mort­gage and Janelle's tuition.
His wife, Jodie, told her sto­ry, start­ing with night shifts through preg­nan­cy and, more recent­ly, scram­bling to sell the sec­ond car and prepar­ing to sell the house should it become nec­es­sary, and ramp­ing up her $10,000-a-year house-clean­ing service.
Yang's unre­hearsed man­ner made a good impres­sion on the Fas­sis, but they nev­er gave the pro­gram a sec­ond thought, giv­en that their income is rough­ly New Hampshire's medi­an. But Yang called in Decem­ber 2018 to say that Jodie had been select­ed. Jodie was stoked; Chuck cried.
So far, the Fas­sis have spent the mon­ey to help finance Janelle's tuition (nei­ther par­ent attend­ed col­lege). It also has made them feel secure enough to spring for indul­gences like Chuck's improv class.
"I know it's just a polit­i­cal stunt, and some­times I feel like we're being used," says Chuck, who also wor­ries that a more deserv­ing fam­i­ly is out there. But he nev­er feels parad­ed around and says of Yang, ​"I like the guy. I agree with his policies."
Rumors among New Hamp­shire youth aside, Yang does not bear par­tic­u­lar­ly close resem­blance to Bernie Sanders, pol­i­cy-wise. Though Yang sup­ports Medicare for All, his pre­oc­cu­pa­tion is automa­tion, which he believes will soon ren­der vast sec­tors of the Amer­i­can work­force obso­lete, from retail and man­u­fac­tur­ing to white-col­lar realms such as law and jour­nal­ism. UBI, his the­o­ry goes, would pre­empt eco­nom­ic col­lapse while empow­er­ing ordi­nary peo­ple in a turn to what he calls a ​"human-cen­tered cap­i­tal­ism."
UBI is not a new idea, but its pro­po­nents are famous­ly strange bed­fel­lows. Many on the Left see the appeal but fear it could ulti­mate­ly func­tion as a Tro­jan horse for the lib­er­tar­i­an small-gov­ern­ment ide­ol­o­gy that ani­mates some of its sup­port. Yet some, like Duke pro­fes­sor Kathi Weeks, advo­cate a liv­ing-wage UBI on fem­i­nist-Marx­ist grounds. A prop­er­ly admin­is­tered UBI, Weeks says, might go toward the ​"unre­mu­ner­at­ed pro­duc­tive activ­i­ties that we do," like the unpaid domes­tic labor long rel­e­gat­ed to women, while open­ing space to ques­tion our glo­ri­fi­ca­tion of the ​"work eth­ic" and con­ceive of oth­er, bet­ter val­ues. Whether Yang's less-than-liv­ing-wage pro­pos­al could, for Weeks, con­sti­tute a ​"tol­er­a­ble baby step" toward the fun­da­men­tal social trans­for­ma­tion she desires hinges on the ​"expan­sive­ness" of Yang's goals. Does he blithe­ly dis­miss all forms of gov­ern­ment wel­fare as ​"bureau­cra­cy"? Would the small wage be enough to open up space out­side of the dai­ly grind to reflect on how we struc­ture our work and lives?
Jodie believes Yang's UBI could be a ​"game-chang­er for blue-col­lar work­ers." Chuck says he ​"detests" his new job and, if he had a long-term UBI, would pur­sue a com­mu­ni­ty-ori­ent­ed small busi­ness. In Goff­s­town, Chuck says, ​"you take a walk and there's nobody out­side. … You have all these hous­es and nice neigh­bor­hoods and no neigh­bors are inter­act­ing because every­body is either com­mut­ing down to Boston or work­ing 50, 60 hours a week, and they're just too tired."
To address her dad's social iso­la­tion, in Feb­ru­ary Janelle set him up on a ​"man-date" — Chuck's term — with a pre­vi­ous co-work­er of hers, Peter. Cof­fee went swim­ming­ly, and, inspired by an improv show the fam­i­ly saw in Con­cord and feel­ing at rel­a­tive finan­cial ease, Chuck sug­gest­ed he and Peter take the improv course. In April the class put on a show­case. ​"The last thing I ever thought I would be doing," says Chuck. ​"Per­form­ing in front of strangers."
Andrew Schwartz
is an edi­to­r­i­al intern with In These Times. He was pre­vi­ous­ly a reporter for the Wal­la Wal­la Union-Bulletin.