The Hillary Clinton vs. Bernie Sanders Fight Has Gotten Nasty. But It's Not Nearly As Bad As 2008.
Have we all forgotten how acrimonious Clinton vs. Obama was?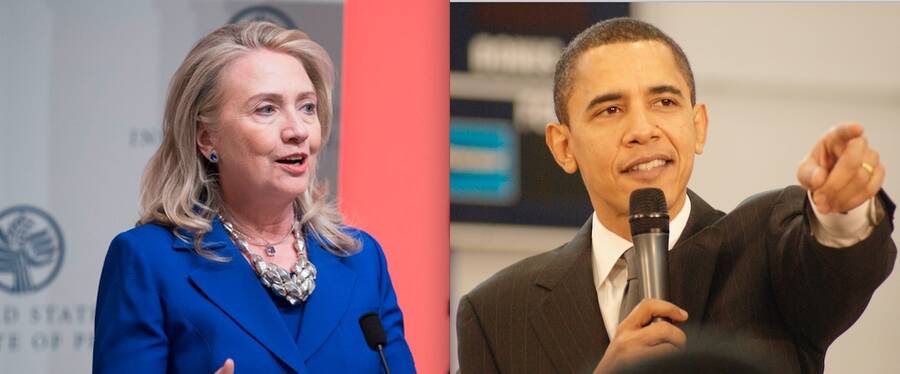 The pun­dits would like to let you know the Democ­rats have a prob­lem. It's not that their decade-long betray­al of labor and the work­ing class appears to be com­ing back to bite them, nor that their vir­tu­al­ly anoint­ed fron­trun­ner is one of the most dis­liked pres­i­den­tial can­di­dates in mod­ern history.
Because there are no shorter memory spans than those in politics, perhaps it's understandable that much of the media seems to have forgotten the bitterness of the 2008 contest for the Democratic nomination between Clinton and Barack Obama. A short trip down memory lane should be enough to dispel the myth that the 2016 contest has in some way been uniquely divisive.
It's the fact that, as we are told again and again and again, the Democ­rats are seem­ing­ly irrepara­bly ​"divid­ed" by a nom­i­na­tion con­test that seem­ing­ly will not end, and by a sur­pris­ing­ly strong chal­lenge from Sen­a­tor Bernie Sanders, who has cre­at­ed a rift in the par­ty with his ​"con­fronta­tion­al rhetoric." Sanders recent­ly met with Pres­i­dent Oba­ma at the White House to dis­cuss the issue of ​"par­ty uni­ty" and back­ing Clin­ton against Trump, but he has also pledged to con­tin­ue his cam­paign into the con­ven­tion, and the ​"Bernie or bust" phe­nom­e­non among some Sanders sup­port­ers means the cam­paign will like­ly remain acri­mo­nious into the near future.
A wide­ly shared piece from Politi­co that looked into the ​"bit­ter last days" of his cam­paign talked about ​"every time Sanders got into a knife fight" with the Clin­ton cam­paign. Over at the Guardian, Matt Laslo won­ders when Sanders will start ​"redi­rect­ing the anger in his base" to help Hillary Clin­ton win.
How­ev­er will the Democ­rats stop a Trump pres­i­den­cy if their par­ty is not united?
Because there are no short­er mem­o­ry spans than those in pol­i­tics, per­haps it's under­stand­able that much of the media seems to have for­got­ten the bit­ter­ness of the 2008 con­test for the Demo­c­ra­t­ic nom­i­na­tion between Clin­ton and Barack Oba­ma. A short trip down mem­o­ry lane should be enough to dis­pel the myth that the 2016 con­test has in some way been unique­ly divisive.
It pays to look back at some of the exchanges between the two can­di­dates in the party's 26 (yes, 26) debates. None of these were more acidic than the Jan­u­ary 21, 2008 debate in South Car­oli­na. Here are some of the highlights:
Clin­ton: ​

"

It is some­times dif­fi­cult to under­stand what Sen­a­tor Oba­ma has said, because as soon as he is con­front­ed on it, he says that's not what he meant. The facts are that he has said in the last week that he real­ly liked the ideas of the Repub­li­cans over the last

10

to

15

years."
Oba­ma: ​

"

While I was work­ing on those streets watch­ing those folks see their jobs shift over­seas, you were a cor­po­rate lawyer sit­ting on the board at Wal-Mart."
Clin­ton: ​

"

I was fight­ing against [the Repub­li­cans'] ideas when you were prac­tic­ing law and rep­re­sent­ing your con­trib­u­tor, Resco, in his slum land­lord busi­ness in inner city Chicago."
Clin­ton: ​

"

Sen­a­tor Oba­ma, it is very dif­fi­cult hav­ing a straight-up debate with you, because you nev­er take respon­si­bil­i­ty for any vote, and that has been a pat­tern." (This was fol­lowed by audi­ence booing.)
The fol­low­ing exchange — over an old­er clip dredged up by the Clin­ton cam­paign of Oba­ma call­ing Ronald Rea­gan a ​"trans­for­ma­tive pres­i­dent" — is par­tic­u­lar­ly illus­tra­tive of the ran­cor of the debate:
Clin­ton: You talked about Ronald Rea­gan being a trans­for­ma­tive polit­i­cal leader. I did not men­tion his name.

Oba­ma: Your hus­band did.

Clin­ton: Well, I'm here. He's not. And…

Oba­ma: OK. Well, I can't tell who I'm run­ning against sometimes.
While that night's debate was par­tic­u­lar­ly ven­omous, it wasn't much of an out­lier. Take a look at the testy exchange over health care and cam­paign tac­tics that opened the Feb­ru­ary 26 debate in Ohio, for instance; or Obama's attack on Clinton's incon­sis­ten­cy in the Octo­ber 2007 debate in Philadel­phia ("Sen­a­tor Clin­ton in her cam­paign … has been for NAF­TA pre­vi­ous­ly, now she's against it. She has tak­en one posi­tion on tor­ture sev­er­al months ago and then most recent­ly has tak­en a dif­fer­ent posi­tion."); or Clinton's accu­sa­tion of pla­gia­rism in the Feb­ru­ary 21 debate in Austin, Texas (Clin­ton: "[that's] not change you can believe in, it's change you can Xerox." Oba­ma: ​"Come on.").
Mind you, this was when they were try­ing to be civ­il. Out­side of the debates, the cam­paign attacks could be par­tic­u­lar­ly bit­ing. When in mid-April Oba­ma said that work­ing class vot­ers clung to guns, reli­gion and prej­u­dice out of the bit­ter­ness cre­at­ed by the loss of indus­tri­al jobs, the Clin­ton cam­paign imme­di­ate­ly seized on it. Clin­ton called the remarks ​"demean­ing," as well as ​"elit­ist, out of touch and frankly patron­iz­ing" and cam­paign­ers soon began hand­ing out stick­ers in North Car­oli­na print­ed with the words ​"I'm not bitter."
When in response to the remarks Clin­ton spoke about how her father taught her to shoot a pis­tol out in the coun­try­side as a young girl, Oba­ma mock­ing­ly called her ​"Annie Oak­ley … like she's on the duck blind every Sun­day. She's pack­ing a six-shoot­er." ​"Shame on her. She knows bet­ter," he said. A Clin­ton spokesper­son fired back that ​"this is the same politi­cian who spent six days pos­ing for clichéd cam­era shots that includ­ed bowl­ing gut­ter­balls, walk­ing around a sports bar, feed­ing a baby cow and buy­ing a ham at the Philly mar­ket (albeit one that cost $99.99 a pound)."
Pet­ty squab­bles like this were woven through­out the cam­paign. In late Feb­ru­ary, Clin­ton angri­ly accused Oba­ma of ​"using tac­tics that are straight out of Karl Rove's play­book" when the Oba­ma cam­paign hand­ed out fliers in Ohio that made ​"bla­tant­ly false" alle­ga­tions, such as her hav­ing been a ​"cham­pi­on" of NAF­TA. (For the record, she had been). ​"Shame on you, Barack Oba­ma," she said. Oba­ma called her out­rage ​"tac­ti­cal," and he may have had a point giv­en the Clin­ton cam­paign had spread some mis­lead­ing fliers of its own a month ear­li­er regard­ing Obama's record on abortion.
In March, Clin­ton jumped on the pile-on over Rev. Jere­mi­ah Wright, with the Oba­ma cam­paign coun­ter­ing that Clin­ton was sim­ply try­ing to divert atten­tion from her lie about dodg­ing sniper fire in Bosnia. A month ear­li­er, a Clin­ton spokesper­son sent an email to the media con­tain­ing arti­cles detail­ing Obama's ten­u­ous link to for­mer Weath­er Under­ground mem­ber William Ayers, which would go on to become a much big­ger issue in the gen­er­al elec­tion once Oba­ma clinched the nomination.
An Oba­ma spokesper­son replied that the Clin­ton cam­paign should be more wor­ried about Bill Clinton's par­don of some of the same group's mem­bers in his final days as pres­i­dent. Nonethe­less, Clin­ton aides con­tin­ued to bring up the issue as late as April. Mean­while, a promi­nent Clin­ton backer spec­u­lat­ed whether Oba­ma ever dealt drugs as a young man.
Cen­tral to Clinton's cam­paign was the idea that Oba­ma was not ready to lead, and that he was naïve and inex­pe­ri­enced on for­eign pol­i­cy. ​"We've seen the trag­ic result of hav­ing a pres­i­dent who had nei­ther the expe­ri­ence nor the wis­dom to man­age our for­eign pol­i­cy and safe­guard our nation­al secu­ri­ty," she warned in a speech at George Wash­ing­ton Uni­ver­si­ty. ​"We can't let that hap­pen again."
This strat­e­gy pro­duced the noto­ri­ous ​"3 a.m. ad," which warned that while Amer­i­can chil­dren were ​"safe and asleep" at the tit­u­lar hour, a phone was ring­ing in the White House. Would the Amer­i­can peo­ple vote some­one in to answer it who was ​"test­ed and ready to lead in a dan­ger­ous world"?
Obama's cam­paign man­ag­er shot back that ​"Sen­a­tor Clin­ton already had her red phone moment" in 2002 over the Iraq War, and that she ​"gave the wrong answer." Oth­ers crit­i­cized her for poten­tial­ly giv­ing Repub­li­can nom­i­nee John McCain ammu­ni­tion in the gen­er­al cam­paign. This did not deter Clin­ton, how­ev­er. A few days lat­er in March, Clin­ton was telling reporters that "[McCain] will put forth his life­time of expe­ri­ence. I will put forth my life­time of expe­ri­ence. Sen­a­tor Oba­ma will put forth a speech he made in 2002." In oth­er words, she was open­ly sug­gest­ing her Repub­li­can oppo­nent would be a bet­ter leader on for­eign pol­i­cy than the poten­tial nom­i­nee of her own party.
Although Clin­ton began get­ting pres­sure to end her cam­paign as Oba­ma start­ed pulling ahead, sim­i­lar to how Sanders has been for months, she refused to bow out. ​"We just need to relax and let this hap­pen," she said at the end of March. ​"Nobody's talk­ing about wreck­ing the party."
In a let­ter she sent in late May, she elab­o­rat­ed. ​"I am in this race because I believe stay­ing in this race will help unite the Demo­c­ra­t­ic Par­ty," it read. ​"I believe that if Sen­a­tor Oba­ma and I both make our case — and all Democ­rats have the chance to make their voic­es heard — every­one will be more like­ly to ral­ly around the nom­i­nee." This was not long after she cit­ed the assas­si­na­tion of Robert F. Kennedy in the sum­mer of 1968 as a rea­son to stay in the race (some­thing she did mul­ti­ple times) which she was imme­di­ate­ly and wide­ly exco­ri­at­ed for.
Much has already been writ­ten about the racial under­tones of Clinton's 2008 run, but it would be remiss not to at least men­tion some of the essen­tials. Bill's com­par­i­son of Oba­ma to Jesse Jack­son is typ­i­cal­ly cit­ed, as is Hillary's warn­ing that ​"Sen­a­tor Obama's sup­port among work­ing, hard-work­ing Amer­i­cans, white Amer­i­cans, is weak­en­ing again."
There was also her attack on Oba­ma for hav­ing been endorsed, unwill­ing­ly, by Nation of Islam leader and anti-semi­te Louis Far­rakhan. Although Clin­ton acknowl­edged Oba­ma had denounced him, she insist­ed in a debate that he also ​"reject" him, even though, as Oba­ma point­ed out, the words meant sub­stan­tial­ly the same thing. Then there was the infa­mous 60 Min­utes inter­view in which Clin­ton said she took Oba­ma ​"on the basis of what he says" that he wasn't a Mus­lim, and denied that there was any evi­dence for it, ​"as far as I know."
These under­tones at times became over­tones. One Clin­ton cam­paign strat­e­gy memo, which was revealed after Obama's nom­i­na­tion, advised that Obama's ​"roots to basic Amer­i­can val­ues and cul­ture are at best lim­it­ed," in explic­it ref­er­ence to his ​"boy­hood in Indone­sia and his life in Hawaii," and assert­ed that Amer­i­ca would not elect some­one ​"who is not at his cen­ter fun­da­men­tal­ly Amer­i­can in his think­ing and in his values."
"Let's explic­it­ly own ​"Amer­i­can" in our pro­grams, the speech­es and the val­ues," it stat­ed. ​"He doesn't."
In March, for­mer Vice Pres­i­den­tial nom­i­nee and Clin­ton sur­ro­gate Geral­dine Fer­raro had to step down from her fundrais­ing post after com­plain­ing that, ​"If Oba­ma was a white man, he would not be in this posi­tion. … He hap­pens to be very lucky to be who he is." Fol­low­ing the vol­ley of crit­i­cism she received, she told the press, ​"I real­ly think they're attack­ing me because I'm white."
Mean­while, Bill Clin­ton grum­bled that the Oba­ma cam­paign was putting out a ​"hit job" on him and inten­tion­al­ly feed­ing the media sto­ries about race issues to dis­tract them. In sharp con­trast to his more recent com­ments, he also decreed Oba­ma the can­di­date of the ​"estab­lish­ment organizations."
Of course, not every­thing neg­a­tive came from the Clin­ton camp. One inter­nal Oba­ma cam­paign memo referred to Clin­ton as the sen­a­tor from Pun­jab, due to her finan­cial ties to India and the funds she had raised from Indi­an Amer­i­cans. The cam­paign also put out a harsh radio ad that said Clin­ton ​"will say any­thing to get elect­ed" and would ​"change noth­ing," cit­ing her vote for the Iraq War and her praise of NAF­TA. The line was, per­haps unwit­ting­ly, recy­cled by Ander­son Coop­er in the first Demo­c­ra­t­ic debate of 2015.
Oba­ma him­self didn't shy away from attack­ing Clin­ton. He sug­gest­ed she was ​"just like George W. Bush" when it came to nation­al secu­ri­ty (deeply iron­ic, giv­en Obama's own sub­se­quent embrace of most of Bush's nation­al secu­ri­ty poli­cies), and crit­i­cized her for ​"try­ing to sound or vote like Repub­li­cans." He also accused her of selec­tive­ly using her years as first lady, com­plain­ing that ​"she has essen­tial­ly pre­sent­ed her­self as co- pres­i­dent dur­ing the Clin­ton years. Every good thing that hap­pened, she says she was a part of."
And for any­one think­ing inter-par­ty quar­rels in Neva­da and com­plaints of vot­er sup­pres­sion are some­thing unique to this year, think again. The Oba­ma cam­paign sim­i­lar­ly accused the Clin­ton cam­paign of skul­dug­gery in the state in Jan­u­ary 2008.
As with this year's cam­paign, the sup­port­ers of both camps also received their fair share of pub­lic­i­ty, too. As I've writ­ten about before, Obama's ​"creepy" and ​"cultish" sup­port­ers were the ​"Bernie Bros" of their time, while the los­ing candidate's sup­port­ers in 2008 were sim­i­lar­ly reluc­tant to vote for the Demo­c­ra­t­ic fron­trun­ner. The PUMAs—stand­ing for Par­ty Uni­ty My Ass — were Clin­ton sup­port­ers furi­ous that Oba­ma had snatched the nom­i­na­tion from Clin­ton in an ​"inter­nal coup," as one put it, and deter­mined to not only deprive Oba­ma of their votes in the gen­er­al elec­tion out of spite, but to vote for John McCain, who was open­ly try­ing to woo them. One such sup­port­er made head­lines when she was caught on tape com­plain­ing that Democ­rats had jet­ti­soned women for ​"an inad­e­quate black male."
Yet at the end of the day, even despite what was clear­ly one of the most bit­ter, divi­sive Demo­c­ra­t­ic con­tests in recent mem­o­ry — and cer­tain­ly one much more per­son­al and antag­o­nis­tic than this year's con­test — the two can­di­dates made amends, and the par­ty came togeth­er and took back the White House while achiev­ing record vot­er turnout.
2008 wasn't even the first year this had hap­pened. In 1992, Bill Clinton's rival Jer­ry Brown (the cur­rent gov­er­nor of Cal­i­for­nia) was rep­ri­mand­ed for hav­ing ​"crossed the line in terms of inap­pro­pri­ate attacks" on Clin­ton, the fron­trun­ner, and employ­ing a ​"scorched-earth pol­i­cy" of attacks on his record and char­ac­ter. This came after Brown had accused Clin­ton of ​"cor­rup­tion" and ​"a scan­dal of major pro­por­tion" in a debate, over alle­ga­tions that Bill had fun­neled mon­ey to the pri­vate law firm Hillary had worked for. Clin­ton had fired back that Brown should be ​"ashamed" and that he wasn't ​"worth being on the same plat­form as my wife." Ear­li­er that month, Paul Tsongas, anoth­er rival, had called Clin­ton ​"cyn­i­cal and unprincipled."
At the time, 1984 was also viewed as a par­tic­u­lar­ly acri­mo­nious bat­tle for the Demo­c­ra­t­ic nom­i­na­tion. Jesse Jack­son and Gary Hart both com­plained through­out the con­test that the game had been rigged in Wal­ter Mondale's favor. Hart open­ly accused Mon­dale of win­ning con­tests by unfair­ly receiv­ing mon­ey from ​"spe­cial inter­ests," which he charged he had been ​"taint­ed" with, and as late as the end of June, he con­tin­ued to threat­en to chal­lenge 600 of Mondale's del­e­gate wins on the basis that they had been bought by labor union PAC money.
Hart cut ads against Mon­dale that accused him of bar­gain­ing with the lives of Amer­i­can sol­diers ("Why do you run those ads that sug­gest I'm out try­ing to kill kids when you know bet­ter?" Mon­dale asked Hart in a debate), while Mon­dale did his own ver­sion of the 3 a.m. ad, warn­ing of an ​"unsure, unsteady, untest­ed hand" pick­ing up the pres­i­den­tial tele­phone. The two refused to share the same stage at an April event by the New York Coun­cil on For­eign Rela­tions, and in the end, the two came to a rec­on­cil­i­a­tion thanks to an inter­ven­tion from Ted Kennedy, patch­ing things up at Mondale's lake­house. Grant­ed, the Democ­rats went on to lose that elec­tion, but it was hard­ly because of uni­ty issues.
Lined up with vir­tu­al­ly any of these con­tests, this year doesn't real­ly com­pare. Vir­tu­al­ly the only moment most pun­dits point to illus­trate the per­son­al and bit­ter nature of this year's cam­paign is Sanders' attack on Clin­ton as being ​"not qual­i­fied" to be pres­i­dent. For all its talk of ​"knife fights," this was the only instance Politi­co cit­ed, two sep­a­rate times no less, to demon­strate how bit­ter and angry Sanders' cam­paign has been publicly.
Even apart from the fact that this barb was a rhetor­i­cal inver­sion of this mis­lead­ing head­line by the Wash­ing­ton Post, it's hard to see this as any­thing more than mild when com­pared to the rhetoric thrown about in pre­vi­ous con­tests — and espe­cial­ly giv­en that the Sanders cam­paign has refused to attack Clin­ton on her emails, despite being con­tin­u­al­ly bait­ed and even explic­it­ly urged to do so by the same media that now crit­i­cizes his cam­paign for divisiveness.
Even Democ­rats have said as much. While pun­dits and Clin­ton back­ers were wring­ing their hands over ​"par­ty uni­ty," House Minor­i­ty Leader Nan­cy Pelosi called Sanders ​"a pos­i­tive force in the Demo­c­ra­t­ic Par­ty." Even Barack Oba­ma said recent­ly: ​"Dur­ing pri­maries, peo­ple get a lit­tle grumpy with each oth­er. …Every lit­tle speed bump, con­flict, trash-talk­ing that takes place is ele­vat­ed." He should know.
If the 2016 cam­paign isn't unique­ly divi­sive, then why is this claim con­tin­u­al­ly being trot­ted out? Part­ly, it's a clas­sic nar­ra­tive trope. But more than that, this anx­i­ety around par­ty uni­ty also hap­pened to coin­cide with Clinton's tank­ing in the nation­al polls against Trump, with a num­ber of out­lets explic­it­ly tying Sanders' stay­ing in the race with Clinton's weak­en­ing poll numbers.
Yet if this were tru­ly the case, why were Clinton's num­bers going down while Sanders con­tin­ued to hand­i­ly beat Trump in a one-on-one match-up nation­al­ly? Could it be that Clinton's steadi­ly falling num­bers are more to do with her own unpop­u­lar­i­ty than the sup­posed divi­sive­ness of the ongo­ing campaign?
In truth, the com­plaints of ​"divi­sive­ness" are an excuse for Demo­c­ra­t­ic lead­ers who have deployed the insti­tu­tion­al weight of the Demo­c­ra­t­ic Par­ty behind a deeply flawed can­di­date. It won't be sur­pris­ing to hear these same points deployed dur­ing the elec­tion and beyond, as Clin­ton and par­ty loy­al­ists demand a tamp­ing down of crit­i­cism of their side for the sake of par­ty uni­ty to keep the big bad Repub­li­cans out of pow­er. While there is log­ic behind this, it's a trap those on the Left mustn't fall into if they want to keep the Democ­rats honest.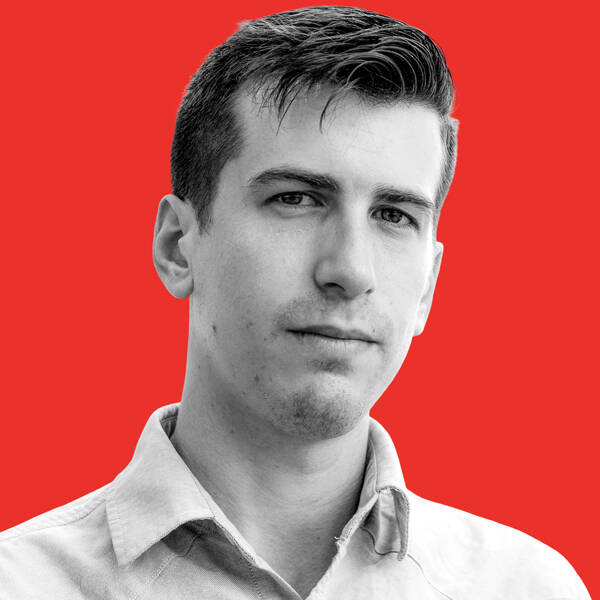 Branko Marcetic
is a staff writer at Jacobin mag­a­zine and a
2019
 – 
2020
Leonard C. Good­man Insti­tute for Inves­tiga­tive Report­ing fel­low. He is work­ing on a forth­com­ing book about Joe Biden.