The Immigration Movement's Left Turn
Advocates are moving away from the "pathway-to-citizenship" compromise—and are demanding a moratorium on deportations.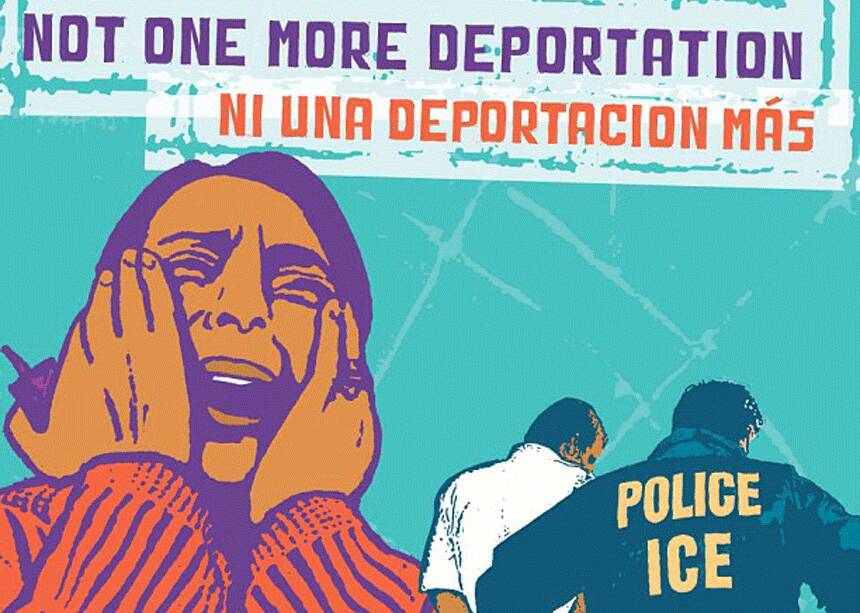 Who will be the Oba­ma administration's two-mil­lionth depor­tee? The ques­tion haunts neigh­bor­hoods, schools and work­places from Phoenix to Philadelphia.
Deportations are expected to reach the 2 million mark in early April, and activists are campaigning fiercely at the gates of detention centers, border checkpoints and congressional offices to show the White House they will not let the Obama administration's reach that milestone without a fight.
And as the Oba­ma admin­is­tra­tion con­tin­ues its en masse removal of undoc­u­ment­ed immi­grants, that unlucky dis­tinc­tion could go to any of the rough­ly 11 mil­lion undoc­u­ment­ed peo­ple who call the U.S. home — a car­wash work­er nabbed for a bro­ken tail­light; a field labor­er who has over­stayed her work visa; or a youth don­ning a cap and gown, delib­er­ate­ly cross­ing the path of the bor­der patrol in a show of civ­il disobedience.
Depor­ta­tions are expect­ed to reach the 2 mil­lion mark in ear­ly April, and activists are cam­paign­ing fierce­ly at the gates of deten­tion cen­ters, bor­der check­points and con­gres­sion­al offices to show the White House they will not let the Oba­ma administration's reach that mile­stone with­out a fight.
Last month in Alaba­ma, immi­grant rights advo­cates orga­nized one such action by form­ing a human chain out­side the Etowah Coun­ty Deten­tion Cen­ter, chant­i­ng ​"not one more" — the ral­ly­ing cry of a wave of anti-depor­ta­tion actions that have swept the nation over the past year, gain­ing polit­i­cal cur­ren­cy as a social media cam­paign, a slo­gan at street demon­stra­tions, and more recent­ly, a polit­i­cal sal­vo in Wash­ing­ton, where more con­cil­ia­to­ry pol­i­cy demands from inside the Belt­way have sputtered.
One pro­test­er at the Etowah ral­ly, Gwen­dolyn Fer­reti Man­jar­rez, declared, ​"I am tired of liv­ing with the fear that my fam­i­ly or any fam­i­ly can be torn apart at the seams for liv­ing our every­day life."
Such pleas reflect exhaus­tion and exas­per­a­tion with Wash­ing­ton, which has main­tained an immi­gra­tion-reform grid­lock since the Sen­ate reform bill all but died in Con­gress last year.
Faced with deaf­en­ing silence in Con­gress and con­stant waf­fling in the White House, a grow­ing num­ber of advo­cates have joined the cho­rus call­ing for a mora­to­ri­um on depor­ta­tions. Even promi­nent cen­trist Lati­no orga­ni­za­tions like the Nation­al Coun­cil of La Raza — NCLR lob­bied hard for ​"com­pro­mise" leg­is­la­tion last year — have con­demned Oba­ma as ​"deporter in chief."
Demands for a mora­to­ri­um on depor­ta­tions are not unprece­dent­ed: Advo­cates are propos­ing an exten­sion of the White House­'s Deferred Action for Child­hood Arrivals (DACA) pro­gram — a tem­po­rary exec­u­tive reprieve for undoc­u­ment­ed young peo­ple issued in 2012 — to undoc­u­ment­ed adults. Sup­ports say their pro­pos­al would allow fam­i­lies to stay togeth­er in the run-up to future reform. The undoc­u­ment­ed com­mu­ni­ty and its allies argue that if Oba­ma could exer­cise his dis­cre­tion on enforce­ment for a sym­pa­thet­ic cat­e­go­ry of undoc­u­ment­ed immi­grants — pri­mar­i­ly youth pur­su­ing a col­lege edu­ca­tion — he could do the same for their undoc­u­ment­ed par­ents and neighbors.
In Jan­u­ary, the Ari­zona-based group Dream Action Coali­tion, an advo­ca­cy group for the Dream Act leg­is­la­tion on which DACA was mod­eled, blast­ed Oba­ma for pun­ish­ing fam­i­lies for Con­gress' fail­ure to pass reform. Pre­sent­ing the reform move­ment as a multi­gen­er­a­tional strug­gle, the group stat­ed in an ​"Open Let­ter to the Immi­grant Rights Move­ment": ​"We can't wait while we see our fam­i­lies being tak­en into deten­tion cen­ters for months and even years while our chil­dren are being trau­ma­tized. … Let's togeth­er hold Pres­i­dent Oba­ma account­able for every deport­ed parent."
Oba­ma has acknowl­edged the cri­sis and in recent weeks sig­naled he planned to ease depor­ta­tions, but stopped short of ful­ly halt­ing deten­tions and removals. The pres­i­dent instead ordered the Depart­ment of Jus­tice to review depor­ta­tion pol­i­cy ​"to see how it can con­duct enforce­ment more humane­ly with­in the con­fines of the law." Fol­low­ing a mid-March ­meet­ing with pro-immi­grant advo­cates, he report­ed­ly vowed to take exec­u­tive action by sum­mer if the Repub­li­can House mem­bers con­tin­ued to stonewall on reform. Still, amid stiff Repub­li­can oppo­si­tion, Oba­ma promised to soft­en his approach with­out indi­cat­ing whether he would order a full-on DACA-like defer­ral of deportations.
Even Sen­a­tors Har­ry Reid and Chuck Schumer, two lead­ing Democ­rats who craft­ed the failed com­pro­mise bill, now endorse a depor­ta­tion freeze as a stop­gap mea­sure. Schumer has also threat­ened to use a par­lia­men­tary maneu­ver known as a ​"dis­charge peti­tion" to force a vote on a reform bill on the House floor, sim­i­lar to the Sen­ate pro­pos­al. But due to wide­spread House GOP oppo­si­tion, this tac­ti­cal mea­sure would like­ly fail under Repub­li­can opposition.
But while Con­gress dithers, grass­roots activists say the cur­rent enforce­ment régime doesn't need to be made more ​"humane" — it needs to end, full stop.
​"We need to make sure that there is affir­ma­tive action," says Eri­ka Andi­o­la, an Ari­zona-based undoc­u­ment­ed activist with the Not One More cam­paign. Andi­o­la's advo­ca­cy is a mat­ter of sur­vival: She has cam­paigned pub­licly to defend her moth­er from depor­ta­tion, and for the past few years, she has watched her state roll out some of the harsh­est anti-immi­grant poli­cies in the coun­try. Indeed, the fight against depor­ta­tions has fore­ground­ed the strug­gles of besieged com­mu­ni­ties that have seen cowork­ers and fam­i­ly mem­bers swept up by Immi­gra­tion and Cus­toms Enforce­ment (ICE) over the past six years.
Grass­roots activists are stak­ing out a place at the nego­ti­at­ing table by estab­lish­ing their own ​"blue rib­bon com­mis­sion" to draft a pro­gres­sive set of pol­i­cy rec­om­men­da­tions, informed by their legal expe­ri­ences fight­ing con­gres­sion­al lethar­gy and the fed­er­al enforce­ment drag­net. Andi­o­la notes that she and fel­low activists began call­ing for a depor­ta­tion freeze months ago, long before many main­stream groups. ​"We don't want peo­ple to nego­ti­ate for us," she adds. ​"We want to be able to be the ones putting the cards on the table, since we're the ones that have our fam­i­lies in deten­tion and many times our fam­i­lies have been in depor­ta­tion proceedings."
Far from Wash­ing­ton, direct actions are esca­lat­ing. A wave of hunger strikes has begun to spread, both inside and out­side of deten­tion cen­ters. In ear­ly March, hun­dreds of immi­grants at a Taco­ma, Wash­ing­ton deten­tion cen­ter began refus­ing meals and menial jobs assigned to detainees.
Short­ly after­ward, detainees went on hunger strike at a Con­roe, Texas facil­i­ty, accus­ing the man­age­ment com­pa­ny, GEO, of inhu­mane, over­crowd­ed con­di­tions. Exas­per­at­ed by the ongo­ing legal lim­bo, they also demand­ed due process of law, includ­ing ​"true and trans­par­ent infor­ma­tion" on how their cas­es were being reviewed and processed. (TruthOut lat­er report­ed that some par­tic­i­pants had alleged­ly been placed in iso­la­tion as pun­ish­ment.) Grass­roots pro-immi­grant groups, includ­ing the Nation­al Day Labor Orga­niz­ing Net­work and Puente Ari­zona, have joined faith, labor and com­mu­ni­ty orga­ni­za­tions in var­i­ous cities to coor­di­nate sol­i­dar­i­ty hunger strikes.
Some have esca­lat­ed protests by con­fronting ICE direct­ly at the bor­der. Since last fall, dozens of undoc­u­ment­ed activists with the Bring them Home cam­paign have staged sev­er­al unau­tho­rized bor­der cross­ings, vol­un­tar­i­ly enter­ing fed­er­al cus­tody to protest depor­ta­tions and dra­ma­tize the often hid­den vio­lence of fam­i­ly separation.
Activists are also using the web to mobi­lize peo­ple: Not One More has led peti­tions for the release of indi­vid­ual detainees, while Presente.org's Oba­ma Lega­cy Project cat­a­logues the admin­is­tra­tion's record of mass incar­cer­a­tions and enforce­ment crackdowns.
Beyond the har­row­ing depor­ta­tion num­bers, activists want to stop the enforce­ment pro­grams that have enabled ICE to part­ner with local police to appre­hend immi­grants. Secure Com­mu­ni­ties or SCOMM, the flag­ship joint enforce­ment ini­tia­tive, has been sharply crit­i­cized for giv­ing police depart­ments wide lat­i­tude to appre­hend immi­grants — often just for minor sus­pect­ed infrac­tions — fin­ger­print them, and share that infor­ma­tion with Home­land Secu­ri­ty, which then screens them through a cen­tral data­base to check their immi­gra­tion sta­tus, and even­tu­al­ly fun­nel them into fed­er­al deten­tion. In the impact­ed com­mu­ni­ties, ongo­ing fed­er­al crack­downs feed into an over­ar­ch­ing cli­mate of dis­crim­i­na­tion, fraught with racial pro­fil­ing by police and xeno­pho­bic sen­ti­ment roil­ing in racial­ly divid­ed neigh­bor­hoods and workplaces.
Although ICE announced back in 2011 that the admin­is­tra­tion would pri­or­i­tize the depor­ta­tion of seri­ous crim­i­nals, more than 30,000 immi­grants still lan­guish in deten­tion on a giv­en day (thanks in part to a ​"bed quo­ta" that legal­ly man­dates that deten­tion cen­ters fill to a cer­tain capacity).
Accord­ing to nation­al data, many detainees are being held for mis­de­meanors and oth­er non-vio­lent offens­es, such as traf­fic vio­la­tions or mar­i­jua­na pos­ses­sion. An analy­sis of ICE data by Syra­cuse Uni­ver­si­ty researchers, shows that of the rough­ly 350,000 deten­tion orders issued dur­ing fis­cal year 2012 through ear­ly 2013, two-thirds involved no seri­ous crim­i­nal convictions.
Reflect­ing grow­ing frus­tra­tion with dra­con­ian fed­er­al enforce­ment mea­sures and the stag­na­tion of fed­er­al reform efforts, some local law­mak­ers have act­ed affir­ma­tive­ly on their own to pro­tect immi­grants in the absence of leg­isla­tive progress. In con­trast to states that have ramped up their enforce­ment poli­cies, San Fran­cis­co, Cal­i­for­nia and Con­necti­cut have passed leg­is­la­tion to block local police from coop­er­at­ing with ICE enforce­ment, except in cas­es involv­ing an immi­grant with a seri­ous pri­or conviction.
Grow­ing resis­tance to the Oba­ma administration's depor­ta­tion régime con­trasts sharply with last year's rel­a­tive­ly cau­tious debate around ​"com­pre­hen­sive immi­gra­tion reform" leg­is­la­tion. The Democ­rats' agen­da cen­tered on incre­men­tal legal­iza­tion, with an empha­sis on ​"desir­able" immi­grants — high-demand work­ers in agri­cul­ture and STEM fields, as well as child­hood arrivals — and harsh­er bor­der secu­ri­ty and enforce­ment mea­sures. (There was lit­tle dis­cus­sion of the social impli­ca­tions of harsh­er enforce­ment tac­tics.) Some activists reject­ed the Sen­ate bill out­right, open­ing a sharp rift with­in the immi­grant rights move­ment between the Belt­way orga­ni­za­tions that sup­port­ed a com­pro­mise in order to achieve a ​"path­way to cit­i­zen­ship," and more rad­i­cal groups such as Puente Ari­zona and Fam­i­lies for Free­dom, which have cen­tered their advo­ca­cy around resis­tance to the dra­con­ian immi­gra­tion enforcement.
But now it seems that with­in the reform move­ment, the diver­gence on the impor­tance of cit­i­zen­ship has been eclipsed by the con­ver­gence on call­ing for admin­is­tra­tive action on depor­ta­tion. Not One More is plan­ning a nation­wide day of action on April 5 — rough­ly coin­cid­ing with the date when the two-mil­lionth depor­ta­tion is set to take place — with demon­stra­tions planned in more than 40 cities
Migrant rights advo­cate Pre­rna Lal, who is for­mer­ly undoc­u­ment­ed her­self, says via email that she found the cur­rent polit­i­cal ter­rain for immi­gra­tion reform ​"encour­ag­ing," with the wave of direct actions open­ing space for ​"the dis­en­fran­chised and direct­ly-impact­ed [to take] bold actions to declare them­selves as ​'undoc­u­ment­ed and unafraid' lead­ers in their own com­mu­ni­ties." In the broad­er push for con­gres­sion­al action, she added, ​"It is crit­i­cal to remem­ber that leg­is­la­tion such as Com­pre­hen­sive Immi­gra­tion Reform leg­is­la­tion or the DREAM Act is often mere­ly a response to pla­cate these actions."
Until law­mak­ers go back to the table to ham­mer out a reform bill, the best advo­cates can hope for is a tem­po­rary reprieve from the White House. Any kind of deferred action, for adults or youth, is just that — a defer­ral. But it buys time for undoc­u­ment­ed indi­vid­u­als to keep work­ing to shift the polit­i­cal cli­mate, away from the obses­sion with bor­der secu­ri­ty and toward a reform approach that reflects a broad­er cul­ture shift as immi­grant com­mu­ni­ties become more deeply woven into a trans­bor­der, glob­al­ized social landscape.
Maybe no one under­stands this vision for an evolv­ing nation bet­ter than the more than 30,000 peo­ple lan­guish­ing in deten­tion each day. Oscar Quin­tero, a detainee at Etowah who protest­ed from inside the deten­tion cen­ter in sol­i­dar­i­ty with the ral­ly out­side, record­ed a brief state­ment that was lat­er broad­cast online by Deten­tion Watch Net­work:
This is basi­cal­ly a con­cen­tra­tion camp for immi­grants. This is what it is, a human ware­house. They treat us like chick­ens. They are treat­ing us like cat­tle. The real­i­ty is that as Lati­nos, if we do noth­ing, if we don't unite, and we don't make oth­ers lis­ten to us, these abus­es will con­tin­ue, and fam­i­lies will con­tin­ue to be separated.
For a man sep­a­rat­ed from his com­mu­ni­ty by con­crete walls and a labyrinth of legal bar­ri­ers, Quintero's voice man­aged to car­ry over the hur­dles of pol­i­tics and res­onate with his sup­port­ers out­side. On the eve of the two-mil­lionth depor­ta­tion, his words under­took the bor­der cross­ing that count­less oth­ers remain as deter­mined as ever to make.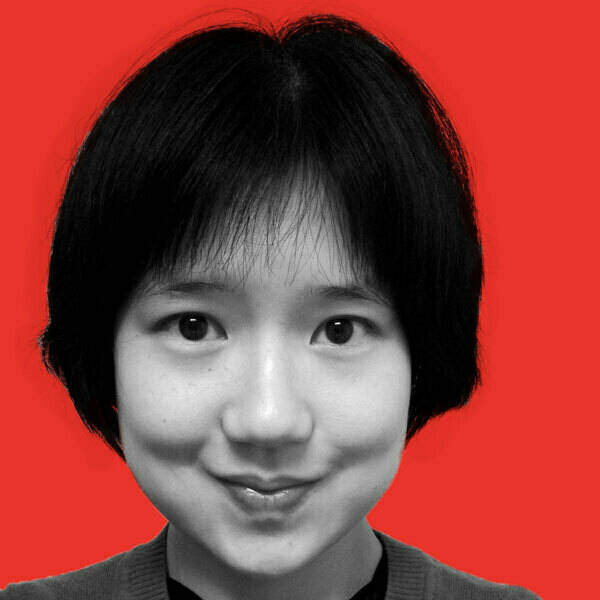 Michelle Chen is a con­tribut­ing writer at In These Times and The Nation, a con­tribut­ing edi­tor at Dis­sent and a co-pro­duc­er of the ​"Bela­bored" pod­cast. She stud­ies his­to­ry at the CUNY Grad­u­ate Cen­ter. She tweets at @meeshellchen.