The Increasing Irrelevancy of the Conservative Think Tank
The Heritage Foundation's star is falling—and left think tanks are on the rise.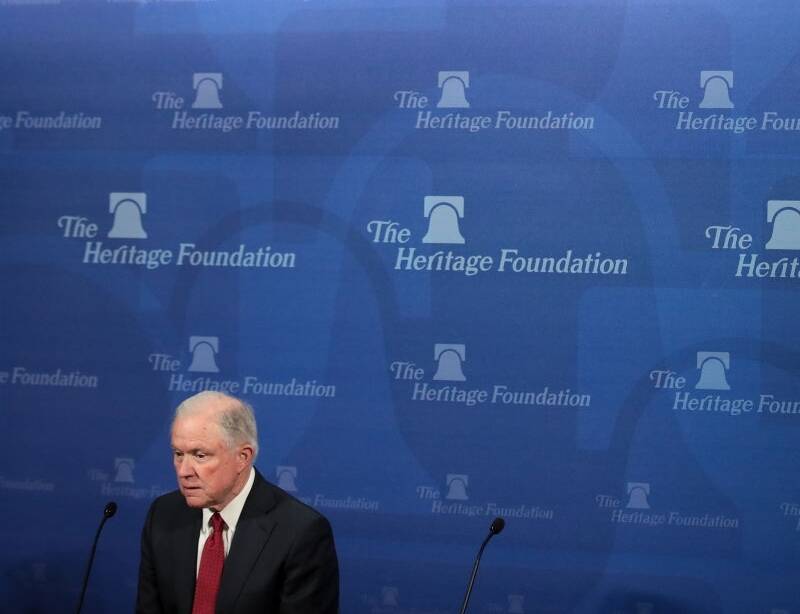 Start­ing in the mid-1970s, it became com­mon prac­tice among estab­lish­ment news­pa­pers to pro­vide pos­i­tive cov­er­age of con­ser­v­a­tive think tanks — par­tic­u­lar­ly dur­ing Repub­li­can admin­is­tra­tions. As I explain in my book on the his­to­ry of con­ser­v­a­tive think tanks, such sto­ries served a dual pur­pose. For the think tanks, the sto­ries were essen­tial­ly press releas­es that gave them cred­i­bil­i­ty in Wash­ing­ton. For the papers, the sto­ries func­tioned as a sig­nal of polit­i­cal bal­ance — a sign that con­ser­v­a­tive intel­lec­tu­als and pol­i­cy­mak­ers were receiv­ing the same lev­el of expo­sure as lib­er­al ones.
With the institutional and ideological exhaustion of the Right, and more broadly of neoliberalism, it is now left think tanks that are filling the void with new ideas and policies.
Through sea changes in the polit­i­cal and media land­scape, this trend has per­sist­ed. The most recent install­ment is New York Times Mag­a­zine​'s 7,000-word arti­cle on the Her­itage Foun­da­tion. The heft gives the sense of an exhaus­tive account, sup­pos­ed­ly of Heritage's abil­i­ty to stock the Trump admin­is­tra­tion with its pre­ferred appointees. How­ev­er, despite all of the spilled ink, the sto­ry, as is usu­al­ly the case, func­tions pri­mar­i­ly as Her­itage pro­pa­gan­da, with this cen­tral claim left open to ques­tion. Most of the sources quot­ed are from Her­itage itself, and these sources are large­ly tak­en at face val­ue. Thus, in the end, Her­itage gets to tell a sto­ry of its own impor­tance while the Times once again gets to show its ​"bal­ance" by writ­ing a famil­iar sto­ry about the Right.
Today, sto­ries like these are caus­ing fun­da­men­tal mis­un­der­stand­ings of the cur­rent think tank land­scape in Wash­ing­ton, D.C.. They inflate the impor­tance of think tanks on the Right and down­play their increas­ing irrel­e­van­cy and scle­rot­ic nature, while lead­ing the pub­lic to ignore the more dynam­ic hap­pen­ings in think tanks on the Left.
When news orga­ni­za­tions like the Times began to pub­lish sto­ries on the ris­ing pow­er of con­ser­v­a­tive think tanks in the 1970s, they were cor­rect in diag­nos­ing an ascen­den­cy. These insti­tu­tions had begun rais­ing vast new sums of mon­ey, a trend that, iron­i­cal­ly, was only accel­er­at­ed by the Water­gate scan­dal. In 1974, four months before the res­ig­na­tion of Pres­i­dent Richard Nixon, the Amer­i­can Enter­prise Insti­tute (AEI), a well-known con­ser­v­a­tive think tank in Wash­ing­ton, DC, issued a fundrais­ing appeal to its net­work of donors. The let­ter was writ­ten by Robert G. Wingert­er, the Pres­i­dent of the Libbey-Owens-Ford Com­pa­ny, and urged his fel­low cor­po­rate lead­ers to sup­port a ​"cred­i­ble source such as AEI." Wingert­er fret­ted that the dis­clo­sure of ille­gal con­tri­bu­tions to Nixon's 1972 cam­paign by sev­er­al cor­po­ra­tions ​"has caused all busi­ness rela­tions with gov­ern­ment to be regard­ed with mis­trust." He argued that an orga­ni­za­tion like AEI ​"seems almost the only way that the busi­ness phi­los­o­phy may receive any seri­ous polit­i­cal attention."
Wingert­er could not have known at the time how right he was. Although con­ser­v­a­tive think tanks like AEI, the Her­itage Foun­da­tion and the Hoover Insti­tu­tion had seen growth in their finances in the ear­ly 1970s, the unearthing of ille­gal con­tri­bu­tions to Nixon undoubt­ed­ly pro­vid­ed fur­ther fuel. These orga­ni­za­tions, shield­ed by their tax-exempt, ​"edu­ca­tion­al" sta­tus, were enor­mous­ly appeal­ing to con­ser­v­a­tive cor­po­ra­tions and elite con­ser­v­a­tive activists inter­est­ed in advanc­ing busi­ness-friend­ly poli­cies with­out the taint of direct polit­i­cal con­tri­bu­tions to can­di­dates. Con­ser­v­a­tive think tanks became a more respectable con­duit for cor­po­rate mon­ey to achieve polit­i­cal influence.
By the time Ronald Rea­gan was elect­ed to the pres­i­den­cy in 1980, right-wing think tanks were flush with cash and ready to imple­ment a new con­ser­v­a­tive agen­da through the new pres­i­dent. The Her­itage Foun­da­tion, in par­tic­u­lar, stood ready to staff up the Rea­gan admin­is­tra­tion and to make spe­cif­ic pol­i­cy recommendations.
These insti­tu­tions also used their new cash to posi­tion them­selves as the go-to con­ser­v­a­tive voic­es in the pub­lic sphere. In the 1980s and 1990s, every media out­let in the coun­try knew that, if you need­ed an easy con­ser­v­a­tive opin­ion for a sto­ry, you could call a con­ser­v­a­tive think tank.
If the sto­ry of the late 20th cen­tu­ry is one of con­ser­v­a­tive think tank suc­cess, the dynam­ics in the 21st might just prove to be their undo­ing. In the 1980s and 1990s, ​"the media" was under­stood as three main venues: broad­cast, print and radio. Now, with media frag­men­ta­tion and the rise of numer­ous explic­it­ly con­ser­v­a­tive media forms on the inter­net, as well as in more tra­di­tion­al venues from Fox News to Bre­it­bart, con­ser­v­a­tive think tank voic­es have lost their sell­ing point of being one of the few go-to con­ser­v­a­tive voices.
Their finances may also become pre­car­i­ous. While these insti­tu­tions served as respectable out­lets for polit­i­cal dona­tions in the shad­ow of Water­gate, why would cor­po­ra­tions or wealthy indi­vid­u­als choose such a cir­cuitous route for their dona­tions in the after­math of Cit­i­zens Unit­ed,? True, cor­po­ra­tions and wealthy con­ser­v­a­tives may have enough mon­ey to spread around, but they like­ly will start to get wise and direct mon­ey away from places like Her­itage and AEI in the future.
These insti­tu­tions have even lost their lus­ter when it comes to their last major role in the con­ser­v­a­tive move­ment: staffing up Repub­li­can pres­i­den­tial admin­is­tra­tions. While the June New York Time Mag­a­zine piece con­tains a lot of Her­itage Foun­da­tion spin on this sub­ject, it is uncon­vinc­ing. In many ways, the author of the piece and the edi­tors at the Times bury the lead of the sto­ry in the final two para­graphs. For those who slog all the way to the end, the sto­ry actu­al­ly notes that sev­er­al high-pro­file staffers that came direct­ly from the Her­itage have washed out of the admin­is­tra­tion quick­ly and are now back at the think tank. For instance, Paul Win­free, who made news in this pub­li­ca­tion for his aspi­ra­tional hack­saw bud­get pro­pos­al while in the Trump admin­is­tra­tion, is now back at Her­itage, and his pro­pos­al went nowhere while he was there. Again, accord­ing to the end of the Mag­a­zine piece, oth­er Her­itage lumi­nar­ies are also back at the think tank after a stint in the Trump admin­is­tra­tion includ­ing ​"Stephen Moore, who worked on the Trump tax cuts; David Kreutzer, who played a key role in dis­solv­ing a White House work­ing group that was study­ing the mon­e­tary costs asso­ci­at­ed with cli­mate-warm­ing car­bon diox­ide; and Hans von Spakovsky, who helped run the now-defunct vot­er-fraud com­mis­sion, which was cre­at­ed to find evi­dence to sup­port Trump's base­less claim that mil­lions of peo­ple vot­ed ille­gal­ly for Hillary Clin­ton." Final­ly, again accord­ing the con­clu­sion of the piece itself, ​"A num­ber of oth­er senior advis­ers seem to be on shaky ground with the pres­i­dent, and an exo­dus is antic­i­pat­ed after the Novem­ber midterm elections."
For those that have hung on, the ​"ideas" that they have helped put into prac­tice feel stale: tax cuts for the wealthy and dereg­u­la­tion straight from the 1970s and 1980s; immi­gra­tion restric­tions and civ­il rights roll­backs straight from the late 19th and ear­ly 20th cen­turies. In con­trast to the 1970s, when con­ser­v­a­tive think tanks felt new and vibrant, today they feel stale and ide­o­log­i­cal­ly exhaust­ed. In the end, this may be the biggest insti­tu­tion­al prob­lem of all — con­ser­v­a­tive think tanks are part of a move­ment like­ly at the end of the line — bereft of pol­i­cy ideas that speak to the needs of the present and the future — includ­ing pre­car­i­ous employ­ment, stag­nant wages and ram­pant inequality.
Which brings me to where the real ener­gy seems to be these days: the Left. Over two years ago I won­dered in the pages of Jacobin whether a social­ist think tank was need­ed to give the emerg­ing Amer­i­can left a new abil­i­ty to artic­u­late and plan pol­i­cy. It seems as if this just might be hap­pen­ing — although it is too ear­ly to tell. Whether it is Sean McEl­wee using his think tank to push the ​"Abol­ish ICE" move­ment; Matt Bru­enig at the People's Pol­i­cy Project argu­ing for Medicare-for-All; Mike Konczal's work at the Roo­sevelt Insti­tute on finan­cial reform; or the ongo­ing work of Demos across a range of pro­gres­sive issues, left pol­i­tics seems to be where the new ideas and ener­gy lie. Just as in the 1970s, when post­war lib­er­al­ism was expe­ri­enc­ing ide­o­log­i­cal exhaus­tion, open­ing a space for new con­ser­v­a­tive think tanks push­ing neolib­er­al polit­i­cal econ­o­my, we are wit­ness­ing some­thing sim­i­lar today with the roles reversed. With the insti­tu­tion­al and ide­o­log­i­cal exhaus­tion of the Right, and more broad­ly of neolib­er­al­ism, it is now left think tanks that are fill­ing the void with new ideas and poli­cies in response to this decline. Only time will tell whether they will be as suc­cess­ful as the the right in their imple­men­ta­tion. For now, the New York Times might want to try cov­er­ing the left think tanks in order to be, for once, ahead of the curve.
Jason Stahl
is a Senior Lec­tur­er in the Depart­ment of Orga­ni­za­tion­al Lead­er­ship, Pol­i­cy and Devel­op­ment at the Uni­ver­si­ty of Min­neso­ta, Twin Cities. He is the author of Right Moves: The Con­ser­v­a­tive Think Tank in Amer­i­can Polit­i­cal Cul­ture since
1945
(Uni­ver­si­ty of North Car­oli­na Press)