The Land Institute Sows a Revolutionary Grass in Kansas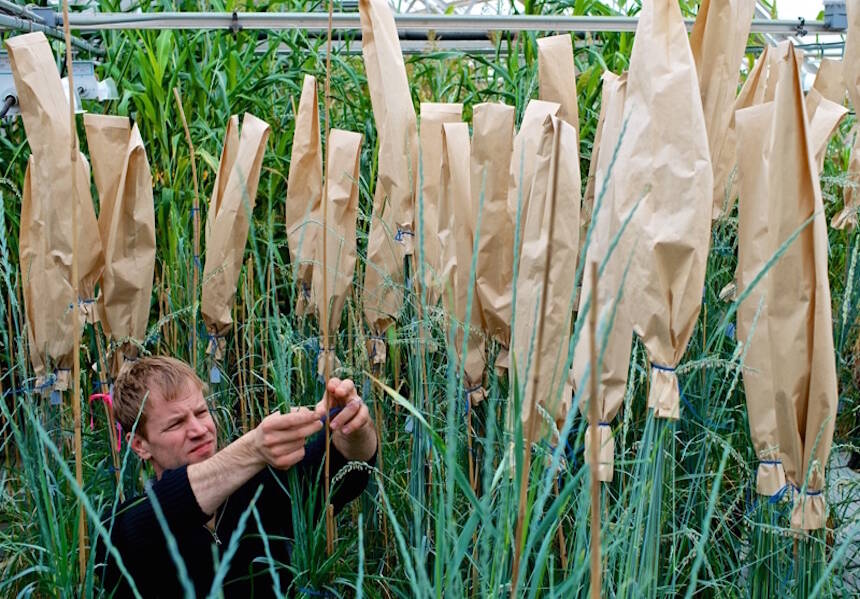 Each grow­ing sea­son, con­ven­tion­al farm­ing meth­ods require that fields are tilled, sprayed, fer­til­ized and reseed­ed. This prac­tice result in near­ly 1.7 bil­lion tons of soil ero­sion every year. In Sali­na, Kansas, how­ev­er, sci­en­tists at the Land Insti­tute have devel­oped a strain of wheat­grass that grows year after year with­out hav­ing to be replant­ed. This grain, dubbed (and trade­marked) Kern­za by its archi­tects, is a domes­ti­cat­ed ver­sion of inter­me­di­ate wheat­grass, a peren­ni­al wheat species. It rep­re­sents a notable step for­ward in Wes Jackson's vision for the future of sus­tain­able agriculture.
The Land Insti­tute, a non­prof­it research and edu­ca­tion orga­ni­za­tion found­ed in 1976 by Jack­son — a pio­neer of the sus­tain­able agri­cul­ture move­ment — seeks to pro­mote an agri­cul­tur­al sys­tem that will feed mankind with­out destroy­ing the soil — its life source — in the process. A Kansas native, Jack­son found­ed and chaired one of the first Envi­ron­men­tal stud­ies pro­grams in the coun­try at Cal­i­for­nia State Uni­ver­si­ty-Sacra­men­to before mov­ing back home to cre­ate the Land Institute.
Cur­rent­ly, the world's pop­u­la­tion gets more than half of its calo­ries from annu­al grain crops. And this is high­ly prob­lem­at­ic for the future of our soil, a resource that, accord­ing to Scott Seir­er, Man­ag­ing Direc­tor of the Land Insti­tute, ​"is more valu­able than oil by far." It is also a resource that is dis­ap­pear­ing at an alarm­ing rate due to the effects of annu­al monoculture.
Cre­at­ing a New Crop
Peren­ni­als have deep­er roots than annu­als, allow­ing them greater access to water and nutri­ents, which makes for hardier plants. Exten­sive root webs also pro­vide struc­tur­al sup­port for the soil, lock­ing it togeth­er to pre­vent ero­sion. Most sig­nif­i­cant­ly, farm­ers need not re-seed their field each sea­son for peren­ni­als to sprout. Because no till­ing is involved, soil nutri­ent loss is min­i­mized and farm­ers are not bound to the cycli­cal use of chem­i­cals to increase soil fertility.
Despite its mer­its, no peren­ni­al grain is cur­rent­ly on the mar­ket for farm­ers. Kern­za is the first peren­ni­al plant to be devel­oped by the Land Insti­tute, which is plan­ning to release the seed on a nation­al scale with­in the next 10 years.
Kern­za was trade­marked in 2011, but the wheat­grass is still being fine­ly-tuned in the Land Institute's fields to opti­mize yield, seed size, mat­u­ra­tion rate and thresh­ing abil­i­ty. In 2013, two Cal­i­for­nia firms pledged to pur­chase this unique grain. Patag­o­nia, a com­pa­ny known for its envi­ron­men­tal­ly con­scious out­door appar­el, is devel­op­ing a line of sus­tain­able food prod­ucts under the name Patag­o­nia Pro­vi­sions and Kern­za will be an ingre­di­ent in some of their goods. Ven­tu­ra Spir­its Co., a small dis­tillery devot­ed to cre­at­ing liquors from unusu­al, nat­u­ral­ly derived ingre­di­ents, plans to dis­till Kern­za for their Grass Roots Whiskey.
Kern­za is cur­rent­ly grown on site at the Land Insti­tute Research Facil­i­ty in Kansas, as well as on a 90-acre pro­duc­tion plot at the Uni­ver­si­ty of Min­neso­ta, which col­lab­o­rates with The Land Insti­tute. The har­vests from the Min­neso­ta field will go direct­ly to the two Cal­i­for­nia companies.
Devel­op­ing a new crop vari­ety is a long and research inten­sive process. In the Land Institute's ​"Fall 2013 Annu­al Report," Shuwen Wang, a Land Insti­tute sci­en­tist, writes, ​"In our search for peren­ni­al wheat, more than 2,500 indi­vid­ual hybrid plants have been inves­ti­gat­ed for seed fer­til­i­ty, seed size, peren­ni­al­i­ty, vig­or, dis­ease resis­tance and oth­er traits, and we are test­ing some elite breed­ing lines at 21 loca­tions across eight countries."
Kern­za is in the final stages of devel­op­ment. The Land Insti­tute is work­ing on devel­op­ing peren­ni­al legumes, oil crops like sun­flow­ers, wheat and sorghum. ​"Our goal," says Seir­er, ​"is to have dif­fer­ent crops in the field at the same time shar­ing the space like you would find in a prairie, for instance, or any oth­er ecosystem."
Con­fronting the System
The idea that agri­cul­ture should mim­ic prairie con­di­tions is a cen­tral prin­ci­ple that guides the efforts of The Land Insti­tute. Prairie ecosys­tems fos­ter eco­log­i­cal sta­bil­i­ty owing to the com­plex rela­tion­ships among the liv­ing things that thrive in them. The Insti­tute aims to cre­ate an agri­cul­tur­al sys­tem that pro­vides sim­i­lar ben­e­fits by using com­bi­na­tions of peren­ni­al crops.
For exam­ple, some plants pro­duce sub­stances that attract ben­e­fi­cial bugs and microor­gan­isms, there­by con­tribut­ing to the rich­ness of the soil ecosys­tem. Oth­er plants repel harm­ful pests. Group­ing crops in con­fig­u­ra­tions sim­i­lar to those found in prairie ecosys­tems is a sus­tain­able alter­na­tive to chem­i­cal meth­ods of soil enhance­ment and pest deterrence.
Unfor­tu­nate­ly, the major­i­ty of farm­ers around the globe are not reap­ing the eco­log­i­cal ben­e­fits of what's known as ​"peren­ni­al poly­cul­ture." Around 70 per­cent of agri­cul­tur­al land is cur­rent­ly used to pro­duce annu­al crops, rather than employ­ing the pro­duc­tiv­i­ty and resilience of more bio­log­i­cal­ly diverse peren­ni­al systems.
"Farm­ers are trapped in the sys­tem of annu­al mono­cul­ture," Seir­er says. In fact, so much has his­tor­i­cal­ly been invest­ed in this mod­el that it seems beyond reform. Between 2008 and 2012, 5.3 mil­lion acres of row crops were plant­ed on high­ly erodi­ble, pre­vi­ous­ly uncul­ti­vat­ed soil.
It's increas­ing­ly clear that annu­al mono­cul­ture is not a sus­tain­able method of land cul­ti­va­tion. Soil is a non­re­new­able resource (at least in our life­time) and we need to be work­ing on ways to pre­serve it.
As the Land Insti­tute sees it, peren­ni­al plant­i­ng, inte­grat­ed pest man­age­ment and no-till fer­til­iza­tion meth­ods — all eco­log­i­cal­ly sta­bi­liz­ing fac­tors that are nat­u­ral­ly present in a prairie ecosys­tem — are a first step toward a more sus­tain­able future for food production.
Seir­er says he is excit­ed at ​"the pos­si­bil­i­ty of chang­ing some­thing as fun­da­men­tal as the source of our food, and pro­duc­ing that food with respect for the environment."
A prairie can sus­tain itself for thou­sands of years with no help from humans. It's that sort of long-term eco­log­i­cal sus­tain­abil­i­ty that Wes Jack­son and his team of sci­en­tists are try­ing to pio­neer — a sus­tain­abil­i­ty that they hope will per­vade glob­al agri­cul­ture in the not-so-far-off future.
Maia Wel­bel
is an intern at Rur­al Amer­i­ca In These Times. She is a ris­ing junior at Pomona Col­lege where she stud­ies envi­ron­men­tal analy­sis and dance. She is also a con­trib­u­tor to The Stu­dent Life.