The Limits of Liberal Niceness in Aziz Ansari's Master of None
Ansari and his character, Dev, genuinely want to do good. But they're missing the political framework.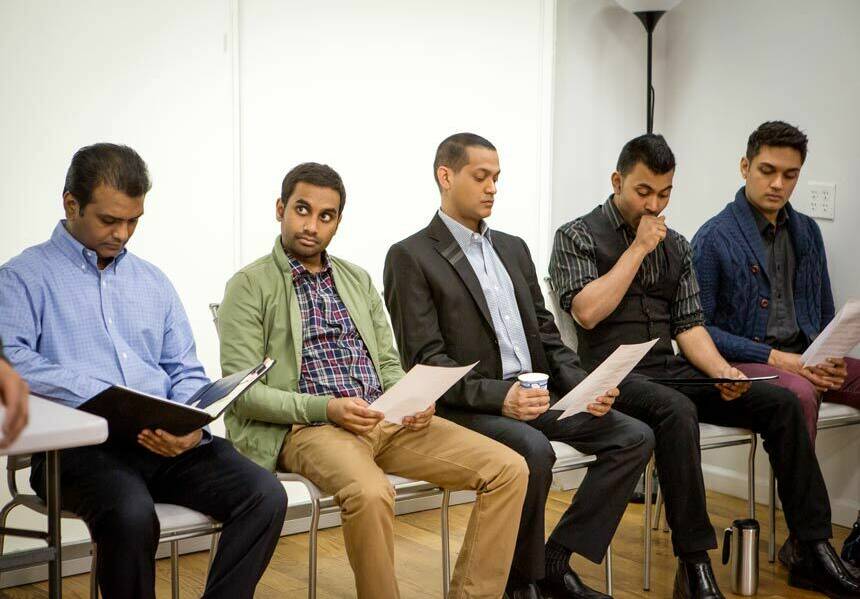 Aziz Ansari's won­der­ful new Net­flix series Mas­ter of None marks a wel­come shift from the last gen­er­a­tion of ret­ro­grade comics who sought laughs at the expense of the most mar­gin­al­ized. (Think Andrew Dice Clay's misog­y­nist nurs­ery rhymes). Ansari is a prop­er pro­gres­sive, self-con­scious­ly try­ing not to be an ass­hole. In an indus­try so rife with ass­holes, the fact that he suc­ceeds is a huge relief.
Like many good people, Ansari just wants everyone to get along, be nice to each other, and make better choices. But without anything to rely on but liberal privilege politics, he presents a false trade-off between doing these nice things and one's personal material interest.
The rous­ing recep­tion to the show's 10 episodes tells us some­thing good about the cul­tur­al sen­si­bil­i­ties of its pre­dom­i­nant­ly young audi­ence. Among the tar­get demo­graph­ic of the show — the peo­ple adver­tis­ers call ​"mil­len­ni­als"— mean­ness and venal­i­ty seem to be giv­ing way to a pro­gres­sive ethos. But Mas­ter of None serves as a case study of the lim­its of try­ing to make the world a less ter­ri­ble place through a heap­ing dose of lib­er­al nice­ness, with­out a broad­er polit­i­cal framework.
The fourth episode, ​"Indi­ans on TV," is a strik­ing exam­ple. Ansari's char­ac­ter, an upstart actor named Dev, meets a friend, also an Indi­an actor, at an audi­tion. They lament that the only Indi­an roles on tele­vi­sion fit cul­tur­al stereo­types: the ​"thank you, comea­gain" type, like Apu, the Indi­an immi­grant gro­cery store own­er from The Simp­sons. The episode con­tin­ues with an explo­ration of racism in the enter­tain­ment busi­ness and Dev's choice between con­fronting it or play­ing ball for career reasons.
In one scene, an exec­u­tive caught by Dev mak­ing a racist joke in an email takes him to a Knicks game to smooth things over. In a Madi­son Square Gar­den suite, the exec­u­tive intro­duces him to Bus­ta Rhymes, a friend, who tells Dev, ​"I don't think you should play the race card. Charge it to the race card— feel me?" Orig­i­nal­ly enraged and ready to leak the remark to the press, Dev recon­sid­ers. Maybe this guy, Dev (and the audi­ence) won­ders, isn't all that bad. Maybe he deserves a break. Hey, he has a black friend.
Faced with racism, a per­son­al apol­o­gy and court­side Knicks tick­ets seems to do the trick.
A com­pan­ion of sorts to the episode is a New York Times piece by Ansari that ran in ear­ly Novem­ber. Mir­ror­ing a sto­ry told on the show by his char­ac­ter, Ansari writes about how inspir­ing it was for him as a child to watch Short Cir­cuit 2, a 1988 film star­ring an Indi­an sci­en­tist. Years lat­er, when in col­lege, he dis­cov­ered that the lead actor was in fact a white guy in brownface.
Ansari talks about the type cast­ing that minor­i­ty actors must deal with and laments the fact that ​"when Hol­ly­wood wants an ​'every­man,' what it real­ly wants is a straight white guy." His solu­tion is for the indus­try to change its ways and ​"give minori­ties a sec­ond look." For hes­i­tant exec­u­tives, he offers an exam­ple of such a strat­e­gy pay­ing off: the Aus­tri­an Arnold Schwarzeneg­ger, who for Ansari is an ​"unsung pio­neer for minor­i­ty actors." He argues: ​"There had to be some­one who heard his name tossed around for the role and thought: ​'Wait, why would the robot have an Aus­tri­an accent? No one's gonna buy that! We got­ta get a robot that has an Amer­i­can accent! Just get a white guy from the States. Audi­ences will be con­fused.' Nope. They weren't."
As an Indi­an Amer­i­can, I under­stand where Ansari is com­ing from. The tok­eniza­tion of minori­ties in pop­u­lar media has only rein­forced racism. But his Schwarzeneg­ger solu­tion leaves much to be desired. Mas­ter of None offers anti-racism at the lev­el of rep­re­sen­ta­tion, dis­con­nect­ed from class and the strug­gles for redis­tri­b­u­tion nec­es­sary to give it deep­er substance.
The oth­er explic­it­ly polit­i­cal episode of the series, ​"Ladies and Gen­tle­men," which focus­es on male priv­i­lege, falls into the same trap. It begins with two exam­ples of the very real harass­ment and dis­crim­i­na­tion that women face: Dev hears a colleague's sto­ry about being fol­lowed home from a bar, and lat­er, the direc­tor of a com­mer­cial he's work­ing on treats the women as mere ​"eye can­dy." Dev remarks on this and the direc­tor takes it to heart, rewrit­ing the com­mer­cial to depict women as grill mas­ters. This leaves Dev with­out a role. He's a bit dis­ap­point­ed, but still hap­py enough to have made a difference.
The episode's fem­i­nism suf­fers from the same lib­er­al trap as the anti-racism in ​"Indi­ans on TV." Like many good peo­ple, Ansari just wants every­one to get along, be nice to each oth­er, and make bet­ter choic­es. But with­out any­thing to rely on but lib­er­al priv­i­lege pol­i­tics, he presents a false trade-off between doing these nice things and one's per­son­al mate­r­i­al inter­est. The episode assumes that work­ers must bat­tle each oth­er over a finite amount of decent employ­ment. With a jobs guar­an­tee and high­er wages for all, this wouldn't be the case.
The laud­able vic­to­ry of the episode — women being less dis­gust­ing­ly depict­ed on tele­vi­sion — is as far as Ansari's pol­i­tics can take him. The mate­r­i­al demands that could more sub­stan­tive­ly empow­er ordi­nary women are not on the table. Nei­ther is the pow­er­ful social­ist idea that all mem­bers of the work­ing class would ben­e­fit from a soci­ety with­out oppres­sion more than they do from the sta­tus quo — that the women on set and minor­i­ty actors like Dev could advance together.
Ansari is a (par­tic­u­lar­ly fun­ny and tal­ent­ed) prod­uct of his age, an age with­out a vibrant Left and few signs of the pow­er of col­lec­tive action. Good peo­ple are still bat­tling, as Ansari does, against indi­vid­ual acts of big­otry. But that alone won't be enough to build the world he seems to want.
Bhaskar Sunkara
is the found­ing edi­tor of Jacobin mag­a­zine. Fol­low him on Twit­ter: @sunraysunray.