The List of the Fight for $15's Victories—Tangible and Intangible—Is Getting Longer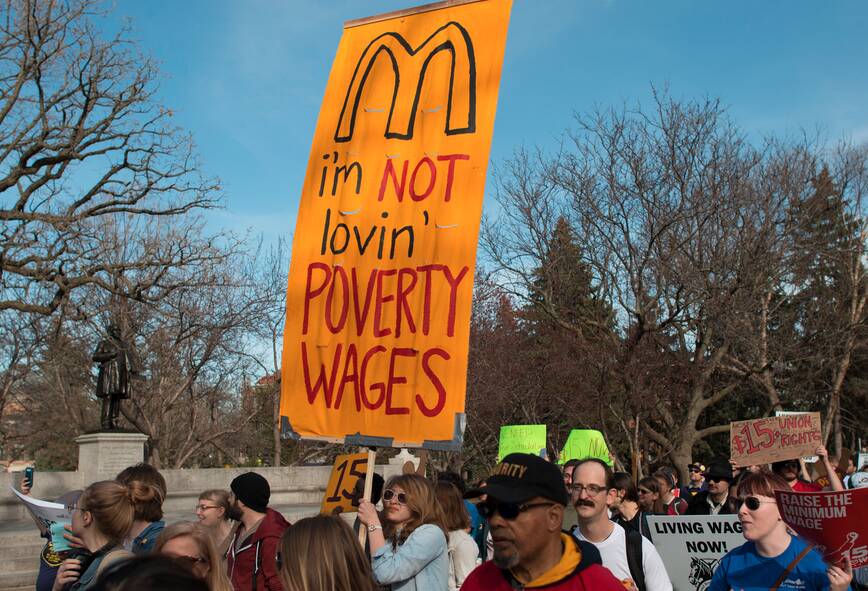 Fast food work­ers and their allies in New York City, sup­port­ed by pro­tes­tors else­where around the coun­try, flood­ed pub­lic hear­ings in New York today with the mes­sage that they deserve at least $15 an hour. They tes­ti­fied before a wage board appoint­ed at the behest of New York Gov. Andrew Cuo­mo to deter­mine stan­dards for fast food work­ers in the state.
The board's work is tak­ing place as a widen­ing move­ment to raise min­i­mum wages for the grow­ing share of Amer­i­cans in ill-paid jobs is both rais­ing expec­ta­tions and win­ning con­crete vic­to­ries. But the Fight for $15 cam­paign has also spurred action by many groups of low-wage work­ers, from home care aides to uni­ver­si­ty adjunct teach­ers. And it is gen­er­at­ing a com­plex new cur­rent with­in the broad­er labor move­ment that goes far beyond even their ambi­tious wage goals.
The Los Ange­les city council's vote last month to raise the min­i­mum wage in the nation's sec­ond largest city to $15 an hour by 2010 was the lat­est — but almost cer­tain­ly not the last — in a series of major local vic­to­ries by low-wage work­ers and their advo­cates that start­ed last year in SeaT­ac, Wash­ing­ton. The move­ment then won vic­to­ries in Seat­tle, San Fran­cis­co and oth­er local juris­dic­tions. Pop­u­lar move­ments in oth­er cities, such as St. Louis and Kansas City, are close to pres­sur­ing local leg­is­la­tors to set a min­i­mum wage of $15 an hour.
Some employ­ers, most recent­ly Chipo­tle, are appar­ent­ly read­ing the writ­ing on the wall and improv­ing pay, ben­e­fits and work rules (though gen­er­al­ly offer­ing much less than work­ers want).
In Los Ange­les, more than 40 per­cent of its work­force, which has a high pro­por­tion of ser­vice work­ers, earn near California's cur­rent state min­i­mum wage of $9 an hour (or less for some tipped employ­ees and for vic­tims of employ­ers' wage theft, esti­mat­ed in Los Ange­les as afflict­ing near­ly one-fifth of the low-wage work­force).
They also rely heav­i­ly on pub­lic assis­tance pro­grams to sur­vive. Such aid effec­tive­ly amounts to tax­pay­er sub­si­dies of near­ly $7 bil­lion a year across the coun­try to com­pa­nies like McDonald's to sup­port the sub­stan­dard wages of non-man­age­r­i­al fast food work­ers in the U.S., accord­ing to the Uni­ver­si­ty of Cal­i­for­nia at Berke­ley Cen­ter for Labor Research and Education.
The con­tem­po­rary move­ment to ​"raise the wage" has roots that are often run deep and wide — for exam­ple, in Los Ange­les, tra­di­tion­al unions, work­er cen­ters and oth­er non-union work­er orga­ni­za­tions, non-prof­it research and advo­ca­cy groups, faith orga­ni­za­tions, immi­grant and civ­il rights groups and dozens of oth­er allies are par­tic­i­pat­ing in the move­ment. Last year, Los Ange­les May­or Eric Garcetti advo­cat­ed rais­ing the min­i­mum to $13.25, but he missed the wave of pub­lic opin­ion that swept away his by then passé pro­pos­al. In a poll of Los Ange­les res­i­dents, 69 per­cent favored a strong pack­age of work­place improve­ments, includ­ing a min­i­mum of $15.25 an hour.
In Los Ange­les, more than 100 groups formed the Raise the Wage coali­tion. Many of them had been involved in liv­ing wage bat­tles or oth­er cam­paigns to raise wages for spe­cif­ic groups of work­ers, such as hotel employ­ees or peo­ple work­ing at the pub­licly-sub­si­dized LAX air­port, or to raise aware­ness of how many employ­ers cheat­ed their employ­ees. As a result of their work, the new law cov­ers every work­er and estab­lish­es an enforce­ment agency for the first time.
The coali­tion drew on stud­ies of the eco­nom­ics of rais­ing the min­i­mum from the Berke­ley Cen­ter, the Eco­nom­ic Pol­i­cy Insti­tute and the non-gov­ern­men­tal think tank the Eco­nom­ic Round­table (col­lab­o­rat­ing with two UCLA research insti­tutes) that promised lit­tle or no loss of jobs, an eco­nom­ic shot in the arm (espe­cial­ly in poor areas) and a boost in eco­nom­ic well-being for more than 40 per­cent of Angelenos.
The min­i­mum wage cam­paign even drew sup­port from a few small busi­ness peo­ple. Kevin Litwin, chief oper­at­ing offi­cer of Joe's Auto Parks (with 20,000 park­ing spaces in down­town Los Ange­les), was told by his CEO not to fight the wage increase but instead inves­ti­gate what hap­pened to the company's branch in Seat­tle after the local min­i­mum wage rose to $15 an hour. Litwin dis­cov­ered that rev­enue increased, work­ers were more pro­duc­tive, turnover declined, and, he said, ​"the whole thing seemed to work for us in Seat­tle. Why not LA? We think this is just good to do, and it was also good for our industry."
The final leg­is­la­tion reject­ed requests for exemp­tions from some busi­ness­es, such as the restau­rant industry's stan­dard plea for sub-min­i­mum wages for tipped employ­ees, as well as a labor move­ment pro­pos­al that work­ers under col­lec­tive bar­gain­ing agree­ments not be cov­ered. Busi­ness crit­ics pounced on what they claimed was labor hypocrisy and an effort to entice employ­ers to accept unions in order to ben­e­fit from the exemption.
But Kent Wong, direc­tor of the UCLA Labor Cen­ter, said, ​"The con­cern of labor is for union­ized employ­ees' vary­ing ben­e­fits — sick pay, pen­sions — with an over­all pack­age sig­nif­i­cant­ly high­er than the min­i­mum wage. It was an attempt to respect exist­ing col­lec­tive bar­gain­ing agree­ments." The pro­posed revi­sion may be tak­en up lat­er, but many coun­cil mem­bers seemed unsym­pa­thet­ic to the union argu­ment, even though such exemp­tions are com­mon in local min­i­mum wage laws.
Even if the Fight for $15 was only one Raise the Wage mem­ber among many, the broad­er move­ment owes much to the fast food fight­ers. Start­ing with a one-day strike action two and one-half year ago by sev­er­al hun­dred fast food work­ers in New York City, the orga­ni­za­tion has spread through­out the coun­try and to oth­er occu­pa­tions, though the fast food indus­try is its priority.
Fight for $15 has con­tributed to the low-wage work­er move­ment its goals — which at first, seemed to be a far stretch — of at least $15 an hour and the right to join a union with­out harass­ment. Its grass­roots dynamism and direct action tac­tics have inspired a vari­ety of ill-paid work­ers but posed a for­mi­da­ble threat to its foes, most imme­di­ate­ly McDonald's Cor­po­ra­tion, the world's third largest pri­vate employer.
"Once you cut the head off the snake, it all falls in place," says New York City McDonald's work­er and vol­un­teer orga­niz­er Jorel Ware. ​"McDonald's is the snake."
Last week­end more than 1,300 Fight for $15 rep­re­sen­ta­tives gath­ered in Detroit for their sec­ond annu­al con­ven­tion, and judg­ing from their major res­o­lu­tion — and from the keynote speech by Mary Kay Hen­ry, pres­i­dent of the Ser­vice Employ­ees Inter­na­tion­al Union, their finan­cial and orga­ni­za­tion­al backer — the orga­ni­za­tion is count­ing on the New York wage board deter­mi­na­tion to be good enough to become the stan­dard for the industry.
​"We believe New York­ers are lead­ing the way to a new stan­dard for fast-food work­ers and our fam­i­lies across the coun­try," the res­o­lu­tion reads (and Hen­ry said that ​"New York is on the verge of set­ting a new stan­dard that will change how we think about wages in this country").
Despite the over­whelm­ing empha­sis on high­er pay, the Fight for $15 has always been a fight for a union as well. Yet increas­ing­ly lead­ers at all lev­els are focus­ing on the need for a union as well as for a min­i­mum wage raise. But Kendall Fells, nation­al orga­niz­ing direc­tor of Fight for $15, acknowl­edges that the union can­not orga­nize store by store, but it can keep pres­sure on the com­pa­ny as a whole until there's an agree­ment about how to pro­ceed with recognition.
"The prob­lem is the process of orga­niz­ing is too small and Fight for $15 is too big," he says, but there's the pos­si­bil­i­ty of orga­niz­ing all of the stores at once, adding com­mu­ni­ty pres­sure from cler­gy, allies and oth­er unions to the pres­sure, includ­ing addi­tion­al legal action on the company's labor law abuse.
Mean­while, even with­out offi­cial recog­ni­tion of their sta­tus, the work­ers can bring some changes by a vari­ety of chal­lenges at work, in the courts, and before the Nation­al Labor Rela­tions Board. ​"In these work­ers' minds, they already have a union because they're stick­ing togeth­er and bring­ing change," Fells says.
Many work­ers are not only fight­ing for the $15 an hour and a union that first drew them to the cam­paign. They're fight­ing for a bet­ter world. They see their actions as re-direct­ing the course of his­to­ry, as build­ing a future for their chil­dren and grand­chil­dren, and as help­ing work­ers not only in oth­er fast food out­lets but also in many oth­er jobs and indus­tries. They are exer­cis­ing new­ly dis­cov­ered rights as cit­i­zens of the Unit­ed States and even enjoy a sense of being linked to work­ers in oth­er coun­tries. In these ways, they have already tak­en steps beyond devel­op­ing a sim­ple trade union men­tal­i­ty towards a con­scious­ness of class that is as much eth­i­cal and polit­i­cal as economic.
"Our goal is a liv­ing wage when we say $15 and a union," says Ware, an ear­ly sup­port­er of Fight for $15. ​"That's why we say $15 and a union. It looks like we've got the $15 but it may be a long fight for a union."
But he notes that next year is an elec­tion year, which may open pos­si­bil­i­ties. Indeed, Hillary Clin­ton called into the con­ven­tion say­ing that she want­ed to be the ​"cham­pi­on" of the orga­ni­za­tion and its mem­bers. Her move may have been sim­ply polit­i­cal posi­tion­ing, but it at least indi­cates that some Democ­rats may feel momen­tar­i­ly com­fort­able sup­port­ing a labor struggle.
Ware sees their demands as ​"good for the econ­o­my," since their vic­to­ries will like­ly encour­age oth­er com­pa­nies to pay a liv­ing wage. And the cam­paign is good for him, help­ing him do some­thing he had always want­ed but did not know how to do. ​"I nev­er thought I'd be doing this," he said. ​"I always want­ed to help peo­ple, but I didn't know how."
At his sec­ond Fight for $15 con­ven­tion, Antione Hearon, 22, was impressed by how much the move­ment had grown in a year, spread­ing across the coun­try and even around the world. Although he hopes to be able to afford to return to com­mu­ni­ty col­lege, he wants to know that McDonald's will pay a liv­ing wage if he has to rely on it. But he's in it for more than himself.
"My fam­i­ly [of 14 chil­dren] has been with­out lights, gas, water. At times we didn't eat," he said. ​"I need the mon­ey for myself and my fam­i­ly. I'm doing this not just for myself but for the whole coun­try. I didn't know any­thing about unions [before join­ing the cam­paign]. I didn't think fast food work­ers could have a union. … It shocked me: this is a real thing. … Then there's the uni­ty aspect of this: there are peo­ple who I could go to per­son­al­ly, who have my back. I like that unity."
At the con­ven­tion, Con­nie Ben­nett, 57, an eight-year vet­er­an at McDonald's, found her­self swap­ping ideas with oth­er work­ers about how to recruit peo­ple — espe­cial­ly young work­ers — to the Fight for $15, as well as set­ting up ​"pen pal" ties with work­ers in oth­er cities. She real­izes some of them feel they need the job bad­ly and are afraid of los­ing it, but she explains to them that orga­niz­ing, even strik­ing, ​"that's our free­dom, and that's our right as cit­i­zens. I tell them that this is not only their fight but a fight for their chil­dren and grandchildren."
She talks up the union at her bus stop and when she stops by the mid-morn­ing dai­ly cof­fee club of elder­ly cus­tomers. That paid off when work­ers at her Chica­go McDonald's went out on strike. The cof­fee club mem­bers joined in. ​"I can't put into words how that sup­port made me feel," she said.
Fif­teen dol­lars an hour might mean that she could take a bus to work all the time, not just half the time. More impor­tant, she might be able to vis­it four grand­chil­dren she has nev­er seen. But the expe­ri­ence of sol­i­dar­i­ty, of being part of a union, is a reward in itself.
"I believe very much in unions," she said. ​"If this is a sign of what a union means, I believe a union will bring the $15 to us. I explain to the mem­bers that a union is a big part of what they need. A union will give them free­dom of speech, and you're the ones who make the decisions."
Even with­out a for­mal union or a pay raise, the fight­ing fast food work­ers have become win­ners. They've won a new sense of their rights and pow­er and a new view of how they fit in the world. And that's worth at least as much in its own way as the pay raise they need and deserve.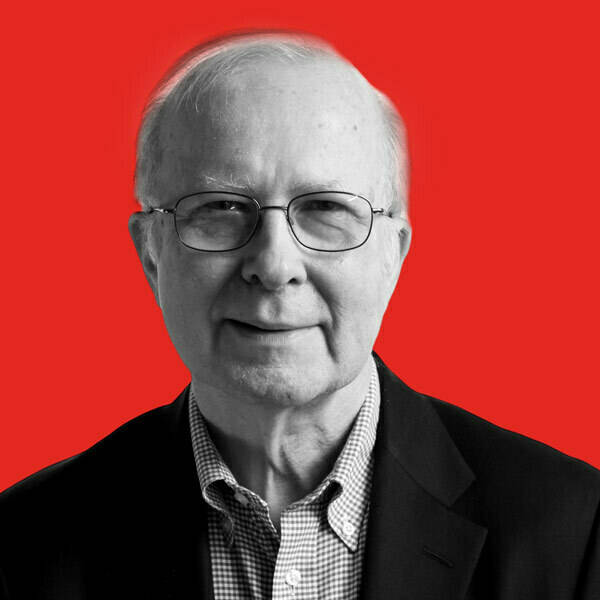 David Moberg, a senior edi­tor of In These Times, has been on the staff of the mag­a­zine since it began pub­lish­ing in 1976. Before join­ing In These Times, he com­plet­ed his work for a Ph.D. in anthro­pol­o­gy at the Uni­ver­si­ty of Chica­go and worked for Newsweek. He has received fel­low­ships from the John D. and Cather­ine T. MacArthur Foun­da­tion and the Nation Insti­tute for research on the new glob­al economy.