The Muslim "Bernie Clone" Running for Governor in Trump Country
A 33-year-old progressive is building grassroots support in red areas of Michigan.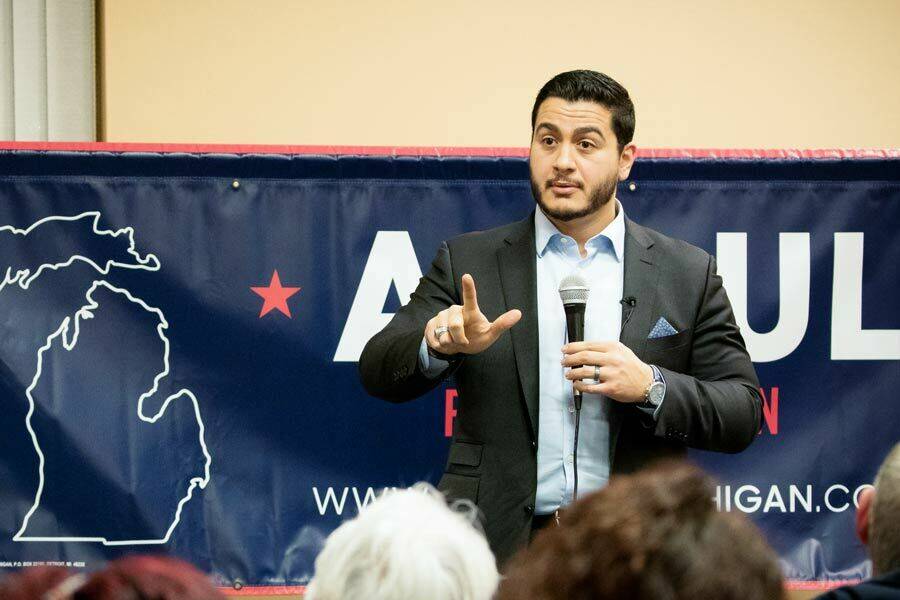 ADRIAN, MICH. — On a wet, wintry January night, Democratic gubernatorial candidate Abdul El-Sayed addresses a packed room at the Lenawee County Courthouse Commons. The 33-year-old son of Egyptian immigrants intends to become his state's first Muslim governor. He launches into a speech on the challenges facing the state: pollution, high-cost healthcare, a tough job market, a gig economy and a broken political system. It's a talk he's given in more than 90 cities and 40 counties.
"Listening to him speak gave me hope for the future of my children in Michigan," Baker says.
Then he comes to his diagnosis: ​"The reason why our politics feels so broken is because the people oftentimes whom we've elected to represent us, well, this system kind of benefits them. They're eating at the same corporate trough."
As a Muslim candidate, ElSayed might have expected a tough crowd. Eighty-four percent of Adrian's 20,000 residents are white, and Lenawee County went for Donald Trump by a 21 percent margin. Yet the roughly 100 attendees appear impressed.
"He does not back down from tough questions," says CeCe Rodriguez, secretary of the Lenawee County Democratic Party, which hosted the event. ​"He really took time to get to know us." Emilie Mullins, 42, an independent, says El-Sayed's heritage is a non-issue for her.
"I didn't know a lot about his platform before tonight, but I liked almost everything I heard," says Mullins. ​"Michigan is barely maintaining or sliding backward in almost all quality of life issues. I'm looking for a progressive candidate, and [El-Sayed] supports a high minimum wage, protecting our environment, improving the schools and attracting quality jobs to Michigan."
El-Sayed also advo cates universal healthcare and has pledged not to take corporate donations. His program for Michigan includes investing in infrastructure and education; protecting teacher pay and pensions; legalizing marijuana, which he estimates could free up nearly $125 million in the state budget; and overhauling the state's high auto insurance rates. And while he supports revitalizing Detroit, the state's largest city, his plan focuses on improving the quality of life in residential neighborhoods, not the downtown area.
"If we're willing to work together, we can propose and actualize solutions to problems we all face," El-Sayed says. ​"It's not about where we're from, the color of our skin, where we were born or what we do for a living. It's about recognizing there's an opportunity for us to pass something better to our kids."
Incumbent Republican Gov. Rick Snyder can't run for a third term because of Michigan's term limits. The state's primary is eight months away and El-Sayed is up against three other Democrats. Gretchen Whitmer, a former Democratic minority leader in the statehouse, leads early polls of Democrats, but the Detroit News says she is vulnerable because she has not done well in metro Detroit.
In head-to-head polling, she is running near even with Michigan Attorney General Bill Schuette, the early favorite for the Republican nomination. (El-Sayed may also face a residency challenge. He lived in New York from 2013 to 2016, and Michigan requires candidates to have been registered to vote in the state for four years.)
El-Sayed has an impressive résumé. A former Rhodes scholar, he has a medical degree from Columbia University and a doctorate in public health from Oxford University. At 29, he was appointed the executive director of the Detroit Health Department by Mayor Mike Duggan. But what wins over grassroots supporters is his message of serving people, not profits. Mullins, for example, says she drove to Adrian because she is looking for a candidate who has not sold out to corporate interests.
Joni Baker, 40, has been intrigued by El-Sayed since she saw him in a Facebook video nearly a year ago. She calls him a ​"Bernie Sanders clone," which is ​"perfect in my book."
"Listening to him speak gave me hope for the future of my children in Michigan," Baker says. ​"I liked that when he answered a question, he didn't just have empty promises. He was knowledgeable on the problems our state has been having, and he has detailed plans to fix them."
El-Sayed tells the crowd that, after he'd decided to run for office, he learned he was going to be a father. With no money coming in, he asked his wife if it made sense for him to stay in the race. He says she replied, ​"The best thing you can do for this little girl is go out and win the election — it says more about who we are as a country."
Darren A. Nichols
spent more than
20
years at
Detroit News
covering City Hall, including the largest municipal bankruptcy in history.