Right-wing media cat­a­pult­ed the New Black Pan­ther Par­ty (NBPP) into nation­al infamy this sum­mer with an exag­ger­at­ed empha­sis on a 2008 inci­dent in which two mem­bers of the group, one with a night­stick, were video­taped stand­ing by the door of a poll site in a pre­dom­i­nant­ly black precinct in Philadel­phia. The footage has been viewed 1.5 mil­lion times on YouTube.
Leaders of the original group have denounced the NBPP, even suing to prevent it from using the name 'Black Panther.'
Attuned to pub­lic­i­ty, NBPP chief Malik Zulu Shabazz is exploit­ing this vis­i­bil­i­ty to threat­en vio­lence at Glenn Beck's August 28 ral­ly, ​"Restor­ing Hon­or," which takes place at the Lin­coln Memo­r­i­al on the anniver­sary of Mar­tin Luther King's ​"I have A Dream" speech.
Shabazz told the online mag­a­zine Medi​aite​.com that Beck's demon­stra­tion is ​"going to meet direct oppo­si­tion from the New Black Pan­ther Par­ty. … He can bring his Tea Par­ty, and we'll bring our par­ty, and we'll see Glenn Beck."
Both men are prac­ticed provo­ca­teurs, and the stage is set for a show­down. Many of Beck's sup­port­ers are big on Sec­ond Amend­ment free­doms and are like­ly to be armed, as are mem­bers of the NBPP. Beck is one of the prime movers of the right-wing nar­ra­tive that the Oba­ma admin­is­tra­tion har­bors pro-black bias­es and is prac­tic­ing a racial dou­ble stan­dard. Last year Beck pro­claimed Oba­ma a racist ​"with a deep seat­ed hatred for white peo­ple or white culture."
This meme has pro­lif­er­at­ed in right-wing cir­cles, fuel­ing the con­tro­ver­sy around NBPP's alleged vot­er intim­i­da­tion at the Philadel­phia polling place. In ear­ly Jan­u­ary 2009, the Bush admin­is­tra­tion filed a law­suit accus­ing Shabazz and oth­ers of vot­er intim­i­da­tion. When the Oba­ma admin­is­tra­tion arrived it dis­missed the suit against all but one of the men, argu­ing that the evi­dence did not sup­port the charges.
Although no vot­ers com­plained of intim­i­da­tion, Obama's crit­ics argue that drop­ping the charges is proof that he prac­tices a dou­ble stan­dard. This argu­ment has gained trac­tion among right-wing media, who have exag­ger­at­ed the NBPP's significance.
The NBPP was found­ed in 1990 by Aaron Michaels, a com­mu­ni­ty activist and radio pro­duc­er in Dal­las, Texas, who got his ini­tial inspi­ra­tion from for­mer Mil­wau­kee City Alder­man Michael McGee. In 1990 McGee cre­at­ed the ​"Black Pan­ther Mili­tia," a group com­prised of street gangs and oth­er ​"street sol­diers," to vio­lent­ly con­front entrenched power.
(McGee lat­er admit­ted that his pri­ma­ry motive for form­ing the group was to extort aid for the black com­mu­ni­ty from Milwaukee's recal­ci­trant white lead­er­ship. His sole pur­pose was to provoke.)
Tak­ing his cue from McGee, Michaels set up a sim­i­lar group in Dal­las, reg­is­ter­ing the name New Black Pan­ther Par­ty for Self Defense in 1991. They used the ​"Black Pan­ther" name because they sought to hitch­hike on the hero­ic lega­cy it evokes. But the NBPP nev­er embraced the ethos of com­mu­ni­ty ser­vice advo­cat­ed by the orig­i­nal Black Panthers.
Instead, Michaels adopt­ed McGee's provo­ca­tion mod­el, espous­ing genet­ic essen­tial­ism (i.e., white peo­ple bad, black peo­ple good), racial sep­a­ratism and armed self-defense, a doc­trine more in line with racial­ist groups like the Nation of Islam than the post-colo­nial nation­al­ism of the first Pan­ther Par­ty. (Sur­viv­ing lead­ers of the orig­i­nal group have repeat­ed­ly denounced the NBPP, even suing to pre­vent it from using the name ​"Black Pan­ther." The South­ern Pover­ty Law Cen­ter lists the NBPP as a ​"hate group.")
That shift in tone was con­se­crat­ed and cod­i­fied by the 1996 arrival of Khalid Abdul Muham­mad to the NBPP's lead­er­ship ranks. Muham­mad had been nation­al spokesman for Louis Far­rakhan until an infa­mous 1993 appear­ance at New Jersey's Kean Uni­ver­si­ty, where he made remarks so racial­ly offen­sive that Far­rakhan sus­pend­ed him from the Nation of Islam.
A charis­mat­ic ora­tor, Muham­mad became a racial provo­ca­teur with­out port­fo­lio. He was in big demand as a speak­er and his voice has been sam­pled on a num­ber of songs by hip-hop artists, includ­ing Pub­lic Ene­my. Three years after becom­ing chair­man of NBPP in 1998, Muham­mad died. Since then his posi­tion has been filled by Shabazz, whose plans to dis­rupt Beck's August 28 event are par for the course – and almost guar­an­teed to gen­er­ate more pub­lic­i­ty of dubi­ous value.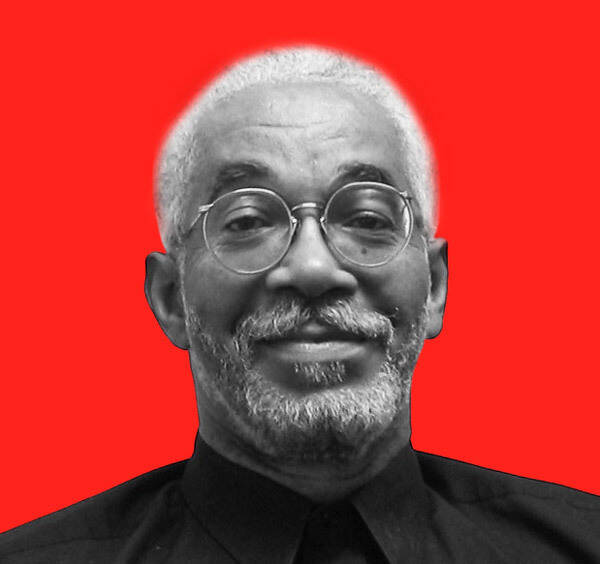 Sal­im Muwakkil
is a senior edi­tor of
In These Times
, where he has worked since
1983
. He is the host of The
Sal­im Muwakkil
show on WVON, Chicago's his­toric black radio sta­tion, and he wrote the text for the book
HAROLD: Pho­tographs from the Harold Wash­ing­ton Years
.