Deus ex YouTube
The Newsroom recap: Aaron Sorkin introduces us to The Internet.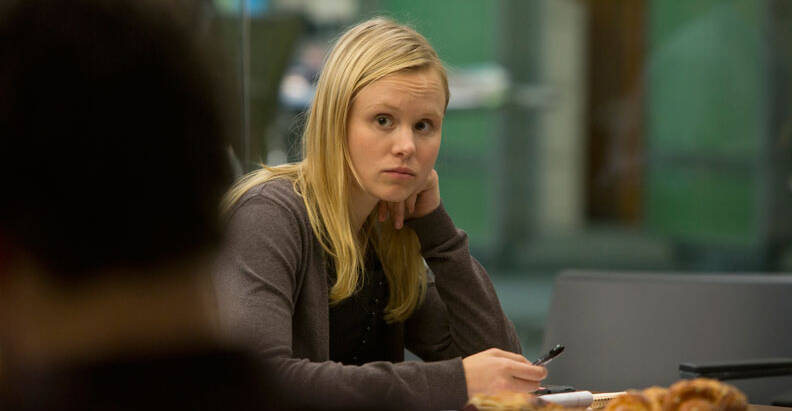 The ene­mies of fic­tion­al news­man Will McAvoy are many and var­ied, and his bat­tles with them are the stuff of leg­end. The gold­en-haired knight of the fourth estate has fought The Gos­sip Rags, The Cor­po­rate Fat-Cats, and, per­haps most mem­o­rably, Every Sin­gle Oth­er Jour­nal­ist In The World. But in this rogue's gallery, few foes have proven to be as dri­ven and per­sis­tent as The Inter­net — specif­i­cal­ly, Aaron Sork­in's high­ly per­son­al, malev­o­lent, super­pow­ered ver­sion of the Inter­net, which is pow­ered large­ly by coin­ci­dences rel­e­vant to the plot of The News­room. This week's episode, friends, marks the event of sev­er­al deci­sive skir­mish­es in that battle.
Internet engagement, for Neal, is a heroic and journalistic pursuit. Internet engagement for women (such as Plucky Astorian Blogger) is entirely confined to narcissism, attention-hunger, and posting one's masturbation fantasies online.
So let us once again trav­el back in time, to the glo­ri­ous fall of 2011. I remem­ber it well: I was a plucky young blog­ger liv­ing in Asto­ria who had recent­ly under­gone a clas­sic rite of pas­sage for plucky young blog­gers every­where — being haranged over Twit­ter by a large, shouty, self-right­eous news anchor. On the larg­er stage, the 10th anniver­sary of 9⁄11 was upon us, a man named Troy Davis was about to be exe­cut­ed by the state of Geor­gia, and Occu­py Wall Street was gain­ing steam. And in News­room world, Will was still sit­ting in his office grump­ing about the 9⁄11 cov­er­age, and the strangest breakup in record­ed his­to­ry was rapid­ly unfolding.
To explain: Last week, there was an odd lit­tle scene in which Don and Mag­gie, who had just moved in togeth­er, broke up over a video that had been post­ed to YouTube of Mag­gie yelling at a Sex and the City tour bus about being in love with Jim. There was no real dis­cus­sion, no ​"Can I ask you to clar­i­fy this for me giv­en that we are in a live-in rela­tion­ship, which as I under­stand it is an arrange­ment where­in human beings attempt to resolve their issues," no fight, even. Don just clicked on a YouTube video, saw 30 sec­onds of it, and then dis­ap­peared in a puff of smoke. As he was whisked away by the spir­its, Don insist­ed to Mag­gie that she must have expect­ed that her out­burst would end up on YouTube, because appar­ent­ly Sorkin set his show in New York City with­out real­iz­ing that (a) your aver­age New York­er has seen about 50 strangers fight­ing, cry­ing or uri­nat­ing off the side of a sub­way plat­form by the time they get to work in the morn­ing, and (b) you don't record that stuff and upload it to YouTube, because you don't want to get YouTubed the next time you're cry­ing and/​or yelling pro­fan­i­ties into your cell phone in the mid­dle of a Barnes & Noble. Also, you could get mur­dered. It's called the social con­tract, Aaron! Look it up!
Well: It was odd and clum­sy, and seemed like a Deus ex YouTube attempt at clear­ing away a dead-end plot­line, so I assumed that we could all ignore it and move on — much as any rea­son­able YouTube-view­ing pub­lic would ignore Mag­gie's video, which, frankly, was much too bor­ing to mer­it online post­ing in the first place. Unless Mag­gie was sob­bing about her crush whilst stand­ing direct­ly next to a card­board box with a cat jump­ing into it, I sim­ply could not envi­sion an Inter­net on which any­one might care.
Clear­ly I had not yet expand­ed my mind to con­tain The Inter­net, direct­ed by Aaron Sorkin. For, lo: The Tell-Tale YouTube video is now a smash Inter­net sen­sa­tion. And an exec­u­tive pro­duc­er and high-pro­file news­cast­er for a major cable news net­work have noth­ing bet­ter to do than track the prob­lem to its source, which is: A plucky Asto­ri­an blog­ger. Who writes Sex and the City fan-fic­tion. And posts about her laun­dro­mat on FourSquare.
What a real­is­tic, well-devel­oped, sex­u­al­ly allur­ing new addi­tion to our reg­u­lar News­room cast, every­one! I cer­tain­ly look for­ward to her future con­tri­bu­tions. But in the mean­time, we get a scene in which Sloan and Mag­gie stalk this obvi­ous and com­pelling audi­ence-iden­ti­fi­ca­tion fig­ure to the sacred ground of the laun­dro­mat so they can yell at her about boys and dat­ing and which Sex and the City char­ac­ter is their favorite.
Mean­while: Troy Davis is about to be killed by the state of Geor­gia. I'm just saying.
Any­way. Laun­dro­mat thus invad­ed, Mag­gie and Sloan prompt­ly attempt to buy off the sweet and charis­mat­ic Plucky Asto­ri­an Blog­ger (here­after referred to as PAB) by promis­ing her more fol­low­ers on Twit­ter in exchange for tak­ing down the video. ​"Yessssss, you fool," they hiss, their paint­ed lips fram­ing words of sweet tor­ment for our hero­ine. ​"Release your holy quest for truth, jus­tice, and hot Carrie/​Samantha slash fic. Suc­cumb, rather, to our desires. For we offer you a Klout score… A KLOU­U­U­U­UT SCOOORRE."
After briefly con­sid­er­ing a long con in which Will McAvoy blocks and unblocks Plucky Asto­ri­an Blog­ger 15,000 times while say­ing mas­sive­ly screwed-up stuff about a sex­u­al assault case, PAB lets them just, like, link to her blog, or what­ev­er. But, ah! The forces of cor­rup­tion can­not touch the pure and holy heart of PAB! For she leaves the video up any­way, caus­ing Mag­gie's best friend to see it and deliv­er a 15-minute long lec­ture about Mag­gie's psy­cho­log­i­cal weak­ness­es as if she's audi­tion­ing for the part of Han­ni­bal in an all-female revival of Silence of the Lambs. Then she breaks up with Mag­gie, over Jim. Because female friend­ships are flim­sy and triv­ial and can invari­ably be bro­ken up over brief, non-live-in rela­tion­ships with dudes whose hair looks like a Bea­t­les wig that's seen the busi­ness end of a Dust­Buster. Because boys are the most impor­tant thing in the uni­verse, because Sorkin, The End.
Mean­while, Troy Davis is going to be killed by the state of Geor­gia. But wait, no, hey!: Some­one wants to put a Twit­ter scroll on the bot­tom of a newscast.
Don hates this idea, because ​"you can't turn your arm clock­wise and turn your leg coun­ter­clock­wise at the same time. Try it!" Read­ers who have tried it will know that it is not only entire­ly pos­si­ble, but also sort of cute, a lit­tle like Uma Thurman's dance from Pulp Fic­tion. Nev­er­the­less, run­ning a Twit­ter scroll on the screen will hence­forth sym­bol­ize the cor­rup­tion of all legit­i­mate news. Will will bring it up when­ev­er he gets frothy. Will gets frothy quite a lot. He is in his office for most of this episode, sulk­ing. He emerges only to silent­ly creep-watch his crew as they ooh and ahhh over archival footage of his cov­er­age of 9⁄11, because, as we have pre­vi­ous­ly estab­lished, the most impor­tant thing about 9⁄11 is and always has been Will.
Mean­while, Troy Davis is going to be killed by the state of Geor­gia. But WAIT, HOLD ON, HOLD THE PHONE: What's up with Neal? And the Inter­net? The Inter­net is very impor­tant, for Neal!
Neal, after wet­ting his pants over Red­dit in the pre­vi­ous episode, is now wet­ting his pants over videos post­ed by Anony­mous. Last sea­son, I am informed, Neal was the only char­ac­ter to tru­ly get Wik­iLeaks. Two things, here. First: It's impor­tant to note that Inter­net engage­ment, for Neal, is a hero­ic and jour­nal­is­tic pur­suit, one which (a) qual­i­fies him for a job at a high-pro­file news orga­ni­za­tion, and (b) allows him to get the scoop on impor­tant sto­ries which would oth­er­wise lack main­stream cov­er­age. Mean­while, Inter­net engage­ment for women (such as Plucky Asto­ri­an Blog­ger) is entire­ly con­fined to nar­cis­sism, atten­tion-hunger, and post­ing one's mas­tur­ba­tion fan­tasies online. Sec­ond: Neal's supreme­ly bro­gres­sive Inter­net habits lead me to believe that he is not a fic­tion­al char­ac­ter, but a real live dude who hap­pens to look like Dev Patel. Also, that he's prob­a­bly called me a ​"cunt" on the Inter­net at least eight or nine times.
Neal, who uses the Inter­net for Real News rather than sil­ly gen­der sto­ries, attends Occu­py Wall Street. He prompt­ly gets arrest­ed, despite iden­ti­fy­ing him­self as a jour­nal­ist, because that is a thing that hap­pened in the world. He YouTubes the inci­dent, because YouTube is a hero­ic and con­struc­tive endeav­or, when men do it. ​"This guy seems real­ly tough and full of integri­ty! At least he's not post­ing ​'Sex & the City' fan­f­ic LOL," posts Red­di­tor bigfootsreal497, who has always been a big fan of Neal.
Mean­while: Troy Davis has been exe­cut­ed by the state of Geor­gia. ​"Cut the Twit­ter feed," some­one says, deter­mined not to let the friv­o­lous Inter­net cor­rupt this sacred moment. Instead, in this moment, which is uncor­rupt­ed by the friv­o­lous Inter­net, we see the face of Troy Davis — a man who was like­ly inno­cent, and who was killed at the age of 42 by the state of Geor­gia due to struc­tur­al racism — float­ing behind Mag­gie, as she tries to call Jim to tell him how sad she is that she's been bro­ken up with due to a Sex and the City YouTube video. Troy Davis' face con­tin­ues to watch Mag­gie and Sloan as they parse the num­ber of rings on Jim's cell phone. It's cal­lous, and it's mon­strous. But at least there's no Inter­net in it, because that would real­ly dam­age the seri­ous­ness of the proceedings.
But WAIT NO STOP THE PRESS I WANT TO GET OFF: In the course of Googling ​"Will McAvoy Hate," which is appar­ent­ly some­thing he does, Will has come upon a web­site. It is named, help­ful­ly, ​"Why We Hate Will McAvoy."
Lord: I'm not a pray­ing woman. And I'm not a right­eous woman, by any means. I haven't talked to you for a long, long time. But Lord, if there is any jus­tice or truth or screen­writ­ing sym­me­try in this world of ours, I'm ask­ing you: Please, please let Why We Hate Will McAvoy Dot Com turn out to be run by Plucky Asto­ri­an Blogger.