The Next President's Iran Dilemma
Why undoing Bush's foreign policy won't be easy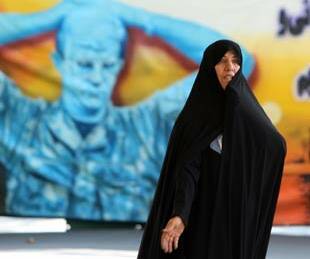 Quick: Who is the strate­gic vic­tor, to date, of the war in Iraq? Near­ly every­one out­side the Bush admin­is­tra­tion (and per­haps some with­in it) would answer: the Islam­ic Repub­lic of Iran.
The cat­a­stro­phe of the U.S. occu­pa­tion of Iraq has bol­stered the cler­i­cal régime in Tehran, while sour­ing ordi­nary Ira­ni­ans on the prospect of U.S.-delivered ​"democ­ra­cy." The occu­pa­tion has done so by emplac­ing Iran­ian-backed Shi­ite Islamists in pow­er in Bagh­dad and cool­ing the jets of those in Wash­ing­ton hop­ing to ​"shock and awe" Iran's mullahs.
Mean­while, Iran has pro­ceed­ed with its efforts to obtain enriched ura­ni­um, the mate­r­i­al it needs for the peace­ful gen­er­a­tion of nuclear pow­er, but that the inter­na­tion­al com­mu­ni­ty fears it would use to man­u­fac­ture an atom­ic bomb.
Top Democ­rats have peri­od­i­cal­ly seen in Iran's rise an oppor­tu­ni­ty to cast Pres­i­dent George W. Bush as weak on nation­al secu­ri­ty. Road-test­ing this approach in ear­ly 2006, Sen. Hillary Clin­ton (D‑N.Y.) declared, ​"I believe we lost crit­i­cal time in deal­ing with Iran because the White House chose to down­play the threats and to out­source the nego­ti­a­tions" over ura­ni­um enrich­ment to the Europeans.
On Sept. 26, 2007, she vot­ed for a mea­sure co-spon­sored by Iran hawk, Sen. Joseph Lieber­man (I‑Conn.), urg­ing Bush to label Iran's Rev­o­lu­tion­ary Guards a ​"ter­ror­ist orga­ni­za­tion" arm­ing and fund­ing Shi­ite mili­tias in Iraq. Two days ear­li­er, Clinton's rival Sen. Barack Oba­ma (D‑Ill.) had sent a state­ment to a pro-Israel ral­ly in New York call­ing Iran ​"the great­est strate­gic chal­lenge to Amer­i­ca in the Mid­dle East in a generation."
Such hyp­ing of the Per­sian per­il has coex­ist­ed uneasi­ly in Demo­c­ra­t­ic and for­eign pol­i­cy estab­lish­ment rhetoric with the specter of anoth­er mil­i­tary mis­ad­ven­ture by the Bush admin­is­tra­tion. Clinton's rivals for the Demo­c­ra­t­ic nom­i­na­tion inveighed against her Sept. 26 vote, espe­cial­ly after the White House des­ig­nat­ed the Rev­o­lu­tion­ary Guards a ​"pro­lif­er­a­tor of weapons of mass destruc­tion," and its Quds Force a ​"sup­port­er of ter­ror­ism," on Oct. 25.
For­mer Sen. John Edwards accused Clin­ton of aid­ing ​"George Bush, Dick Cheney and the neo­con war­mon­gers" and their ref­er­ences to ​"World War III." Then, the wor­ry that Bush would attack Iran evap­o­rat­ed with the release in ear­ly Decem­ber of declas­si­fied por­tions of a new Nation­al Intel­li­gence Esti­mate (NIE).
The NIE, in an abrupt rever­sal of the U.S. intel­li­gence community's pre­vi­ous best guess, stat­ed that Iran has not had an active pro­gram for build­ing the bomb since 2003. A mild eupho­ria gripped Wash­ing­ton, except the White House where spokes­peo­ple were sheep­ish, and the right-wing think tanks where Iran hawks mut­tered dark­ly about State Depart­ment derail­ment of the Bush-Cheney agen­da. With­in two weeks, how­ev­er, the eupho­ria wore off, and the old bipar­ti­san con­sen­sus – Iran is a threat – reemerged.
Fear­ing the NIE
The renewed dis­qui­et, odd­ly enough, draws upon the ful­mi­na­tions of the Iran hawks. Lau­ra Rozen, one of the best-informed reporters fol­low­ing the Iran sto­ry, wrote for Moth­er Jones on Dec. 18 that a Demo­c­ra­t­ic con­gres­sion­al aide who works on non-pro­lif­er­a­tion was impressed by the log­ic of for­mer U.S. Ambas­sador to the Unit­ed Nations John Bolton in lament­ing the pub­li­ca­tion of the NIE's key find­ings. ​"While the pres­i­dent and oth­ers argue that we need to main­tain pres­sure on Iran, this ​'intel­li­gence' tor­pe­do has all but sunk those efforts, inad­e­quate as they were," Bolton com­plained on the Wash­ing­ton Post op-ed page. ​"Iron­i­cal­ly, the NIE opens the way for Iran to achieve its mil­i­tary nuclear ambi­tions in an essen­tial­ly unmo­lest­ed fash­ion, to the detri­ment of us all."
Under­stand­ing this twist requires a brief recap of the inter­na­tion­al stand­off over Iran's nuclear research pro­gram. Since exiled Iran­ian oppo­si­tion­ists exposed the nuclear effort in August 2002, Tehran has main­tained that it seeks only to gen­er­ate nuclear ener­gy to light Iran­ian cities. As a sig­na­to­ry to the Nuclear Non-Pro­lif­er­a­tion Treaty (NPT), Iran has a right to con­duct such research, pro­vid­ed that the Inter­na­tion­al Atom­ic Ener­gy Agency (IAEA) can ver­i­fy that the pro­gram is exclu­sive­ly peaceful.
The Unit­ed States, how­ev­er, insist­ed that the Islam­ic Repub­lic could not be allowed to enrich ura­ni­um because that fuel could be divert­ed to mil­i­tary use. (The IAEA, to date, has found no evi­dence of a weaponiza­tion pro­gram, but nor can it issue Iran a clean bill of health.)
Mean­while, unwill­ing to give up its right under the NPT, and under­es­ti­mat­ing Euro­pean con­cern about its pre­sumed nuclear ambi­tions, in 2006, Iran can­celed a ​"vol­un­tary" sus­pen­sion of enrich­ment. The U.N. Secu­ri­ty Coun­cil soon passed a res­o­lu­tion for­bid­ding enrich­ment and man­dat­ing sanc­tions if Iran did not resume full coop­er­a­tion. Two mod­est sets of U.N. sanc­tions have been imposed.
Bolton – who derides the IAEA as the Unit­ed Nations' nuclear ​"watch­pup­py" – is not alone in dis­trust­ing Tehran's inten­tions, NIE or no. Iran's con­tin­ued enrich­ment of ura­ni­um is the real hang-up.
George Perkovich, who over­sees the South Asia Project at the Carnegie Endow­ment for Inter­na­tion­al Peace, chan­neled the con­cerns of many Demo­c­ra­t­ic-lean­ing non-pro­lif­er­a­tion spe­cial­ists in a brief­ing on Dec. 4, short­ly after the NIE's release. Both ​"dis­ap­point­ed hawks and relieved doves," Perkovich wrote, should recall that the U.N. res­o­lu­tion pro­scribed enrich­ment – not active weaponiza­tion. But the NIE, by tak­ing U.S. air strikes ​"off the table," had robbed the ​"doves" and the hawks of the ​"lever­age" that the mil­i­tary option provided.
Now, how would the inter­na­tion­al com­mu­ni­ty con­vince Iran to, in Perkovich's words, ​"reas­sure its neigh­bors and the world that it is not gam­ing the inad­e­quate nuclear rules in ways that could enable it to change its mind, break the rules and very quick­ly build nuclear weapons?" How, more­over, would the Unit­ed States keep the Iran­ian nuclear file before the Secu­ri­ty Council?
The IAEA, Rus­sia and Chi­na had only acqui­esced to more aggres­sive inspec­tions and the ini­tial sanc­tions because they believed they had to in order to avert war.
That, said the Demo­c­ra­t­ic Hill staffer inter­viewed by Rozen, is why he was lis­ten­ing to Bolton with new ears. After the NIE, he feared, the Unit­ed States would be hard­er-pressed to win a new round of sanc­tions on Iran at the Secu­ri­ty Coun­cil – ​"our best hope for derail­ing the Iran­ian nuclear pro­gram and stop[ping] short of mil­i­tary action."
The ​
'

par­a­digm of enmity'

Across the polit­i­cal spec­trum that mat­ters most in Wash­ing­ton today, the fun­da­men­tal log­ic of coer­cive diplo­ma­cy holds sway, as does the fun­da­men­tal belief that U.N. insti­tu­tions are real­ly to be trust­ed only when fol­low­ing a U.S. agenda.

— — -

At a deep­er lev­el, there is an inabil­i­ty or unwill­ing­ness to tran­scend what Tri­ta Par­si of the Nation­al Iran­ian Amer­i­can Coun­cil calls the ​"par­a­digm of enmi­ty" between the two coun­tries. This durable par­a­digm, forged in the heat of the 1979 Islam­ic Rev­o­lu­tion and the ensu­ing hostage cri­sis, has made bash­ing Iran a cost-free activ­i­ty for gen­er­a­tions of Amer­i­can politi­cians of both par­ties, even in the years between 1997 and 2004, when reformist cler­ics in Tehran sought an open­ing to the West. It explains why the Bush admin­is­tra­tion spurned Tehran's offer in 2003 to con­vene direct bilat­er­al talks on all out­stand­ing grievances.

At root, the urge to defeat Iran is why Sec­re­tary of State Con­doleez­za Rice, when con­vey­ing her own offer for bilat­er­al talks with Iran in 2006, includ­ed the ​"poi­son pill" that Iran first cease and desist from enrich­ment of ura­ni­um. By tying talks to Iran's right under the NPT, at that time still not lim­it­ed by the Secu­ri­ty Coun­cil, Rice ensured that Iran would say no.

Today, Par­si argues, such demands for sus­pen­sion make even less sense as a tool of non-pro­lif­er­a­tion. ​"If the Ira­ni­ans real­ly want to get a nuclear weapon, the best thing they can do right now is sus­pend," Par­si says, because then the atten­tions of the Secu­ri­ty Coun­cil and the IAEA would decrease in intensity.

On the Iran­ian side, the rout of the reformists, due part­ly to their fail­ure to stop Iran's inter­na­tion­al iso­la­tion, has empow­ered hard­lin­ers who still feel the fer­vid cer­ti­tude of the revolution's ear­ly years.

Iran­ian Pres­i­dent and hard­lin­er Mah­moud Ahmadine­jad has done his best to fur­ther the par­a­digm of enmi­ty. Ahmadine­jad has antag­o­nized inter­na­tion­al pub­lic opin­ion, as well as Euro­pean states, whose good will Tehran once count­ed on in its face-off with Wash­ing­ton, by his Holo­caust denial and indif­fer­ence to the impres­sions of out­siders. He does not call the shots about Iran's nuclear pro­gram, but his mere pres­ence in office great­ly dimin­ish­es con­fi­dence in Iran's intentions.

Ahmadine­jad faces a tough bat­tle for reelec­tion in 2009, and his already nar­row pow­ers may be fur­ther crimped after Iran's 2008 par­lia­men­tary con­tests. In the Unit­ed States as well, the prospect of a change in gov­ern­ment is the real hope for a break­through in the pre­car­i­ous U.S.-Iranian stale­mate. The risks were under­lined by the Jan. 7 face­off between Iran­ian speed­boats and three U.S. war­ships in the Straits of Hor­muz, which a Pen­ta­gon offi­cial called ​"the most seri­ous provo­ca­tion of this sort that we've seen yet."
Lega­cy of failure
The Bush admin­is­tra­tion will appar­ent­ly con­tin­ue to push for a third Secu­ri­ty Coun­cil res­o­lu­tion con­tain­ing tougher sanc­tions. Rus­sia and Chi­na will oppose this quest. Mean­while, Rus­sia has sent Iran a ship­ment of enriched ura­ni­um for its pow­er plant under con­struc­tion at Bushehr on the Per­sian Gulf coast, a move that Wash­ing­ton applaud­ed (since it removes the need for Iran to learn to enrich its own ura­ni­um). Iran, nev­er­the­less, says it will con­tin­ue enrichment.
Bush has repeat­ed­ly stat­ed that an Iran­ian nuclear weapon is ​"intol­er­a­ble," fuel­ing the notion that he would order in the bombers well before Iran actu­al­ly had one. But the enor­mous unre­solved ques­tions in Iraq, as well as the time bought by the NIE's judg­ment that, should Iran restart weaponiza­tion efforts, a bomb would be three years to eight years away, will almost cer­tain­ly place the issue of Iran on the desk of the next president.
Repub­li­can can­di­dates have echoed Bush's bel­li­cose stance, though any of them would be con­strained by the war in Iraq and the like­ly Iran­ian retal­i­a­tion there and else­where to a mil­i­tary strike.
No major Demo­c­ra­t­ic can­di­date has for­sworn the mil­i­tary option, either. Though Clin­ton now speaks con­stant­ly of ​"diplo­ma­cy" when asked about Iran to pro­tect her left flank, she means lit­tle more than the coer­cive mea­sures that Bush has employed.
Oba­ma and Edwards, while speak­ing con­stant­ly of ​"sticks" lest they seem unman­ly, have each broached more expan­sive def­i­n­i­tions of diplo­ma­cy, with Oba­ma going as far as to promise ​"aggres­sive per­son­al diplo­ma­cy" with­out pre­con­di­tions, a sig­nif­i­cant improve­ment (assum­ing his Iran­ian coun­ter­part was will­ing) upon the sta­tus quo. Oba­ma says such talks would be part of his plan to remove U.S. com­bat troops from Iraq, indi­cat­ing that he under­stands that Wash­ing­ton is the sup­pli­cant in that par­tic­u­lar par­ley with Iran. Such is also the obvi­ous line of domes­tic polit­i­cal counter-attack, and Oba­ma stress­es that any ​"car­rots" for Iran would be pred­i­cat­ed on ​"changes in behav­ior" whose ade­qua­cy, no doubt, the Unit­ed States would determine.
It is pos­si­ble to imag­ine count­less rea­sons, inde­pen­dent of events on the ground, why the talks could be still­born. Nonethe­less, should such ideas make it into the gen­er­al elec­tion, Amer­i­cans would be pre­sent­ed with a clear choice.
The alter­na­tive prospect, though, is that the Bush years have placed the Unit­ed States and Iran on a path­way toward an inevitable con­fronta­tion. Tehran's price for help­ing the Unit­ed States out of Iraq would be steep, the psy­chic wound to Amer­i­can nation­al­ists unavoidable.
No fron­trun­ner, more­over, shows signs of hav­ing rethought the long-stand­ing bipar­ti­san con­sen­sus behind the U.S. ​"for­ward-lean­ing pos­ture" in the Per­sian Gulf, a troop deploy­ment and a geopo­lit­i­cal claim that puts Wash­ing­ton and Tehran struc­tural­ly at odds.
Key ele­ments of the bipar­ti­san for­eign pol­i­cy estab­lish­ment will argue for vig­or­ous U.S. inter­ven­tion in what­ev­er course the inter­na­tion­al com­mu­ni­ty pur­sues with regard to Iran­ian ura­ni­um enrich­ment. Actions that Wash­ing­ton dis­likes will be por­trayed as evi­dence of hope­less U.N. inef­fi­ca­cy, as was the case with Hussein's Iraq. And, of course, a nuclear-armed Iran would be ​"intol­er­a­ble" to any con­ceiv­able occu­pant of the White House.
It once seemed that Bush had pre­viewed his Iran pol­i­cy lega­cy – in typ­i­cal man­gled syn­tax – in Sun City, Fla., onMay 9, 2006. Asked about Iran there, he replied, ​"As you know, I've made the tough deci­sion to com­mit Amer­i­can troops into harm's way. It's the tough­est deci­sion a pres­i­dent can ever make, but I want you to know that I tried diplo­ma­cy – in oth­er words, a pres­i­dent has got to be able to say to the Amer­i­can peo­ple, diplo­ma­cy didn't work."
Today, it seems the more real­is­tic con­cern is that Bush has writ­ten the rough draft of a speech to be deliv­ered by a successor.
Chris Toens­ing
is edi­tor of Mid­dle East Report, pub­lished by the Mid­dle East Research and Infor­ma­tion Project in Wash­ing­ton, DC.