The Occupation Project Begins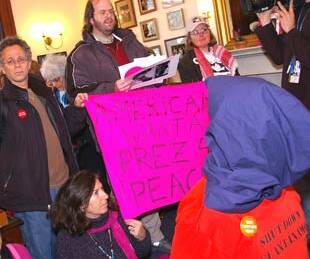 On the morning of Feb. 5, eight activists entered the downtown Chicago federal building that houses the offices of Democratic Sens. Barack Obama and Richard Durbin. Four headed directly to Obama's office; the rest gathered in the building's cafeteria and quietly went over their plans.
Gus Roddy would lie on the floor of Durbin's office, under a white sheet and paper flowers. ​"We're going to keep humming ​'Taps' while we cover him up," said Suzanne Sheridan, who distributed programs for what they intended to be a memorial service for Iraqi and American war dead.
The group then took an elevator to the 38th floor and filed into Durbin's office. The Occupation Project had begun.
The project is a nationwide campaign. Activists visit the local offices of their national lawmakers and vow to stay until legislators pledge to vote against supplemental funding for the Iraq war — or until they are forcibly removed. On the first day, protesters were arrested at Senate offices in Chicago, Washington, D.C., and Fairbanks, Alaska. They plan to continue through the end of March or until the funding for the war comes up for a vote in the Senate.
Chicago-based Voices for Creative Nonviolence (formerly Voices in the Wilderness) initiated the campaign, and is organizing nationally along with CODEPINK and Veterans for Peace. So far, about 500 people in 25 states have signed up on the project's Web site for campaigns, which Voices co-coordinator Jeff Leys says is ​"the tip of the iceberg." Many participants — in Chicago, as many as 90 percent — have joined through local groups, rather than signing up online.
The campaign is timed to coincide with the White House's request for $93 billion in supplemental funding for Iraq and Afghanistan. It follows a $70 billion ​"bridge fund" bill that was allocated in September
Although Durbin voted against the war, he ​"voted for every dollar requested for the troops because if his son or daughter were in Iraq he would want to make sure they had the equipment they need," says John Normoyle, deputy press secretary at Durbin's Chicago office. But Voices activists respond by citing a House Appropriations Defense Subcommittee hearing where it was learned that equipment purchased with money appropriated for troops will not actually reach Iraq until 18 months after the bill passes.
"The war's only going to end when the funding stops," says Laurie Hasbrook, who participated in the Feb. 5 action at Durbin's office. When the group was ordered to leave, those not willing to be arrested left as planned. Hasbrook and three others stayed and were arrested.
In Obama's office, the activists displayed pictures of ordinary Iraqis, and read aloud from prepared texts, including a letter from an Iraqi who opposes the occupation, a letter from a U.S. soldier who served in Iraq and the Sermon on the Mount. Between readings, they talked with members of the staff, who brought them water. Ken Bennett, Obama's state director, negotiated, offering to meet with one person in the inner office.
"If one of us goes into the inner office then all of us have to go," says Dan Pearson, a co-coordinator with Voices who participated in the action that day. The meeting did not happen.
The four were told they could stay in the office until closing time if they would sit down and be quiet. They refused, continued with their readings and singing, and were arrested.
"If we're disrupting the office, then so be it," says Ron Durham, another one of the protesters arrested. ​"What goes on in the office contributes to the war continuing over there."
Seven of those arrested Feb. 5 face federal charges of disturbance and state charges of criminal trespass, both misdemeanors. Hasbrook received a federal charge of disturbance and a state charge of assault. (She says she's ​"mystified" why her charge is different from the others.) In Washington, D.C., 10 people were arrested at Sen. John McCain's (R-Ariz.) office on charges of disorderly conduct.
The following week, Occupation Project participants arrived at the federal building bearing valentines with pictures of smiling Iraqi children, but found Obama and Durbin's office doors locked to those without an appointment. After negotiations with security, three people entered Obama's office (though they had to leave the valentines behind); Durbin's office would not allow the activists inside.
Voices co-coordinator Kathy Kelly, who visited Obama's office that day, says the group had a cordial conversation with Bennett. Obama has introduced a bill that would remove all combat brigades from Iraq by March 31, 2008, which Kelly and others find unacceptable. Staffers let the group read the names of the dead until closing, when the protesters left.
"They feel the same sense of urgency that Obama does about a war that never should have been authorized and never should have been fought," says Obama spokesman Tommy Vietor.
But regardless of whether it actually changes votes, Leys says, civil disobedience is valuable. It creates opportunities for people to consider ​"pushing the envelope" in their own lives, he says, whether that means speaking one's mind or risking jail.
Rebecca Harris
graduated from Northwestern University in
2008
and most recently worked at the
Erie Times-News
in Erie, Pa. Currently, she is a Chicago-based freelance writer. She is also beginning work on an audio documentary about her household in Rogers Park.