The Pentagon's New Weapon: Agent Whitewash
A $60 million government project to commemorate the Vietnam War distorts the facts.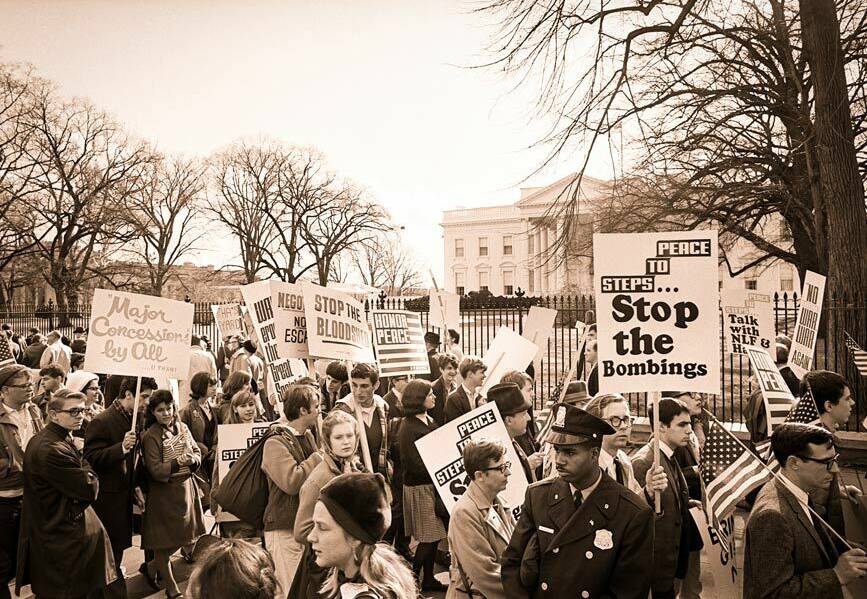 The Viet­nam War sparked a nation­wide peace move­ment on a scale not seen before in U.S. his­to­ry. On numer­ous occa­sions, demon­stra­tors num­ber­ing more than 100,000 took to the streets. More than a dozen young war pro­test­ers were mur­dered. Tens of thou­sands were arrest­ed. The great­est stu­dent strikes in Amer­i­can his­to­ry shut down cam­pus­es for weeks. GIs rebelled on scores of bases and ships, refused orders, threw their medals at the Con­gress, and even attacked their supe­ri­or offi­cers, prompt­ing warn­ings about the ​"col­lapse" of the armed forces. Pres­i­dent Lyn­don John­son was forced to forego reelec­tion because of a revolt with­in his own par­ty. Even the hun­dreds of rebel­lions by black Amer­i­cans were dri­ven in part by the government's shift in atten­tion and resources from the War on Pover­ty to the War in Vietnam.
Despite its vast scale, the Vietnam-era peace movement is losing on the battlefield of memory.
Despite its vast scale, the Viet­nam-era peace move­ment is los­ing on the bat­tle­field of mem­o­ry. To mark the 50th anniver­sary of the start of the ground war, the Pen­ta­gon is spend­ing $60 mil­lion on a decade-long Viet­nam War Com­mem­o­ra­tion, osten­si­bly to ​"thank and hon­or vet­er­ans" who served in the war. The commission's web­site, how­ev­er, dis­torts the war's his­to­ry. It has entries for the August 1964 Gulf of Tonkin Inci­dent that was used as an excuse to go to war, but does not men­tion that the attacks against U.S. ships nev­er hap­pened, as declas­si­fied NSA doc­u­ments proved in 2005. It reports the killing of hun­dreds of Viet­namese civil­ians at My Lai in 1968, but says noth­ing about the many oth­er mas­sacres and crimes com­mit­ted by U.S. sol­diers. The web­site lists only three of the thou­sands of anti­war protests and gives no indi­ca­tion of the peace movement's breadth and strength.
Our for­eign pol­i­cy elites hope to reimag­ine a war they lost — a hard fact to accept. Since the war-mak­ers will not tell the full truth, those who opposed the war must do so. We must write our own his­to­ry, tell our own sto­ries, hold our own com­mem­o­ra­tions of the war's anniver­saries, and teach the lessons we learned from Viet­nam. One of the most impor­tant of those lessons is that peace and jus­tice move­ments can make a dif­fer­ence. The anti­war move­ment drove a pres­i­dent from office, forced the war mak­ers to with­draw troops, con­strained mil­i­tary esca­la­tion, and even­tu­al­ly per­suad­ed Con­gress to end the bomb­ing and cut mil­i­tary aid.
Despite these achieve­ments, we could have done bet­ter. The pow­er of the 1960s peace move­ment is fad­ing from cul­tur­al mem­o­ry part­ly because the move­ment itself was deeply frag­ment­ed — a series of over­lap­ping but unco­or­di­nat­ed insur­gen­cies that rarely uni­fied. The move­ment repro­duced many of the racial, class, gen­der and cul­tur­al divides of the soci­ety from which it came. It was fur­ther splin­tered by the thou­sands of FBI infor­mants and COIN­TEL­PRO provo­ca­teurs who did their best to spread the poi­sons of dis­trust and division.
If we don't take our own lessons from Viet­nam, we will be left with the lessons those in pow­er learned. Today's esca­la­tion of secret wars orig­i­nat­ed in the Viet­nam era, when gov­ern­ment and the mil­i­tary became fear­ful of being answer­able to pub­lic opin­ion, of democ­ra­cy itself. Amer­i­can fail­ure in Viet­nam led direct­ly to our increased reliance on a Big Broth­er-style sur­veil­lance state, and secret wars using mer­ce­nary troops in remote loca­tions. The Water­gate rev­e­la­tions prompt­ed a brief demo­c­ra­t­ic thaw, but sur­veil­lance and dirty tricks resur­faced in the 1980s dur­ing the Cen­tral Amer­i­can wars and the Iran-Con­tra scan­dal. The 1990s saw the first ​"full-spec­trum" mil­i­tary strat­e­gy empha­siz­ing spe­cial oper­a­tions, drone attacks, cyber-war­fare and a doc­trine of ​"infor­ma­tion war" to manip­u­late pub­lic opin­ion. By 2014 and the begin­ning of the third Iraq War, the sin­gle great­est leg­isla­tive achieve­ment of the Viet­nam protest era, the 1973 War Pow­ers Act, was in shreds. Even when Pres­i­dent Oba­ma pro­posed new restric­tions this year in his request to Con­gress for mil­i­tary autho­riza­tion to fight ISIS, some Repub­li­cans want­ed to hand back even greater war pow­ers to the exec­u­tive branch.The issue remains undecided.
Viet­nam was the cause that made vot­ers objects of offi­cial sus­pi­cion, and the gov­ern­ment placed democ­ra­cy in its own emer­gency care. We are still liv­ing in that shad­ow. End­ing wars in the future depends on the advent of new move­ments for democ­ra­cy and social jus­tice at home.
Tom Hay­den
was a lead­ing oppo­nent of the Viet­nam War. He was indict­ed, tried and final­ly acquit­ted on charges of con­spir­a­cy to riot dur­ing the
1968
Demo­c­ra­t­ic Con­ven­tion. Hay­den lat­er served
18
years in the Cal­i­for­nia leg­is­la­ture. He is the author of
12
books and cur­rent­ly teach­es at Pitzer Col­lege in Los Angeles.