Trump May Be Worse, But George W. Bush Was a Godawful President
The media's nostalgia for Bush is not only ill-informed—it's dangerous.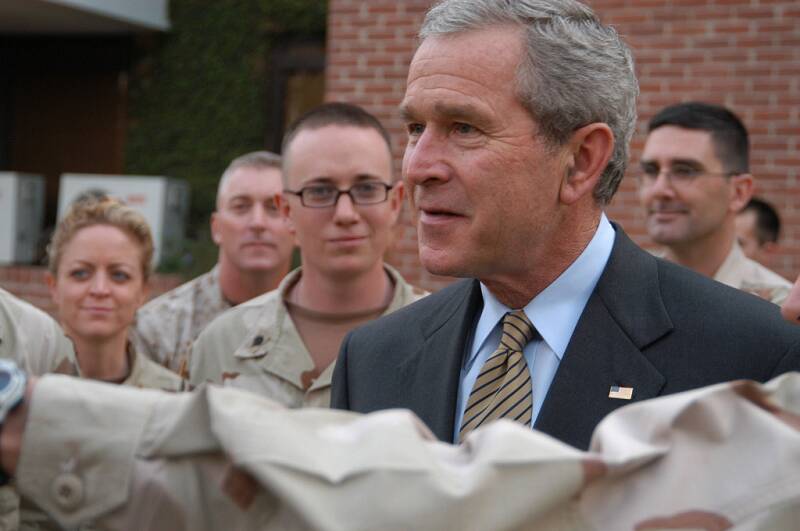 This post first appeared at Jacobin.
Bush's actions killed and maimed far more Muslims than his nice words ever saved.
George W. Bush has to be high in the run­ning for the worst pres­i­dent in the his­to­ry of the repub­lic, and he prob­a­bly would've reigned unchal­lenged for at least a few decades had Hillary Clinton's inept cam­paign not led to her defeat. As it is, the less than two months of Don­ald Trump's volatile pres­i­den­cy sug­gests his full four years will at least be neck and neck with Bush's eight.
Still, Bush's pres­i­den­cy was his­tor­i­cal­ly dis­as­trous, which makes it under­stand­able that since Trump's ascent, Bush appears to be wag­ing an under­stat­ed media cam­paign to reha­bil­i­tate his image — one which the media has hap­pi­ly assist­ed him with.
Trump's insan­i­ty has led many lib­er­als and oth­er for­mer Bush oppo­nents to start ​"recon­sid­er­ing" Bush's pres­i­den­cy. Slate implored Bush to ​"speak to his par­ty" about its lat­est descent into Islam­o­pho­bia. ​"Com­pared to Don­ald Trump, George W. Bush looks like a paragon of states­man­ship," Fran­cis Fukuya­ma wrote in 2015. Pho­tos of every­one from Hillary Clin­ton to Michelle Oba­ma embrac­ing Bush have gone viral, while the for­mer pres­i­dent recent­ly yukked it up with Ellen Degeneres on her talk show.
More recent­ly, Bush earned acco­lades for say­ing he didn't like ​"the racism" and ​"name-call­ing" of the Trump era, and that the media was ​"indis­pens­able to democ­ra­cy" — fair­ly innocu­ous com­ments that are appar­ent­ly grounds for hero­ism when stat­ed by Bush.
Much of Bush's reha­bil­i­ta­tion is, as the Wash­ing­ton Post recent­ly doc­u­ment­ed, both a result of the fact that next to Trump, just about any­one com­pares favor­ably, and because of a nice speech Bush deliv­ered in 2001 as he pre­pared to mur­der and tor­ture thou­sands of Mus­lims, telling Amer­i­cans that ​"Islam is peace," speak­ing out against recent hate crimes, and assur­ing Amer­i­can Mus­lims he wouldn't res­ur­rect Roo­sevelt-style mass intern­ment. (It is appar­ent­ly an admirable and states­man­like thing to pledge not to round up inno­cent peo­ple in camps with­out due process based on their religion.)
Bush and his sup­port­ers have often said that his­to­ry would vin­di­cate his pres­i­den­cy. It hasn't and it won't, even if Trump takes us to new lows.
Style Over Substance
Let's get the basics out of the way: The cud­dly George W. Bush who strug­gles to put on a rain pon­cho and paints pic­tures of dogs and Jay Leno is a war criminal.
In 2011, he had to abrupt­ly can­cel a vis­it to Switzer­land after the risk of a crim­i­nal com­plaint against him for tor­ture became a very real pos­si­bil­i­ty. The same year, a sev­en-mem­ber war crimes tri­bunal in Kuala Lumpur found Bush and for­mer British prime min­is­ter Tony Blair guilty of ​"crimes against peace" in absen­tia. Richard Clarke, a for­mer top coun­tert­er­ror­ism offi­cial under Bush, is on the record say­ing he thinks he and his admin­is­tra­tion com­mit­ted war crimes.
Con­trary to Bill Maher's recent asser­tion that Bush was an ​"hon­or­able man" who lib­er­als ​"cried wolf" over, the well-known broad strokes of Bush's pres­i­den­cy are enough to show that Bush was eas­i­ly one of the most vicious pres­i­dents to ever take office. Bush and his under­lings sold a cam­paign of out­right lies to the pub­lic in order to embroil the Unit­ed States in a total­ly unnec­es­sary war that killed between 150,000 and 1 mil­lion Iraqis and desta­bi­lized an entire region.
He insti­tut­ed a world­wide tor­ture régime that con­tin­ues to be stain on the Unit­ed States's glob­al image, and which ensnared numer­ous inno­cent peo­ple. He insti­tut­ed a vast, secret, and ille­gal sur­veil­lance appa­ra­tus, most of which sur­vives to this day. He (just bare­ly) spear­head­ed a gov­ern­ment response to one of the twen­ty-first century's worst nat­ur­al dis­as­ters — vis­it­ed on a major­i­ty black city — that was slow, often incom­pe­tent, and clear­ly racist.
Bush's actions killed and maimed far more Mus­lims than his nice words ever saved. But this has always been the rub: lib­er­als' pre­oc­cu­pa­tion with sym­bol­ic ges­tures and say­ing the right thing also led them to large­ly give Oba­ma an eight-year pass for car­ry­ing out poli­cies that were as bad as — and in some cas­es, worse than — Bush's.
It's also worth not­ing that the things lib­er­als and rad­i­cals hate about Trump, such as his promis­es of tor­ture and war, weren't poli­cies he invent­ed. Trump didn't insti­tute tor­ture or estab­lish Guan­tanamo Bay — his love­able, goofy pre­de­ces­sor did.
These few things alone should be enough to dis­qual­i­fy some­one from being sud­den­ly revered as some kind of elder states­man. Yet Bush's record was even worse than this.
It's great that Bush promised not to sweep up hun­dreds of inno­cent peo­ple in a drag­net in a high­ly pub­li­cized speech. But in real­i­ty, this is exact­ly what he did, round­ing up and detain­ing at least 1,200 peo­ple, some for as long as eight months. Many of them were Mus­lims and most were from Mid­dle East­ern, South Asian, and North African coun­tries; some of them cit­i­zens, some of them visa hold­ers. A tiny frac­tion of them were actu­al secu­ri­ty threats with tan­gi­ble links to terrorists.
As Human Rights Watch detailed, the admin­is­tra­tion denied many detainees basic rights like the right to an attor­ney on the basis that they were non-cit­i­zens. In one case, a North Car­oli­na Mus­lim con­vert, who was a mem­ber of the Nation­al Guard, had mar­ried a Yemeni man who was vis­it­ing the Unit­ed States. He was detained by the mil­i­tary, while she was accused by sol­diers of being a spy and pres­sured to take an hon­or­able dis­charge; in anoth­er, a US cit­i­zen from Pales­tine was sent home with a leg mon­i­tor that served as a con­stant source of humiliation.
The Bush admin­is­tra­tion also intro­duced a secret pro­gram, the Con­trolled Appli­ca­tion Review and Res­o­lu­tion Pro­gram (CAARP), black­list­ing peo­ple from cer­tain Mus­lim-major­i­ty coun­tries from becom­ing cit­i­zens, res­i­dents, or oth­er­wise immi­grat­ing to the Unit­ed States. The admin­is­tra­tion also spied on promi­nent Mus­lim Amer­i­cans, includ­ing Bush sup­port­ers and a for­mer mem­ber of his admin­is­tra­tion, one of whom was actu­al­ly at Bush's side as he deliv­ered his now-vaunt­ed ​"Islam is peace" speech. It insti­tut­ed the noto­ri­ous no-fly list which in the­o­ry keeps secu­ri­ty threats off planes, but in prac­tice keeps small chil­dren, a sen­a­tor, Cat Stevens, and oth­er Mus­lims with sim­i­lar names to ter­ror­ists off planes.
Any­one alarmed by Stephen Miller's tele­vised dec­la­ra­tion that the president's pow­ers ​"will not be ques­tioned" should be remind­ed that this mind­set was the core belief sys­tem at the heart of, and pio­neered by, Bush's presidency.
This phi­los­o­phy, espoused by offi­cials like John Yoo, David Adding­ton, and Dick Cheney, was that of a pow­er­ful pres­i­den­cy unen­cum­bered by Con­gress, inter­na­tion­al treaties, and oth­er checks on exec­u­tive pow­er. It was some­thing Cheney had pushed ever since, in his view, Water­gate had neutered the pres­i­den­cy, instruct­ing Reagan's incom­ing chief of staff in a 1980 memo to ​"restore pow­er & auth to Exec Branch" and ​"get rid of War Pow­ers Act."
Whether or not Bush per­son­al­ly sub­scribed to this ide­ol­o­gy was unim­por­tant; either way, Bush aggres­sive­ly claimed new, extreme pow­ers as pres­i­dent, includ­ing the right of pre­emp­tive war and the pow­er to indef­i­nite­ly detain any­one with­out due process — a colos­sal abuse of pow­er both at the time and in the con­text of two cen­turies of US history.
A True Friend of the Press
Bush's anger at the ​"name-call­ing" of today's pol­i­tics and his defense of the impor­tance of a free press should the­o­ret­i­cal­ly come as a shock to any­one who lived through his pres­i­den­cy. Bush was hard­ly a paragon in this respect.
There was the time Bush was actu­al­ly caught ​"name-call­ing" a reporter for doing the job he now con­sid­ers essen­tial, call­ing the New York Times​'s Adam Cly­mer a ​"major league ass­hole" with­out real­iz­ing it was being picked up by a micro­phone. Cly­mer had had the temer­i­ty to write arti­cles that sug­gest­ed Cheney's char­i­ta­ble dona­tions were less than the aver­age for peo­ple with his net worth, and that Bush ads claim­ing he had a pre­scrip­tion drug plan had ​"zero" accu­ra­cy. Bush refused to apol­o­gize for the insult, offer­ing only ​"regret that it made it to the airways."
When Bush found out some­one had used the domain www​.gwbush​.com (you can see it here in its hey­day) to make a web­site crit­i­cal of Bush, com­plete with a fake image of Bush snort­ing cocaine, Bush's reac­tion was: ​"There ought to be lim­its to freedom."
Bush's admin­is­tra­tion also had a habit of bomb­ing jour­nal­ists, par­tic­u­lar­ly Al Jazeera.
Bush offi­cials tried to dele­git­imize Al Jazeera's report­ing on the US siege of Fal­lu­ja in sim­i­lar terms to Trump, with a mil­i­tary spokesper­son terming their report­ing ​"pro­pa­gan­da," ​"lies," and ​"not legit­i­mate news sources." Defense Sec­re­tary Don­ald Rums­feld called their report­ing ​"vicious, inac­cu­rate and inexcusable."
Under Bush, the Unit­ed States bombed Al Jazeera not once, but twice: first in Kab­ul in 2001, when its office was destroyed for rea­sons the Pen­ta­gon couldn't explain, even after the news agency had giv­en author­i­ties the loca­tion of its office; and again in 2003, this time in Bagh­dad, after the loca­tion had again been dis­closed to author­i­ties. In the lat­ter, one jour­nal­ist was killed.
The same day, an Amer­i­can tank killed two Reuters cam­era­men after it shelled the Pales­tine Hotel, where more than one hun­dred jour­nal­ists were stay­ing, and US forces attacked an Abu Dhabi TV office. Accord­ing to the Inter­na­tion­al Fed­er­a­tion of Jour­nal­ists, by 2005, six­teen jour­nal­ists and oth­er media staff had been killed by US forces in Iraq.
The UK's Dai­ly Mir­ror lat­er report­ed, based on a five-page ​"Top Secret" memo leaked to the agency, that Bush had told Tony Blair in 2004 of his inten­tion to bomb Al Jazeera at its head­quar­ters in Qatar and else­where. The memo nev­er saw the light of day, as the Blair gov­ern­ment threat­ened to pros­e­cute any out­let that wrote any­thing more about it. Pri­or to this, the Bush admin­is­tra­tion had detained and tor­tured a com­plete­ly inno­cent Al Jazeera jour­nal­ist in Afghanistan, keep­ing him locked up for a total of sev­en years, six of those in Guantanamo.
Bush loved the adver­sar­i­al press so much, he con­tin­u­al­ly tried to under­mine it by plant­i­ng pro-admin­is­tra­tion pro­pa­gan­da in media outlets.
At least four dif­fer­ent reporters were paid by the admin­is­tra­tion to pro­mote var­i­ous Bush ini­tia­tives. Arm­strong Williams was paid $240,000 to pro­mote Bush's No Child Left Behind edu­ca­tion reform plan and to try to get oth­er black jour­nal­ists to do the same; colum­nist Mag­gie Gal­lagher was being paid $21,500 by Health and Human Ser­vices to pro­mote a Bush ini­tia­tive encour­ag­ing mar­riage, which she did in out­lets like Nation­al Review; con­ser­v­a­tive com­men­ta­tor Michael McManus received $10,000 to do the same; and a free­lance writer got at least $7,500 from the Agri­cul­ture Depart­ment to get arti­cles pub­lished in out­doors mag­a­zines that put a glow­ing spin on fed­er­al con­ser­va­tion programs.
These efforts were par­tic­u­lar­ly pro­nounced when it came to the Iraq War. The Bush admin­is­tra­tion plant­ed hun­dreds of pre-pack­aged video news releas­es in local news broad­casts that mim­ic­ked the style and appear­ance of actu­al news sto­ries, pro­mot­ing the Iraq War (as well as a host of oth­er admin­is­tra­tion pro­grams). It also paid a con­trac­tor to pay Iraqi jour­nal­ists for favor­able sto­ries and to insert arti­cles by Amer­i­can sol­diers in Iraqi magazines.
A Famil­iar Pattern
Besides this, what makes the sud­den push to reha­bil­i­tate Bush par­tic­u­lar­ly puz­zling is that in many ways Bush's approach to gov­ern­ment was iden­ti­cal to Trump's, both in its pen­chant for scan­dals and its pro-cor­po­rate approach.
His anti-envi­ron­men­tal poli­cies were no dif­fer­ent from Trump's, with Bush gut­ting reg­u­la­tions, pulling the Unit­ed States out of a land­mark inter­na­tion­al cli­mate deal, and staffing var­i­ous envi­ron­men­tal posts with indi­vid­u­als who had worked in indus­tries opposed to their mis­sions. The admin­is­tra­tion appoint­ed nine­ty-two lob­by­ists to its tran­si­tion advi­so­ry teams in 2000 and 2001.
Bush's admin­is­tra­tion was so mired in end­less scan­dals, there was at one point talk of ​"scan­dal fatigue." These ran the gamut from a secret ener­gy task force chaired by Dick Cheney that relied on rec­om­men­da­tions from the fos­sil fuel indus­try, to Karl Rove help­ing a GOP strate­gist secure a job at Enron, and a Bush aide's involve­ment in the Jack Abramoff cor­rup­tion scan­dal. There was also the administration's ties to Hal­libur­ton, which couldn't account for $1.8 bil­lion it had billed the gov­ern­ment for con­tract work in Iraq and Kuwait.
Bush may be dis­mayed at racism today, but this didn't stop him from kick­ing off his 2000 South Car­oli­na cam­paign at Bob Jones Uni­ver­si­ty, which banned inter­ra­cial dat­ing and called Catholi­cism a ​"Satan­ic coun­ter­feit." Nor did it stop his cam­paign from launch­ing a whis­per cam­paign there accus­ing John McCain of father­ing an black child with a woman who was not his wife (his daugh­ter had been adopt­ed from an orphan­age in Bangladesh).
As pres­i­dent, Bush would choose Mar­tin Luther King's birth­day as the date to announce his oppo­si­tion to affir­ma­tive action. Even if you care only about sym­bol­ic actions, you'd be hard-pressed to find a more point­ed sym­bol than that.
If all of that is not enough, con­sid­er this: while gov­er­nor of Texas, Bush set a record for send­ing peo­ple to die — 119 in five years — after pro­mot­ing and sign­ing a law lim­it­ing pris­on­ers' rights to appeal. Some of these peo­ple includ­ed Bet­ty Lou Beets, who killed her hus­band after a life­time of abuse, and a con­vict­ed rapist who had a men­tal age of six, had suf­fered sim­i­lar child­hood abuse (includ­ing being forced to drink his own urine out of the toi­let), and didn't even seem aware he was being put to death. Com­pas­sion­ate con­ser­vatism indeed.
Bush may not have gone around open­ly bash­ing immi­grants or shout­ing his Islam­o­pho­bia from the hill­tops. But if that's the stan­dard we're now going to use for decent states­man­ship, we're in trou­ble. Bush was an arro­gant, dan­ger­ous pres­i­dent whose recent mild com­ments crit­i­ciz­ing the guy who turned his broth­er into a nation­al joke in no way out­weigh the dis­crim­i­na­to­ry, destruc­tive poli­cies he put in place over eight years, nor the last­ing dam­age he did to the world by launch­ing an ille­gal war which bathed the Mid­dle East in blood and whose dis­as­trous con­se­quences we will be liv­ing with for decades. If the media can't remem­ber that, one shud­ders at the thought of how they'll treat Trump when some­one even more reac­tionary than him ascends to the presidency.
In These Times is proud to fea­ture con­tent from Jacobin, a print quar­ter­ly that offers social­ist per­spec­tives on pol­i­tics and eco­nom­ics. Sup­port Jacobin and buy a four issue sub­scrip­tion for just $19.95.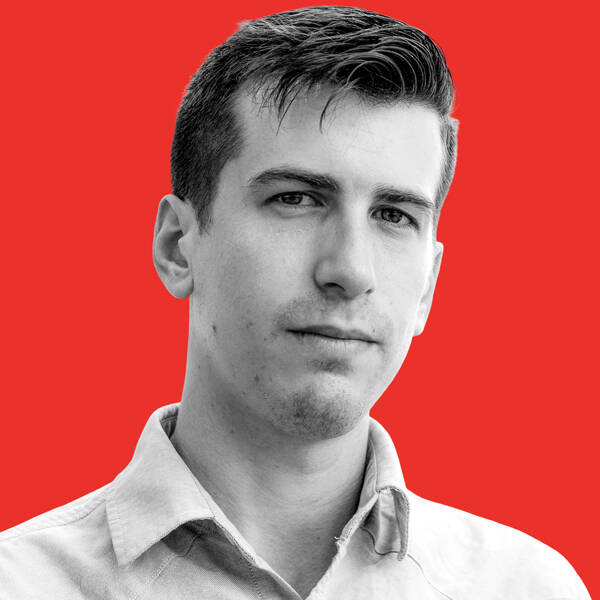 Branko Marcetic
is a staff writer at Jacobin mag­a­zine and a
2019
 – 
2020
Leonard C. Good­man Insti­tute for Inves­tiga­tive Report­ing fel­low. He is work­ing on a forth­com­ing book about Joe Biden.