The Pixies Enter the Realm of the Man-Child
The alt-rock pioneers flirt with misogyny and racism in 'Bagboy,' and almost no one has a problem with that.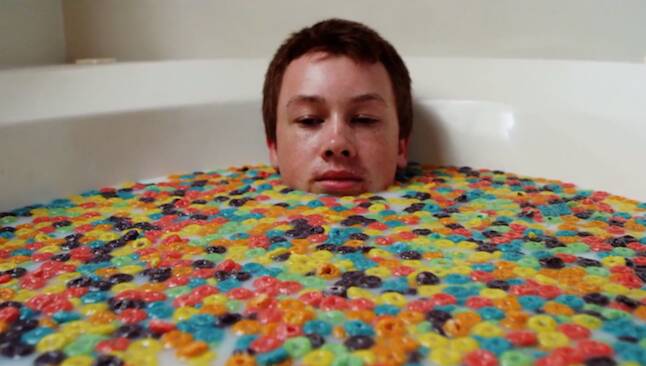 At long last, the Pix­ies reunion is upon us. And with it, the all-impor­tant ques­tion: Can a bunch of mid­dle-aged indie musi­cians still piss any­one off?
Either we will get angry at the racialized violence toward a woman, in which case we will be silly and square and guilty of embarrassingly public commitment, or we will stay quiet and assume 'irony,' in which case we 'get it' and remain cool.
When it comes to the video for their lat­est sin­gle, ​"Bag­boy,"—their first since 2004, and their first ever since the depar­ture of bassist Kim Deal — the answer is a qual­i­fied, but dis­ap­point­ing, ​"yes." The clip, direct­ed by duo Lamar + Nik, seems aimed to cap­ture the ado­les­cent high spir­its of any giv­en 35-year-old white man who spent his youth jam­ming out to the Pix­ies. An unsa­vory-look­ing youth — whose rapid­ly-devel­op­ing peach-fuzz mus­tache alone is enough to give you flash­backs to your worst eighth-grade dance part­ner — goes on a ram­page through a well-appoint­ed sub­ur­ban home. The vio­lence is shot to look child­like, even mag­i­cal: He sets off rain­bow-col­ored smoke bombs, plays the drums with fine chi­na, fills rooms with bal­loons and soap bub­bles, and bathes in Froot Loops. And then, as the video fades out, we pan away from the wreck­age to find — sur­prise! — a black woman, tied up, in her bedroom.
Lamar has respond­ed to a Hood­ed Util­i­tar­i­an blog post crit­i­ciz­ing the video by point­ing out that the woman in the video is his sis­ter (and that the young man is Nik's broth­er). He rejects the idea that the video has any racist or misog­y­nist con­no­ta­tions: ​"I, myself, being black have got­ten to the point where I don't auto­mat­i­cal­ly see col­or in people."
He continues:
Our hope was that peo­ple would see the video for what it is. It's a sto­ry about a kid get­ting to do what he wants with a cred­it card and no super­vi­sion, with a twist. It doesn't mat­ter if he's black, white, his­pan­ic, Native Amer­i­can or Indi­an, he'd still be doing the same activ­i­ties. In the video he's play­ing with bub­bles, bal­loons, and soak­ing in a giant cere­al bowl these are pret­ty light-heart­ed activities.
It's not my place to tell Lamar what his expe­ri­ences are, or should be. But this is a pret­ty weak dodge. Bod­ies in an oppres­sive soci­ety car­ry mean­ing: Show­ing a woman tied up in her bed­room by a man has an unavoid­able sig­nif­i­cance in rape cul­ture, and show­ing a white per­son destroy­ing a black per­son­'s house has an unavoid­able sig­nif­i­cance in a soci­ety where prop­er­ty destruc­tion has his­tor­i­cal­ly been high on the list of favored tac­tics in white racial vio­lence. And the vague­ly con­temp­tu­ous lyrics — ​"migra­tions of their type are such good plan­ners and not smug," Frank Black intones at one point, as the back-up singers repeat their exhor­ta­tions to ​"cov­er your breath, pol­ish your speech" — while prob­a­bly pur­pose­ful­ly non­sen­si­cal, add a dis­tinc­tive­ly ugly undertone.
Fur­ther­more, by defend­ing the pro­tag­o­nist's activ­i­ties as ​"light-heart­ed," Lamar essen­tial­ly deprives the video of its one plau­si­ble sav­ing throw: The idea that all that lov­ing­ly shot, can­dy-col­ored vio­lence against a black woman is ​"iron­ic," or that the last shot is intend­ed to make the audi­ence re-con­tex­tu­al­ize and retroac­tive­ly con­demn the boy's activ­i­ties. In this case, (one of) the direc­tors has spo­ken to tell us what we're sup­posed to think of the vio­lence inflict­ed on the woman. We're sup­posed to think that it's just a kid hav­ing fun.
In his (excel­lent) piece on the video, Noah Berlatsky points to the lack of crit­i­cal furor sur­round­ing the video, com­par­ing it to the trend pieces on the misog­y­ny in Kanye West­'s Yeezus.
​"Misog­y­ny in rap too often gets a pass from crit­ics," Berlatsky writes. ​"But at least there is an active, ongo­ing dis­cus­sion about how male hip hop artists use vio­lence against women to solid­i­fy their edgi­ness and cool. Rock per­form­ers, and even alter­na­tive rock per­form­ers, have been doing the same thing for decades, and folks just tend to shrug."
Berlatsky goes on to imag­ine a par­al­lel video from West depict­ing vio­lence against a woman in sim­i­lar­ly graph­ic terms, hypoth­e­sizes that it would be quick­ly picked up, ana­lyzed in con­text, and called out. In fact, there's no need for hypoth­e­siz­ing: One need only look to the video for ​"Mon­ster," in which West lounged in bed with a pair of fresh­ly killed super­mod­els, per­form­ing one verse while hold­ing a wom­an's decap­i­tat­ed head. The video was wide­ly decried even before it was offi­cial­ly released and even­tu­al­ly had to be issued with a dis­claimer: ​"The fol­low­ing con­tent is in no way to be inter­pret­ed as misog­y­nis­tic or neg­a­tive towards any groups of peo­ple. It is an art piece and it shall be tak­en as such." There's been no sim­i­lar offi­cial dis­claimer, out­side of a blog com­ment, from the Pix­ies' camp – nor has there been the sort of pub­lic pres­sure that might result in the need for one.
Berlatsky is cor­rect that the rel­a­tive absence of response in ​"Bag­boy" points to an ugly racial dynam­ic in how we process vio­lence toward women — one which slips, all too inex­orably, toward pro­cess­ing real-life vio­lence dif­fer­ent­ly when it comes from dif­fer­ent men. Black male musi­cians who are accused of domes­tic vio­lence become punch lines: Chris Brown, Ike Turn­er. If a dis­cus­sion about domes­tic vio­lence and music turns to Mar­tin Cran­dall of The Shins (accused of bat­ter­ing his girl­friend in 2008), Axl Rose (accused by three dif­fer­ent women), or John Lennon (who con­fessed to domes­tic vio­lence, some­times in song, it's a sur­prise. But it also points to the social con­text in which The Pix­ies exist: One in which any strong emo­tion­al response, let alone a response as self-expos­ing and social­ly incon­ve­nient as out­rage, is taboo.
As it hap­pens, ​"Bag­boy" hit the scene at about the same time as a great essay in the New Inquiry by Moira Weigel and Mal Ahern. Weigel and Ahern point out the casu­al sex­ism in both rad­i­cal left­ist the­o­ry and var­i­ous cul­tur­al insti­tu­tions — pub­lish­ing, art, human­i­ties depart­ments — that, like indie rock, are assumed to be too deeply sophis­ti­cat­ed, intel­li­gent, and drenched in inher­it­ed class and race priv­i­lege to be sex­ist or racist. (Authen­tic prej­u­dice, of course, is usu­al­ly assigned to ​"uncul­tured," pre­sum­ably non-wealthy Oth­ers, with misog­y­ny being a prob­lem for men of col­or, racism being a prob­lem for ​"red­necks," and the utter­ly non­sen­si­cal nature of using prej­u­dice as a means to deny prej­u­dice being a prob­lem for, appar­ent­ly, no-one.) In a long and very fun­ny pas­sage, they speak to a gen­er­a­tion of men that fears com­mit­ment — polit­i­cal, per­son­al, even mere­ly ver­bal — too deeply to allow them­selves to ​"mean" any­thing, which falls back on priv­i­lege-as-per­for­mance out of a lack of some­thing true or use­ful to say:
The Man-Child wants you to know that you should not take him too seri­ous­ly, except when you should. At any giv­en moment, he wants to you to take him only as seri­ous­ly as he wants to be tak­en. When he offends you, he was kid­ding. When he means it, he means it. What he says goes. … If the Man-Child could use his iron­ic sex­ism to build a new world, would you want to live in it? Would anyone?
All of which is to say that the ​"cool" of the Pix­ies video — which, like the Tiqqun pam­phlets that Ahern and Weigel lam­poon, remains stuck firm­ly in the flan­nel-clad heart of the ​'90s — depends, to some degree, on both its out­ra­geous­ness and on our lack of out­rage. Either we will get angry at the racial­ized vio­lence toward a woman, in which case we will be sil­ly and square and guilty of embar­rass­ing­ly pub­lic com­mit­ment, or we will stay qui­et and assume ​"irony," in which case we ​"get it" and remain cool. It's an ado­les­cent provo­ca­tion rough­ly as thought­ful as any giv­en Mar­i­lyn Man­son video, and it depends on our com­mit­ment to earn­ing social cap­i­tal with silence. The Pix­ies and Lamar + Nik have no need to demon­strate their sophis­ti­ca­tion by prov­ing that they don't see black women as dis­pos­able vic­tims; instead, we have to assume that they don't, in order to demon­strate ours. Keep­ing qui­et when their actions seem to indi­cate oth­er­wise is how we con­firm our mem­ber­ship in their club.
Weigel and Ahern may be right that the Man-Child has out­lived his era of cul­tur­al dom­i­nance. But the ques­tion remains: When the Old Gods of Indie Rock (or sex­ist left the­o­rists, or come­di­ans who mock rape vic­tims, or any oth­er group that rou­tine­ly falls back on aggra­va­tion as inno­va­tion) do offen­sive things, will they make us angry? And, if so, at what point does that start to be their prob­lem for try­ing, instead of ours for speak­ing up?