The Political Legacy of Tim Carpenter
A tribute to the radical Democrat and "ultimate organizer."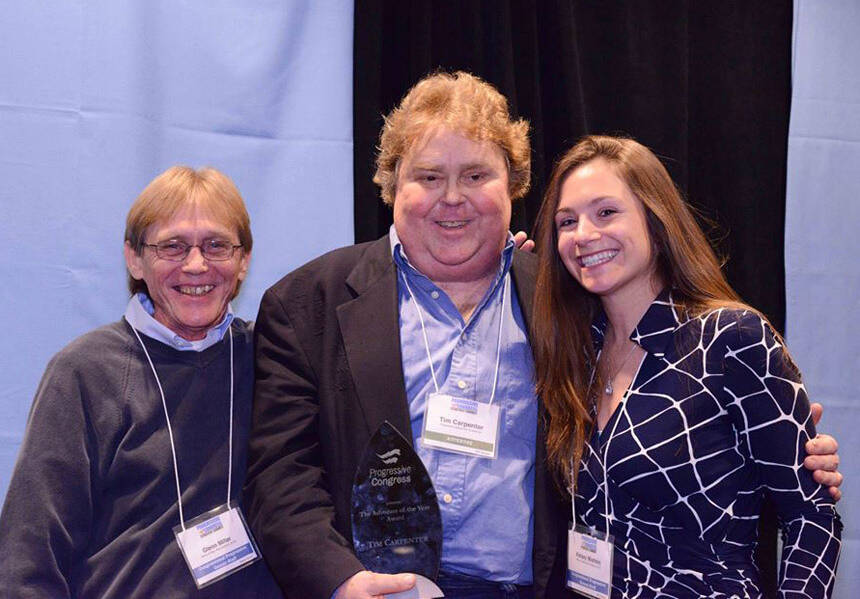 I first met Tim Car­pen­ter in Jan­u­ary of last year, at Pro­gres­sive Cen­tral in Wash­ing­ton, D.C. The third such event in Pro­gres­sive Democ­rats of Amer­i­ca (PDA)'s 10-year his­to­ry, the day-long round of pan­el dis­cus­sions unit­ed left-wing mem­bers of Con­gress such as John Cony­ers (D‑Mich.) and Raúl Gri­jal­va (D‑Ariz.) with activists from the labor, anti-war and envi­ron­men­tal movements.
Tim's mission of building progressive political power spoke for itself; he didn't need the expensive suits and slick presentation favored by other D.C.-dwelling liberals.
The event's move­ment-span­ning range of par­tic­i­pants and its opti­mistic yet prag­mat­ic tenor typ­i­fied Tim's pol­i­tics: He believed the strained rela­tion­ships between the Demo­c­ra­t­ic Par­ty and its foun­da­tion — by which he meant work­ing-class peo­ple and allied activists — were worth heal­ing and worth strength­en­ing. Ulti­mate­ly, Tim believed, the net­works that link elect­ed Democ­rats to their pro­gres­sive base hold the foun­da­tion for much deep­er social change.
In many respects, in his pol­i­tics, Tim car­ried the torch from his men­tor Michael Har­ring­ton, the idio­syn­crat­ic author of The Oth­er Amer­i­ca and founder of Demo­c­ra­t­ic Social­ists of Amer­i­ca (DSA). Har­ring­ton called for activists to work with fed­er­al and state-lev­el Democ­rats as a means of shift­ing the main­stream polit­i­cal agen­da towards the left. When I inter­viewed Tim for In These Times' Decem­ber 2013 issue, we talked about his involve­ment in DSA as a young orga­niz­er, as well as his roots in the Catholic Work­er move­ment and the impact of red-bait­ing in Amer­i­can polit­i­cal life.
That's when I first came to under­stand that Tim was essen­tial­ly a rad­i­cal — a social­ist who didn't call him­self a socialist.
​"When I was younger, when I was hang­ing out with Michael Har­ring­ton and was a mem­ber of DSA in my 20s and 30s, I was very proud of the label [social­ist]," Tim told me.
How­ev­er, he point­ed out, the spe­cif­ic word is far less impor­tant than the cause it rep­re­sents. ​"I've learned as I got old­er, as I bat­tled a lot of my ill­ness­es, is what lit­tle time we have," he con­tin­ued. ​"I would rather have folks debate the mer­its of what it is we're fight­ing for, whether it be sin­gle-pay­er or a redi­rec­tion of mil­i­tary spend­ing to meet­ing human needs, than the def­i­n­i­tion of socialism."
That goal-ori­ent­ed atti­tude fre­quent­ly resur­faced through­out Tim's work with PDA. ​"He always had this mind­set: OK, there's only so much we can do on the streets, but we've got to bring in that move­ment inside the par­ty," says Conor Boy­lan, PDA's nation­al field direc­tor, who worked close­ly with Tim. ​"If we real­ly want to move the agen­da for­ward, we need to be out in the streets, but we also need a leg­isla­tive vehi­cle to push through."
The first time we met, I was a lit­tle tak­en aback by how hag­gard-look­ing Tim was. Plagued by an array of health prob­lems, he wore a glass eye and wob­bled around with a limp. On top of that, like much of PDA's lead­er­ship, he seemed to test the bound­aries of how disheveled one could pub­licly appear with mem­bers of Congress.
​"Tim's the only guy I've ever been with on Capi­tol Hill who made me look well-dressed," says Steve Cob­ble, a fel­low PDA co-founder who first met Tim on Jesse Jackson's 1988 pres­i­den­tial cam­paign. I should note that Steve was wear­ing light blue jeans and a cor­duroy jack­et on that day in Jan­u­ary — Tim him­self had opt­ed for an olive-green col­lared shirt under a navy dress jacket.
I nev­er asked Tim why he looked so casu­al in these sorts of set­tings. But I think the answer is obvi­ous: he nev­er felt the urge to impress mem­bers of Con­gress or their staffers. Tim's mis­sion of build­ing pro­gres­sive polit­i­cal pow­er spoke for itself; he didn't need the expen­sive suits and slick pre­sen­ta­tion favored by oth­er D.C.-dwelling lib­er­als. From PDA's ear­ly years up until the group's more recent month­ly round­ta­bles on Capi­tol Hill, Tim entered meet­ings in Wash­ing­ton with that over­ar­ch­ing, sin­gu­lar focus. And he worked to do the same in the streets.
In his March 2014 essay for Harpers, polit­i­cal sci­en­tist Adolph Reed Jr. charged that the ​"Amer­i­can left [has] moved increas­ing­ly to the mid­dle," hav­ing aban­doned its once-trans­for­ma­tion­al vision in favor of Demo­c­ra­t­ic elec­toral­ism. Tim, though a proud Demo­c­rat, was nev­er guilty of this. The var­i­ous pieces of leg­is­la­tion that he backed lay the foun­da­tion for an ambi­tious­ly social demo­c­ra­t­ic future: Medicare-for-All, full employ­ment, and strong tax­es on finan­cial trans­ac­tions and car­bon pol­lu­tion capa­ble of fund­ing a robust wel­fare state.
But these are dark times. Ulti­mate­ly, the polit­i­cal con­text that Tim worked so hard to trans­form man­aged to snuff out his deep­er aspi­ra­tions. Under the shad­ow of a per­pet­u­al­ly self-weak­en­ing labor move­ment and increas­ing­ly pro-cor­po­rate Demo­c­ra­t­ic Par­ty, Tim and PDA sim­ply lacked the nec­es­sary part­ners to achieve their agen­da dur­ing his lifetime.
This meant that, more often than not, Tim and PDA were stuck play­ing defense — they were the fire brigades, as I heard him and his fel­low PDAers say sev­er­al times in our acquain­tance. That said, Tim's work on such defen­sive front lines can't be under­stat­ed. He was an ear­ly oppo­nent of the White House's plan to slash Social Secu­ri­ty ben­e­fits, pres­sur­ing Demo­c­ra­t­ic mem­bers of Con­gress to pledge to vote against any and all cuts. Last sum­mer, Tim and PDA played a vital role in reassem­bling the once-mighty anti-war move­ment to block Pres­i­dent Obama's ill-fat­ed plans for mil­i­tary inter­ven­tion in Syr­ia. And most recent­ly, PDA helped push a major­i­ty of Democ­rats in the House of Rep­re­sen­ta­tives to go on record against ​"fast-track" author­i­ty, a leg­isla­tive maneu­ver that's all but nec­es­sary for the Trans-Pacif­ic Part­ner­ship to continue.
The sheer range of issues that PDA now tack­les speaks to Tim's com­mit­ment to move­ment-build­ing. Rev­erend Lennox Year­wood, pres­i­dent of the Hip Hop Cau­cus, called him ​"the ulti­mate orga­niz­er" — some­one who worked to over­come the ​"silos" that divide pro­gres­sive groups by issues and race. ​"Because of our work with Tim and PDA, def­i­nite­ly walls were bro­ken," he says.
Year­wood points to the instru­men­tal part that Tim played in the Hip Hop Cau­cus' ear­ly years, help­ing con­nect the fledg­ling, major­i­ty-black group to larg­er, major­i­ty-white play­ers in the pro­gres­sive move­ment, such as the D.C.-based Insti­tute for Pol­i­cy Stud­ies or the Madi­son-based Lib­er­ty Tree Foundation.
​"Since that time, the Hip Hop Cau­cus has grown to be a leader in the peace move­ment and the cli­mate change move­ment. I think a lot of that is because of what Tim did," says Year­wood. ​"Plus, Tim gave us a tremen­dous amount of respect, more than, I would say, a lot of progressives."
Tim shared anoth­er qual­i­ty that's vital for orga­niz­ers, espe­cial­ly in such polit­i­cal­ly gloomy times: his abil­i­ty to inspire hope. Among his friends and col­leagues, his exclam­a­to­ry email sign-offs are leg­endary: Team­work! Onward! Keep On! Big Hug! The lat­ter, more­over, was not reserved for metaphor. Rev­erend Year­wood recalls the ​"sweaty white guy hugs" that Tim used to show­er him with — even before they were friends.
Tim fought and orga­nized at his char­ac­ter­is­ti­cal­ly fre­net­ic rate up until the very end. Before he passed away, he was intense­ly focused on a peti­tion dri­ve to encour­age Bernie Sanders to run in the 2016 Demo­c­ra­t­ic pres­i­den­tial pri­ma­ry. (More than 11,000 peo­ple have signed so far.)
​"My con­clu­sion about Tim was that … he shouldn't be able to do as much as he does," Cob­ble says.
I, for one, will nev­er for­get the time Tim cor­re­spond­ed with me from the hos­pi­tal late last August. As Sec­re­tary Ker­ry was beat­ing the war drums on Syr­ia, Tim was receiv­ing can­cer treat­ment and try­ing to con­nect me with anti-war orga­niz­ers to inter­view. ​"Work­ing from nurs­es sta­tion :-)," he wrote me. ​"They took my cell away while I'm in hos­pi­tal :-)" And I'm just a jour­nal­ist. I can only imag­ine the oth­er kinds of orga­niz­ing he was doing from the oper­at­ing table.
It sounds absolute­ly insane — and it most­ly is — but it makes per­fect sense when you con­sid­er that Tim lived his life for the movement.
Rest in peace, Tim, and rest in pow­er. Onward!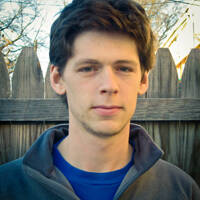 Cole Stan­gler
writes about labor and the envi­ron­ment. His report­ing has also appeared in The Nation, VICE, The New Repub­lic and Inter­na­tion­al Busi­ness Times. He lives in Paris, France. He can be reached at cole[at]inthesetimes.com. Fol­low him
@colestangler
.