The Pope vs. Capitalism
Will Francis' radical economic vision make a difference?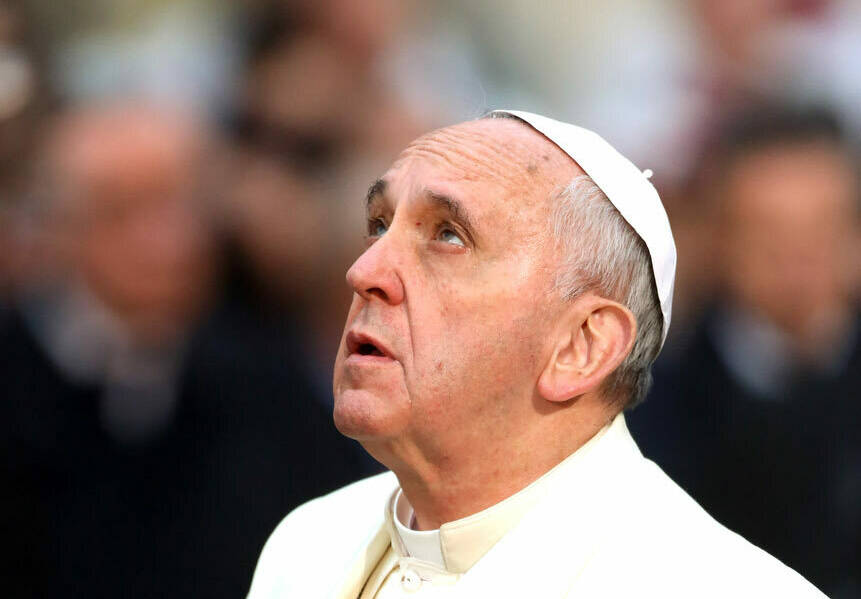 Who is this Pope Fran­cis? Time mag­a­zine named him ​"Per­son of the Year." So did MTV's 24-hour col­lege net­work. And so did LGBT mag­a­zine The Advo­cate, call­ing him ​"the sin­gle most influ­en­tial per­son of 2013 on the lives of LGBT people."
But simple humility isn't enough—Francis is also trying to enact a transformation, both within the church and outside of it.
Time said, ​"Fran­cis has ele­vat­ed the heal­ing mis­sion of the church — the church as ser­vant and com­forter of hurt­ing peo­ple in an often harsh world — above the doc­tri­nal police work so impor­tant to his recent pre­de­ces­sors." Ital­ian media nick­named him the World's Parish Priest.
Per­haps it was Elton John, though, who hit on why the new Pope has so cap­tured the world's atten­tion. The pop singer called Fran­cis ​"a mir­a­cle of humil­i­ty in an era of vanity."
The sto­ries by now have become well-known: of a car­di­nal arch­bish­op who cooked his own meals, rode pub­lic tran­sit and made his own phone calls while serv­ing in Argenti­na. He brought that same humil­i­ty to the Vat­i­can when he was elect­ed pope last March. He is plain­spo­ken and has reject­ed much of the papacy's for­mer pomp. He lives in a Vat­i­can guest­house, Room 201. He cel­e­brates Mass dai­ly with gar­den­ers and cleaners.
But sim­ple humil­i­ty isn't enough — Fran­cis is also try­ing to enact a trans­for­ma­tion, both with­in the church and out­side of it.
The car­di­nal elec­tors said they were look­ing for a holy man who could engage the wider cul­ture and who could bring new life to the staid bureau­cra­cy of the Vat­i­can. They got that and more with Fran­cis, who quick­ly set about the task of reform. One of his first moves was to assem­ble a coun­cil of eight car­di­nals to advise him on church reform, none of whom are Vat­i­can insid­ers. He then took steps to clean up two of the most egre­gious areas of scan­dal in the church — its finances and its sex­u­al abuse epi­dem­ic — by appoint­ing a pro­fes­sion­al com­mit­tee to over­see the cor­rup­tion-stained Vat­i­can bank and a com­mis­sion of child pro­tec­tion experts to advise him direct­ly on issues of cler­i­cal sex­u­al abuse. Rep­re­sen­ta­tives from Francis's coun­cil of car­di­nals have agreed the church must address pro­ce­dures to deal with bish­ops who cov­ered up abuse, whose rel­a­tive impuni­ty has been a source of great frus­tra­tion among abuse-sur­vivor advo­cates and ordi­nary Catholics. But why should any­one besides Catholics care about Fran­cis' reform agenda?
Greg Burke, a for­mer Fox News Rome cor­re­spon­dent who advis­es the Vat­i­can on com­mu­ni­ca­tion pol­i­cy, spoke to this ques­tion when address­ing the Reli­gion Newswrit­ers Asso­ci­a­tion in Austin, Texas in Sep­tem­ber. Despite the media's por­tray­al of Fran­cis, Burke said, this pope ​"is not a fan of cheap grace and feel-good reli­gion." While the media focus has large­ly been on Fran­cis' pas­toral agen­da, Burke said that he believes his­to­ry will remem­ber Fran­cis for stand­ing with the have-nots of this world.
And Fran­cis has indi­cat­ed that him­self. In an inter­view with vet­er­an Ital­ian jour­nal­ist Euge­nio Scal­fari about what he defines as the most press­ing issues of the day, Fran­cis said: ​"The most seri­ous of the evils that afflict the world these days are youth unem­ploy­ment and the lone­li­ness of the old. … They have been crushed by the present. … This, to me, is the most urgent prob­lem that the church is facing."
Scal­fari, an athe­ist and social­ist, protest­ed Fran­cis' answer, say­ing these are polit­i­cal and eco­nom­ic prob­lems for states, gov­ern­ments, polit­i­cal par­ties and trade unions to address. Fran­cis replied, ​"Yes, you are right, but [they] also [con­cern] the church, in fact, par­tic­u­lar­ly the church because this sit­u­a­tion does not hurt only bod­ies but also souls. The church must feel respon­si­ble for both souls and bodies."
What Fran­cis meant by this decree about bod­ies and souls was made clear in ​"The Joy of the Gospel," his apos­tolic exhor­ta­tion released Nov. 24, 2013, also known by its Latin title, Evan­gelii Gaudi­um. Fran­cis writes that the mis­sion of the church is to remove the des­o­la­tion and anguish from the human heart — and when vio­lence is caused by an unjust eco­nom­ic sys­tem, that sys­tem must be reformed.
But, a sec­u­lar audi­ence might ask, does the church have the pow­er to fix these prob­lems? Fran­cis knows the poten­tial the church has to bring struc­tur­al change, and he wants all ele­ments of it engaged. First and fore­most, he has a mem­ber­ship of 1.2 bil­lion Catholics whom he wants to inspire to per­son­al­ly com­mit to aid­ing the mar­gin­al­ized. The church spon­sors and staffs thou­sands of Catholic schools and uni­ver­si­ties around the world, and Fran­cis wants them all teach­ing the church's social mes­sage. He wants grad­u­ates of these schools, who often hold key posi­tions in nations' civ­il and busi­ness spheres, ground­ed in his pro-social gospel. Catholics con­trol a huge glob­al net­work of social min­istries — and all this gives its mem­bers an out­let to effect change.
Evan­gelii Gaudi­um pro­vides clues as to what that change would entail. The doc­u­ment rails against the present glob­al eco­nom­ic sys­tem, explain­ing that ​"such an econ­o­my kills." A few highlights:
​

"

The great dan­ger in today's world, per­vad­ed as it is by con­sumerism, is the des­o­la­tion and anguish born of a com­pla­cent yet cov­etous heart, the fever­ish pur­suit of friv­o­lous plea­sures, and a blunt­ed con­science. … That is no way to live a dig­ni­fied and ful­filled life; it is not God's will for us."
​

"

Today every­thing comes under the laws of com­pe­ti­tion and the sur­vival of the fittest, where the pow­er­ful feed upon the pow­er­less. As a con­se­quence, mass­es of peo­ple find them­selves exclud­ed and mar­gin­al­ized: with­out work, with­out pos­si­bil­i­ties, with­out any means of escape."
"[The idea that] a free mar­ket … will inevitably suc­ceed in bring­ing about greater jus­tice and inclu­sive­ness in the world … has nev­er been con­firmed by the facts."
​

"

While the earn­ings of a minor­i­ty are grow­ing expo­nen­tial­ly, so too is the gap sep­a­rat­ing the major­i­ty from the pros­per­i­ty enjoyed by those hap­py few. This imbal­ance is the result of ide­olo­gies which defend the absolute auton­o­my of the mar­ket­place and finan­cial speculation."
​

"

Today's eco­nom­ic mech­a­nisms pro­mote inor­di­nate con­sump­tion, yet it is evi­dent that unbri­dled con­sumerism com­bined with inequal­i­ty proves dou­bly dam­ag­ing to the social fab­ric. Inequal­i­ty even­tu­al­ly engen­ders a vio­lence which recourse to arms can­not and nev­er will be able to resolve."
Polit­i­cal con­ser­v­a­tives have large­ly writ­ten off Evan­gelii Gaudi­um. Most were sub­tler than Rush Lim­baugh, who declared that Fran­cis was spew­ing ​"pure Marx­ism," but they were just as dis­mis­sive. In a rep­re­sen­ta­tive response, Samuel Gregg, writ­ing for the Nation­al Review Online, con­ced­ed that it is the pope's place to denounce greed and plead for bet­ter care of the poor, but wrote that in most of Evan­gelii Gaudi­um, the pope is clear­ly out of his depth. ​"Evan­gelii Gaudi­um seems, alas, unaware [that] many pover­ty-alle­vi­a­tion meth­ods that involve redis­tri­b­u­tion (such as for­eign aid) are increas­ing­ly dis­cred­it­ed," Gregg wrote, and his con­de­scen­sion is almost pal­pa­ble when he adds, ​"My cri­tique is by no means intend­ed to imply that all of Pope Francis's obser­va­tions about eco­nom­ic life are naïve or sim­ply mistaken."
The best response to these con­ser­v­a­tive crit­ics, I think, came from my col­league at Nation­al Catholic Reporter, Michael Sean Win­ters. He wrote: ​"To be clear, the pope was not speak­ing of eco­nom­ic the­o­ry in the abstract. He was describ­ing the world he sees and knows. Fran­cis has nev­er had the plea­sure of attend­ing a lec­ture at the pro-mar­ket Acton Insti­tute, but he knows the slums. He was pres­i­dent of the Argen­tine Epis­co­pal Con­fer­ence dur­ing that country's sov­er­eign debt cri­sis. It may be true that there is no thor­ough­ly unfet­tered mar­ket econ­o­my, but he has seen enough unfet­ter­ing to gar­ner what can only be deemed a stern, insis­tent and humane­ly sophis­ti­cat­ed condemnation."
Win­ters gets at the heart of what makes Fran­cis' eco­nom­ic mes­sage in Evan­gelii Gaudi­um­so res­o­nant and why his words have a pow­er that those of ear­li­er popes did not have: Fran­cis speaks with the author­i­ty of lived experiences.
Born Jorge Mario Bergoglio in 1936 in Argenti­na, Pope Fran­cis came of age in a polit­i­cal cli­mate that saw the rise and fall of the pop­ulist Juan Domin­go Perón and his sec­ond wife, Eva Perón. Bergoglio was an adher­ent of so-called Per­o­nism, which Fran­cis' biog­ra­ph­er Paul Val­le­ly describes as ​"a curi­ous amal­gam of forces not nor­mal­ly asso­ci­at­ed with one anoth­er: the mil­i­tary, the trade unions and the church." In Pope Fran­cis: Unty­ing the Knots, Val­le­ly writes that Per­o­nism ​"had its roots in one of the major doc­u­ments in the his­to­ry of Catholic Social Teach­ing — an encycli­cal [from 1931] called Quadra­ges­i­mo Anno" that sought to estab­lish a poten­tial third way between cap­i­tal­ism and communism.
Val­le­ly also writes that from the time he entered high school, Bergoglio was expect­ed to help sup­port the fam­i­ly finan­cial­ly. While attend­ing school, he worked in a series of jobs that includ­ed menial and man­u­al labor. A work­ing-class upbring­ing cou­pled with the Per­o­nist influ­ences of his ear­ly adult­hood imbued Bergoglio with an under­stand­ing of labor and pover­ty that few in his cler­i­cal class have experienced.
Yet as a priest, Bergoglio formed a rigid, tra­di­tion­al­ist the­ol­o­gy and heav­i­ly pietis­tic spir­i­tu­al­i­ty that put him at odds with the emerg­ing new the­o­log­i­cal move­ment that would be known as lib­er­a­tion the­ol­o­gy. Lib­er­a­tion the­ol­o­gy teach­es that sin can reside inside soci­etal struc­tures as much as in a per­son and that the aim of the gospel is lib­er­a­tion of the world's peo­ple from unjust eco­nom­ic or social con­di­tions. As it devel­oped in Latin Amer­i­ca dur­ing the region's mil­i­tary dic­ta­tor­ships in the 1960s and ​'70s, it brought its adher­ents into direct con­flict with the some­times vio­lent polit­i­cal struc­tures of the day.
Such polit­i­cal aspects of lib­er­a­tion the­ol­o­gy were off-putting to Bergoglio, who by 1973 was lead­ing his Jesuit reli­gious order in Argenti­na. Though he had a strong sense of char­i­ty for the poor and dis­ad­van­taged in Argenti­na, Val­le­ly writes that his rejec­tion of social jus­tice put him in fierce con­flict with many fel­low Jesuits. Val­le­ly details how Bergol­gio spent the mid­dle decades of his adult­hood rec­on­cil­ing the diver­gent views.
His cur­rent world­view appears to have cohered, how­ev­er, when he was arch­bish­op of Buenos Aires and wit­nessed Argentina's eco­nom­ic cri­sis of 2001. Even as he cas­ti­gat­ed the greed of indi­vid­ual politi­cians and busi­ness lead­ers, he also addressed the need for struc­tur­al change. Val­le­ly quotes from a state­ment issued by Bergoglio as parish­es began to open food pro­grams for the needy: ​"We are tired of sys­tems that pro­duce poor peo­ple so that then the church can sup­port them."
Val­le­ly writes: ​"The man who was once the scourge of lib­er­a­tion the­ol­o­gy began to see, as nation­al leader, that there was weight to aspects of lib­er­a­tion the­olo­gians' analy­sis that sin could reside in struc­tures as well as in the bad behav­ior of indi­vid­u­als in posi­tions of power."
That explains much of how Fran­cis has arrived at his cur­rent eco­nom­ic views. But again, why should non-Catholics care about those views?
Because Fran­cis says in Evan­gelii Gaudi­um that his reform plan aims not at self-preser­va­tion but at ful­fill­ing the church's mis­sion­ary man­date — remov­ing the anguish caused by indi­vid­ual and social sin. Again, he's try­ing to save bod­ies and souls. When he writes in Evan­gelii Gaudi­um that his reforms aim at bring­ing the full force of ​"the church's cus­toms, ways of doing things, times and sched­ules, lan­guage and struc­tures" to meet­ing that man­date, he is com­mit­ting the church's full resources — those 1.2 bil­lion adher­ents, thou­sands of schools and thou­sands of aid work­ers — to the cause.
And because he has the pow­er to appoint bish­ops in dio­ce­ses across the world, from Chica­go to Bougainville in Papua New Guinea, when Fran­cis stands with the have-nots, he won't be stand­ing alone.
Den­nis Coday
is edi­tor of Nation­al Catholic Reporter, an inde­pen­dent source of news about the Catholic church.