The Port Huron Statement: Still Radical at 50
A half-century after the Students for a Democratic Society adopted their seminal manifesto, 14 activists--including three people who helped shape the statement--assess its legacy.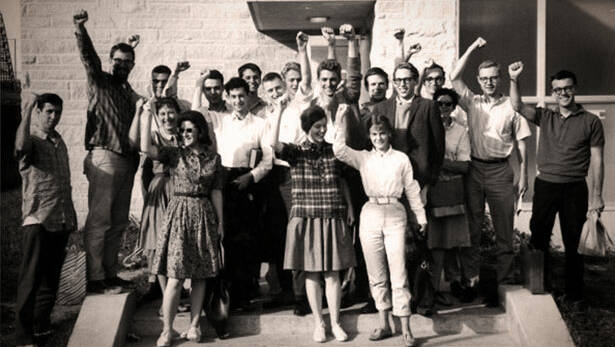 For five days in June 1962, mem­bers of Stu­dents for a Demo­c­ra­t­ic Soci­ety (SDS) gath­ered at a UAW camp near Port Huron, Mich., for the group's first nation­al con­ven­tion. The result was The Port Huron State­ment: a 25,700-word man­i­festo that artic­u­lat­ed the fun­da­men­tal prob­lems of Amer­i­can soci­ety and laid out a rad­i­cal vision for a bet­ter future. It marked a sem­i­nal moment in the devel­op­ment of the New Left.
Today, the Occu­py move­ment has lit a match not unlike the one struck at Port Huron. To mark the 50th anniver­sary of Port Huron – and what we hope is the dawn of an endur­ing youth move­ment–In These Times asked 14 activists, rang­ing in age from 21 to 72, includ­ing three peo­ple who attend­ed the Port Huron con­ven­tion, to reflect on what that state­ment offers us today. Their respons­es fol­low, pre­ced­ed by the por­tion of the state­ment they found sig­nif­i­cant. –The Editors
Carl David­son: ​
"

Our Iden­ti­ty as a New Left"

"We are peo­ple of this gen­er­a­tion, bred in at least mod­est com­fort, housed now in uni­ver­si­ties, look­ing uncom­fort­ably to the world we inherit."

This sim­ple but elo­quent asser­tion is what drew me. It defined pol­i­tics as gen­er­a­tional, and giv­en that we were the lead­ing edge of what was being described as the ​"baby boom" – of com­ing-of-age youth – we were more gen­er­a­tional­ly con­scious than most. The ​"silenced gen­er­a­tion" of the 1950s stood between us and the labor-ori­ent­ed pol­i­tics of the 1930s and the pop­u­lar front pol­i­tics of the ear­ly 1940s. McCarthy­ism had sep­a­rat­ed us from deep­er roots, leav­ing us with our own forms of cul­tur­al alien­ation and revolt – the Beat Gen­er­a­tion, cross­ing the col­or line, the emer­gence of rock ​'n' roll – to help shape our iden­ti­ty as a New Left.

Carl David­son, 68, an activist based in Pitts­burgh, was vice pres­i­dent and nation­al sec­re­tary of SDS from 1966 to 1968.
Cole Stan­gler: ​
"

The Oba­ma Generation"

"It has been said that our lib­er­al and social­ist pre­de­ces­sors were plagued by vision with­out pro­gram, while our own gen­er­a­tion is plagued by pro­gram with­out vision. All around us there is astute grasp of method, tech­nique — the com­mit­tee, the ad hoc group, the lob­by­ist, that hard and soft sell, the make, the pro­ject­ed image — but, if pressed crit­i­cal­ly, such exper­tise is incom­pe­tent to explain its implic­it ideals."

I've been told count­less times that the era of mass move­ments, sys­temic cri­tiques and utopi­an vision have long passed. Pol­i­tics, as Fran­cis Fukuya­ma told us, has been reduced to ​"eco­nom­ic cal­cu­la­tion, the end­less solv­ing of tech­ni­cal prob­lems, envi­ron­men­tal con­cerns, and the sat­is­fac­tion of sophis­ti­cat­ed con­sumer demands." In many ways, the dilem­ma of ​"pro­gram with­out vision" rings per­haps even truer for my gen­er­a­tion than for those SDSers who gath­ered in east­ern Michi­gan 50 years ago.

Many of us came of age polit­i­cal­ly dur­ing the Oba­ma cam­paign. It's safe to say that the president's actions dur­ing his first three years in office have con­firmed that ​"hope" and ​"change" were less emblems of a lofty long-term vision than mere slo­gans, tools for win­ning an election.

The Occu­py move­ment is, in many ways, the mat­u­ra­tion of the Oba­ma gen­er­a­tion. At its core, pol­i­tics has always been about vision. Reduc­ing it to mere elec­toral machi­na­tion and rit­u­al is a fal­la­cy that my gen­er­a­tion, like Tom Hayden's, must challenge.

Cole Stan­gler, 21, is a for­mer In These Times intern and a junior at the School of For­eign Ser­vice at George­town Uni­ver­si­ty.
Todd Gitlin: ​
"

Vision­ary Cri de Coeur"

"Lone­li­ness, estrange­ment, iso­la­tion describe the vast dis­tance between man and man today. These dom­i­nant ten­den­cies can­not be over­come by bet­ter per­son­nel man­age­ment, nor by improved gad­gets, but only when a love of man over­comes the idol­a­trous wor­ship of things by man."

The Port Huron State­ment is simul­ta­ne­ous­ly a vision­ary cri de coeur and an invi­ta­tion to prag­mat­ic learning.

Vision­ary urgency is all over the doc­u­ment, e.g.: ". . . These dom­i­nant ten­den­cies can­not be over­come by bet­ter per­son­nel man­age­ment, nor by improved gad­gets, but only when a love of man over­comes the idol­a­trous wor­ship of things by man … ." Thus the apoc­a­lyp­tic note: ​"If we appear to seek the unat­tain­able … then let it be known that we do so to avoid the unimaginable."

But invok­ing a lus­trous, far-off future or an apoc­a­lyp­tic poten­tial is eas­i­er to do than imag­in­ing that future in inti­mate rela­tion to what can be done here and now. This is where The Port Huron State­ment mat­ters most. A spir­it that mix­es exper­i­ment and intel­lect hov­ers over it. The move­ment it her­alds is part­ly an intel­lec­tu­al search. But The Port Huron State­ment also appre­ci­ates how much a large­ly white youth move­ment needs ​"an awak­en­ing com­mu­ni­ty of allies."

"We are peo­ple of this gen­er­a­tion," The Port Huron State­ment begins, but it also address­es peo­ple of oth­er gen­er­a­tions. There is no brava­do about what can be accom­plished by going it alone. There is a recog­ni­tion that most peo­ple have more every­day cares than the kick­start­ing of a par­tic­i­pa­to­ry democ­ra­cy. Thread­ed amid the calls for a grand restruc­tur­ing of insti­tu­tions there is a becom­ing mod­esty about what a New Left can achieve act­ing alone and what it can achieve by col­lab­o­rat­ing with the wider pop­u­la­tion engaged in ​"the less exot­ic but more last­ing strug­gles for justice."

In this spir­it, the SDS of the half-decade after Port Huron would be most enthu­si­as­tic about the part of Occu­py that aims for tan­gi­ble results through direct action – by resist­ing fore­clo­sures and evic­tions, cam­paign­ing to roll back gar­gan­tu­an banks, sup­port­ing labor strug­gles, and more deeply, over the longer haul, aim­ing to dri­ve mon­ey out of politics.

Todd Gitlin, 69, was the third pres­i­dent of SDS and is the author of the forth­com­ing Occu­py Nation: The Roots, the Spir­it, and the Promise of Occu­py Wall Street.
Tom Hay­den: ​
"

Vot­ing with Your Whole Life"

"In a par­tic­i­pa­to­ry democ­ra­cy, the polit­i­cal life would be based in sev­er­al root prin­ci­ples:
–that deci­sion-mak­ing of basic social con­se­quences be car­ried on by pub­lic group­ings;
–that pol­i­tics be seen pos­i­tive­ly, as the art of col­lec­tive­ly cre­at­ing an accept­able pat­tern of social rela­tions;
–that pol­i­tics has the func­tion of bring­ing peo­ple out of iso­la­tion and into com­mu­ni­ty, thus being a nec­es­sary, though not suf­fi­cient, means of find­ing mean­ing in per­son­al life."

For all its flaws, the core of The Port Huron State­ment – some­what like the Dec­la­ra­tion of Inde­pen­dence – sent a mes­sage to be ful­filled by future gen­er­a­tions, one that res­onates in democ­ra­cy move­ments today. That mes­sage was a non­ide­o­log­i­cal empha­sis on par­tic­i­pa­to­ry democ­ra­cy, both as a means and an end.

But par­tic­i­pa­to­ry democ­ra­cy meant more than small demo­c­ra­t­ic meet­ings in the style of the Quak­ers. It meant ​"vot­ing with your whole life, not a mere strip of paper," in the words of Hen­ry David Thore­au. It meant the Pro­gres­sive Era reforms of recall, ref­er­en­dum and ini­tia­tive. And it meant extend­ing the demo­c­ra­t­ic process to remote and inac­ces­si­ble insti­tu­tion­al hier­ar­chies, from patri­archy to Pen­ta­gon, from plan­ta­tions to knowl­edge fac­to­ries. It meant bring­ing the banks and cor­po­ra­tions under more demo­c­ra­t­ic con­trol and reg­u­la­tion, and also greater bot­tom-up par­tic­i­pa­tion for work­ers in deci­sion-mak­ing, and pow­er for neigh­bor­hood assem­blies against out­side com­mer­cial devel­op­ers intent on build­ing ​"mon­ster cities."

Today we face a War on Ter­ror not unlike the Cold War, and a fierce con­ser­v­a­tive attack on the social, eco­nom­ic and envi­ron­men­tal gains of the 1930s and the 1960s. The state's secre­cy is increas­ing. Cor­po­ra­tions have escaped reforms at home to cre­ate sweat­shops and tax havens abroad. Our rep­re­sen­ta­tive democ­ra­cy is being rent­ed. But move­ments toward par­tic­i­pa­to­ry democ­ra­cy have a way of grow­ing again, like flow­ers in frozen ground.

Tom Hay­den, 72, the prin­ci­pal author of The Port Huron State­ment, was a mem­ber of the orig­i­nal Chica­go Eight, indict­ed on fed­er­al con­spir­a­cy charges after the 1968 Demo­c­ra­t­ic Nation­al Con­ven­tion in Chicago.
Paul Booth: ​
"

The Ben­e­fit of Hindsight"

"Read­ing The Port Huron State­ment today you can see that we got some things – a lot of things – dead right. But on two points of great con­se­quence we were very wrong."

Our first, more obvi­ous mis­take was that we mis­un­der­stood move­ment build­ing, or the rela­tion­ship between orga­ni­za­tion and move­ment. Like the Occu­piers, we were entranced by the con­cept of par­tic­i­pa­to­ry democ­ra­cy, but we were awful­ly unclear about how to build and sus­tain mass move­ments when they sprung up.

After all, we had expe­ri­enced a decade or more with noth­ing of the kind. We were ambiva­lent about lead­er­ship roles. We lacked teach­ers, and the expe­ri­ences of the 1930s were way before our time. We did our move­ments a dis­ser­vice by advo­cat­ing ​"no lead­ers, no struc­tures." And in a very few years we were faced with the fact that prac­ti­cal­ly none of the pub­li­ca­tions, orga­ni­za­tions or coali­tions formed in the ​'60s had survived.

All of which leads to the sec­ond mis­take, which we can now bet­ter under­stand with the ben­e­fit of hindsight.

How is it that so much suc­cess was achieved, even after the orga­ni­za­tion­al impe­tus had fad­ed? The answer is that SDS, the New Left and the civ­il rights move­ment were not the only forces for that change. They were lead­ing a much wider social force – the lib­er­al-labor coali­tion that was forged in the New Deal, and pre­dom­i­nat­ed in the Demo­c­ra­t­ic Par­ty. For sev­er­al decades it was the gov­ern­ing major­i­ty, and it accom­plished many great things in the 1930s and 1940s. (Some, like Social Secu­ri­ty and the min­i­mum wage and labor rela­tions law, seemed per­ma­nent for a long time, but now are as much at risk as the laws of the 1960s.)

When we com­posed The Port Huron State­ment, we gave scant cre­dence to that coali­tion. For good rea­son – the pro­gres­sive ener­gies of the New Deal coali­tion were more or less exhaust­ed. Fail­ing to per­ceive strate­gic hope in the lib­er­al-labor coali­tion, The Port Huron State­ment in the sec­tion titled Toward Amer­i­can Democ­ra­cy sat­is­fied itself with a rather mech­a­nis­tic call for ​"par­ty realign­ment." It was not – and is not – a com­pelling part of The Port Huron Statement.

The New Left and the Civ­il Rights move­ment re-ener­gized the major­i­ty Demo­c­ra­t­ic coali­tion. It not only passed the Civ­il Rights and Vot­ing Rights Acts, it cre­at­ed Medicare, fed­er­al aid to edu­ca­tion and a host of oth­er Great Soci­ety break­throughs. We didn't ​"cre­ate" the women's move­ment, the gay lib­er­a­tion move­ment or any of the oth­er forces that came along to change Amer­i­ca, but we opened many doors to change. Even after Pres­i­dent Lyn­don John­son was suc­ceed­ed by Richard Nixon, this was still the effec­tive gov­ern­ing major­i­ty that enact­ed the Clean Air Act and the Occu­pa­tion­al Safe­ty and Health Act.

Today, the Right has its hands full, attack­ing the social leg­is­la­tion of the 1960s and 1970s as well as the 1930s and 1940s. Not just the social leg­is­la­tion; every form of social progress we've enjoyed is now threatened.

Today's move­ment, born last year in Wis­con­sin, bril­liant­ly com­bin­ing ​"move­ment" and ​"orga­ni­za­tion", focused intense­ly on win­ning a pow­er­ful major­i­ty, will prove more than the match of the reac­tionar­ies we're confronting.

Paul Booth, 68, is the exec­u­tive assis­tant to the pres­i­dent of AFSCME and was the nation­al sec­re­tary of SDS in 1965 and 1966.
Fri­da Berri­g­an: ​
"

The Stuff of Revolution"

"[T]hat work should involve incen­tives wor­thi­er than mon­ey or sur­vival. It should be educa­tive, not stul­ti­fy­ing; cre­ative, not mechan­i­cal; self­di­rect, not manip­u­lat­ed, encour­ag­ing inde­pen­dence; a respect for oth­ers, a sense of dig­ni­ty and a will­ing­ness to accept social respon­si­bil­i­ty, since it is this expe­ri­ence that has cru­cial influ­ence on habits, per­cep­tions and indi­vid­ual ethics…"

The young peo­ple grad­u­at­ing from col­lege this year will be bur­dened by an aver­age of $25,000 in col­lege debt and will face a job­less­ness rate of near­ly 10 per­cent. What will they do? How will they find educa­tive, cre­ative, self-direct­ed work that ​"encour­ages inde­pen­dence, a respect for oth­ers," etc.?

Twen­ty-one mil­lion peo­ple in this coun­try have stopped look­ing for work or are invol­un­tar­i­ly work­ing part-time. What about them?

This is bleak stuff, but it is also the stuff of rev­o­lu­tion. One of the things that made the Occu­py move­ment blos­som so beau­ti­ful­ly and quick­ly and diverse­ly last fall is that large num­bers of peo­ple walked away from unsus­tain­able or unten­able homes and jobs and posi­tions in soci­ety – or did not have any of that to begin with – to join this bur­geon­ing, anar­chic com­mu­ni­ty. Young peo­ple still smart­ing from bruis­ing and fruit­less job search­es with their new degrees. Mid­dle-aged refugees from pro­fes­sion­al jobs hand­ed a pink slip five years before retire­ment, who real­ized that their whole adult lives, their whole iden­ti­ties, had been bound up in their careers, were now search­ing for a new rea­son for being – full of out­rage and resent­ment and new hope. Peo­ple so hun­gry for mean­ing, com­mu­ni­ty and con­nec­tion that they would sleep out in the heat and cold and rain, endure long meet­ings and even longer peri­ods in police hold­ing cells, in order to be fed by one another.

We would not have this rich fer­vor in a rol­lick­ing econ­o­my with 3 per­cent unem­ploy­ment. SDS saw an oppor­tu­ni­ty 50 years ago, and we have a new one today. What are we going to do with it?

Fri­da Berri­g­an, 38, blogs for Wag­ing Non­vi­o­lence and lives in New Lon­don, Conn.
Tere­sa Cheng: ​
"

Make It Fun and Inspiring"

"If stu­dent move­ments for change are rar­i­ties still on the cam­pus scene, what is com­mon­place there? The real cam­pus, the famil­iar cam­pus, is a place of pri­vate peo­ple, engaged in their noto­ri­ous ​"inner emi­gra­tion." It is a place of com­mit­ment to busi­ness-as-usu­al, get­ting ahead, play­ing it cool. It is a place of mass affir­ma­tion of the Twist, but mass reluc­tance toward the con­tro­ver­sial pub­lic stance. Rules are accept­ed as ​"inevitable," bureau­cra­cy as ​"just cir­cum­stances," irrel­e­vance as ​"schol­ar­ship," self­less­ness as ​"mar­tyr­dom," pol­i­tics as ​"just anoth­er way to make peo­ple, and an unprof­itable one, too." Almost no stu­dents val­ue activ­i­ty as a citizen."

Rather than lament­ing the fact that stu­dents are apa­thet­ic, it's time for stu­dent activists to do some soul-search­ing about why work­ing-class stu­dents of col­or who are angry about cor­po­rate greed might hes­i­tate to get involved in a stu­dent move­ment if they think it means join­ing mid­dle-class white kids who will tell them to stop eat­ing meat. If we want to build a move­ment and get fel­low stu­dents to break the rules, we've got to make it fun and inspiring.

Today, stu­dent move­ments have made great advances by view­ing the uni­ver­si­ty as a site of prac­ti­cal strug­gle. Uni­ver­si­ties are eco­nom­ic engines, some­times the largest employ­ers and largest real estate devel­op­ers of entire cities and regions, and labor stan­dards at the uni­ver­si­ty can set the stan­dard for an entire region. The best way to get stu­dents to val­ue their own cit­i­zen­ry is by mobi­liz­ing them to exer­cise the pow­er they already hold – for exam­ple, by demand­ing that uni­ver­si­ties nego­ti­ate fair con­tracts and liv­ing wages for their low­est-paid employees.

Tere­sa Cheng, 24, is the inter­na­tion­al cam­paigns coor­di­na­tor for Unit­ed Stu­dents Against Sweatshops.

'We are people of this generation, bred in at least modest comfort, housed now in universities, looking uncomfortably to the world we inherit.'
From Stu­dents for a Demo­c­ra­t­ic Soci­ety: A Graph­ic His­to­ry which was pro­duced for the Port Huron State­ment Fifti­eth Anniver­sary event at New York Uni­ver­si­ty. Text by Paul Buh­le, 67, a retired his­to­ri­an liv­ing in Madi­son, Wis., who was spokesper­son for the Uni­ver­si­ty of Illi­nois' SDS chap­ter in 1966. Art by Gary Dumm, 62, a Cleve­land artist and fre­quent col­lab­o­ra­tor with the late Har­vey Pekar.
Sady Doyle: ​
"

A Girl or Two, and Marriage"

"'Stu­dents don't even give a damn about the apa­thy,' one has said. Apa­thy toward apa­thy begets a pri­vate­ly-con­struct­ed uni­verse, a place of sys­tem­at­ic study sched­ules, two nights each week for beer, a girl or two, and ear­ly mar­riage; a frame­work infused with per­son­al­i­ty, warmth, and under con­trol, no mat­ter how unsat­is­fy­ing otherwise."

When women are men­tioned in The Port Huron State­ment it's often in the con­text of how they relate to men: ​"two nights each week for beer, a girl or two, and ear­ly mar­riage." Else­where, it men­tions the ​"teach­ers, house­wives, sec­re­taries" and ​"mid­dle-class women" who com­prise sub­stan­tial parts of the peace movement.

You'll want to pay atten­tion to those mid­dle-class house­wives, how­ev­er. The silent par­ties in those ear­ly mar­riages, the female dwellers in the pri­vate­ly-con­struct­ed uni­vers­es of men, are about to get very interesting.

There is an accept­ed nar­ra­tive of fem­i­nism: First, we were all sec­re­taries and house­wives. Then, in 1963, The Fem­i­nine Mys­tique hap­pened. Then a sex­u­al rev­o­lu­tion, then Glo­ria Steinem, and now, here we are. The facts of the mat­ter, of feminism's slow accu­mu­la­tion from sev­er­al sources – not least the frus­tra­tion of women with­in the stu­dent and peace move­ments, acknowl­edged to exist, and then writ­ten off as someone's ​"girl" – are hard­er to mythologize.

Yet The Port Huron State­ment speaks vol­umes about the world those women lived in, and why it was inevitable that they would stage their own rev­o­lu­tions. The Port Huron State­ment is a call for young peo­ple to rad­i­cal­ly inter­ro­gate every­thing they believe about how pol­i­tics works, about who has val­ue in the social arrange­ment, about the shape of the world. The ​"peo­ple of this gen­er­a­tion, bred in at least mod­est com­fort … look­ing uncom­fort­ably to the world we inher­it" were half female. And if you lis­ten, if you look between the lines of The Port Huron State­ment, to those half-invis­i­ble girls at recep­tion desks and in kitchens and in class­rooms, you can sense them look­ing out at the world, begin­ning to ask for some­thing new.

Sady Doyle, 29, is an In These Times staff writer and the founder of the anti-sex­ist blog Tiger Beatdown.
James Thind­wa: ​
"

Two Words Scare Them to Death"

"With­in exist­ing arrange­ments, the Amer­i­can busi­ness com­mu­ni­ty can­not be said to encour­age a demo­c­ra­t­ic process nation­al­ly. Eco­nom­ic minori­ties not respon­si­ble to a pub­lic in any demo­c­ra­t­ic fash­ion make deci­sions of a more pro­found impor­tance than even those made by Congress. "

The genius of the Amer­i­can (and glob­al) busi­ness com­mu­ni­ty has been its mas­ter­ful but dev­as­tat­ing­ly deceit­ful con­fla­tion of ​"free enter­prise" with democ­ra­cy. In real­i­ty, real democ­ra­cy impos­es con­straints, and under opti­mum con­di­tions threat­ens the kind of unbri­dled cap­i­tal­ism imag­ined by busi­ness elites. Hence the attack on labor unions, and envi­ron­men­tal, pub­lic health­care and con­sumer rights advo­cates, which are seen not as indis­pens­able com­po­nents to a healthy democ­ra­cy, but as a sub­ver­sive force bent on destroy­ing ​"the Amer­i­can way of life."

But to main­tain their legit­i­ma­cy, busi­ness elites pay lip ser­vice to ​"free­dom and democ­ra­cy" even as those two words scare them to death. For there is no democ­ra­cy where cit­i­zens can­not orga­nize to peti­tion their gov­ern­ment to fix the envi­ron­ment, hon­or human rights, defend civ­il and vot­ing rights, safe­guard women's self-deter­mi­na­tion, and pro­tect con­sumers from harm­ful com­mer­cial products.

Which begs the ques­tion: Why is big busi­ness bent on destroy­ing the foun­da­tion of sta­bil­i­ty in the Unit­ed States? Do the busi­ness elites real­ly want an Amer­i­ca that looks like one of the world's too many dys­func­tion­al soci­eties, rife with chaos and vio­lence in large part because of a frayed and mar­gin­al civ­il soci­ety? How is that in the inter­est of busi­ness, or the country?

James Thind­wa, 56, is a labor orga­niz­er in Chica­go and a mem­ber of In These Times' board of directors.
Mic­ah Uet­richt: ​
"

Help Unions Overcome"​

"

Today labor remains the most lib­er­al ​

"

main­stream" insti­tu­tion — but often its lib­er­al­ism rep­re­sents ves­ti­gial com­mit­ments self-inter­est­ed­ness, unrad­i­cal­ism. In some mea­sure labor has suc­cumbed to insti­tu­tion­al­iza­tion, its social ide­al­ism wan­ing under the ten­den­cies of bureau­cra­cy, mate­ri­al­ism, busi­ness ethics. The suc­cess­es of the last gen­er­a­tion per­haps have braked, rather than accel­er­at­ed labor's zeal for change."

The Port Huron Statement's simul­ta­ne­ous praise and cri­tique of America's labor move­ment applies almost word-for-word to the country's unions 50 years lat­er. Few­er Amer­i­cans are in unions today, but labor's lega­cy of gains for work­ing peo­ple should still be cel­e­brat­ed. Unfor­tu­nate­ly, orga­nized labor's ten­den­cies toward ​"insti­tu­tion­al­iza­tion" and cen­tral­ized hier­ar­chi­cal lead­er­ship con­tin­ue to char­ac­ter­ize it today.

But while the state­ment iden­ti­fies labor's con­tem­po­rary prob­lems, it voic­es an unwill­ing­ness to give up on labor despite its struc­tur­al short­com­ings. It rec­og­nizes that stu­dent rad­i­cals can pro­vide a vision for a bet­ter soci­ety, but orga­ni­za­tions like unions are cru­cial to imple­ment­ing that vision.

Dur­ing the past six months, Occu­piers have cau­tious­ly begun to inter­act with unions. For many, dis­il­lu­sion­ment with some unions' deci­sions – like their near­ly-uni­ver­sal endorse­ment of Pres­i­dent Oba­ma for re-elec­tion or the Inter­na­tion­al Long­shore and Ware­house Union's lack of sup­port for attempt­ed West Coast block­ades in Decem­ber – has come quickly.

Labor will con­tin­ue to let Occu­piers down, as it dis­ap­point­ed The Port Huron Statement's authors. But the bud­ding move­ment shouldn't ignore the grass­roots pow­er of unions' mem­bers – a pow­er exer­cised last year in Wis­con­sin, where a union-bust­ing gov­er­nor now faces a recall elec­tion. Instead, Occu­piers should help unions over­come what the state­ment calls ​"the ten­den­cies of bureau­cra­cy," and recon­nect to labor's core ​"social ide­al­ism," which has nev­er tru­ly waned.

Today's activists must not let frus­tra­tion turn to cyn­i­cism. Occu­py can nudge the ​"most lib­er­al ​'main­stream' insti­tu­tion" to the left, as long as engage­ment is seen as a given.

Mic­ah Uet­richt, 24, a writer and for­mer In These Times intern, helped orga­nize a union at his first job after col­lege. He is cur­rent­ly an orga­niz­er with Arise Chica­go Work­er Cen­ter.
Mick­ey Flacks: ​
"

From the Old to the New Left"

"An unrea­son­ing anti-com­mu­nism has become a major social prob­lem for those who want to con­struct a more demo­c­ra­t­ic Amer­i­ca. McCarthy­ism and oth­er forms of exag­ger­at­ed and con­ser­v­a­tive anti-com­mu­nism seri­ous­ly weak­en demo­c­ra­t­ic insti­tu­tions and spawn move­ments con­trary to the inter­ests of basic free­doms and peace. In such an atmos­phere even the most intel­li­gent of Amer­i­cans fear to join polit­i­cal orga­ni­za­tions, sign peti­tions, speak out on seri­ous issues. Mil­i­taris­tic poli­cies are eas­i­ly ​"sold" to a pub­lic fear­ful of a demo­c­ra­t­ic ene­my. Polit­i­cal debate is restrict­ed, thought is stan­dard­ized, action is inhib­it­ed by the demands of ​"uni­ty" and ​"one­ness" in the face of the declared danger. "

When I arrived at the UAW Camp in Port Huron, Mich., I was struck by a few things.

The SDSers spoke a lan­guage that was not redo­lent of the Ger­man­ic phras­es of clas­si­cal Marx­ism, but more like the cadences of the U.S. Constitution.

I was stunned to see Steve Max, whom I knew from my days in the teenage sec­tion of the Labor Youth League (LYL – the Com­mu­nist Party's youth orga­ni­za­tion), and had last seen when we spent the sum­mer of 1956 (post-Khruschev's speech, and for us, post-high school) plot­ting the dis­man­tling of the teenage sec­tion of the LYL. As I thought about it, I real­ized his – like mine – was a nat­ur­al pro­gres­sion from those days to this, from the Old to the New Left.

Both Steve and I were ​"red dia­per babies," and had accept­ed a Com­mu­nist Par­ty USA per­spec­tive with our moth­ers' milk. The events of the mid-1950s drove us from the CP orbit, leav­ing us a bit high and dry, polit­i­cal­ly. Many social­ist or lib­er­al orga­ni­za­tions required their mem­bers to sign a non-com­mu­nist oath, and we cer­tain­ly did not feel wel­comed there. We were non-com­mu­nists, but weren't ready to be anti-com­mu­nists. That road, we believed, led to what lat­er became known as neo-con­ser­v­a­tivism, and we want­ed no part of it, nor of any orga­ni­za­tion that insist­ed on its mem­bers' sign­ing an oath. Although SDS, when it was essen­tial­ly the Social­ist Party's Stu­dent League for Indus­tri­al Democ­ra­cy, had had such an oath, part of Port Huron's task was to elim­i­nate it, and to define its anti anti-com­mu­nism. Only SDS and Women Strike for Peace had dared to artic­u­late such a position.

I believe that to be one of the New Left's major his­toric con­tri­bu­tions. Today, should some­one in Zucot­ti Park pro­pose an Occu­py Wall Street loy­al­ty oath, they would be met by a dis­pleased sea of down­ward wag­ging fingers.

Mick­ey Flacks, 72, a com­mu­ni­ty activist in San­ta Bar­bara, Calif., attend­ed the SDS meet­ing in Port Huron, Mich.
Brit­tany Gault: ​
"

The New Plantation"

"Hor­a­tio Alger Amer­i­cans typ­i­cal­ly believe that the ​"non­whites" are being ​"accept­ed" and ​"ris­ing" grad­u­al­ly. They see more Negroes on tele­vi­sion and so assume that Negroes are ​"bet­ter off." They hear the Pres­i­dent talk­ing about Negroes and so assume they are polit­i­cal­ly rep­re­sent­ed. They are aware of black peo­ples in the Unit­ed Nations and so assume that the world is gen­er­al­ly mov­ing toward inte­gra­tion. They don't dri­ve through the South, or through the slum areas of the big cities, so they assume that squalor and naked exploita­tion are disappearing."

Our non-white pre­de­ces­sors desired fel­low­ship with white Amer­i­ca. To just be acknowl­edged as human was a ​"suc­cess" that African-Amer­i­cans strug­gled to attain. Today, African-Amer­i­cans are rec­og­nized legal­ly as humans; how­ev­er, insti­tu­tion­al dis­crim­i­na­tion is the new plan­ta­tion. Even our first African-Amer­i­can pres­i­dent, whose sto­ry emu­lates the ​"rags to rich­es" tales of Hor­a­tio Alger's char­ac­ters, has his author­i­ty open­ly reject­ed by mil­i­tant white conservatives.

The myth of ​"The Amer­i­can Dream" sug­gests that hard work and sweat equi­ty posi­tion all Amer­i­cans for fame and for­tune. It bam­boo­zles all who strug­gle to par­tic­i­pate in this quest for success.

True racial jus­tice occurs when peo­ple stand togeth­er to reveal and redress the injus­tices that have allowed the epi­dem­ic of men­tal, social and phys­i­cal pover­ty to con­sume our Amer­i­ca. The Occu­py move­ment has pro­vid­ed the space to unmask these inequal­i­ties, but we must ensure that it breaks away from ​"col­or­blind" ide­olo­gies and the myth of a post-racial Amer­i­ca. Occu­py the Hood Chica­go is ded­i­cat­ed to bring­ing the Occu­py mes­sage to the 99% in Chicago's neigh­bor­hoods, and to plac­ing them at the cen­ter of this new youth-led move­ment for justice.

Brit­tney Gault, 26, works with Occu­py the Hood Chica­go, which fights for social, cul­tur­al and eco­nom­ic devel­op­ment in Chica­go neighborhoods.
Maria Ele­na Sifuentes: ​
"

We Can Take Power"

"Racial-xeno­pho­bia is reflect­ed in the admis­sion of var­i­ous racial stocks to the coun­try. From the nine­teenth cen­tu­ry Ori­en­tal Exclu­sion Acts to the most recent up-dat­ing of the Wal­ter-McCar­ren Immi­gra­tion Acts the nation has shown a con­tin­u­ous con­temp­tu­ous regard for ​'non­whites.' "

The Port Huron State­ment speaks pow­er­ful­ly to how racism per­me­ates Amer­i­can life. As an orga­niz­er in one of the most seg­re­gat­ed cities in the coun­try, I know that racism is still very much a part of our dai­ly expe­ri­ence. Peo­ple of col­or in Chica­go – par­tic­u­lar­ly youth – expe­ri­ence racism every day. Yet those of us fight­ing for social change must remem­ber that oppres­sion is broad­er and more sys­temic than a con­flict between us and igno­rant whites. Racial prej­u­dice is a piece of the puz­zle, but the prej­u­dice of the rich against the poor can be seen in emer­gency rooms and fore­closed homes and under­fund­ed class­rooms across the coun­try. Rich sick peo­ple are not denied med­ical care. Rich fam­i­lies are not get­ting evict­ed by banks. Rich youth are not strug­gling to pre­pare for college.

We the peo­ple of col­or need to join forces. We need to orga­nize and cre­ate strate­gies that help us unite low-income peo­ple in our city and across the coun­try so we can take power.

Maria Ele­na Sifuentes, 48, is a board mem­ber of the Albany Park Neigh­bor­hood Coun­cil, in Chicago.
Bill Ayers: ​
"

Per­il and Possibility

"As stu­dents, for a demo­c­ra­t­ic soci­ety, we are com­mit­ted to stim­u­lat­ing this kind of social move­ment, this kind of vision and pro­gram is cam­pus and com­mu­ni­ty across the coun­try. If we appear to seek the unat­tain­able, it has been said, then let it be known that we do so to avoid the unimaginable."

My bat­tered but sur­viv­ing SDS mem­ber­ship card is embla­zoned with the love­ly open­ing line from The Port Huron State­ment: ​"We are peo­ple of this gen­er­a­tion, bred in at least mod­est com­fort … look­ing uncom­fort­ably to the world we inherit."

Port Huron can be read in a thou­sand ways. Its con­tin­u­ing vital­i­ty lies in its self-descrip­tion – ​"an agen­da for a gen­er­a­tion" – tak­ing ​"gen­er­a­tion" at its most altru­is­tic: pro­duc­tion and repro­duc­tion, devel­op­ment and gen­e­sis. More call-to-arms than man­i­festo, more provo­ca­tion and open­ing than pro­gram or point of arrival, it remains an invi­ta­tion to create.

"The ​'60s" have been com­mod­i­fied and sold back to us as myth and sym­bol: peak activism, unequaled music, the best sex. Of course it was nev­er as bril­liant and ecsta­t­ic as some would have it, nor was it the devil's own work­shop, as oth­ers insist. What­ev­er it was, it remains pre­lude to the nec­es­sary changes and fun­da­men­tal upheavals just ahead. The self-appoint­ed board mem­bers of ​"The ​'60s Incor­po­rat­ed," look­ing nos­tal­gi­cal­ly at a ship that's already left the shore, are most­ly miss­ing the point. We're still liv­ing, still of this gen­er­a­tion, now fac­ing unprece­dent­ed chal­lenges. Enter Occupy!

Once again more labor than deliv­ery, here is a move­ment-in-the-mak­ing, shift­ing the frame and con­nect­ing the issues, expand­ing the pub­lic square, and defin­ing a moment. Like every move­ment before it, Occu­py was impos­si­ble before it hap­pened, and inevitable the day after. Pow­er respond­ed in famil­iar fash­ion. First dis­miss­ing, then mock­ing, scold­ing and co-opt­ing, and final­ly beat­ing the shit out of par­tic­i­pants – repeat­ing as necessary.

Rev­o­lu­tion is still pos­si­ble, but bar­barism is pos­si­ble as well. In this time of per­il and pos­si­bil­i­ty, ris­ing expec­ta­tions and new begin­nings, when hope and his­to­ry once again rhyme, it's absolute­ly urgent that we embrace the spir­it embod­ied in the final words of The Port Huron State­ment: ​"If we appear to seek the unat­tain­able … we do so to avoid the unimag­in­able." Occu­py the future!

Bill Ayers, 67, a retired edu­ca­tion pro­fes­sor at the Uni­ver­si­ty of Illi­nois at Chica­go, is a founder and for­mer leader of the Weath­er Underground.