The Progressive Frontier
The governor of the Big Sky state has important lessons to teach Democrats across the nation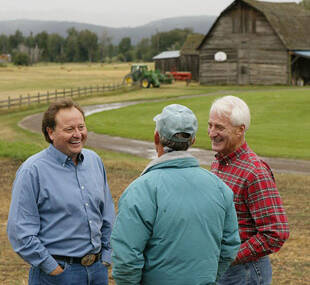 Last Novem­ber 2, as pro­gres­sives watched state after state turn red in the pres­i­den­tial race – and in Sen­ate races that were sup­posed to be close – some­thing fun­ny was hap­pen­ing in Mon­tana. The state that went for Bush by 20 per­cent hand­ed a sol­id vic­to­ry to a new Demo­c­ra­t­ic gov­er­nor, 49-year-old ranch­er Bri­an Schweitzer. And, unlike oth­er elect­ed red-state Democ­rats, it quick­ly became clear he was not going to be alone at the top.
Along with the gov­er­nor­ship, Mon­tana Democ­rats seized three oth­er impor­tant statewide exec­u­tive offices, held their major­i­ty on the state's Pub­lic Ser­vice Com­mis­sion, took a major­i­ty in the State Sen­ate and fought their way to a 50 – 50 draw in the State House.
Since then, Democ­rats across the coun­try have turned to Mon­tana for answers and hope. Some crit­ics den­i­grate Schweitzer's vic­to­ry, claim­ing that a red-state Demo­c­rat must sim­ply be a Repub­li­can lite. But that analy­sis falls flat: Schweitzer is a strong pro­po­nent of choice, as well as an advo­cate for the envi­ron­ment and for mid­dle-class Mon­tanans. And those who have seen the out­spo­ken Schweitzer chal­lenge the Bush admin­is­tra­tion in the press late­ly real­ize: Real Democ­rats, not faux Repub­li­cans, won in Montana.
If Democ­rats can suc­ceed this well in Mon­tana, they can win any­where. The ques­tion is how.
A decade ago, the Mon­tana Demo­c­ra­t­ic Par­ty began a peri­od of rebuild­ing. The Repub­li­can Par­ty held the governor's office and con­trolled both cham­bers of the leg­is­la­ture by over­whelm­ing majori­ties. The Democ­rats com­mit­ted them­selves to the basics. They engaged in a strate­gic plan­ning process that defined clear, attain­able goals. They focused on recruit­ing can­di­dates who would work hard and win. And they trained can­di­dates and vol­un­teers in the orga­niz­ing mod­el of grass­roots advo­ca­cy groups. Democ­rats soon start­ed mak­ing gains in leg­isla­tive races.
But 2000 was to prove a bad year for Mon­tana Democ­rats. With Al Gore run­ning, the Democ­rats lost the top-of-the-tick­et race by 25 per­cent. Bush's coat­tails proved too much to over­come down-tick­et and strong, expe­ri­enced Democ­rats lost their races for the governor's office and for Montana's lone House seat.
But nei­ther of these test­ed can­di­dates made the best show­ing for a Demo­c­rat in Mon­tana that year. That title went to Schweitzer, who at that point was an upstart ranch­er from north­west Mon­tana who start­ed his cam­paign for U.S. Sen­ate with zero per­cent name recog­ni­tion and end­ed it as the pop­ulist hero who took seniors to Cana­da for cheap­er pre­scrip­tion drugs.
Meet­ing the man, it is clear how he grew in the pub­lic mind. Schweitzer is a big man, ath­let­ic, and ready with a hand­shake and a smile for any­one who greets him. He talks loud­ly, plain­ly and quick­ly, with ideas flow­ing out of his mouth at near break­neck pace. He works hard, sleeps lit­tle and is known for read­ing Montana's news­pa­pers as they become avail­able online in the wee hours of the morning.
When a reporter from an inde­pen­dent week­ly news­pa­per vis­it­ed his ranch to write a pro­file, Schweitzer took him shoot­ing. After he won the guber­na­to­r­i­al elec­tion, Schweitzer threw a mas­sive inau­gur­al ball with three venues and more than 3,000 guests. When Butte, Montana's famous M&M bar reopened, Schweitzer stood in the mid­dle of the bar at 10 a.m., down­ing a shot of Jameson's.
Five years lat­er, when he is asked what he could have done dif­fer­ent­ly in 2000, Schweitzer shrugs off the defeat. ​"That race against [Repub­li­can Sen­ate oppo­nent Con­rad] Burns," he says, ​"was prob­a­bly an unwinnable race because of how well Bush did." Nev­er­the­less, he brought the race to with­in 4 per­cent and made a name for himself.
Clos­ing the gap
Both Schweitzer and the Demo­c­ra­t­ic Par­ty walked away from 2000 real­iz­ing they would have to do more in order to win the big races again.
"We ran a good race and had good can­di­dates," explains Brad Mar­tin, the exec­u­tive direc­tor of the Mon­tana Demo­c­ra­t­ic Par­ty. ​"One thing that became clear was the impact of the pres­i­den­tial race on the state races. Essen­tial­ly, our statewide can­di­dates made up a 25-point deficit. That means about 20 per­cent of Bush's vot­ers were cross­ing over and vot­ing Demo­c­ra­t­ic in one of those races."
It became the party's job to nar­row the mar­gin in the pres­i­den­tial race. So, Mar­tin says, the Democ­rats decid­ed to make sure that their Mon­tana can­di­dates did not fall prey to nation­al Demo­c­ra­t­ic stereo­types. They sought out key con­stituen­cies by start­ing agri­cul­ture, small busi­ness and sports­man round­ta­bles. The par­ty hired a com­mu­ni­ca­tions direc­tor to move beyond the basics of press releas­es. And the par­ty recom­mit­ted itself to build­ing its grass­roots base – cen­tral com­mit­tees and volunteers.
Mon­tana Democ­rats real­ized they had anoth­er prob­lem, accord­ing to Mar­tin. Vot­ers didn't know that Democ­rats had an eco­nom­ic plan. ​"The par­ty did a statewide lis­ten­ing tour," he says. Leg­isla­tive lead­ers crossed the state to meet with busi­ness and labor lead­ers and com­pile an eco­nom­ic plan. ​"We took it to small towns, large towns. We lit­er­al­ly laid out a 22-point plan."
Mean­while, Schweitzer start­ed run­ning for gov­er­nor vir­tu­al­ly the day after he lost his race for the Sen­ate. ​"For a year and a half," he says, ​"I read all the news­pa­pers in Mon­tana, read the let­ters to the edi­tor. When I read a cool let­ter, I would write them a let­ter and tell them that. So many can­di­dates think that two weeks before the elec­tion, they're some­how going to gin up peo­ple to write let­ters for them. We'd build rela­tion­ships with peo­ple who already wrote let­ters rather than try­ing to get new peo­ple to write let­ters to the editor."
He drove across the state, meet­ing peo­ple in rur­al areas and ask­ing what they need­ed from gov­ern­ment. Those dis­cus­sions result­ed in an agen­da that includ­ed health­care reform, eco­nom­ic devel­op­ment and a new approach to high­er edu­ca­tion with an increased empha­sis on com­mu­ni­ty col­leges and tech­ni­cal schools. Schweitzer then took his new issue agen­da and crossed the state again, giv­ing speech­es that nev­er fell into wonk speak. Instead, Schweitzer ran on val­ues, deliv­er­ing a talk about his fam­i­ly home­steading in Mon­tana, build­ing a church and a com­mu­ni­ty with their friends and neigh­bors. He talked about being a Bob­cat (a grad­u­ate of Mon­tana State). He talked about talk­ing to people.
He con­tin­ued fundrais­ing at a fast clip, rais­ing more than any oth­er can­di­date for gov­er­nor in Montana's his­to­ry, despite refus­ing PAC mon­ey – anoth­er deci­sion he cred­it­ed to talk­ing to peo­ple. He toured the state to find a lieu­tenant gov­er­nor. In the process, he talked to dozens of Mon­tanans, peo­ple who rarely get one-on-one time with a major can­di­date for gov­er­nor. Most of them, he says, told him that they did not want to be lieu­tenant gov­er­nor, they sim­ply want­ed to talk to some­one who could change things.
Ulti­mate­ly, Schweitzer's real choice for lieu­tenant gov­er­nor made waves. When he tapped State Sen­a­tor John Bohlinger, a Repub­li­can, the state GOP lashed out while Democ­rats around the state scratched their heads. Bohlinger is a pro­gres­sive­ly-mind­ed Repub­li­can, a rare breed in nation­al pol­i­tics. In his home­town of Billings, Bohlinger was well known for his tru­ly com­pas­sion­ate con­ser­vatism – deliv­er­ing pas­sion­ate speech­es against the death penal­ty, hate crimes and sex traf­fick­ing. And while the deci­sion raised hack­les among some par­ty stal­warts, the bipar­ti­san tick­et told many Mon­tanans that this was a cam­paign unin­ter­est­ed in partisanship.
The Mon­tana Kaimin, a dai­ly col­lege paper, edi­to­ri­al­ized that Schweitzer's deci­sion ​"shook up Montana's all too par­ti­san polit­i­cal infra­struc­ture" and Chuck John­son, the dean of Mon­tana polit­i­cal jour­nal­ism, referred to a TV ad empha­siz­ing the bipar­ti­san tick­et as the most effec­tive of the cam­paign year.
But Schweitzer's team nev­er con­fused com­mon sense with mealy-mouthing or bipar­ti­san­ship with timid­i­ty. In the wan­ing days of the elec­tion, the Repub­li­can Gov­er­nors Asso­ci­a­tion (RGA) ham­mered Schweitzer with an ad accus­ing him of bogus busi­ness deals. ​"The RGA had already been kicked out of oth­er states for decep­tive adver­tis­ing," says Mar­tin. ​"At the last minute, they ran an ad with a man who had tried to deceive mon­ey out of the Schweitzers, a wealthy landown­er por­tray­ing her­self as a des­ti­tute wid­ow, and the cousin of the Repub­li­can nom­i­nee for Gov­er­nor." The three Mon­tanans alleged bad busi­ness activ­i­ty on Schweitzer's part, but failed to dis­close their own con­flicts of interest.
The Mon­tana Democ­rats hit back with an ad high­light­ing the fact that Schweitzer's accusers had felony crim­i­nal records, as well as fam­i­ly and busi­ness con­nec­tions to the Repub­li­can can­di­date for gov­er­nor. The attack ad fell flat on its face.
"We got a lot of pos­i­tive feed­back on that," Mar­tin says. ​"Half of it was hit­ting home [Schweitzer's] pop­ulist mes­sage and half of it was expos­ing these peo­ple for who they were."
Ulti­mate­ly, the hard work paid off. Schweitzer was elect­ed as the first Demo­c­ra­t­ic gov­er­nor in 16 years. His approval rat­ing is slow­ly march­ing upward, approach­ing 60 per­cent, while Bush has slumped to 53 per­cent approval in this red state.
Observers some­times sum­ma­rize the lessons learned as fol­lows: Work hard for 10 years build­ing a par­ty; start the cam­paign ear­ly; find an out­stand­ing, hard-work­ing, telegenic, charis­mat­ic can­di­date; fundraise like mad; craft a great mes­sage; ham­mer the mes­sage; and pray. Even with this near­ly per­fect storm, Schweitzer won with just a 4 per­cent majority.
But oth­er lessons are more con­crete and there are some signs that Democ­rats are begin­ning to imple­ment them nationally:
Fight every­where. Schweitzer didn't write off the rur­al areas of Mon­tana that have recent­ly become Repub­li­can strong­holds. He cam­paigned statewide, win­ning two coun­ties typ­i­cal­ly lost by Democ­rats and nar­row­ing the mar­gin in dozens of others.
Fight back. When Schweitzer got ​

"

Swift Boat­ed," his cam­paign staffers didn't sit silent­ly. They hit back fast and hard. And in his first months in office, Schweitzer didn't refrain from crit­i­ciz­ing the pres­i­dent who received more votes than he did. He aggres­sive­ly crit­i­cized Bush on a num­ber of fronts. Now he's more pop­u­lar than the pres­i­dent among Mon­tana voters.
Actions speak loud­er than words. Unlike oth­er Democ­rats who rev­el in meta-analy­sis or the­o­riz­ing over val­ues, Schweitzer sim­ply did it. Rather than say­ing he was a real Mon­tanan, he talked about his home­steading ances­tors. Rather than talk­ing about reclaim­ing the flag, Schweitzer just did it – promi­nent­ly on his Web site and on pens the cam­paign dis­trib­uted. And both Schweitzer and the Mon­tana Democ­rats had plans. They just real­ized that hav­ing the plans was more impor­tant than talk­ing about them non-stop.
If Democ­rats across the coun­try learn these lessons, they'll be on the right road to win­ning Amer­i­ca back.
Matt Singer
, Com­mu­ni­ca­tions Direc­tor for the Pro­gres­sive States Net­work, is a writer and activist in Montana.