The Push to Privatize PEMEX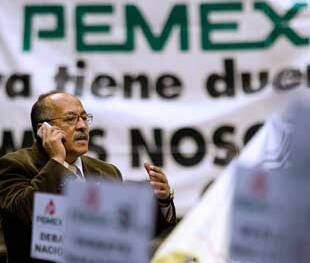 Hal­libur­ton is lick­ing its chops at the prospect of Mexico's state-owned Petróleos Mex­i­canos going private.
Petróleos Mex­i­canos, or PEMEX, with­stood a tsuna­mi of pri­va­ti­za­tions of for­mer­ly state-owned com­pa­nies in the late 1980s and ​'90s. But now, with pro-busi­ness Pres­i­dent Felipe Calderón in office, the effort is being revis­it­ed – and the Mex­i­can left is com­ing out en masse to defend the 70-year-old com­pa­ny, a long-time source of nation­al pride and a sym­bol of Mex­i­can sovereignty.
On April 8, Calderón, who served as ener­gy sec­re­tary under for­mer Pres­i­dent Vicente Fox, pro­posed a reform pack­age that calls for forg­ing ​"strate­gic alliances" with pri­vate oil com­pa­nies and open­ing 37 of PEMEX's 41 divi­sions to pri­vate sub­con­trac­tors. Although Calderón care­ful­ly spec­i­fied that the reforms would not amount to pri­va­ti­za­tion, many in Mex­i­co are not con­vinced. The Mex­i­can Con­sti­tu­tion for­bids pri­vate drillers from reap­ing prof­its from oil dis­cov­er­ies under Mex­i­can soil.
How­ev­er, PEMEX already sub­con­tracts lim­it­ed oper­a­tions to out­side com­pa­nies, Hal­libur­ton being chief among them. But cur­rent­ly, these sub­con­trac­tors can do lit­tle more than sell their labor, tech­nol­o­gy and exper­tise to PEMEX at a fixed price.
George Bak­er, pub­lish­er of Mex­i­co Ener­gy Intel­li­gence, a trade pub­li­ca­tion that cov­ers ener­gy mar­kets and pol­i­cy devel­op­ments in Mex­i­co, says this stip­u­la­tion lim­its the desir­abil­i­ty of PEMEX contracts.
"What [oil com­pa­nies] are inter­est­ed in is bar­rels of oil, the val­ue of which could dou­ble in the near future," Bak­er says. ​"If you just pay me in cash, it just goes into the cash reg­is­ter. It doesn't go into my bonus or the stock price or increase my reserves."
That's why Calderón is propos­ing to sweet­en those con­tracts with bonus­es for major dis­cov­er­ies, in an effort to lure the kind of skill and expe­ri­ence need­ed for the more risky, tech­no­log­i­cal­ly advanced drilling in the Gulf of Mex­i­co – antic­i­pat­ed to be Mex­i­can oil's next great frontier.
That pro­pos­al, how­ev­er, is on polit­i­cal thin ice.
When Gen. Lázaro Cár­de­nas wrest­ed con­trol of Mexico's oil fields from U.S. and British tycoons in 1938, Mex­i­cans from all walks of life lined up to help fund the expro­pri­a­tion, donat­ing fam­i­ly heir­looms, small hand­fuls of pesos, and even chick­ens and live­stock for the cause.
Pub­lic own­er­ship of PEMEX remains sacro­sanct, and since rumors of the ener­gy reform ini­tia­tive began cir­cu­lat­ing, throngs of oppo­nents have tak­en to the streets to keep their petro-pesos out of for­eign pockets.
Andres Manuel López Obrador, who lost the 2006 elec­tion to Calderón by a hair (amid wide­spread alle­ga­tions of fraud), has been at the fore­front of the move­ment. He accus­es Calderón and his pre­de­ces­sors of pur­pose­ful­ly starv­ing the beast in order to cre­ate a cri­sis sit­u­a­tion, there­by leav­ing lit­tle option but to call the pri­vate sec­tor for help.
"The gov­ern­ment, for 25 years, has act­ed in a delib­er­ate man­ner … to ruin PEMEX because they have only one goal: to make PEMEX into booty to be plun­dered, and to pri­va­tize the oil busi­ness," López Obrador told the New York Times on April 8.
PEMEX's pipelines are old and its facil­i­ties dilap­i­dat­ed. It hasn't built a new refin­ery since the ​'70s and, as a result, lacks suf­fi­cient oil refiner­ies to process its crude. PEMEX cur­rent­ly sells 1.4 mil­lion bar­rels of crude oil per day to U.S. com­pa­nies that then refine it and sell it back to Mex­i­co. Mak­ing mat­ters worse, since 2004, the country's oil fields have been dry­ing up.
Added to this already dire sit­u­a­tion is a pow­er­ful and cor­rupt Mex­i­can Oil Work­ers Union, infa­mous for no-show jobs and major fund trans­fers to dirty politi­cians, includ­ing an alleged mul­ti­mil­lion dol­lar pay-off to the guber­na­to­r­i­al cam­paign of Fran­cis­co Labasti­da, the cur­rent head of the Sen­ate Ener­gy Com­mis­sion. The con­flu­ence of these fac­tors has put PEMEX and the gov­ern­ment – which relies on the company's rev­enues for near­ly 40 per­cent of the fed­er­al bud­get – in a pickle.
Part of Calderón's pro­pos­al would increase trans­paren­cy in PEMEX by adding inde­pen­dent mem­bers to its Board of Direc­tors and estab­lish­ing an inde­pen­dent audit­ing sys­tem. But pri­va­ti­za­tion oppo­nents, includ­ing López Obrador, say that should hap­pen before any pri­vate solu­tions are considered.
"If they want to move ahead with PEMEX, first they should ful­ly com­bat cor­rup­tion," he said dur­ing an April 4 speech. ​"PEMEX as it exists is in ruins."
A group of law­mak­ers orga­nized as the Broad Pro­gres­sive Front began push­ing for more pub­lic involve­ment and con­gres­sion­al debate on the very day Calderón intro­duced the pro­pos­al, fear­ing he would fast-track the ini­tia­tives before his April 21 trip to the North Amer­i­can Secu­ri­ty and Pros­per­i­ty Part­ner­ship sum­mit in New Orleans. The law­mak­ers took over both hous­es of the Mex­i­can Con­gress for more than two weeks, camp­ing out in pup tents by night, lead­ing mas­sive ral­lies out­side by day, and stand­ing guard in shifts so that their con­ser­v­a­tive col­leagues couldn't sneak in and push for­ward a vote.
On April 25, they secured an assur­ance that the reforms will be debat­ed for at least 71 days, begin­ning on May 13 (after In These Times went to press). In the mean­time, the oppo­si­tion is orga­niz­ing a nation­wide can­vass­ing campaign.
"We are all in this move­ment," Rep. Ale­jan­dro Sanchez Cama­cho said in an April 24 release. ​"Women and men who want to pre­serve our inher­i­tance that our grand­par­ents left us, which is our petroleum."
Jes­si­ca Pupo­vac
is an
In These Times
con­tribut­ing edi­tor and a Chica­go-based free­lance reporter.