The Rats of Patna
A modest proposal.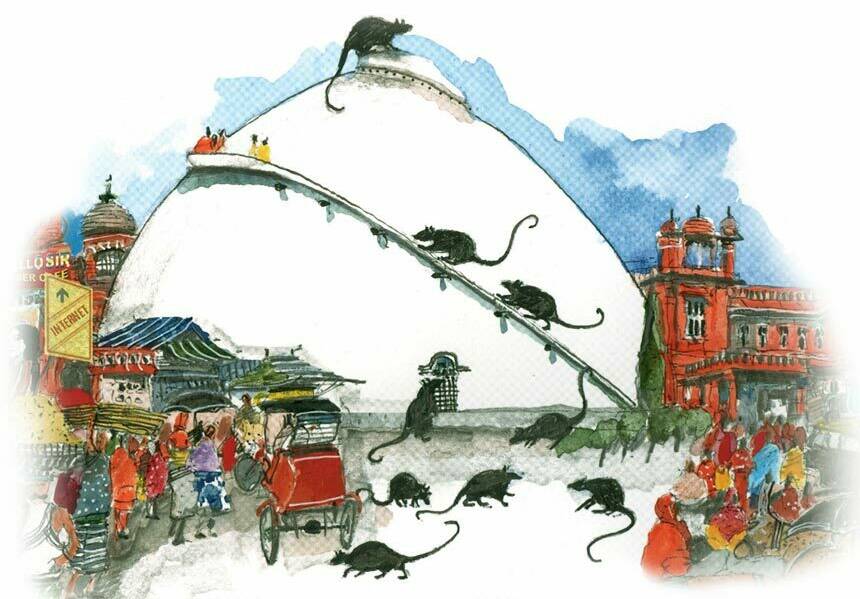 In Pat­na, the cap­i­tal of Bihar, the city where I grew up, rats have bur­rowed under the rail­way plat­form caus­ing it to col­lapse in places. In the library at Pat­na Uni­ver­si­ty, I heard that rats had tak­en over a sec­tion of the stacks and the library was closed. News­pa­pers peri­od­i­cal­ly car­ry reports that babies have been bit­ten by rats. One such report help­ful­ly explained that it was the traces of food on the unwashed faces of infants that attract­ed the rodents.
If rats were accepted as a popular food item, and as a consequence rat farming was commercialized, the Musahars' income would inevitably go up.
In the mid­dle of the night one win­ter, dur­ing a vis­it to my parent's house in Pat­na, I was sit­ting at the din­ing table with my jet-lagged 2‑year-old son, watch­ing a car­toon on my com­put­er. We must have been sit­ting there qui­et­ly for about half an hour before my lit­tle boy asked, ​"Baba, what is that?" He was point­ing beyond the screen. There were two enor­mous rats walk­ing away from us. They looked like stout ladies in tiny heels, on their way to market.
For a while I had hoped to get a pro­fes­sion­al pest con­trol agency to come and trap the rats. The prob­lem was a press­ing one — rats had car­ried away my mother's den­tures. But all I could find was a man who would come and put pack­ets of rat poi­son in dif­fer­ent rooms.
I didn't find an exter­mi­na­tor in Pat­na. But I did meet a man who want­ed rats to be killed for food. Vijoy Prakash is a senior offi­cial in the Bihar admin­is­tra­tion — the prin­ci­pal sec­re­tary in the Depart­ment of Rur­al Devel­op­ment — and he has caused con­tro­ver­sy by sug­gest­ing that restau­rants should put rat meat on their menus. Ques­tions about this pro­pos­al were raised in the Bihar leg­is­la­ture, and the papers had report­ed on it with some rel­ish. I met Prakash in his office in the Old Sec­re­tari­at in Pat­na. He was a kind-look­ing man, qui­et and dark skinned, his eye­brows flecked with gray. In a spa­cious, air-con­di­tioned office, Prakash was work­ing on a report at his desk. I looked around while I wait­ed. A wood­en board to my right list­ed the names of the admin­is­tra­tors who had served in that office. The names were care­ful­ly paint­ed in white on the var­nished wood. Num­ber 22 on that list, the last name, was Prakash's. I not­ed with plea­sure and sur­prise that num­ber 7 was my father. My father, who retired from ser­vice long ago, must have occu­pied the chair on which Prakash was now sit­ting when I was still a stu­dent. Had I ever vis­it­ed my father in this room, bring­ing him lunch dur­ing a trip home? I couldn't remem­ber if I had.
Prakash, who stud­ied astro­physics, is a ratio­nal­ist. He wants peo­ple to have more enlight­ened views about nature and soci­ety. His mis­sion, I real­ized when we began talk­ing, isn't sim­ply to change the pop­u­lar per­cep­tion of rats. Instead, it is to alter the views that most peo­ple have of a par­tic­u­lar com­mu­ni­ty near the bot­tom of the social lad­der: the Musa­hars, known all over Bihar as the rat-eat­ing caste. Prakash says that rats trapped in fields have long been a part of the Musa­hars' diet, and there is no rea­son why oth­ers can­not also ben­e­fit from pro­tein-rich rat meat.
His main point was to engi­neer change in the liv­ing con­di­tions of the Musa­hars, who are among the poor­est and most mar­gin­al­ized groups in Bihar. If rats were accept­ed as a pop­u­lar food item, and as a con­se­quence rat farm­ing was com­mer­cial­ized, the Musa­hars' income would inevitably go up. Like every good bureau­crat I've met, Prakash rat­tled off sta­tis­tics to sup­port his the­o­ry. In 1961 the rate of lit­er­a­cy among Musa­hars was mere­ly 2.5 per­cent; 40 years lat­er, the rate of lit­er­a­cy had risen to only 9 per­cent. As far as rats were con­cerned, in a coun­try and state where a sig­nif­i­cant per­cent­age of peo­ple went hun­gry, rats ate 30 to 40 per­cent of the crops. In each rat hole exca­vat­ed in a field, you could find up to 14 kilo­grams of grain. When these two facts are appraised side by side, Prakash point­ed out, his plan makes even more sense.
I wasn't entire­ly con­vinced, but Prakash was unfazed by my skep­ti­cism. He said that even as recent­ly as 50 years ago, chick­en wasn't allowed in many homes in Pat­na. It was just a mat­ter of time before rats would be ​"domes­ti­cat­ed" and eat­en in homes.
"Have you eat­en a rat?" I asked.
"Yes," he said, in the Musa­har toli in Naubat­pur. He had gone there with his wife, a teacher, and they had been invit­ed to have lunch with the fam­i­ly they were vis­it­ing. The rats had been fried and then cooked in a cur­ry. The dish was served with rice and tast­ed delicious.
I had known Musa­har fam­i­lies in my vil­lage in Cham­paran. In fact, once when I was a boy, I had just fin­ished bathing at the hand pump a lit­tle dis­tance from my grandmother's house when a woman approached me. Behind her was a child wear­ing a ragged pair of shorts. He was younger than me, maybe 7 or 8 years old. I remem­ber very clear­ly that the woman was tall, with curly hair, and her sari was mus­tard col­ored. She asked me polite­ly when I was going to return to Pat­na. My father had said we were to leave in an hour.
"Can't you take him with you?"
I had seen the woman before in the vil­lage. I don't think I had spo­ken to her. The boy was try­ing to hide behind his moth­er. The woman spoke again because I had said nothing.
"He will play with you. He will do all the work that needs to be done in the house. Take him with you. There is not enough here for him to eat."
I went back to the house and point­ed out the woman to my moth­er or an aunt. Some­body rec­og­nized her. I was told that she was a Musa­har. She want­ed her son to be a ser­vant in our home in Pat­na. We were upper caste, and I was told that my grand­moth­er would not allow a Musa­har to step inside the house.
Many years would pass before I would read Phan­ish­war Nath Renu​'s mem­oir about doing relief work dur­ing the flood caused by the waters of the Mahanan­da in 1949. Kerosene was need­ed, and match­es, and med­i­cine for feet that were rot­ting from pro­longed expo­sure to water.
Renu, along with a doc­tor, trav­eled through the flood-hit areas in a boat. He wrote that they had heard that for sev­er­al days the Musa­hars had been eat­ing any fish and rats that they had man­aged to singe over a fire. Once the two of them reached the flood­ed basti, they heard the sound of the dhol and cym­bals. A plat­form had been erect­ed over the water and served as a stage. A dance was in progress. Wear­ing a red sari, a dark-skinned Musa­har man was pre­tend­ing to be a bride; behind the fig­ure in the sari was the hus­band, beg­ging her to come back home. But the bride refused, com­plain­ing about her abu­sive moth­er-in-law and her sister-in-law's sharp tongue. It was now the husband's turn to sing a song. He promised to break his sister's legs and to push his moth­er out of the house. The audi­ence, smeared with mud and hun­gry, was full of laughter.
Like the great writer Renu, I would some­times find joy among those I had expect­ed only to be bur­dened by pathos. Joy is less com­mon, no doubt, but is as real as suf­fer­ing. Writ­ers often demon­strate inor­di­nate zeal when por­tray­ing the mis­ery of the down­trod­den and the oppressed: it is only a form of nar­cis­sism with the writer enam­ored of his or her sen­si­tive self faith­ful­ly record­ing the pain of oth­ers. No doubt I am guilty of this, too, but I plead equal fond­ness for fol­ly, plea­sure, guile, greed, and hypocrisy. Hence the rats.
This essay is excerpt­ed from A Mat­ter of Rats: A Short Biog­ra­phy of Pat­na by Ami­ta­va Kumar (Duke Uni­ver­si­ty Press).
Ami­ta­va Kumar
is the Helen D. Lock­wood Pro­fes­sor of Eng­lish at Vas­sar Col­lege and the author, most recent­ly, of A Mat­ter of Rats: A Short Biog­ra­phy of Patna.