The Right to Parent, Even If You Are Poor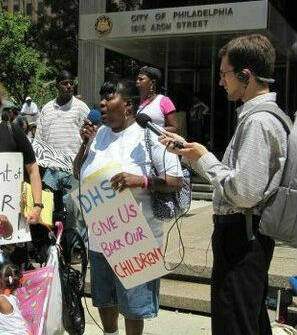 Car­olyn Hill still remem­bers the night, two years ago, when the Philadel­phia Depart­ment of Human Ser­vices (DHS) came to take her nieces away. The girls, ages 1 and 2, had been placed with her about a year ear­li­er, after being removed from their moth­er's cus­tody due to her men­tal health issues. Hill thought she'd begun the process of adopt­ing the girls: She'd tak­en par­ent­ing class­es at the request of the agency and had begun paper­work so that she could go for­ward with adoption.
But on Tues­day April 3, 2012, Hill got a call from the Luther­an Chil­dren and Fam­i­ly Ser­vice (LCFS), a non­prof­it that had tak­en over her case the pre­vi­ous fall (Philadel­phi­a's DHS farms out its care­tak­ing ser­vices to a num­ber of non­prof­its). The caller said that she need­ed to speak with Hill that day. The social work­er who had called Hill arrived at her home after 5pm and, with­out pri­or warn­ing, took Hill's nieces away. ​"She did­n't even let them fin­ish eat­ing — I had stopped to get them some food, but she just took them right on out," Hill tells In These Times. (LCFS did not return a request for comment.)
When Hill called DHS to find out why the girls had been removed from her care, she was told that every­one was on East­er vaca­tion (East­er would fall on the fol­low­ing Sun­day, a full five days away). ​"It felt like it was a set-up for them to come get the kids [at a time] when I can't get in touch with any­body," she says. Hill went to court the fol­low­ing Mon­day. She says she was not informed by the agency of how she could fight the removal: ​"I was sup­posed to go with­in 30 days [of the court hear­ing] and file an appeal — file for stand­ing — but nobody told me about that."
Two years lat­er, she still isn't sure why the girls were removed from her cus­tody. The answers, she says, keep chang­ing. The agen­cies brought up a drug con­vic­tion for which she served six months' pro­ba­tion in 1999 — some­thing the city knew about when she first took cus­tody of her nieces, she says — and accused her of hav­ing men­tal health issues because she pos­sessed Ambi­en to help her sleep. They also com­plained that she did not have a GED.
Hill began to seek ways to get her nieces back, and soon found an ally: Every Moth­er is a Work­ing Moth­er Net­work (EMWM), a Philadel­phia- and Los Ange­les-based group that works to com­bat the deval­u­a­tion of par­ent­ing labor, par­tic­u­lar­ly as done by low-income women of col­or. Mem­bers of the group have advised her, helped her find a lawyer, and will be avail­able to tes­ti­fy that she would be a fit par­ent for her nieces.
EMWM sees Hill's case as an exam­ple of an ongo­ing prob­lem not just in Philadel­phia, but also across the coun­try and around the world: Pover­ty and a lack of oppor­tu­ni­ty become an excuse to sep­a­rate chil­dren from their families
​"How dare they say that she can­not have the chil­dren because she does­n't have a high school diplo­ma?" asks Sel­ma James, author of Sex, Race and Class, cofounder of the 1970s Inter­na­tion­al Wages for House­work Cam­paign and coor­di­na­tor of the Glob­al Women's Strike, an inter­na­tion­al net­work that aims to val­ue the car­ing labor dis­pro­por­tion­ate­ly per­formed by women, of which EMWM is a mem­ber. James con­tin­ues, ​"The class bias that says that any­body who does­n't have a GED there­fore can't be a par­ent is so bla­tant that it's terrifying."
​"Pover­ty is con­fused with neglect," says Phoebe Jones, a mem­ber of the EMWM who has been work­ing close­ly with Hill on her case. Indeed, pover­ty-relat­ed prob­lems like a lack of access to hous­ing rou­tine­ly result in chil­dren being tak­en away from fam­i­lies. Accord­ing to the Nation­al Coali­tion for Child Pro­tec­tion Reform, some 30 per­cent of fos­ter chil­dren could be home now if their fam­i­lies had hous­ing. Jones says that it would be cheap­er, cer­tain­ly in Philadel­phia, to pro­vide hous­ing assis­tance than to pay for a child to go into fos­ter care. ​"If you are a moth­er, you don't get any [finan­cial] help. But if your kid gets put in fos­ter care, that per­son gets help."
To James, the fact that care work remains unpaid or under­val­ued sets the tone for the treat­ment of care­givers. ​"The car­ers, the clean­ers, the nurs­es, the teach­ers, espe­cial­ly of the lit­tle ones: All of us are either unwaged or low-waged. Either we are not respect­ed at all or we are mar­gin­al. The repro­duc­tion of the human race has been degrad­ed to a mar­gin­al activ­i­ty, and it opens the door to all kinds of brutality."
Pri­va­ti­za­tion problems?
Hill says her cus­tody prob­lems began in the fall of 2011 when LCFS took over her case from anoth­er sub­con­tract­ed agency, sev­er­al months after the city placed the girls in her care. LCFS, she says, came out to con­duct a par­ent capac­i­ty eval­u­a­tion of her and get a GED. She was told she had until July to enroll in the GED pro­gram; but, she says, the social work­er came to col­lect the kids in April.
Since then, she says, it's been a series of shift­ing goal­posts and mis­in­for­ma­tion. The DHS, accord­ing to Jones, said in writ­ing that they'd sup­port the chil­dren being returned to Hill, and then reneged. Even with a lawyer rep­re­sent­ing her and the sup­port of her com­mu­ni­ty and EMWM she has­n't been able to see the chil­dren since January.
Philadel­phia has one of the high­est rates of child removal in the coun­try. Its DHS has a his­to­ry of prob­lems — and a his­to­ry of pri­va­ti­za­tion. In 2008, after the high-pro­file 2006 death of dis­abled 14-year-old Danieal Kel­ly, crim­i­nal charges were brought against two DHS case work­ers and two employ­ees of a pri­vate agency hired by the city to over­see chil­dren in the child pro­tec­tion sys­tem. The head of that agency was even­tu­al­ly con­vict­ed, accord­ing to the Philadel­phia Inquir­er, of ​"invol­un­tary manslaugh­ter, child endan­ger­ment, reck­less endan­ger­ment, per­jury, crim­i­nal con­spir­a­cy, and four charges involv­ing what pros­e­cu­tors called a ​'forgery fest' to cre­ate a case file to fool inves­ti­ga­tors into think­ing Kel­ly actu­al­ly got in-home services."
In a 2008 arti­cle for the Philadel­phia Dai­ly News and WHYY's ​"It's Our Mon­ey" blog, Ben Wax­man traced the flow of fed­er­al, state and city dol­lars through DHS to pri­vate con­trac­tors, often reli­gious, and asked, ​"How sound is the pol­i­cy of hav­ing the wel­fare of chil­dren in the hands of pri­vate orga­ni­za­tions that are not account­able or sub­ject to pub­lic scruti­ny? Should DHS be con­sid­ered a social ser­vices depart­ment when in fact its real job is the man­age­ment of a stag­ger­ing num­ber of con­tracts, worth over a half-bil­lion dollars?"
And yet the city has dou­bled down on its use of pri­vate agen­cies since then. Its Improv­ing Out­comes for Chil­dren (IOC) process, the plan­ning for which began in 2008, explic­it­ly aims to "[shift] the man­age­ment of child wel­fare cas­es from the city to com­mu­ni­ty-based orga­ni­za­tions." Even Frank Cer­vone, the exec­u­tive direc­tor of the Sup­port Cen­ter for Child Advo­cates, an agency that works with the city on this pro­gram, expressed some hes­i­ta­tion as the pro­gram began. ​"We remain cau­tious about the locus of respon­si­bil­i­ty and account­abil­i­ty," he told a reporter. (The DHS com­mis­sion­er is step­ping down in August to take anoth­er job — it is unclear if any­thing will change under her replacement.)
Jones con­sid­ers the use of mul­ti­ple pri­vate con­trac­tors part of the prob­lem in Car­olyn Hill's case. "[The agen­cies] are not act­ing like pub­lic ser­vants. They're act­ing like pub­lic mas­ters," she says. ​"Part­ly that's because a lot of it is privatized."
It's not just Philadel­phia that has had prob­lems with social ser­vices and pri­va­ti­za­tion. Indi­ana attempt­ed to pri­va­tize a chunk of its health and human ser­vices in 2006 and wound up con­sid­er­ing ban­ning pri­va­ti­za­tion of Med­ic­aid and food stamp man­age­ment because users had so many prob­lems get­ting ser­vices. Back in 2000, a Den­ver Post inves­ti­ga­tion found that Col­orado was spend­ing mil­lions on pri­vate agen­cies that over­saw more than half of the state's fos­ter chil­dren and pock­et­ed more than three-quar­ters of the mon­ey spent on fos­ter care. And not far from Philadel­phia, a scan­dal rocked Luzerne Coun­ty, Penn­syl­va­nia, in 2008 when juve­nile court judges were found to be accept­ing kick­backs from pri­vate juve­nile deten­tion cen­ters in exchange for fun­nel­ing kids into their facilities.
Pun­ish­ing the poor
Dorothy Roberts, pro­fes­sor of law and soci­ol­o­gy at the Uni­ver­si­ty of Penn­syl­va­nia, attrib­ut­es the cur­rent puni­tive trends in social ser­vice to a neolib­er­al ide­o­log­i­cal frame­work that believes pri­vate solu­tions are the best answer to social prob­lems. Roberts has spent decades research­ing child wel­fare sys­tems. Her 2001 book, Shat­tered Bonds: The Col­or of Child Wel­fare, argued that cur­rent pol­i­cy reflects a polit­i­cal choice to pun­ish fam­i­lies rather than address the soci­etal caus­es of black pover­ty. She has not­ed that about one-third of chil­dren in fos­ter care are black, despite black chil­dren mak­ing up only 15 per­cent of the nation's children.
In a 2012 arti­cle in the UCLA Law Review[PDF], Roberts wrote:
The end to the wel­fare safe­ty net coin­cid­ed with the pas­sage of the Adop­tion and Safe Fam­i­lies Act in 1997, which empha­sized adop­tion as the solu­tion to the ris­ing fos­ter care pop­u­la­tion. Both can be seen as neolib­er­al mea­sures that shift­ed gov­ern­ment sup­port for chil­dren toward reliance on pri­vate employ­ment and adop­tive par­ents to meet the needs of strug­gling fam­i­lies. This con­ver­gence marked the first time the fed­er­al gov­ern­ment man­dat­ed that states pro­tect chil­dren from abuse and neglect with­out a cor­re­spond­ing man­date to pro­vide basic eco­nom­ic sup­port to poor fam­i­lies. Both the wel­fare and fos­ter care sys­tems, then, respond­ed to a grow­ing black female clien­tele by reduc­ing ser­vices to fam­i­lies while inten­si­fy­ing their puni­tive func­tions. The main mis­sion of child wel­fare depart­ments became pro­tect­ing chil­dren not from social dis­ad­van­tages stem­ming from pover­ty and racial dis­crim­i­na­tion but from mal­treat­ment inflict­ed by their mothers.
This is the same point made by Jones and James; instead of fix­ing pover­ty, Roberts notes, the state ​"address­es fam­i­ly eco­nom­ic depri­va­tion with child removal rather than ser­vices and finan­cial resources." It stereo­types and pun­ish­es low-income African-Amer­i­can women as ​"aggres­sive" and ​"cog­ni­tive­ly delayed" with­out ques­tion­ing those labels. Offi­cials are often bla­tant in their assump­tion that black par­ents, par­tic­u­lar­ly black women, are incom­pe­tent. Women like Car­olyn Hill.
Mean­while, Wax­man point­ed out (using 2008 num­bers), ​"If the DHS bud­get were divid­ed by the num­ber of chil­dren it serves, each one would get a check for $34,000 every year." That might do more to solve the prob­lems caused by pover­ty than remov­ing those chil­dren from their homes.
EMWM points out that when the state is over­stretched in tak­ing chil­dren away from fam­i­lies whose only prob­lem is pover­ty, it can miss the cas­es in which a child actu­al­ly is in imme­di­ate danger.
That dan­ger, James says, can come in part from women being eco­nom­i­cal­ly unable to leave dan­ger­ous cir­cum­stances — women who face domes­tic vio­lence, she points out, some­times have their chil­dren tak­en away because they them­selves have been abused.
And right now, in Detroit, as water is being shut off to thou­sands who were late on exor­bi­tant bills, par­ents fear that if any­one finds out they don't have water, the Depart­ment of Human Ser­vices will take their chil­dren. The fear of los­ing one's chil­dren then becomes a bar­ri­er to ask­ing for need­ed help.
An uphill battle
On June 11, Car­olyn Hill went to Fam­i­ly Court for the lat­est hear­ing in her two-year fight to adopt her nieces. She had lined up 12 wit­ness­es to come tes­ti­fy on her behalf, includ­ing fam­i­ly mem­bers, friends and neigh­bors, the pas­tor from her church, who used to see the girls with her every Sun­day, and five mem­bers of EMWM. They were all on a list pro­vid­ed to the court by Hill's lawyer.
Only one of them was allowed to tes­ti­fy, Dr. Steven Samuel from Jef­fer­son Hos­pi­tal, who had eval­u­at­ed Hill and found her able to care for the chil­dren. Mean­while, accord­ing to Hill and Jones, the rel­a­tive with cus­tody of the chil­dren had no one list­ed to tes­ti­fy. The only per­son to tes­ti­fy on her side was the children's ther­a­pist, who had not seen the girls since August of 2013. And yet Hill lost her case.
​"Every time they asked me a ques­tion and I went to answer, they'd tell me to just answer the ques­tion yes or no," Hill says.
​"Because fam­i­ly court is closed, all kinds of mis­in­for­ma­tion can go on, we don't know what goes on behind closed doors," says Jones.
Hill has filed a new appeal. Mean­while, she has­n't seen the chil­dren since the end of Jan­u­ary. ​"First I was see­ing them four times a month, two hours every time, four hours in my home and four hours at the agency," she says. ​"Then they said when the kids would come from my house they would act up, so they cut the vis­its down to two hours at the agency." Then they cut them down to one hour, and then none at all.
The only rea­son she can think of that the chil­dren remain with the oth­er fam­i­ly is that they have more mon­ey than she does. The chil­dren may be spend­ing more time in day care with the new fam­i­ly, accord­ing to Hill, but the time she spent car­ing for them is seen as less valu­able because she is poor. James says, ​"They've made absolute­ly clear that a good moth­er is one who dumps their kid in some child care or oth­er and gets a job. Stack­ing super­mar­ket shelves, any­thing you do is bet­ter than tak­ing care of your child or chil­dren. In oth­er words, if you're not exploit­ed you're nobody."
Since the 1996 wel­fare reform bill, low-income women get lit­tle finan­cial help rais­ing chil­dren, and then their pover­ty is used as a strike against them. They are pushed to find work because, James says, the soci­ety does­n't see the care work they do as wor­thy of finan­cial sup­port. Mon­ey, it seems, is everything.
​"We're fight­ing so hard because it can­not be the case that income is the deter­mi­nant of whether or not you're a good fam­i­ly," Jones says. ​"If that's the case half of Philadel­phia would lose their kids."
Sarah Jaffe
is a for­mer staff writer at
In These Times
and author of
Nec­es­sary Trou­ble: Amer­i­cans in Revolt
, which Robin D.G. Kel­ley called ​
"
The most com­pelling social and polit­i­cal por­trait of our age." You can fol­low her on Twit­ter
@sarahljaffe
.