The Slippery Slope of "Buy American" Campaigns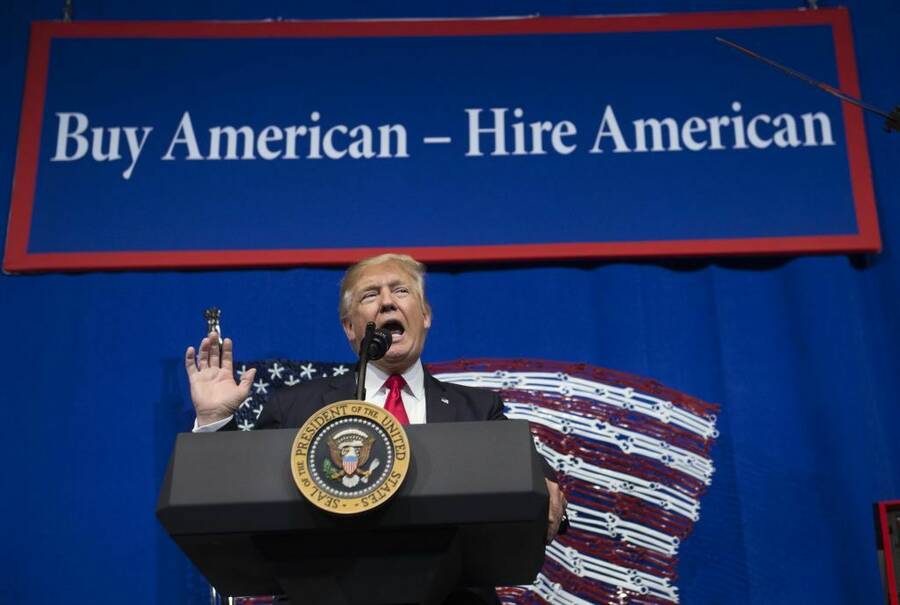 This arti­cle was first post­ed by Labor Notes.
Backed by a huge ban­ner read­ing ​"Buy Amer­i­can — Hire Amer­i­can," Pres­i­dent Trump declared in March that his admin­is­tra­tion would make the U.S. the ​"car cap­i­tal of the world" again.
"For decades, I have raised the alarm over unfair for­eign trade prac­tices that have robbed com­mu­ni­ties of their wealth and robbed our peo­ple of their abil­i­ty to pro­vide for their fam­i­lies," Trump said. ​"They've stolen our jobs, they've stolen our com­pa­nies, and our politi­cians sat back and watched, hope­less. Not anymore."
Who is ​"they"? Based on the president's pre­vi­ous com­ments, two safe guess­es are Mex­i­co and Chi­na. Since the inau­gu­ra­tion he has been push­ing to restrict trade and immi­gra­tion. Mean­while Auto Work­ers (UAW) Pres­i­dent Den­nis Williams has announced that his union will launch a new ​"Buy Amer­i­can" campaign.
U.S. his­to­ry has seen at least three waves of ​"Buy Amer­i­can" fer­vor. Chris Brooks inter­viewed Dana Frank, his­to­ry pro­fes­sor at the Uni­ver­si­ty of Cal­i­for­nia, San­ta Cruz, and author of Buy Amer­i­can: The Untold Sto­ry of Eco­nom­ic Nation­al­ism, about the his­to­ry and impact of these campaigns.
Labor Notes: The idea behind ​"Buy Amer­i­can" cam­paigns sounds good to many peo­ple. What do you think of this idea?
Dana Frank: ​"Buy Amer­i­can" cam­paigns oper­ate on the assump­tion that if you buy a prod­uct made in the Unit­ed States, then the com­pa­ny mak­ing the prof­it off that sale is going to rein­vest in good union jobs in the Unit­ed States — but that is very rarely the case. The com­pa­nies didn't agree to that part­ner­ship. They have instead used those prof­its to lob­by for free-trade agree­ments that grease the skids for them to go overseas.
Peo­ple who might think they can sep­a­rate out some sort of pro­gres­sive ver­sion of ​"Buy Amer­i­can" will ulti­mate­ly be unable to escape it slid­ing into ​"Hire Amer­i­can" or ​"Amer­i­ca First," and the notion that the Unit­ed States shouldn't be con­cerned with the strug­gles of work­ing peo­ple in oth­er countries.
Trump's for­mu­la­tion goes from ​"Buy Amer­i­can" to ​"Hire Amer­i­can," which very clear­ly calls for dis­crim­i­na­tion against immi­grants, includ­ing autho­rized immi­grants. He's fan­ning the flames of racism here. There's a rea­son why Trump and prob­a­bly Steve Ban­non and Stephen Miller put that right up top in his inau­gur­al. They know what they are doing. They want to split native-born work­ing peo­ple away from immi­grant workers.
I find it trag­ic that the U.S. labor move­ment would fol­low Trump into his trap. It's only a month lat­er and already some labor lead­ers are say­ing, ​"Yes, let's build the Key­stone XL pipeline using union prod­ucts made in the Unit­ed States." And then of course Trump exempt­ed the Key­stone pipeline from his own ​"Buy Amer­i­can" pledge.
Elite sup­port for ​"Buy Amer­i­can" cam­paigns has almost always con­tained that kind of hypocrisy. Trump isn't him­self buy­ing Amer­i­can. But he or his advi­sors are smart. They are using the ​"Buy Amer­i­can, Hire Amer­i­can" call to dri­ve a wedge between Amer­i­can work­ing peo­ple and work­ing peo­ple in the rest of the world — and a lot of peo­ple are falling for it.
This isn't the first time that a union has fall­en for a ​"Buy Amer­i­can" cam­paign. Can you talk about anoth­er recent example?
"Buy Amer­i­can" cam­paigns became pop­u­lar in the late 1970s as work­ing peo­ple were try­ing to address cap­i­tal flight and employ­ers began turn­ing on unions, demand­ing con­ces­sions. Again these cam­paigns had a very strong racist com­po­nent. Vin­cent Chin, a Chi­nese-Amer­i­can man, was killed by an auto plant super­in­ten­dent and a laid-off auto work­er, both white, in Detroit in the ear­ly ​'80s.
Peo­ple trashed Japan­ese cars — even ones that were made by union work­ers in Japan, and Japan­ese cars made in the Unit­ed States with union labor. This wasn't just the auto work­ers, but many man­u­fac­tur­ing unions. The Gar­ment Work­ers launched an anti-Asian ​"Buy Amer­i­can" cam­paign, but had to back away from it due to pres­sure from Asian-Amer­i­can activists.
Like peo­ple in the 1970s, peo­ple today want to return to the so-called ​"Gold­en Age" when there were lots of jobs in heavy indus­try that were union, paid real­ly well, and pro­vid­ed excel­lent ben­e­fits. They imag­ine that ​"Buy Amer­i­can" might help to bring all that back.
The prob­lem is that employ­ers have long since turned on the labor move­ment and dri­ven down work­ing con­di­tions so far that is very hard to return to that world. The strat­e­gy being pur­sued by employ­ers today is total­ly dif­fer­ent from what unions faced in the 1950s and 1960s, when the Steel­work­ers and Auto Work­ers had these great jobs.
And, of course, that seem­ing ​"Gold­en Age" puts the focus on only one par­tic­u­lar sec­tor. Steel jobs were not nat­u­ral­ly won­der­ful jobs with pen­sions and health care and high salaries. They had been hideous jobs where peo­ple worked 12 hours a day, sev­en days a week, until the Con­gress of Indus­tri­al Orga­ni­za­tions built pow­er­ful unions in the 1930s and changed all that.
Man­u­fac­tur­ing is only 8 per­cent of all employ­ment in the Unit­ed States. What we need is a mas­sive grass­roots move­ment that makes all jobs — whether they are in man­u­fac­tur­ing, or in ser­vice, or in agri­cul­ture — into real­ly great jobs with union protections.
What was the impact of the pre­vi­ous attempt at ​"Buy Amer­i­can" by the Auto Work­ers? Even on its own terms, was it successful?
"Buy Amer­i­can" cam­paigns gen­er­al­ly don't work. Like any con­sumer cam­paign, there is a rea­son why peo­ple buy a prod­uct in the first place. Espe­cial­ly when you get to big-tick­et items like a car, the ques­tion is: Is that extra $5,000 that you might spend worth it to buy a car that doesn't fit your require­ments or preferences?
I don't want to insult Amer­i­can-made cars here, but there are many rea­sons why peo­ple might want to buy a car made in anoth­er coun­try. Even the union label only worked his­tor­i­cal­ly on things that peo­ple bought for very lit­tle mon­ey and that they bought in front of oth­er work­ing peo­ple, like cigars.
So the UAW is real­ly ask­ing for an enor­mous con­sumer sac­ri­fice in the name of ​"Buy­ing Amer­i­can." When that is the line in the sand, then oth­er work­ers, even your union co-work­ers, can become your sup­posed ene­my if they don't buy Amer­i­can, as well as work­ing peo­ple in oth­er coun­tries — as opposed to cor­po­ra­tions and racist politicians.
In today's glob­al econ­o­my, it seems like it would be impos­si­ble to buy any item that is made in just one country.
That train left the sta­tion long ago. Prod­ucts are made in sev­er­al coun­tries because U.S.-based cor­po­ra­tions have fled over­seas look­ing for cheap labor and low­er envi­ron­men­tal reg­u­la­tions. They man­u­fac­ture pieces in three dif­fer­ent coun­tries and then assem­ble them togeth­er in the Unit­ed States, so even if you want­ed to buy that pure Amer­i­can prod­uct, in the vast major­i­ty of cas­es it doesn't exist.
And there is an even ear­li­er his­to­ry of ​"Buy Amer­i­can" campaigns?
These cam­paigns go all the way back to the Amer­i­can Rev­o­lu­tion, when peo­ple were reject­ing British prod­ucts, like cloth­ing made in Britain. George Wash­ing­ton wore what was called ​"home­spun," cloth made in the colonies, as a protest against the British.
Even in that peri­od you can see some of the prob­lems with ​"Buy Amer­i­can" start­ing to appear. Wash­ing­ton had his slaves make his home­spun. So just because the cloth­ing was made in what was becom­ing the Unit­ed States, that doesn't mean that it was made with good work­ing con­di­tions. In fact, it was as ter­ri­ble as you can get.
It was com­mon for even lead­ing rev­o­lu­tion­ary fig­ures and famous Found­ing Fathers like John Han­cock to pro­claim that the pub­lic should buy things made in the colonies — all while import­ing things behind the scenes and prof­it­ing from it. That is a trend that also con­tin­ues through today. Many Trump prod­ucts are made out­side the Unit­ed States.
And then the next big ​"Buy Amer­i­can" wave was in the 1930s dur­ing the Great Depression?
That's right. It was launched by William Ran­dolph Hearst, a famous media mag­nate who owned 27 news­pa­pers. In 1932 and 1933, Hearst called on the Amer­i­can peo­ple to ​"Buy Amer­i­can" and ​"Hire Amer­i­can" under the ban­ner of putting ​"Amer­i­ca First."
Hearst's cam­paign was very explic­it­ly anti-immi­grant, specif­i­cal­ly anti-Japan­ese. He claimed that the U.S. faced a so-called ​"Yel­low Per­il," which alleged­ly includ­ed both Japan­ese peo­ple and prod­ucts made in Japan.
But there were only a few hun­dred thou­sand peo­ple of Japan­ese descent liv­ing in the Unit­ed States at the time, in com­par­i­son with mil­lions of Ital­ians or Greeks or Ger­mans. Those are all immi­grants, but the cam­paign specif­i­cal­ly blamed Japan and Japan­ese immi­grants for the deep cri­sis fac­ing the U.S. econ­o­my. For­eign­er-bash­ing became part of the ​"Buy Amer­i­can" package.
Hearst's racism and the decades of anti-Asian atti­tudes that it fed had seri­ous con­se­quences. Ten years lat­er, over 100,000 Amer­i­cans of Japan­ese descent, two-thirds of them cit­i­zens, lost their busi­ness­es, their homes, and were locked away in intern­ment camps in the name of com­bat­ing the ​"Yel­low Peril."
Trump is being pre­sent­ed as the oth­er side of the trade debate to Clin­ton and the Democ­rats, but nei­ther can­di­date or par­ty was offer­ing a posi­tion that would real­ly ben­e­fit work­ing people.
Hillary Clin­ton was not offer­ing a cri­tique of free-trade pol­i­tics, and Trump was. That's part of what makes the Trump cam­paign so dan­ger­ous. But if you look at his cab­i­net and his poli­cies, he is actu­al­ly dri­ving work­ing and liv­ing stan­dards down with­in the U.S.
You see that most obvi­ous­ly with health care, but also with work­place pro­tec­tions on health and safe­ty. He nom­i­nat­ed Andrew Puzder for Sec­re­tary of Labor — a cor­po­rate CEO who doesn't believe in labor-law enforce­ment or the right of work­ing peo­ple to form unions. Trump has repeat­ed­ly shown his hand, but the main­stream media has done a poor job of expos­ing his his­to­ry of being a union buster and exploit­ing work­ers all over the world.
Many labor unions run ​"Buy Amer­i­can" cam­paigns as part of a push for the gov­ern­ment to pro­cure domes­tic or local goods and ser­vices. What are your thoughts on this strategy?
We need a pro­gres­sive trade pol­i­cy that includes using U.S. funds to sup­port good union jobs in this coun­try. That can include gov­ern­ment pro­cure­ment laws.
But Trump isn't going after oth­er poli­cies that under­mine U.S. exports to oth­er coun­tries or that attack labor rights. He's just using this one ele­ment in a very hyp­o­crit­i­cal way to pre­tend he's work­ing in the inter­ests of work­ing peo­ple in the U.S.
And there's a big dif­fer­ence between gov­ern­ment spend­ing poli­cies — which are tied into com­plex glob­al trade agree­ments that are designed, oth­er­wise, to under­mine labor rights and envi­ron­men­tal pro­tec­tions — and cam­paigns that tar­get con­sumers and all their shop­ping choic­es. Once you call it ​"Buy Amer­i­can," you're call­ing for a whole lot more than just trade poli­cies and eco­nom­ic planning.
Trump has recent­ly signed a ​"Buy American/​Hire Amer­i­can" exec­u­tive order that tar­gets H‑1B visas. What is your take on this order, and what will its like­ly impact be?
You can see Trump here play­ing the anti-immi­grant card, try­ing to turn work­ing peo­ple in the U.S. against immi­grants so we won't point the fin­ger at plu­to­crats like Trump and his cab­i­net. The nation­al­ism of his slo­gans plays right into this as he tries to split the U.S. work­ing class.
H‑1B visas are, indeed, used by cor­po­ra­tions to dri­ve down wages and work­ing con­di­tions for elite tech­ni­cal work­ers in the U.S. But restrict­ing those visas large­ly won't help work­ing-class peo­ple, since most H‑1B visas are used for jobs with high­ly spe­cial­ized edu­ca­tion and skills that most work­ing peo­ple don't have. Use of those visas by cor­po­ra­tions does dri­ve down wages and work­ing con­di­tions for mid­dle-class peo­ple, though — which in turn exerts down­ward pres­sure on work­ing peo­ple in general.
It seems like ​"Buy Amer­i­can" is the kind of cam­paign that unions land on when they don't have any oth­er con­crete ideas for how to reform trade policies.
We do have to fig­ure out what alter­na­tive pro­gres­sive trade poli­cies look like. We shouldn't go down the free-trade path. Nei­ther should we be going down the path of nation­al­ist protectionism.
We need to be talk­ing about a third path that puts labor rights and union pro­tec­tions first, as part of a broad­er pack­age that also address­es immi­gra­tion and is com­mit­ted to rais­ing work­ing people's wages and work­ing con­di­tions all over the world, through cross-bor­der sol­i­dar­i­ty. We need domes­tic eco­nom­ic devel­op­ment that fos­ters good jobs with­out play­ing into an anti-immi­grant framework.
Ide­al­ly, our unions would be the orga­ni­za­tions in which work­ing peo­ple would be fig­ur­ing all of this out.
Chris Brooks
is a staff writer and labor edu­ca­tor at
Labor Notes,
where he cov­ers the Unit­ed Auto Work­ers. He is a mem­ber of the Nation­al Writ­ers Union (UAW Local
1981
).