How the Demonization of "Gossip" Is Used to Break Women's Solidarity
Gender oppression shaped the notion of "idle women's talk."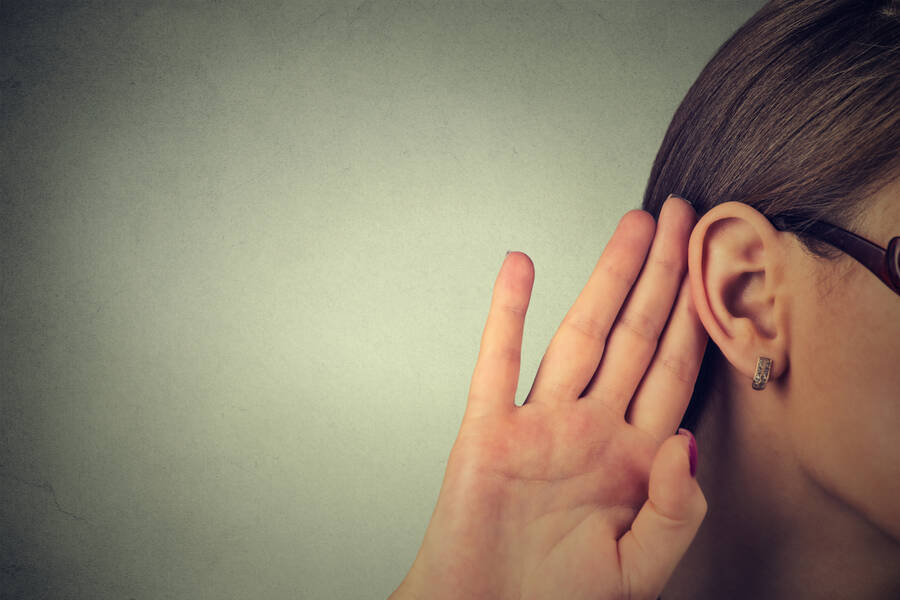 The fol­low­ing is an excerpt from Sil­via Fed­eri­ci's book, Witch­es, Witch-Hunt­ing, and Women.
This conception of 'gossip,' as we have seen, emerged in a particular historical context.
Trac­ing the his­to­ry of the words fre­quent­ly used to define and degrade women is a nec­es­sary step if we are to under­stand how gen­der oppres­sion func­tions and repro­duces itself. The his­to­ry of ​'gos­sip' is emblem­at­ic in this con­text. Through it we can fol­low two cen­turies of attacks on women at the dawn of mod­ern Eng­land, when a term com­mon­ly indi­cat­ing a close female friend turned into one sig­ni­fy­ing idle, back­bit­ing talk, that is, talk poten­tial­ly sow­ing dis­cord, the oppo­site of the sol­i­dar­i­ty that female friend­ship implies and gen­er­ates. Attach­ing a den­i­grat­ing mean­ing to the term indi­cat­ing friend­ship among women served to destroy the female social­i­ty that had pre­vailed in the Mid­dle Ages, when most of the activ­i­ties women per­formed were of a col­lec­tive nature and, in the low­er class­es at least, women formed a tight-knit com­mu­ni­ty that was the source of a strength unmatched in the mod­ern era.
Traces of the use of the word are fre­quent in the lit­er­a­ture of the peri­od. Deriv­ing from the Old Eng­lish terms God and sibb (akin), ​'gos­sip' orig­i­nal­ly meant ​'god­par­ent,' one who stands in a spir­i­tu­al rela­tion to the child to be bap­tized. In time, how­ev­er, the term was used with a broad­er mean­ing. In ear­ly mod­ern Eng­land the word ​'gos­sip' referred to com­pan­ions in child­birth not lim­it­ed to the mid­wife. It also became a term for women friends, with no nec­es­sary deroga­to­ry con­no­ta­tions. In either case, it had strong emo­tion­al con­no­ta­tions. We rec­og­nize it when we see the word in action, denot­ing the ties that bound women in pre­mod­ern Eng­lish society.
We find a par­tic­u­lar exam­ple of this con­no­ta­tion in a mys­tery play of the Chester Cycle, sug­gest­ing that ​'gos­sip' was a term of strong attach­ment. Mys­tery plays were the prod­uct of guild mem­bers, who by cre­at­ing and financ­ing these rep­re­sen­ta­tions tried to boost their social stand­ing as part of the local pow­er struc­ture. Thus, they were com­mit­ted to uphold­ing expect­ed forms of behav­ior and sat­i­riz­ing those to be con­demned. They were crit­i­cal of strong, inde­pen­dent women, and espe­cial­ly of their rela­tions to their hus­bands, to whom — the accu­sa­tion went — they pre­ferred their friends. As Thomas Wright reports in A His­to­ry of Domes­tic Man­ners and Sen­ti­ments in Eng­land Dur­ing the Mid­dle Ages (1862), they fre­quent­ly depict­ed them as con­duct­ing a sep­a­rate life, often ​"assem­bling with their ​'gos­sips' in pub­lic tav­erns to drink and amuse themselves."
Thus, in one of the mys­tery plays of the Chester Cycle rep­re­sent­ing Noah urg­ing peo­ple and ani­mals to enter the ark, the wife is shown sit­ting in the tav­ern with her ​'gos­sips' and refus­ing to leave when the hus­band calls for her, even as the waters are ris­ing, ​"unless she is allowed to take her gos­sips with her." These, as report­ed by Wright, are the words that she was made to utter by the (clear­ly dis­ap­prov­ing) mystery's author:
Yes, Sir, set up your sail,
And row forth with evil hail,
for with­out fail,
I will not out of this town,
But I have my gos­sips, everyone,
One foot fur­ther I will not go.
They will not drown, by St. John

And I may save their lives!
They love me full well, by Christ!
But you let them into your boat,
Oth­er­wise row now where you like
And get your­self a new wife.
In the play the scene ends with a phys­i­cal fight in which the wife beats the husband.
"The tav­ern," Wright points out, ​"was the resort of women of the mid­dle and low­er orders who assem­bled there to drink and gos­sip." He adds: ​"The meet­ings of gos­sips in tav­erns form the sub­jects of many of the pop­u­lar songs of the fif­teenth and six­teenth cen­turies, both in Eng­land and France." As an exam­ple, he cites a song, pos­si­bly from the mid­dle of the fif­teenth cen­tu­ry, that describes one of these meet­ings. The women here, ​"hav­ing met acci­den­tal­ly," decide to go ​"where the wine is best," two by two to not attract atten­tion and be detect­ed by their hus­bands. Once arrived, they praise the wine and com­plain about their mar­i­tal sit­u­a­tions. Then they go home, by dif­fer­ent streets, ​"telling their hus­bands that they had been to church."

The lit­er­a­ture of mys­ter­ies and moral­i­ty plays belongs to a peri­od of tran­si­tion in which women still main­tained a con­sid­er­able degree of social pow­er, but their social posi­tion in urban areas was increas­ing­ly under threat, as the guilds (that spon­sored the pro­duc­tion of the plays) were begin­ning to exclude them from their ranks and insti­tute new bound­aries between the home and pub­lic space. Not sur­pris­ing­ly, then, women in them were often chas­tised and rep­re­sent­ed as quar­rel­some, aggres­sive, and ready to give bat­tle to their hus­bands. Typ­i­cal of this trend was the rep­re­sen­ta­tion of the ​'bat­tle for the breech­es,' where the woman appeared as the dom­i­na­trix — whip­ping her hus­band, strad­dling across his back, in a rever­sal of roles clear­ly intend­ed to shame men for allow­ing their wives to be ​'on the top.'

These satir­i­cal rep­re­sen­ta­tions, expres­sions of a grow­ing misog­y­nous sen­ti­ment, were instru­men­tal to the pol­i­tics of the guilds that were striv­ing to become exclu­sive­ly male pre­serves. But the rep­re­sen­ta­tion of women as strong, self-assert­ing fig­ures also cap­tured the nature of the gen­der rela­tions of the time, for nei­ther in rur­al nor urban areas were women depen­dent on men for their sur­vival; they had their own activ­i­ties and shared much of their lives and work with oth­er women. Women coop­er­at­ed with each oth­er in every aspect of their life. They sewed, washed their clothes, and gave birth sur­round­ed by oth­er women, with men rig­or­ous­ly exclud­ed from the cham­ber of the deliv­er­ing one. Their legal sta­tus reflect­ed this greater auton­o­my. In Italy in the four­teenth cen­tu­ry they could still go inde­pen­dent­ly to court to denounce a man if he assault­ed or molest­ed them.

By the six­teenth cen­tu­ry, how­ev­er, women's social posi­tion had begun to dete­ri­o­rate, satire giv­ing way to what with­out exag­ger­a­tion can be described as a war on women, espe­cial­ly of the low­er class­es, reflect­ed in the increas­ing num­ber of attacks on women as ​'scolds' and dom­i­neer­ing wives and of witch­craft accu­sa­tions. Along with this devel­op­ment, we begin to see a change in the mean­ing of gos­sip, increas­ing­ly des­ig­nat­ing a woman engag­ing in idle talk.
The tra­di­tion­al mean­ing lin­gered on. In 1602, when Samuel Row­lands wrote Tis Mer­rie When Gos­sips Meete, a satir­i­cal piece describ­ing three Lon­don women spend­ing hours in a tav­ern talk­ing about men and mar­riages, the word was still used to sig­ni­fy female friend­ships, imply­ing that ​"women could cre­ate their social net­works and their own social space" and stand up to male author­i­ty. But as the cen­tu­ry pro­gressed the word's neg­a­tive con­no­ta­tion became the preva­lent one. As men­tioned, this trans­for­ma­tion went hand in hand with the strength­en­ing patri­ar­chal author­i­ty in the fam­i­ly and women's exclu­sion from the crafts and guilds, which, com­bined with the process of enclo­sures, led to a ​"fem­i­niza­tion of pover­ty." With the con­sol­i­da­tion of the fam­i­ly and male author­i­ty with­in it, rep­re­sent­ing the pow­er of the state with regard to wives and chil­dren, and with the loss of access to for­mer means of liveli­hood both women's pow­er and female friend­ships were undermined.
Thus, while in the Late Mid­dle Ages a wife could still be rep­re­sent­ed as stand­ing up to her hus­band and even com­ing to blows with him, by the end of the six­teenth cen­tu­ry she could be severe­ly pun­ished for any demon­stra­tion of inde­pen­dence and any crit­i­cism she made against him. Obe­di­ence — as the lit­er­a­ture of the time con­stant­ly stressed — was a wife's first duty, enforced by the Church, the law, pub­lic opin­ion, and ulti­mate­ly by the cru­el pun­ish­ments that were intro­duced against the ​'scolds,' like the ​'scold's bri­dle,' also called the ​'branks,' a sadis­tic con­trap­tion made of met­al and leather that would tear the woman's tongue if she attempt­ed to talk. This was an iron frame­work that enclosed the woman's head.
A bri­dle bit about two inch­es long and one inch wide pro­ject­ed into the mouth and pressed down on top of the tongue; fre­quent­ly it was stud­ded with spikes so that if the offend­er moved her tongue it inflict­ed pain and made speak­ing impossible.
First record­ed in Scot­land in 1567, this tor­ture instru­ment was designed as a pun­ish­ment for women of the low­er class­es deemed ​'nags' or ​'scolds' or riotous, who were often sus­pect­ed of witch­craft. Wives who were seen as witch­es, shrews, and scolds were also forced to wear it locked onto their heads.15 It was often called the ​'gos­sip bri­dle,' tes­ti­fy­ing to the change in the mean­ing of the term. With such a frame lock­ing their heads and mouth, those accused could be led through town in a cru­el pub­lic humil­i­a­tion that must have ter­ri­fied all women, show­ing what one could expect if she did not remain sub­servient. Sig­nif­i­cant­ly, in the Unit­ed States, it was used to con­trol slaves, in Vir­ginia until the eigh­teenth century.
Anoth­er tor­ture to which assertive/​rebellious women were sub­ject­ed was the ​'cuck­ing stool,' or ​'duck­ing stool,' also used as a pun­ish­ment for pros­ti­tutes and for women tak­ing part in anti-enclo­sure riots. This was a sort of chair to which a woman was tied and ​"seat­ed to be ducked in a pond or riv­er." Accord­ing to D.E. Under­down, ​"after 1560 evi­dence of its adop­tion begins to multiply."

Women were also brought to court and fined for ​'scold­ing,' while priests in their ser­mons thun­dered against their tongues. Wives espe­cial­ly were expect­ed to be qui­et, ​"obey their hus­band with­out ques­tion" and ​"stand in awe of them." Above all they were instruct­ed to make their hus­bands and their homes the cen­ters of their atten­tions and not spend time at the win­dow or at the door. They were even dis­cour­aged from pay­ing too many vis­its to their fam­i­lies after mar­riage, and above all from spend­ing time with their female friends. Then, in 1547, ​"a procla­ma­tion was issued for­bid­ding women to meet togeth­er to bab­ble and talk" and order­ing hus­bands to ​"keep their wives in their hous­es." Female friend­ships were one of the tar­gets of the witch hunts, as in the course of the tri­als accused women were forced under tor­ture to denounce each oth­er, friends turn­ing in friends, daugh­ters turn­ing in their mothers.

It was in this con­text that ​'gos­sip' turned from a word of friend­ship and affec­tion into a word of den­i­gra­tion and ridicule. Even when used with the old­er mean­ing it dis­played new con­no­ta­tions, refer­ring in the late six­teenth cen­tu­ry to an infor­mal group of women who enforced social­ly accept­able behav­ior by means of pri­vate cen­sure or pub­lic rit­u­als, sug­gest­ing that (as in the case of the mid­wives) coop­er­a­tion among women was being put at the ser­vice of uphold­ing the social order.

Gos­sip today des­ig­nates infor­mal talk, often dam­ag­ing to those that are its object. It is most­ly talk that draws its sat­is­fac­tion from an irre­spon­si­ble dis­parag­ing of oth­ers; it is cir­cu­la­tion of infor­ma­tion not intend­ed for the pub­lic ear but capa­ble of ruin­ing people's rep­u­ta­tions, and it is unequiv­o­cal­ly ​'women's talk.'

It is women who ​'gos­sip,' pre­sum­ably hav­ing noth­ing bet­ter to do and hav­ing less access to real knowl­edge and infor­ma­tion and a struc­tur­al inabil­i­ty to con­struct fac­tu­al­ly based, ratio­nal dis­cours­es. Thus, gos­sip is an inte­gral part of the deval­u­a­tion of women's per­son­al­i­ty and work, espe­cial­ly domes­tic work, reput­ed­ly the ide­al ter­rain on which this prac­tice flourishes.

This con­cep­tion of ​'gos­sip,' as we have seen, emerged in a par­tic­u­lar his­tor­i­cal con­text. Viewed from the per­spec­tive of oth­er cul­tur­al tra­di­tions, this ​'idle women's talk' would actu­al­ly appear quite dif­fer­ent. In many parts of the world, women have his­tor­i­cal­ly been seen as the weavers of mem­o­ry — those who keep alive the voic­es of the past and the his­to­ries of the com­mu­ni­ties, who trans­mit them to the future gen­er­a­tions and, in so doing, cre­ate a col­lec­tive iden­ti­ty and pro­found sense of cohe­sion. They are also those who hand down acquired knowl­edges and wis­doms — con­cern­ing med­ical reme­dies, the prob­lems of the heart, and the under­stand­ing of human behav­ior, start­ing with that of men. Label­ing all this pro­duc­tion of knowl­edge ​'gos­sip' is part of the degra­da­tion of women — it is a con­tin­u­a­tion of the demo­nolo­gists' con­struc­tion of the stereo­typ­i­cal woman as prone to malig­ni­ty, envi­ous of oth­er people's wealth and pow­er, and ready to lend an ear to the Dev­il. It is in this way that women have been silenced and to this day exclud­ed from many places where deci­sions are tak­en, deprived of the pos­si­bil­i­ty of defin­ing their own expe­ri­ence, and forced to cope with men's misog­y­nous or ide­al­ized por­traits of them. But we are regain­ing our knowl­edge. As a woman recent­ly put it in a meet­ing on the mean­ing of witch­craft, the mag­ic is: ​"We know that we know."
You can read a review of Sil­via Fed­eri­ci's book, Witch­es, Witch-Hunt­ing, and Women, here.
Sil­via Fed­eri­ci
is a fem­i­nist activist, writer, and a teacher. In
1972
she was one of the cofounders of the Inter­na­tion­al Fem­i­nist Col­lec­tive, the orga­ni­za­tion that launched the Wages For House­work cam­paign inter­na­tion­al­ly. In the
1990
s, after a peri­od of teach­ing and research in Nige­ria, she was active in the anti-glob­al­iza­tion move­ment and the U.S. anti – death penal­ty move­ment. She is one of the co-founders of the Com­mit­tee for Aca­d­e­m­ic Free­dom in Africa, an orga­ni­za­tion ded­i­cat­ed to gen­er­at­ing sup­port for the strug­gles of stu­dents and teach­ers in Africa against the struc­tur­al adjust­ment of African economies and edu­ca­tion­al sys­tems. From
1987
to
2005
she taught inter­na­tion­al stud­ies, women stud­ies, and polit­i­cal phi­los­o­phy cours­es at Hof­s­tra Uni­ver­si­ty in Hemp­stead, NY. All through these years she has writ­ten books and essays on phi­los­o­phy and fem­i­nist the­o­ry, women's his­to­ry, edu­ca­tion and cul­ture, and more recent­ly the world­wide strug­gle against cap­i­tal­ist glob­al­iza­tion and for a fem­i­nist recon­struc­tion of the commons.