The Subversive Summit
In Europe, austerity's failures open radical opportunities.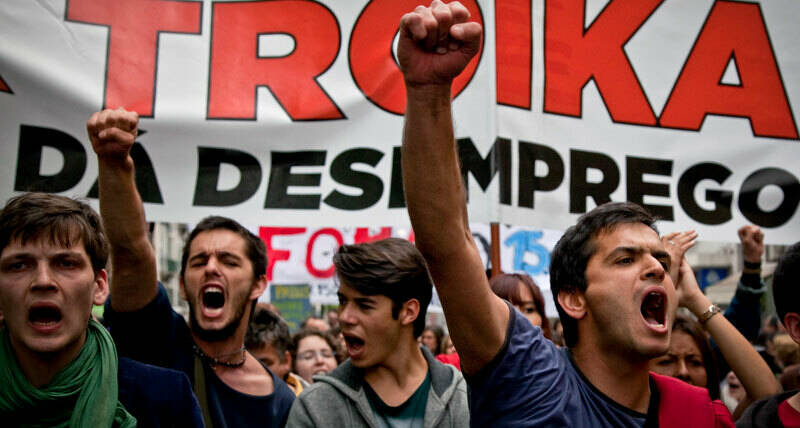 ZAGREB, CROA­T­IA — What is often described in media, polit­i­cal and finan­cial cir­cles as the glob­al ​"debt cri­sis" actu­al­ly pos­es even more insid­i­ous­ly wide­spread dan­gers than the ubiq­ui­tous doom-filled reports com­mon­ly inform. ​"The great­est cat­a­stro­phe threat­en­ing Greece and Europe is not the eco­nom­ic cri­sis," says Costas Douz­i­nas, pro­fes­sor of law at Birk­beck, Uni­ver­si­ty of Lon­don, ​"but the total destruc­tion of the social bond, the way we see our­selves, the way we see our rela­tion to the com­mu­ni­ty. This is long-term. Eco­nom­ic cri­sis, fis­cal deficits, can be restored in the medi­um term. But once you lose the social ethos, then there is no way back."
The time is ripe—if not for the full-blown revolution, then at least for a transformative backlash to recenter the imperatives of social justice that have lately become so attenuated.
That was the take­away in May as schol­ars, writ­ers, politi­cians and activists came togeth­er at Zagreb's sixth annu­al Sub­ver­sive Forum to plumb the depths of the cur­rent malaise, but also to pro­pose reme­dies for the five years of Euro­pean eco­nom­ic upheaval that has pro­duced per­son­al hard­ship, civic unrest, gov­ern­men­tal insta­bil­i­ty and a gen­er­al sense of paralysis.
For two weeks every year, Zagreb's civic fes­ti­val wel­comes hordes of pro­gres­sive lec­tur­ers and audi­ences to a pro­gram of films, debates, round­table dis­cus­sions and protest-plan­ning ses­sions. Run­ning past mid­night in the city's ele­gant 1920-vin­tage movie house Kino Europa, stand­ing-room-only keynote speech­es attract staunch par­ti­sans for advanc­ing the inter­ests of the pub­lic sphere against the author­i­tar­i­an medioc­ra­cy that now prevails.
The cat­a­clysm of human and social dev­as­ta­tion in Europe is this generation's defin­ing moment. But call­ing it a debt cri­sis, as Greek econ­o­mist Yanis Varo­ufakis explains, is like going to the hos­pi­tal with advanced inop­er­a­ble can­cer and hav­ing the doc­tor diag­nose your suf­fer­ing as a pain crisis.
Yes there is pain, but the pain is symp­to­matic of big­ger prob­lems. The ​"debt cri­sis" is also a food cri­sis — peo­ple can't afford to buy enough to eat. It's a hous­ing cri­sis, an edu­ca­tion cri­sis, an unem­ploy­ment cri­sis, an immi­gra­tion cri­sis, a human rights cri­sis. In Greece, the New York Times reports, pros­ti­tu­tion has surged 150 per­cent in the last two years as a direct result of social des­per­a­tion, with sup­ply-and-demand dynam­ics dri­ving prices for sex work as low as five euros.
The Left right­ly rejects aus­ter­i­ty, despis­ing it as col­lec­tive pun­ish­ment of cit­i­zens who had noth­ing to do with the finan­cial col­lapse. Pub­lic health schol­ars David Stuck­ler and San­jay Basu explain in The Body Eco­nom­ic: Why Aus­ter­i­ty Kills that such spend­ing cuts dras­ti­cal­ly low­er life expectan­cy due to a high­er preva­lence of sui­cide, HIV, alco­holism, heart dis­ease and depression.
Under­ly­ing all these oth­er crises is the steady trans­for­ma­tion of the over-bureau­cra­tized Euro­pean Union into a democ­ra­cy-free zone. Vot­er turnout is in decline (espe­cial­ly for Euro­pean Par­lia­ment elec­tions, but also in nation­al con­tests), as con­stituen­cies man­i­fest apa­thy or dis­en­fran­chise­ment. Deci­sions that peo­ple should be able to make for them­selves and that are con­se­quen­tial for their lives — how much soci­ety spends on health­care, on edu­ca­tion, on defense — emanate instead from afar by EU admin­is­tra­tors. A ​"Merki­avel­lian" régime, some call it; a sec­u­lar empire of finance.
The prin­ci­ples of demo­c­ra­t­ic self-deter­mi­na­tion are ham­strung by the pow­er­ful Troi­ka — the Inter­na­tion­al Mon­e­tary Fund, the Euro­pean Cen­tral Bank and the Euro­pean Com­mis­sion (the EU's leg­isla­tive and oper­a­tional coun­cil) — which a dis­em­pow­ered cit­i­zen­ry increas­ing­ly views as an automa­ton that squelch­es democ­ra­cy as it pro­tects the inter­ests of the pow­er elite.
A teach­able moment
But as many Euro­peans grow resigned to the ​"new nor­mal," a pas­sion­ate move­ment of social democ­rats and sub­ver­sive activists aims to recast a fatal­is­tic nar­ra­tive of inevitable capit­u­la­tion. From the rub­ble of this finan­cial cat­a­stro­phe, they are extrap­o­lat­ing a sys­temic cri­tique of how this mess came to pass and more impor­tant­ly, how to use the col­lapse as a teach­able moment. The time is ripe — if not for the full-blown rev­o­lu­tion, then at least for a trans­for­ma­tive back­lash to recen­ter the imper­a­tives of social jus­tice that have late­ly become so attenuated.
The EU had been pro­mot­ed as a strong ​"sin­gle mar­ket" (by many reck­on­ings, the world's largest econ­o­my) that would defuse Europe's cen­turies of con­flict: shared eco­nom­ic pros­per­i­ty would gen­er­ate coop­er­a­tive uni­ty. But clear­ly the EU has not deliv­ered the promised transna­tion­al har­mo­ny. Cap­i­tal­ism is, after all, inher­ent­ly a com­pe­ti­tion, which means there are win­ners and losers. Labor, always a weak play­er in this com­pe­ti­tion, los­es the most in a race to attract for­eign invest­ment. Con­se­quent­ly, the labor move­ment fears a descent into what Slavoj Žižek calls a tyran­ni­cal ​"cap­i­tal­ism with Asian values."
​"Periph­er­al coun­tries," a label that has become so preva­lent in the EU dis­course, typ­i­fies the fault lines in the ​"union." At the Sub­ver­sive Forum, I noticed how keen­ly lan­guage high­lights these ten­sions and fis­sures. Not sur­pris­ing­ly, peo­ple don't like being thought of as periph­er­al — a les­son that might have been learned in light of the offense that the ​"third world" has always felt about that sim­i­lar­ly con­de­scend­ing term. They also don't appre­ci­ate being called PIIGS, the acronym that lumps togeth­er Por­tu­gal, Ire­land, Italy, Greece and Spain (the extra ​"i" doesn't soft­en the blow). The term is out­dat­ed any­how as more coun­tries slide into severe down­turns. With France and the Unit­ed King­dom falling into reces­sion and Cyprus implod­ing, we can expect even coars­er acronyms in the future.
It's not just about nomen­cla­ture. The dis­course of ​"oth­er­ing" reveals old and sup­pos­ed­ly effaced neo­colo­nial­ist prej­u­dices at their worst. In the minds of those who oppose humane terms of sup­port, the ​"pigs" are lazy and cor­rupt, unso­phis­ti­cat­ed and out of date. They have brought their trou­bles on them­selves and forced aus­ter­i­ty will do them good.
The idea of Europe and even the word itself, has become tox­ic, unsta­ble; co-opt­ed by the bureau­crats' failed vision, nobody knows exact­ly what it means. Is the UK in Europe? What about oth­er EU but non-Euro­zone coun­tries — like Poland or Swe­den? Is Ice­land, the canary in the coal mine for finan­cial melt­down, Euro­pean? Euro-Asi­at­ic hybrids such as Rus­sia and Turkey? Non-EU coun­tries like Nor­way and Switzer­land? Can a coun­try be expelled from Europe?
​"Europe" is uttered with a sneer or a spasm of abjec­tion. ​"Euro," which once denot­ed sim­ply a strong cos­mopoli­tan cur­ren­cy, is now a root that has spawned a more cyn­i­cal vocab­u­lary: Eur­o­crit­ic, Euroskep­tic, Euro­phobe. But if the establishment's lex­i­con is becom­ing degrad­ed, the rad­i­cal retorts are more fierce­ly honed. ​"Union" and ​"uni­ty" have been exposed as feck­less in the face of Euro­pean inabil­i­ty to sus­tain these, inspir­ing a more rous­ing syn­onym, ​"sol­i­dar­i­ty," that resounds among those who are focused on social equal­i­ty rather than finan­cial tech­ni­cal­i­ties. Para­dox­i­cal­ly, the counter-rhetoric of the Left has expand­ed the con­text of the cri­sis by con­tract­ing the ter­mi­nol­o­gy. What was orig­i­nal­ly con­strued as ​"the glob­al eco­nom­ic cri­sis" mor­phed into ​"the Euro­zone cri­sis," or ​"the Euro­cri­sis," then became more tight­ly com­pressed into ​"the cri­sis," and final­ly — strip­ping away every­thing else to con­vey sim­ply a pri­mor­dial vor­tex of per­son­al agony and social decrepi­tude — the def­i­nite arti­cle dropped off, leav­ing just ​"cri­sis."
​"Cri­sis" has mobi­lized a rad­i­cal cri­tique of Euro­pean cap­i­tal­ism. It's not as sim­ple as debat­ing whether coun­tries should leave the EU, or the euro — as bad as things are now, the alter­na­tive is prob­a­bly cat­a­stroph­ic. But the Left has embarked upon a deep analy­sis of what sort of soci­ety has grown out of the EU's finan­cial autoc­ra­cy. ​"Crim­i­nals, dis­guised as states­men, were rob­bing us blind," says Sloven­ian poet and crit­ic Aleš Debel­jak. ​"Cri­sis made us real­ize this truth."
The rad­i­cal mis­sion is to uncov­er and expose the roots of this incom­pe­tence and insti­tu­tion­al cor­rup­tion, to ques­tion the motives and hid­den agen­das lurk­ing beneath the ​"bank­rup­toc­ra­cy" (anoth­er salient coinage), to edu­cate and moti­vate suf­fer­ing mass­es, and to reform the system.
​"We can't leave eco­nom­ic issues to the experts any longer," says Maja Breznik, from the Sloven­ian Peace Insti­tute. ​"It's time for ama­teur investigations."
These inves­ti­ga­tions, an end-run around the self-inter­est­ed strate­gies of bankers and oth­er EU cronies, begin from the premise that the vicious cir­cle of debt is not the fault of immod­er­ate spend­ing by gov­ern­ments or house­holds. Instead the pri­ma­ry goal of ​"recov­ery" has been a non sequitur: pro­tect­ing the inter­ests of pri­vate money­len­ders and multi­na­tion­als and refill­ing their cof­fers after their finan­cial mis­cal­cu­la­tions and chi­canery. The prob­lem as it is being addressed bears lit­tle rela­tion to the actu­al predica­ment, so soci­ety has plunged into deep recession.
As Europe tries to emerge from cri­sis, an exclu­sive focus on debt rep­re­sents a class strug­gle designed by financiers to trans­fer loss­es from their books on to the tax­pay­ers. Trou­bled coun­tries are forced to sell off their economies to for­eign investors. The Troi­ka arranges bailouts under the harsh­est terms, with the heav­i­est bur­dens borne by agen­cies that sup­port pub­lic wel­fare, because reduc­ing social spend­ing allows coun­tries to pay more mon­ey, more quick­ly, back to the banks.
Pri­va­ti­za­tion of the com­mons en- sues: every­thing that can be liq­ui­dat­ed is sold, then rent­ed back to the most dis­em­pow­ered class­es. Much of the pop­u­la­tion is per­pet­u­al­ly indebt­ed and the idea of ​"per­ma­nent work" becomes a rar­i­ty, replaced by piece-work, part-time work and fre­quent lay-offs. The social con­tract has been broken.
We ​"ama­teur inves­ti­ga­tors" must ask ques­tions about real val­ue, as opposed to the mere­ly mon­e­tary expres­sions of val­ue that the Troi­ka fetishizes. It seems rea­son­able to pro­claim ​"bank­rupt" (fig­u­ra­tive­ly and lit­er­al­ly) the dis­course of val­u­a­tion that cul­mi­nat­ed in the exot­ic, abstruse finan­cial prod­ucts that pre­cip­i­tat­ed the crash.
It is our turn to open the dis­cus­sion of what is val­ued from the per­spec­tive of the vic­tims of fis­cal malfea­sance. (By ​"us" I refer to non-bankers, non-wealthy, non-func­tionar­ies and for good mea­sure a healthy cadré of aca­d­e­m­ic fel­low trav­el­ers.) GDP itself is a sub­jec­tive mea­sure of val­ue, a war-account­ing mech­a­nism that is not the only way to count. A euro is not just a euro: not every use of mon­ey is equal­ly valu­able. A dif­fer­ent mod­el of social account­ing — one that focus­es on the bot­tom, the work­ers, the poor and mid­dle class, and starts with wages, tax­es, social secu­ri­ty — will pro­duce a very dif­fer­ent eco­nom­ic nar­ra­tive than the one that has pre­dom­i­nat­ed for the last five years.
​"We demand a new right," argues Fran­co ​"Bifo" Berar­di, a Marx­ist schol­ar from Milan's Acad­e­my of Fine Arts, ​"The right to insol­ven­cy. We are not going to pay the tax. If I am insol­vent, I don't have mon­ey, so I won't pay the debt." Instead, there should be a mora­to­ri­um on inter­est pay­ments, some debt should be can­celed and some repaid with a growth clause (as Ger­many did in the 1950s). Coun­tries would pay as they grow, and as they can afford it.
Žižek — the Sub­ver­sive Forum's patron saint since its incep­tion — warns that the rad­i­cal Left has his­tor­i­cal­ly had a pro­cliv­i­ty to sit on the side­lines: ​"They pre­fer some­times not to take pow­er so that when every­thing goes wrong they can write their books explain­ing in detail why every­thing had to go wrong. There is some deeply root­ed masochism of the rad­i­cal Left. Their best books are usu­al­ly very con­vinc­ing sto­ries of failure."
But today there is an espe­cial­ly high onus to take action, to engage in polit­i­cal reform. Left­ist activists and politi­cians do have a con­crete agen­da for fix­ing the cri­sis. In Greece, defy­ing the eulo­gies of democ­ra­cy, Alex­is Tsipras' Syriza coali­tion has shown impres­sive strength in the last few elec­tions and stands with­in grasp of par­lia­men­tary vic­to­ry and a major­i­ty coali­tion in the near future. Near­ly destroyed by cri­sis, Greece may soon emerge as the most advanced site of resis­tance. ​"The future of Greece is the future of Europe," Tsipras pro­claims, pro­vid­ing a heart­en­ing rever­ber­a­tion for the slo­gan that pro­tes­tors chant across the con­ti­nent, ​"Nous sommes tous des grecs": We are all Greeks.
The Left's chal­lenge is to reor­ga­nize in a more coop­er­a­tive, col­lec­tive way: reclaim­ing the com­mons, reap­pro­pri­at­ing the wealth that is now in the hands of the state and the banks, and recon­sti­tut­ing the social fab­ric that was destroyed by eco­nom­ic restructuring.
Polit­i­cal plat­forms like Syriza's draw on a wealth of the­o­ret­i­cal foun­da­tions and strate­gic visions for reform.
Erik Wright, a Uni­ver­si­ty of Wis­con­sin soci­ol­o­gist who wrote Envi­sion­ing Real Utopias, is one of many aca­d­e­m­ic sub­ver­sives who offered Zagreb audi­ences a sophis­ti­cat­ed array of fresh ideas for tran­scend­ing the sta­tus quo of cap­i­tal­ism and replac­ing it with an eman­ci­pa­to­ry alter­na­tive, a demo­c­ra­t­ic egal­i­tar­i­an path­way that empow­ers peo­ple to take con­trol of their own des­tinies. Wright described a range of inno­va­tions that can be intro­duced ​"inside of cap­i­tal­ism" but that embody non-cap­i­tal­is­tic prin­ci­ples and more ful­ly reflect the val­ues of democ­ra­cy: work­er-owned coop­er­a­tives, par­tic­i­pa­to­ry bud­get­ing (where cit­i­zens help deter­mine civic pri­or­i­ties), freely pro­vid­ed pub­lic ser­vices like trans­porta­tion and libraries (which we can think of as anti-cap­i­tal­ist ways to give peo­ple mobil­i­ty and books), and unob­struct­ed access to the com­mons of intel­lec­tu­al prop­er­ty. Peer-to-peer col­lab­o­ra­tions like Wikipedia illus­trate how a non-cap­i­tal­ist means of pro­duc­tion can flour­ish with­in cap­i­tal­ism and ulti­mate­ly dis­place cap­i­tal­ism alto­geth­er (as evi­denced by the recent demise of the print edi­tion of that impe­ri­al­ist icon, the Ency­clo­pe­dia Bri­tan­ni­ca).
Urban farms orga­nized through com­mu­ni­ty land trusts can sup­port food pro­duc­tion divorced from agribusi­ness. Crowd-sourc­ing finance like Kick­starter side­steps the entrenched hege­monies of cul­tur­al pro­duc­tion. The gift econ­o­my in music from the Inter­net allows peo­ple to down­load songs for free and pay what­ev­er they want. (Wright believes these musi­cians actu­al­ly make more income than they would in a con­ven­tion­al sales mod­el because they have cre­at­ed a more palat­able moral econ­o­my with their fans.)
The cri­sis of cap­i­tal­ism offers, as a sil­ver lin­ing, the oppor­tu­ni­ty for us to recon­cep­tu­al­ize more demo­c­ra­t­ic and sus­tain­able sys­tems of social and com­mer­cial exis­tence. It's a moment that is unique­ly recep­tive to new ideas, as the old ones have proven so worth­less. A sub­ver­sive smörgås­bord can be cre­at­ed in the world as it is, pre­fig­ur­ing things that might be in the world as it could become. Are these just utopi­an fan­tasies? A ques­tion­er at Wright's lec­ture asked whether a smat­ter­ing of such small-scale inter­ven­tions could real­ly inspire fun­da­men­tal social change, to which the soci­ol­o­gist respond­ed sub­lime­ly: ​"We don't know for sure. The day before Wikipedia was invent­ed, it was impossible."
Dr. Randy Mala­mud
is regents' pro­fes­sor and chair of the depart­ment of Eng­lish at Geor­gia State Uni­ver­si­ty. He is the author of eight books, includ­ing
Read­ing Zoos: Rep­re­sen­ta­tions of Ani­mals and Cap­tiv­i­ty
(NYU Press,
1998
) and
An Intro­duc­tion to Ani­mals and Visu­al Cul­ture
(Pal­grave Macmil­lan,
2012
). He can be reached at rmalamudgsuedu.