The Susan B. Anthony List's Situational Feminism
The organization's model legislation makes clear it is more interested in ending abortion than helping women.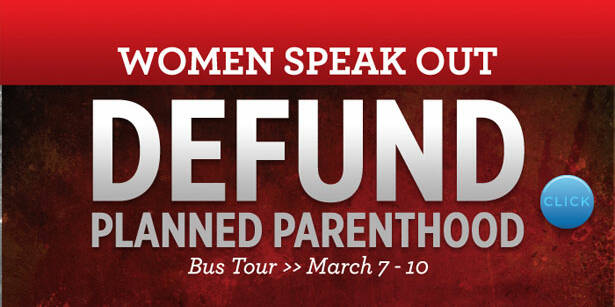 To say that the SBA List is inter­est­ed in defund­ing Planned Par­ent­hood is an under­state­ment. The anti-abor­tion polit­i­cal advo­ca­cy group has made defund­ing Planned Par­ent­hood a sport. Lit­er­al­ly: On its web­site, you can find the score­board. It's right under the ban­ner that reads ​"DEFUND­ING PLANNED PAR­ENT­HOOD", in all caps.
There's what you say, and there's what you do. And then, there's what you say you do, which usually sounds much, much better than reality.
So the atti­tude of the SBA List, in regard to Planned Par­ent­hood, and the fund­ing there­of, seems clear. And it is, not sur­pris­ing­ly, fur­thered by the piece of mod­el leg­is­la­tion, craft­ed as part of a plan to work with state leg­is­la­tors by promis­ing ​"grass­roots effort" and poten­tial cam­paign fund­ing, which I recent­ly reviewed: the ​"Whole Woman's Health Pri­or­i­ties Fund­ing Act," the expressed ​"pri­or­i­ties" of which are to (sur­prise) defund orga­ni­za­tions that pro­vide abor­tion, such as Planned Par­ent­hood. Or, as the mod­el bill puts it, to direct state funds toward ​"pri­ma­ry and pre­ven­tive care" for ​"mater­nal and fetal patients" from pri­ma­ry care providers, and to cut it from ​"providers of health care ser­vices that are spe­cial­ized to par­tic­u­lar med­ical ser­vices or dis­crete patient pop­u­la­tions," which is a very polite way to say ​"abor­tions" and ​"women."
All of which is puz­zling, giv­en that the SBA List pro­motes itself as a fem­i­nist organization.
The fact is that the SBA List's ​"fem­i­nism" is, at best, sit­u­a­tion­al, and at most, found­ed on a deeply casu­al rela­tion­ship to truth. It claims to exist to elect pro-life women to Con­gress; but it sup­ports male pro-life can­di­dates (through its con­nect­ed polit­i­cal action com­mit­tee, the Susan B. Antho­ny List Can­di­date Fund). It claims that SBA List is a mod­el for anti-abor­tion fem­i­nists; but Susan B. Antho­ny did not orga­nize against abor­tion. And the ​"Whole Woman's Health Pri­or­i­ties Fund­ing Act," for exam­ple, bills itself as aim­ing to improve pre­na­tal care, when that is the oppo­site of what its impact will be.
Make no mis­take: The pro­posed leg­is­la­tion does spend an excep­tion­al­ly long time talk­ing about the impor­tance of pre­na­tal care before mak­ing its point. By the time you get to the por­tion of the bill in which the state is not allowed to con­tribute to the rent pay­ments of abor­tion providers, you've swal­lowed so many lines about folic acid sup­ple­ments and dia­betes screen­ings that you're some­how sur­prised. And yet, this bill has one dis­tinct goal; it's the goal that is spelled out in big cap­i­tal let­ters, once you look away from the bill and turn to the organization's actu­al website.
"I think that what peo­ple say and what peo­ple do is very dif­fer­ent," says Jodi Jacob­son, of RH Real­i­ty Check. ​"I look at what peo­ple do. They claim to be very woman-friend­ly, but only if you agree with their spe­cif­ic idea of what women should be doing."
Jacob­son describes the SBA List's selec­tive fem­i­nism as an exten­sion of the Right Wing's efforts to pack­age anti-choice poli­cies in a way that will sell. ​"Ade­quate pre­na­tal care," for exam­ple, is not a divi­sive issue. And so, in pro­mot­ing a bill that is pri­mar­i­ly about cut­ting all state fund­ing from an orga­ni­za­tion like Planned Par­ent­hood, which pro­vides pre-natal care and assis­tance for low-income women, it's use­ful to claim that it is a bill that pro­vides more state fund­ing for bet­ter pre­na­tal care. Which has seem­ing­ly nev­er been a pri­or­i­ty of the SBA List, out­side of the issue of abortion.
"They real­ly have bought into the [GOP pres­i­den­tial can­di­date Rick] San­to­rum approach to all of this," Frances Kissling, for­mer pres­i­dent of Catholics for a Free Choice and now a vis­it­ing schol­ar at the Uni­ver­si­ty of Penn­syl­va­nia. ​"Anti-abor­tion, anti-con­tra­cep­tion, anti-gay rights."
In many ways, the fight against Planned Par­ent­hood, and pub­lic fund­ing for repro­duc­tive health­care gen­er­al­ly is not even about abor­tion at all. It's about the rel­a­tive­ly vir­u­lent strain of anti-choice ide­ol­o­gy that in 2011 became more main­stream than ever: The fight against access to contraception.
This is not an overt goal of the SBA List's pro­posed act – it allows, gra­cious­ly enough, that ​"abor­tion" and ​"con­tra­cep­tion" are not the same thing, and that the lat­ter may still be fund­ed – but its aim is still to remove one reli­able source of birth con­trol from the field. Despite its lan­guage, this plan is not dis­tinct in its impact from any oth­er bill that aims to restrict the rights of cit­i­zens to choose their own plans for avoid­ing, ter­mi­nat­ing or cop­ing with pregnancy.
One sure way to under­stand the SBA List, Kissling notes, is to note what it seems to claim as a tri­umph: Its push to defeat anti-choice Democ­rats, and replace them with more extreme­ly anti-choice Repub­li­cans, dur­ing the 2010 elections.
But the SBA List may not be as pow­er­ful as it thinks, despite its promi­nence and its fer­vent push to elim­i­nate all but the most extrem­ist can­di­dates from polit­i­cal races. It sweet-talks state leg­is­la­tors with tales of its capac­i­ty to win and fund elec­tions, but, in truth, the elec­tions it has helped win may not have been for the rea­sons it claims.
Those Democ­rats, Kissling says, ​"didn't lose their seats because of the Susan B. Antho­ny fund, and they didn't lose their seats because they were pro-life. They lost their seats because they were Democ­rats in an elec­tion year… it was a rejec­tion of the Democ­rats on the econ­o­my far more than it was on abor­tion issues."
There's what you say, and there's what you do. And then, there's what you say you do, which usu­al­ly sounds much, much bet­ter than real­i­ty. When it comes to the SBA fund, and its dis­tinc­tive­ly selec­tive approach to truth – Susan B. Antho­ny (1820−1906), who nev­er orga­nized against safe and legal abor­tion because it did not exist in her era, was anti-abor­tion; the orga­ni­za­tion sup­ports male can­di­dates against female ones but is sup­pos­ed­ly ded­i­cat­ed to elect­ing more female can­di­dates; its mod­el bill that would restrict health­care access for preg­nant women sup­pos­ed­ly expands health­care access for preg­nant women – the gap between rhetoric and real­i­ty is very hard to ignore.