The Trans-Pacific Partnership Agreement Just Won't Die
New Zealand and other signatories are quietly reviving the neoliberal trade deal, confident the political winds in the U.S. will shift.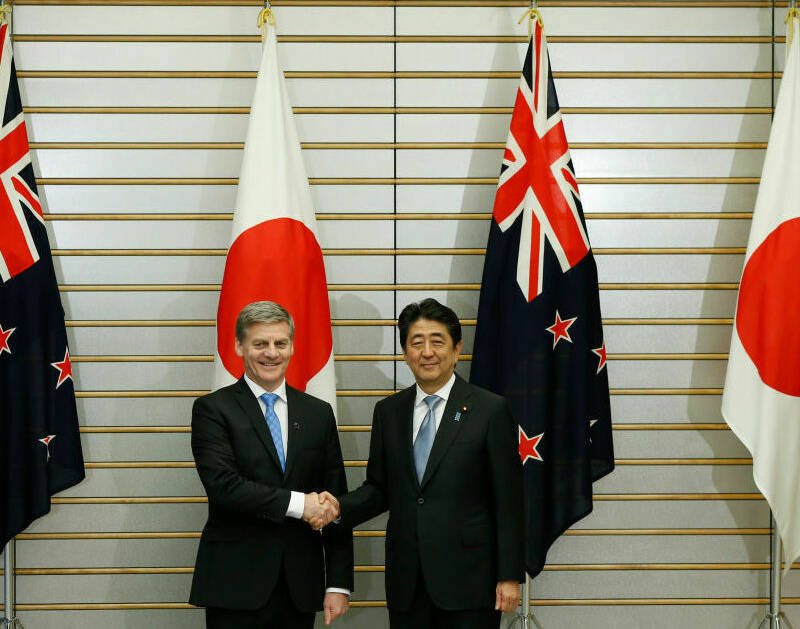 Months ago, the just-inau­gu­rat­ed Pres­i­dent Trump signed a mem­o­ran­dum pulling the Unit­ed States out of the agree­ment, fol­low­ing an elec­tion sea­son in which the TPP had served as a bipar­ti­san whip­ping boy. News out­lets the world over pro­claimed the deal dead. The leader of the largest remain­ing sig­na­to­ry, Japan­ese Prime Min­is­ter Shinzō Abe, appeared to sum up the pre­vail­ing sen­ti­ment when he told reporters after Trump's win that ​"the TPP would be mean­ing­less" with­out the world's largest economy.
How did the deal go from dead in the water to viable in just four short months?
Nev­er count a good neolib­er­al trade deal out. The agreement's archi­tects have been deter­mined to elec­tri­fy the TPP's mori­bund body back to life, and appear to have suc­ceed­ed — com­plete with a plan to get the Unit­ed States' elu­sive signature.
At a trade forum host­ed by Asia Pacif­ic Eco­nom­ic Coop­er­a­tion (APEC) in Viet­nam in late May, the 11 sig­na­to­ries — Aus­tralia, Brunei, Cana­da, Chile, Japan, Malaysia, Mex­i­co, New Zealand, Peru, Sin­ga­pore and Viet­nam — got togeth­er to dis­cuss the future of the TPP. They came away from the two-day sum­mit with an agree­ment to keep the deal alive.
U.S. Trade Rep­re­sen­ta­tive Robert Lighthzi­er was none too hap­py, and main­tained that the U.S. was out of the agree­ment for good. ​"The Unit­ed States pulled out of the TPP and it's not going to change that deci­sion," he said at a news conference.
The rest of the TPP sig­na­to­ries don't seem to be buy­ing that, how­ev­er. Var­i­ous stake­hold­ers have made clear they're nego­ti­at­ing the deal under the assump­tion that the polit­i­cal winds in the Unit­ed States will shift.
"There's a col­lec­tive inter­est in main­tain­ing the agree­ment in a way that the U.S. could sign up to in the future," New Zealand Prime Min­is­ter Bill Eng­lish told Radio New Zealand on May 17. He also told cur­rent affairs pro­gram Q+A that it was impor­tant to keep those fea­tures nego­ti­at­ed by the Unit­ed States in the deal, as ​"it increas­es the like­li­hood that the U.S. would be incen­tivized to join it later."
Fol­low­ing the talks in Viet­nam, Aus­tralian trade min­is­ter Steven Ciobo told reporters ​"It may not suit U.S. inter­ests at this point in time to be part of the TPP, but cir­cum­stances might change in the future."
The strat­e­gy seems clear: With a Pres­i­dent Trump and a U.S. vot­ing pub­lic that dis­likes the TPP, try­ing to involve the Unit­ed States in the nego­ti­a­tions now isn't polit­i­cal­ly viable. Instead, the remain­ing 11 coun­tries will keep the deal alive and wage a war of attri­tion, wait­ing for Trump to leave and be replaced by anoth­er Repub­li­can or cen­trist Demo­c­rat, who will prompt­ly attempt to rat­i­fy it.
How did the deal go from dead in the water to viable in just four short months? Much of the push has come from New Zealand, whose cen­ter-right Nation­al gov­ern­ment played a lead­ing role in forg­ing the deal. After Trump's Jan­u­ary 23 pres­i­den­tial mem­o­ran­dum the agreement's sig­na­to­ries scram­bled to find some way to ensure the sev­en years they had spent nego­ti­at­ing the deal wasn't for nought. Aus­tralia and New Zealand float­ed the idea of urg­ing Chi­na and oth­er Asian coun­tries to join.
On Feb­ru­ary 7, Stephen Jaco­bi, exec­u­tive direc­tor of the New Zealand Inter­na­tion­al Busi­ness Forum and for­mer head of the USNZ Coun­cil — an orga­ni­za­tion that worked with the New Zealand gov­ern­ment to pro­mote the TPP—gave a speech to the Asia Forum in which he sug­gest­ed ​"some qui­et diplo­ma­cy … to see if the remain­ing 11 par­ties, or a sub­set of them, see mer­it in amend­ing TPP to take account of U.S. with­draw­al." Over the past few months, New Zealand trade min­is­ter Todd McClay embarked on a whirl­wind tour of TPP sig­na­to­ries in order to con­vince them to stay the course. One stop was the May 17 trip to Japan with Prime Min­is­ter Eng­lish, which earned them a com­mit­ment from Abe to an ​"ear­ly real­iza­tion of TPP."
All of this cul­mi­nat­ed in the sig­na­to­ries' deci­sion in Viet­nam to keep the TPP going — com­plete with the not-so-hid­den strat­e­gy of leav­ing the door open for a future U.S. pres­i­dent to come on board.
The suc­cess of that strat­e­gy isn't a fore­gone con­clu­sion. While those in favor of lur­ing back the Unit­ed States want the text to remain essen­tial­ly iden­ti­cal, both for the sake of avoid­ing anoth­er round of pro­tract­ed nego­ti­a­tions and as a way to entice the Unit­ed States to rejoin, there isn't a con­sen­sus. Cana­di­an offi­cials said fol­low­ing the Viet­nam meet­ing that the deal would have to change sig­nif­i­cant­ly with­out the Unit­ed States, as did Malaysia's trade min­is­ter.
Var­i­ous experts have expressed skep­ti­cism that under inter­na­tion­al law, the text can sim­ply remain the same. ​"At the end of the day you have to cre­ate a whole new legal text," Lau­ren Bosma, a trade expert at lob­by­ing firm Albright Stone­bridge, told For­eign Pol­i­cy. ​"You can't just strike the Unit­ed States out of it."
The prob­lem there is that rene­go­ti­a­tion of the treaty is fraught with uncer­tain­ty. The agree­ment required a care­ful bal­anc­ing of the 12 orig­i­nal sig­na­to­ries' orig­i­nal demands, tak­ing years to nego­ti­ate before the Unit­ed States pulled out. Reopen­ing the nego­ti­a­tions could result in anoth­er tor­tu­ous process that ulti­mate­ly dooms the agreement.
The New Zealand elec­tion in Sep­tem­ber 2017 could also throw a wrench in the works of the TPP revival. The agree­ment faces oppo­si­tion from the country's Labour Par­ty, its Green Par­ty and New Zealand First, a qua­si-nation­al­ist, often anti-immi­grant par­ty. While the most recent polling shows the Nation­al Par­ty being able to form a gov­ern­ment with the sup­port of its usu­al coali­tion part­ners, a lot can change between now and Sep­tem­ber. It was only a lit­tle more than a month ago that Nation­al was neck and neck with a Labour-Greens coali­tion, with New Zealand First the poten­tial decider of which par­ty will form the next gov­ern­ment. If Nation­al finds it needs New Zealand First's sup­port again to form a gov­ern­ment by Sep­tem­ber, it may have to end up giv­ing up on the TPP.
Nonethe­less, the TPP has been count­ed out before, and it's proved sur­pris­ing­ly resilient, as this lat­est episode proves. One fac­tor that will be key is con­tin­ued wide­spread pub­lic resis­tance to the TPP, par­tic­u­lar­ly as the agree­ment still has­n't been rat­i­fied by nine of the sig­na­to­ries. The agree­ment trig­gered mul­ti­ple protests world­wide. In the Unit­ed States, groups like Pub­lic Cit­i­zen, Sier­ra Club and Our Rev­o­lu­tion used an inside-out­side approach to fight the agree­ment, pair­ing high-pro­file protests (like the dis­rup­tions of the 2016 Demo­c­ra­t­ic Nation­al Con­ven­tion) with inter­nal pres­sure from pro­gres­sive Democrats.
It was such pres­sure that forced Hillary Clin­ton to change her stance on the agree­ment (how­ev­er disin­gen­u­ous­ly), while GOP vot­ers' hos­til­i­ty to the agree­ment con­tin­ues to make sup­port­ing it unpalat­able to Repub­li­can law­mak­ers. This pub­lic oppo­si­tion will need to con­tin­ue if Amer­i­cans, and the rest of the world, want to see the TPP shuf­fle off this mor­tal coil — for good, this time.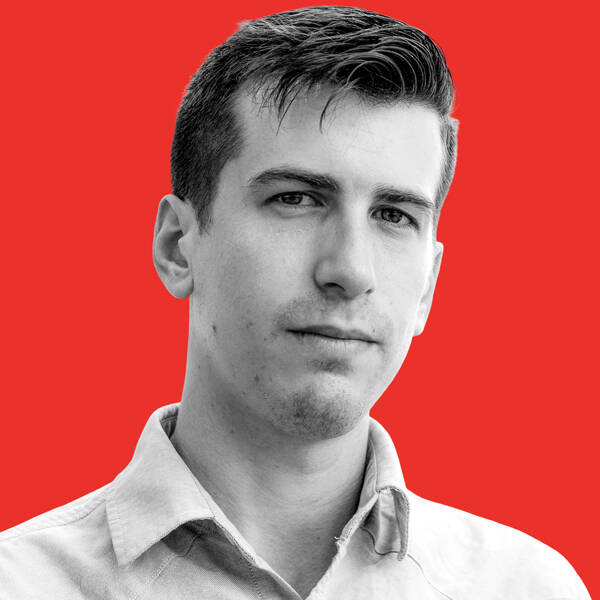 Branko Marcetic
is a staff writer at Jacobin mag­a­zine and a
2019
 – 
2020
Leonard C. Good­man Insti­tute for Inves­tiga­tive Report­ing fel­low. He is work­ing on a forth­com­ing book about Joe Biden.