How Westboro Baptist Church Accidentally Raised $75,000 for LGBT Youth
The hate-spewing church works against itself by inciting college students.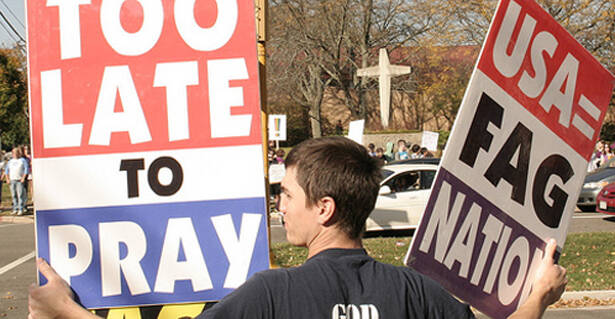 The Westboro Baptist Church is not known for loving its neighbor.
At colleges and universities, where sacred colors and school pride can sometimes unite students in unexpected ways, student demonstrations are not merely a possible outcome; they're inevitable. Activism against hateful groups like Westboro is a new breed of social movement in which students are taking the lead.
Based in Topeka, Kan., Westboro has made a name for itself by publicizing its flagrant hatred of gays, Jews, atheists, liberals, Muslims, pro-choice advocates and countless other ​"Godless" groups. It was founded in 1955 by Pastor Fred Phelps, who, now 83, runs the church with his family.
Unaffiliated with any church but calling themselves ​"primitive Baptist," the church is most famous for picketing at purportedly liberal schools, various places of worship with whose philosophies they disagree, and high-profile funerals of supposed heathens, including American soldiers. And church members don't care what anyone thinks of them. On its website, God​HatesFags​.com, Westboro lists a few key numbers:
16,000,000,000: People that God killed in the flood.

144,000: Jews that will be saved in these last days.

0: Nanoseconds of sleep that WBC members lose over your opinions and feeeeellllliiiiiings.
Conspiracy theories abound about the church's motives for their hate speech. Some speculate it's a farce, intended to rile observers until they get violent and the church — which does not accept donations — can cash in with a lawsuit. In 2010, the father of a deceased Marine was forced to pay Westboro $16,500 after he sued the church for picketing his son's funeral and lost. This led to a 2011 Supreme Court decision that Westboro's speech and protests are protected, no matter how despicable.
Others say the group's antics are a ​"false flag operation" by the FBI or some extremist organization, designed to make us more sympathetic to the gay rights movement, alienate us from Christianity or perhaps inspire us to limit laws of free expression.
But since both theories lack substantial evidence, the consensus is that this particular ​"church" is just evil. After all, this is the church that claims God kills soldiers to punish America for its growing tolerance of LGBT people and therefore pickets military funerals. This is the church that cried, ​"God sent the shooter!" after Newtown, Aurora and Virginia Tech. This is the church whose beloved slogans include such gems as ​"God Hates Fags," ​"Pray For More Dead Soldiers" and ​"Thank God For Sept. 11."
And this church keeps getting duped by college kids.
The Westboro Baptist Church releases its picketing schedule online well ahead of protest dates, most likely to make sure there will be police enforcement on the scene to protect them. Their upcoming protest schedule includes a stop at liberal Vassar College in Poughkeepsie, N.Y. on February 28. Calling the school an ​"Ivy League whorehouse," Westboro says it must warn the people of the wrath of God, especially those who ​"fancy themselves the leading thinkers of our generation."
School officials are calmly preparing for the frenzy that comes with a Westboro visit. Vassar's Acting President Jon Chenette sent students a letter Monday about how to use Westboro's presence as a way to unite over values of inclusion and tolerance: ​"In the face of Westboro's statements, we want to celebrate the inclusiveness of our community and the multitude of backgrounds, interests, and preferences that enrich our experiences," he wrote.
Vassar students have been exceptionally good sports about this. Buzzfeed compiled a list of great reactions to the Westboro news, including Facebook posts of students thanking their parents for providing them with a whorehouse education and sharing tips on what explicit costumes to wear on February 28. (Provoking Westboro is a common response to the protests: One viral video of traveling preacher Micah Armstrong visiting the University of Central Florida shows a student taking off his clothes mid-sermon.)
Even better, a Vassar alumnus on February 11 proposed a fundraising counter-protest, hosted on the fundraising site Crow​drise​.com, to raise $100 for every minute of the Westboro protest for The Trevor Project, a leading suicide prevention organization that specifically focuses on LGBT youth. Students and alumni met their goal of $4,500 within seven hours, according to Josh de Leeuw, the Vassar alumnus who created the Crowdrise fundraising project.
​"I posted the fundraiser because I wanted there to be some way for alumni who were not at the college to participate in the response," he wrote in an email.
As of February 15, the Vassar community had raised more than $75,000 — more than fifteen times their original goal. That means, in effect, Westboro helped raise seventy-five grand for the well-being of gay teenagers. Without even stepping foot onto Vassar's campus, the world's worst church already did some good.
It's not uncommon for groups to unite and rally against a Westboro protest. The hacktivist group Anonymous threatened to do everything in its power to stop the church when it announced plans to picket the funeral of Reddit co-founder and Internet activist Aaron Swartz, whom they targeted for being a ​"cyber-criminal." Westboro backed down. When Westboro members promised to picket the funeral of Dawn Hochsprung, the Sandy Hook Elementary School principal who was killed in the Newtown shooting, swarms of motorcyclists showed up to barricade them from getting through and forced them to leave. Another group of bikers did the same thing to protect mourners at the burial of a Navy SEAL in 2010.
But at colleges and universities, counter-protests reach a new level. On college campuses, where sacred colors and school pride can sometimes unite students in unexpected ways, student demonstrations are not merely a possible outcome; they're inevitable. Activism against hateful groups like Westboro is a new breed of social movement in which students are taking the lead.
When Westboro comes to a college campus, student counter-protesters usually outnumber church members by dozens, if not hundreds. Students bring homemade signs, they sing and dance, they kiss and hug. They put on overwhelming demonstrations of debauchery, silliness and appreciation for one another, obfuscating Westboro's message and rendering the protests inaudible.
At the University of Washington and Oberlin College, for example, same-sex couples showed their pride by kissing in front of picketing Westboro members. In San Francisco and Palo Alto, high school students showed up to protests at their schools with messages of love and support. Frat brothers at the University of Chicago donned Daisy Dukes and did the can-can to mock protesters, while other students raised hundreds of dollars for a local LGBT youth center. Even at conservative Baylor University in Waco, Tex., students countered Westboro protesters with their own signs and costumes.
Yes, Westboro's words are hateful and hurtful, and we're right to be disturbed by their insistence on disrespecting grieving families to the highest degree. But when they show up on college campuses, even the most right-wing among us don't take them seriously. They aren't violent. They aren't armed. They stay within their rights. But they do feed off our anger and rebuttals to their outlandish messages. The best response, naturally, is to make them into the punchline, to live and let live, to carry on unscathed. College kids have mastered that art.
Counter-protest culture is paving the way for a new kind of student activism that bolsters resources and support for a cause — especially Westboro's prime target, LGBT people — in the face of intolerance. On college campuses, Westboro protesters are nothing but white noise. The real story is the students who talk back.
Camille Beredjick
is a student of the Medill School of Journalism at Northwestern University and a Spring
2013
ITT intern.