The Vicious Attacks of GamerGate Are the Norm for Women on the Internet
A brief history of online violence against women.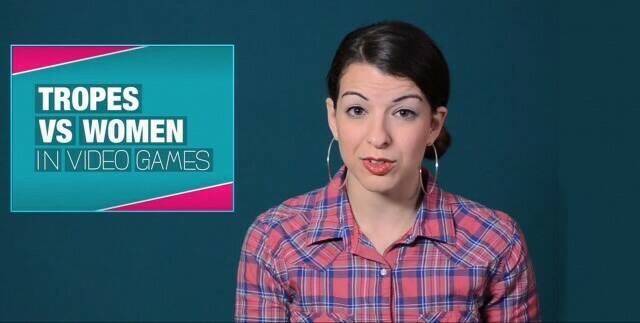 Trig­ger warn­ing: This arti­cle quotes threats of rape and violence.
Pop quiz, hot shot:
1

. A woman can­cels a pub­lic speak­ing event because she's been receiv­ing death threats.

2

. Denizens of anony­mous mes­sage board

4

chan ded­i­cate them­selves to ter­ror­iz­ing fem­i­nist women online.

3

. There is a pub­lic cam­paign to get sev­er­al jour­nal­ists fired for espous­ing pro-fem­i­nist opinions.

4

. A woman cri­tiques sex­ism in video games, and gamers pub­licly fan­ta­size about beat­ing her bloody.

5

. A man pub­lish­es a

9

,

000

-plus-word rant about his hatred for a par­tic­u­lar woman, and doc­u­ments her life and online inter­ac­tions in obses­sive and alarm­ing detail.
The ques­tion here isn't ​"True or False?" All of these things hap­pened. The ques­tion I'm ask­ing is: ​"When?" The answer, in each case, is ​"long before Gamer­Gate." These things hap­pened in 2007, 2008, 2009, last year; they have hap­pened, in fact, as long as fem­i­nist women have dared to claim online space.
Gamer­Gate — a move­ment which claims to be about ​"ethics in video game jour­nal­ism," and which is, in prac­tice, a move­ment devot­ed to harass­ing and ter­ror­iz­ing women — has been mak­ing waves late­ly, spark­ing high-pro­file cov­er­age and count­less think­pieces. The basic details have been hashed and rehashed: Some­time game devel­op­er Eron Gjoni cre­at­ed a ded­i­cat­ed blog to pun­ish his ex, game devel­op­er Zoe Quinn, for ​"cheat­ing" on him. Gjoni has a pret­ty gen­er­ous inter­pre­ta­tion of the word: In addi­tion to being per­turbed that Quinn, yes, hav­ing sex with oth­er peo­ple while dat­ing Gjoni, he's also aggriev­ed that Quinn was sex­u­al­ly active dur­ing a peri­od in which the two weren't dat­ing. Since one of the men Quinn hooked up with dur­ing her rela­tion­ship with Gjoni was video game review­er Nathan Grayson of Kotaku, sev­er­al men from the ​"women who have sex are evil" divi­sion of the Inter­net quick­ly decid­ed that Quinn had trad­ed sex­u­al favors for a pos­i­tive review of her game Depres­sion Quest — despite Grayson nev­er hav­ing reviewed the game. This quick­ly spi­raled out into accu­sa­tions that Quinn was trad­ing sex­u­al favors with the entire indus­try, thus explain­ing the oth­er­wise unac­count­able fact that she's been rel­a­tive­ly suc­cess­ful. I wish I were jok­ing, but that's the lev­el of intel­lect we're deal­ing with here: Peo­ple who, when told a woman is good at her job, imme­di­ate­ly con­clude, ​"She hyp­no­tized them with her boobs."
And the joke's not fun­ny. The men who were con­vinced of Quin­n's mes­mer­ic pow­ers launched a ded­i­cat­ed cam­paign to threat­en not only Quinn, but any woman who defend­ed her, with rape and death. Nude pic­tures of Quinn accom­pa­nied the death threats. On 4chan, her oppo­nents debat­ed the fin­er points of harass­ment. One aspired to ​"push her… push her fur­ther….. fur­ther, until even­tu­al­ly she [com­mits sui­cide]," while anoth­er took a gen­tler approach: ​"I kind of want to just make her life irre­pairably [sic] hor­ri­ble." Oth­er women were drawn into the mael­strom. Devel­op­er Bri­an­na Wu was dri­ven from her home by Gamer­Gate; after she made fun of the ​"move­ment" on Twit­ter, her home address was post­ed online, and her Twit­ter was flood­ed with alarm­ing­ly detailed threats like ​"I've got a K‑bar and I'm com­ing to your house so I can shove it up your ugly fem­i­nist cunt." Ani­ta Sar­keesian of Fem Fre­quen­cy crit­i­cized the move­ment, and was forced to can­cel a pub­lic speak­ing engage­ment at the Utah State Uni­ver­si­ty; school offi­cials had received let­ters promis­ing ​"a mas­sacre" if Sar­keesian was allowed to speak.
This is what's being called ​"the future of cul­ture wars." But it's not ​"the future" of any­thing. It's just the past and present of being a woman online.
Let's recap some Inter­net his­to­ry, start­ing with the inci­dents from that open­ing quiz.
2007: Tech blog­ger Kathy Sier­ra shuts down her blog, ​"Cre­at­ing Pas­sion­ate Users," and can­cels her appear­ance at the OReil­ly ETech con­fer­ence after receiv­ing graph­ic death threats in response to her increas­ing pop­u­lar­i­ty, includ­ing a pic­ture of Sier­ra next to a noose. ​"I will nev­er feel the same; I will nev­er be the same," she writes of the harass­ment. Cam­paigns to end writ­ers' careers are noth­ing new, either: 2007 was also the year that con­ser­v­a­tives orga­nized a cam­paign to get fem­i­nist blog­gers Aman­da Mar­cotte and Melis­sa McE­wan fired from John Edwards' pres­i­den­tial cam­paign, dredg­ing up every vague­ly unfa­vor­able state­ment either one had ever made about reli­gion, then twist­ing them wild­ly out of con­text to present the two women as anti-Catholic big­ots. It worked: Both lost their jobs on the campaign.
2008: Anony­mous mass harass­ment and threats have not always been aimed at spe­cif­ic women. Some­times, they're aimed at ​"fem­i­nism" as a whole. Jaclyn Fried­man wrote in a 2008 Bitch mag­a­zine arti­cle about 4chan off­shoot Anony­mous' ded­i­cat­ed attack on fem­i­nist blog­gers, which took aim at both high-pro­file names and not-so-well-known folks, and which includ­ed com­ment-sec­tion spam­ming, DDOS attacks ("denial of ser­vice" attacks, var­i­ous meth­ods to force a site's host to shut it down or oth­er­wise make it unavail­able to users) , and e‑mails like this one:
Heart, this is hor­ri­ble. I'm sor­ry that this is hap­pen­ing to you. These peo­ple want noth­ing to do but to hurt you and your cause. I feel for you. In fact, I want to feel you now. I'd like to tie you down, take a knife, and slit your throat. I'd pen­e­trate you over and over in all ori­fices, and cre­ate some of my own to stick myself in.
2009/2010: Anony­mous' attack on fem­i­nist women doesn't stop there: In late 2009 and ear­ly 2010, when Julian Assange is accused of rape by two Swedish women, Anony­mous promis­es to be his ​"loy­al army." That means tak­ing to Twit­ter, YouTube and oth­er sites to smear the women's rep­u­ta­tions, spread their names and con­tact infor­ma­tion, and harass any­one who believes Assange should stand tri­al. Many fem­i­nists who stand up against the char­ac­ter assas­si­na­tion of the accusers receive round-the-clock rape threats and com­ments like, ​"If she says no one time, lifts skirt, removes panties, spreads legs, stays pas­sive & silent it's not rape."
(That par­tic­u­lar com­ment was addressed to me. And, due to my role in cre­at­ing and lead­ing the #Moore­andMe hash­tag protest — we aimed to raise con­scious­ness of pro­gres­sive media-mak­ers' com­plic­i­ty in smear­ing the women, start­ing with Michael Moore, who had lit­er­al­ly laughed off the idea that Assange could be guilty, and dis­missed the charges as ​"hooey" — so were hun­dreds of oth­ers. One com­ment — anony­mous, of course — promised some­one would ​"be watch­ing" me. This is my part of the sto­ry. But the sto­ry doesn't end. Not here, not in 2010, seem­ing­ly not ever.)
2012: Fem­i­nist game crit­ic Ani­ta Sar­keesian is the sub­ject of Ben­jamin Daniel's ​"Beat Up Ani­ta Sar­keesian" game, in which the click of a few but­tons cov­ered Sarkeesian's face with bruis­es and blood. Yes, that's the same Ani­ta Sar­keesian. Yes, Daniel is a Gamer­Gate sup­port­er. Draw your own conclusions.
2014: In August of 2014, Gamer­Gate prop­er begins with an obses­sive, long-wind­ed blog post by a resent­ful man from Quinn's past. How­ev­er, not only was Gjoni's Gje­re­mi­ad not unique, it wasn't even unique for that sum­mer: On June 27, book blog­ger Ed Cham­pi­on pub­lished a frankly ter­ri­fy­ing 11,000-word post in which he revealed his obses­sive hatred of Emi­ly Gould, Rachel Fer­sh­leis­er and sev­er­al oth­er female authors. He had appar­ent­ly been track­ing Gould's social media pres­ence for years. When Twit­ter react­ed to his piece with the appro­pri­ate lev­el of dis­may, Cham­pi­on pub­licly threat­ened to throw him­self off a bridge, going so far as to Tweet pho­tos of the bridge in ques­tion. Crit­ics backed off out of con­cern for his men­tal health. By Sep­tem­ber, he was back at it, this time threat­en­ing to leak nude pic­tures of author Porochista Khakpour. These women's ​"offens­es," if you can call them that (hint: you can't) are spec­tac­u­lar­ly minor: Gould had once writ­ten an unflat­ter­ing blog post about Cham­pi­on. Khakpour had delet­ed one of his com­ments from her Face­book wall.
All of which goes to show that it's not sim­ply a ​"video games" prob­lem. It's a prob­lem with being vis­i­bly female, and able to pub­lish and pro­mote your own voice, in a misog­y­nist cul­ture. And it's a prob­lem with the fact that every­one, includ­ing vir­u­lent misog­y­nists who believe women should be tor­ment­ed into sui­cide for hav­ing sex or for break­ing their favorite fan-toys, can make them­selves heard, but the tech­nol­o­gy and laws to reli­ably pro­tect your­self from their harass­ment does not exist, and the only oth­er option is silence.
What I have out­lined is not a total his­to­ry of women being harassed and threat­ened online. It's not even a sliv­er of it. These are a few, well-known instances of wide­ly used tac­tics. The most hon­est way to sum up this his­to­ry is to say that I can't think of a fem­i­nist writer who hasn't been stalked, threat­ened, harassed, made to fear for their safe­ty or their employ­a­bil­i­ty, devel­oped phys­i­cal or men­tal health prob­lems, become hyper-con­scious or lim­it­ed in what they could express online, or sim­ply stopped pub­lish­ing alto­geth­er because they could no longer jus­ti­fy putting them­selves through this much pain for the move­ment or for any per­son­al goals that writ­ing or engag­ing online might plau­si­bly help them to achieve. Their num­bers are large, and get larg­er every year. Each of these inci­dents might be the worst peri­od in an indi­vid­ual woman's life. But they are all dwarfed by the total­i­ty of the dam­age: No mat­ter how often we write about the attacks, or talk about them, or vow to ral­ly the cul­ture against them, they just keep com­ing. Not at the rate of once a year, or even once a sum­mer, but constantly.
So what makes Gamer­Gate such a big deal? What makes it new? It's not the misog­y­ny, nor the bru­tal­i­ty: As ugly as the Gamer­Gate threats are, their ugli­ness is famil­iar. What makes it dif­fer­ent, I sus­pect, is that Gamer­Gate is cost­ing the wrong peo­ple money.
GamerGate's biggest mistake—the reason it's getting so much coverage, and so much corresponding pushback—is that its drive to wipe women off the face of the Internet has targeted folks with real power. When a feminist blogger gets hit with a flood of hateful e-mails, it's business as usual, time to grow a thicker skin, an opportune moment to lecture everyone on not feeding the trolls. When an Adobe executive gets hit, it's war.
Con­sid­er: When Gawk­er Media writer Max Bid­dle Tweet­ed an off-hand joke about Gamer­Gaters deserv­ing to be bul­lied, Gamer­Gate respond­ed by harass­ing Adobe into pulling its adver­tis­ing con­tract with Gawk­er. ​"I've been told that we've lost thou­sands of dol­lars already, and could poten­tial­ly lose thou­sands more, if not mil­lions," Gawk­er edi­tor Max Read wrote. Intel was also harassed into pulling its ads from trade site, Gama­su­tra, after Leigh Alexan­der incurred Gater ire for writ­ing that ​"gamers are over."
In oth­er words, they're now tar­get­ing cor­po­ra­tions, and men. Gamer­Gaters are encour­aged to con­tact the supe­ri­ors of any jour­nal­ist who cross­es them and demand the axe, mean­ing that even those who aren't fem­i­nist-iden­ti­fied and there­fore trained to expect this treat­ment are final­ly see­ing what it's like to have to fear for your liveli­hood­if you speak too freely in your lat­est piece. And mar­keters and adver­tis­ers hit by the Gamer­Gaters are report­ed­ly baf­fled by the expe­ri­ence of the kind of ded­i­cat­ed harass­ment that fem­i­nist writ­ers have been get­ting for years. ​"Adver­tis­ers don't know what the fuck this is," one anony­mous pub­lish­ing sales exec­u­tive told Ad Age.
Well, they wouldn't, would they? GamerGate's biggest mis­take — the rea­son it's get­ting so much cov­er­age, and so much cor­re­spond­ing push­back — is that its dri­ve to wipe women off the face of the Inter­net has tar­get­ed folks with real pow­er. When a fem­i­nist blog­ger gets hit with a flood of hate­ful e‑mails, it's busi­ness as usu­al, time to grow a thick­er skin, an oppor­tune moment to lec­ture every­one on not feed­ing the trolls. When an Adobe exec­u­tive gets hit, it's war.
I'm glad that Gamer­Gate is get­ting so much press. The chances of the tar­get­ed women sur­viv­ing with careers and men­tal health intact get high­er the more peo­ple know what is being done to them. It's frus­trat­ing to see it treat­ed as a new or unique prob­lem — it seems like all of the writ­ing and speak­ing on the exist­ing prob­lem has been for­got­ten, or just ignored — but maybe, in the future, we'll be able to explain these inci­dents as being ​"like GamerGate"
Yet we can't treat this as an iso­lat­ed event. We can't treat it as an ran­dom blow-up. It is an unusu­al­ly vis­i­ble instance of some­thing that hap­pens every day. And its impact can be best mea­sured, not in the num­ber of women dri­ven out of their homes or threat­ened with mass shoot­ings, but in the silences: In the num­ber of women who don't speak, or who speak more soft­ly, or who sim­ply shut up for good, know­ing that one wrong word or one wrong move can burn their lives down. That fear has been with us for as long as women have been engag­ing online. Too many of us already live with it.
As for every­one else: Wel­come to the war, boys. Buck­le in, because it won't stop any time soon. And it doesn't get any less bloody from here on in.