The Volkswagen Defeat Wasn't Inevitable—and Labor Can Still Win in the South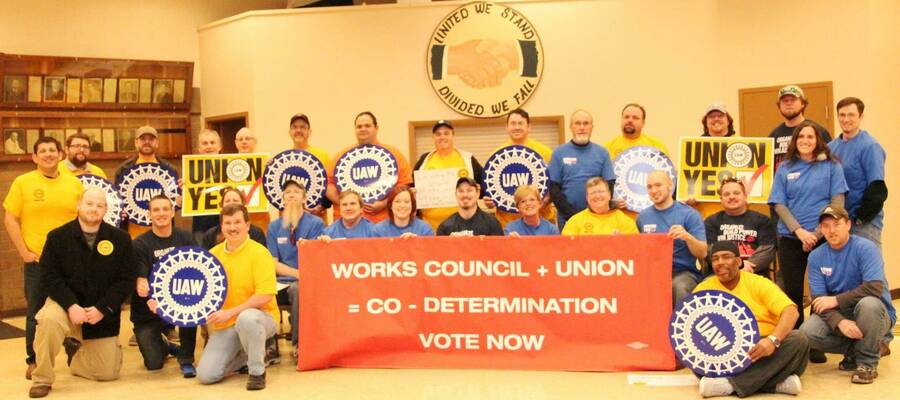 The future looks bleak. The Repub­li­can Par­ty is now the dom­i­nant force in more than two-thirds of state leg­is­la­tures, a major­i­ty of gov­er­nor­ships, both hous­es of Con­gress and the White House. Upon seiz­ing pow­er, one of the GOP's first goals is to kneecap the oppo­si­tion. For labor unions, that means fac­ing the body blow of ​"right-to-work" leg­is­la­tion, which allows work­ers to receive the ben­e­fits of union­iza­tion with­out hav­ing to pay for it. Twen­ty-eight states have already passed right-to-work laws and more are like­ly to do so in the com­ing months. Con­gress has intro­duced fed­er­al leg­is­la­tion that would make right-to-work the law of the land in the pri­vate sec­tor and Trump's nom­i­nee to the Supreme Court could man­date it for pub­lic workers.
The fur­ther entrenched the Repub­li­cans become, the more rapid­ly the bal­ance of pow­er in soci­ety shifts to the ben­e­fit of employ­ers. The stark­ly asym­met­ric war against work­ers that has typ­i­fied labor orga­niz­ing in the South is quick­ly becom­ing the new sta­tus quo every­where. Part of what has led us to this moment is the labor movement's fail­ure to orga­nize below the Mason-Dixon line.
That fail­ure was felt acute­ly three years ago, on a cold, rainy Valentine's Day in Ten­nessee, when the Unit­ed Auto Work­ers (UAW) came heart­break­ing­ly close to win­ning a union rep­re­sen­ta­tion elec­tion at Volk­swa­gen. Had the UAW been suc­cess­ful, it would have estab­lished the first Auto Work­ers local at a for­eign-owned auto com­pa­ny in the U.S. South. For the UAW, it would have also sig­naled a des­per­ate­ly need­ed rever­sal of for­tune. Over the past four decades, the union has lost more than two-thirds of its mem­bers and indus­try stan­dards for union­ized work­ers have erod­ed under com­pet­i­tive pres­sure from an influx of non-union, for­eign-owned auto manufacturers.
Speak­ing in 2011, for­mer UAW pres­i­dent Bob King pro­claimed, ​"If we don't orga­nize these transna­tion­als, I don't think there's a long-term future for the UAW." Orga­niz­ing Volk­swa­gen was the UAW's big, coura­geous gam­bit. The final vote count, 712 to 626, was the gut-wrench­ing con­clu­sion to one of the most inter­na­tion­al­ly scru­ti­nized orga­niz­ing dri­ves in decades.
The media fren­zy sur­round­ing the vote was at least part­ly in reac­tion to the reversed pow­er dynam­ics that turned the typ­i­cal union dri­ve on its head. As a Ger­man com­pa­ny, Volk­swa­gen falls under that country's Co-Deter­mi­na­tion Act. This Deutsch­land law man­dates that labor rep­re­sen­ta­tives hold half the seats on the 20-mem­ber super­vi­so­ry board of Volk­swa­gen Group, which legal­ly over­sees the entire com­pa­ny. With labor on equal foot­ing in the board­room, the UAW pres­sured the com­pa­ny to vol­un­tar­i­ly rec­og­nize the union. When that didn't work, the UAW nego­ti­at­ed a neu­tral­i­ty agree­ment, which barred man­age­ment from active­ly resist­ing union­iza­tion. Such an agree­ment would have been unthink­able at oth­er for­eign-owned auto companies.
To many in the busi­ness com­mu­ni­ty — as well as their polit­i­cal prox­ies — the agree­ment was seen as an out­ra­geous betray­al of their shared class inter­ests. Speak­ing to reporters, U.S. Sen. Bob Cork­er used lan­guage invoca­tive of Sherman's March to the Sea, claim­ing that the UAW would leave a lega­cy that would dam­age the South ​"for gen­er­a­tions to come," as the union spread from Volk­swa­gen to ​"BMW, then it's Mer­cedes, then it's Nis­san, hurt­ing the South­east if they get momen­tum." Sim­i­lar­ly, Ten­nessee Gov. Bill Haslam, one of the rich­est politi­cians in the coun­try, warned the press that the UAW was estab­lish­ing a ​"beach­head that would grow from there." In the lead up to the Nation­al Rela­tions Labor Board elec­tion, it wasn't the com­pa­ny that fought the union, but a live­ly coali­tion of Ten­nessee Repub­li­cans, rightwing activists, busi­ness inter­est groups and out-of-state anti-union consultants.
While the sto­ry of UAW's con­tin­ued efforts to union­ize Volk­swa­gen has many unique twists, much of it is all-too-famil­iar. The dri­ve once again exposed the extreme lengths that anti-union politi­cians and busi­ness groups will go to keep work­ers from union­iz­ing. It showed the weak­ness of union strate­gies that focus more on part­ner­ing with man­age­ment than encour­ag­ing adver­sar­i­al work­er activism. It also reaf­firmed what should have been com­mon sense to the UAW: Unions exclude the com­mu­ni­ty from orga­niz­ing dri­ves at their own peril.
Since the polit­i­cal con­di­tions in Ten­nessee are quick­ly becom­ing the norm nation­al­ly, Repub­li­can politi­cians and cor­po­rate inter­est groups are like­ly to see the UAW's loss in Chat­tanooga as a roadmap to suc­cess — putting sim­i­lar lessons and tac­tics to use in defeat­ing future union rep­re­sen­ta­tion elec­tions. Giv­en the dif­fi­cul­ty of the road ahead and the urgency of the present moment, it is imper­a­tive that labor does the same. We must sur­vey the UAW's orga­niz­ing dri­ve at Volk­swa­gen for per­ti­nent lessons. Win­ning is nev­er easy or cer­tain, but it is possible.
Orga­niz­ing the South
A key les­son of the Volk­swa­gen orga­niz­ing dri­ve was that even if the com­pa­ny claims to be neu­tral, the South is not.
Short­ly after the Labor Board announced the date of the union elec­tion, Mau­ry Nice­ly, a Chat­tanooga attor­ney work­ing at a man­age­ment-side law firm and the for­mer in-house coun­sel at the Volk­swa­gen plant, helped to raise over $100,000 from local busi­ness­es to form a non-prof­it called South­ern Momen­tum. This non-prof­it worked close­ly with a small group of anti-union work­ers in the plant and out-of-state con­sul­tants to orga­nize a ​"vote no" cam­paign. South­ern Momen­tum ran anti-union adver­tise­ments in the local paper, orga­nized a local ​"vote no" forum for Volk­swa­gen work­ers and pro­duced high-qual­i­ty videos fea­tur­ing anti-union work­ers explain­ing why they were vot­ing against the UAW. Addi­tion­al­ly, an out-of-state orga­ni­za­tion fund­ed by the lib­er­tar­i­an anti-tax cru­sad­er Grover Norquist pur­chased 13 bill­boards around the plant as well as radio and news­pa­per ads and orga­nized an anti-UAW com­mu­ni­ty forum with the sup­port of local Tea Par­ty leadership.
And all of these groups were work­ing hand-in-glove with the state's Repub­li­can lead­er­ship. Years before the vote, hun­dreds of mil­lions of dol­lars in sub­si­dies and tax abate­ments were offered up by state and local gov­ern­ments to con­vince Volk­swa­gen to con­struct the company's only U.S. auto plant in Ten­nessee, bring­ing 2,000 man­u­fac­tur­ing jobs with it. In total, it was the largest tax­pay­er hand­out ever giv­en to a for­eign-head­quar­tered automak­er in U.S. his­to­ry. In the months lead­ing up to the union elec­tion, the Ten­nessee state gov­ern­ment had been in nego­ti­a­tions with Volk­swa­gen over an addi­tion­al $300 mil­lion incen­tive pack­age. This new incen­tive pack­age was being dan­gled in the hopes of the com­pa­ny choos­ing to assem­ble their new SUV in Ten­nessee and not Mex­i­co — a choice that would expand the Chat­tanooga plant and bring an addi­tion­al 2,000 jobs to the area.
Press reports fea­tur­ing leaked emails from the Haslam admin­is­tra­tion lat­er revealed that the gov­er­nor had used the $300 mil­lion to pres­sure the com­pa­ny into not vol­un­tar­i­ly rec­og­niz­ing the union, forc­ing the UAW into a secret bal­lot elec­tion. Then, just two days pri­or to the vote, Repub­li­can state offi­cials went on the record threat­en­ing the incen­tive deal if the work­ers vot­ed to union­ize. State sen­a­tor Bo Wat­son, whose dis­trict includes the Volk­swa­gen fac­to­ry, held a press con­fer­ence with oth­er GOP offi­cials and denounced the com­pa­ny as ​"un-Amer­i­can" for not fight­ing the UAW dri­ve and flat­ly stat­ed that if the work­ers vot­ed to union­ize then the state leg­is­la­ture was going to have a ​"very tough time" approv­ing the incen­tives cur­rent­ly being nego­ti­at­ed. Nice­ly, speak­ing for South­ern Momen­tum, said, ​"fur­ther finan­cial incen­tives — which are absolute­ly nec­es­sary for the expan­sion of the VW facil­i­ty — sim­ply will not exist if the UAW wins this elec­tion." Adding to the cho­rus on the day that vot­ing began, Sen. Cork­er told reporters that senior mem­bers of Volk­swa­gen man­age­ment in Ger­many had per­son­al­ly assured him that ​"should the work­ers vote against the UAW, Volk­swa­gen will announce in the com­ing weeks that it will man­u­fac­ture its new mid-size SUV here in Chattanooga."
Orga­niz­ing the company
While the coor­di­nat­ed anti-union cam­paign was like­ly among the largest and most expen­sive waged by third-par­ties in U.S. his­to­ry, it would be wrong to paint the union as a mere Valentine's Day mar­tyr. The UAW knew what it was get­ting into and should have pre­pared. Speak­ing well before the elec­tion, UAW Dis­trict 8 direc­tor Gary Cas­teel, who now serves as UAW sec­re­tary-trea­sur­er, told reporters that the Auto Work­ers were seek­ing vol­un­tary recog­ni­tion from the com­pa­ny because ​"we know if we go for a tra­di­tion­al elec­tion where the out­side orga­ni­za­tions could cam­paign against us, we'd prob­a­bly lose." Giv­en that the UAW lead­er­ship under­stood how fierce­ly the state's busi­ness and polit­i­cal estab­lish­ment would oppose union­iza­tion, the neu­tral­i­ty agree­ment that the UAW entered into with the com­pa­ny stands out as a remark­ably fool­ish gamble.
For one thing, the agree­ment barred the union from per­form­ing house vis­its with work­ers, so orga­niz­ers couldn't assess work­er atti­tudes towards the union or shore up their sup­port though face-to-face con­ver­sa­tions in the pri­va­cy of their own homes. UAW staff instead relied sole­ly on a ​"lead­er­ship coun­cil" of pro-union work­ers to col­lect cards and per­form assess­ments in the plant. Not per­form­ing home vis­its isn't nec­es­sar­i­ly fatal, if the in-plant orga­niz­ing com­mit­tee is strong active and thor­ough. But, in this case, the move was a mistake.
Max*, a team leader who has been at Volk­swa­gen for six years and was a mem­ber of the UAW lead­er­ship coun­cil, says the UAW also made the fatal mis­take of going to a vote with too small a pro-union mar­gin. ​"The most sup­port we ever had through card check was 54 per­cent," he said. Not only was the mar­gin low, but ​"the coun­cil of work­er orga­niz­ers that were try­ing to get cards signed was sim­ply too small, with not enough reach and not enough work areas." Accord­ing to Max, the UAW chose to pro­ceed with an elec­tion on a small mar­gin with­out hav­ing assessed all the work­ers in the plant. The union did so on the wager that the ben­e­fits derived from the neu­tral­i­ty agree­ment would tilt the out­come in their favor. ​"The com­pa­ny did do a lot of things. They let [the UAW] have an office inside the build­ing. Gary Cas­teel talked to the work­ers inside of an all-team meet­ing and they had hoped that would win more sup­port," Max said. ​"It didn't."
Addi­tion­al­ly, the neu­tral­i­ty agree­ment con­tained a clause that barred the union from mak­ing dis­parag­ing claims against the com­pa­ny, basi­cal­ly pro­hibit­ing work­ers from pub­licly orga­niz­ing around the issues they were fac­ing in the plant, such as the increas­ing use of tem­po­rary work­ers to per­form assem­bly line work, inad­e­quate train­ing, repet­i­tive stress and the bru­tal rotat­ing shifts that nev­er allow work­ers to catch up on sleep or their bod­ies to heal. Instead, the UAW focused entire­ly on sell­ing the idea that a vote for the union was a vote for a new form of labor-man­age­ment part­ner­ship: form­ing the first ever Ger­man-style works coun­cil in a U.S. man­u­fac­tur­ing plant. There was just one prob­lem. ​"Nobody gave a dang about a works coun­cil," said Clarence*, a pro-union assem­bly work­er who has been in the plant for about five years. Clarence believes that the UAW wasn't capa­ble of build­ing more sup­port among work­ers for one sim­ple rea­son: ​"They didn't ham­mer down on any issues."
The idea of a works coun­cil nev­er res­onat­ed with Bruce*, who has worked at Volk­swa­gen for six years and was a mem­ber of the UAW lead­er­ship coun­cil. Bruce agrees that the union should have focused on the issues that work­ers cared about in the plant. ​"I know peo­ple in the plant who are just like me that have nev­er been a part of a union," he said. ​"I would've liked to have shown them what a union is all about."
The UAW's will­ing­ness to trust the com­pa­ny also led to grow­ing dis­trust between work­ers and UAW staff and lead­er­ship. Accord­ing to union activists, the UAW told them that the com­pa­ny was com­mit­ted to vol­un­tar­i­ly rec­og­niz­ing the union once they had a major­i­ty of work­ers signed up on cards. After they had a major­i­ty of cards signed, the union said that they had to win a Labor Board elec­tion. After they lost the elec­tion, the UAW told the same activists that they were going to form a ​"mem­bers-only union" to rep­re­sent those work­ers who vol­un­tar­i­ly joined and that the com­pa­ny had again promised to vol­un­tar­i­ly rec­og­nize the union once they reached a major­i­ty. So the work­ers formed Local 42 and signed up a major­i­ty of the hourly work­force. Again, the com­pa­ny refused to vol­un­tar­i­ly rec­og­nize the union. In response, many work­ers no longer trust the UAW.
"We would go dis­sem­i­nate this infor­ma­tion through our plant net­work and then Volk­swa­gen would not do the thing we just said they were going to do," said Justin King, who worked at Volk­swa­gen for about five years and was an active mem­ber of the lead­er­ship coun­cil. ​"The UAW and orga­niz­ers lost credibility."
In place of vol­un­tary recog­ni­tion, Volk­swa­gen cre­at­ed a ​"Com­mu­ni­ty Orga­ni­za­tion Engage­ment Pol­i­cy" that allowed for Local 42 lead­er­ship to meet and con­fer with senior man­age­ment at Volk­swa­gen. One of the work­ers that par­tic­i­pat­ed in these biweek­ly meet­ings was Myra Mont­gomery, the record­ing sec­re­tary for Local 42 who worked at Volk­swa­gen for five years. After months of meet­ings that went nowhere, Mont­gomery told the union pres­i­dent that she believed the com­pa­ny had cre­at­ed the pol­i­cy to dis­arm the union. ​"They're just putting the paci­fi­er in your mouth to shut you up and go on about the next two weeks," she told him. ​"We're just see­ing each other's faces and noth­ing is get­ting done."
At the end of 2015, the UAW was suc­cess­ful in orga­niz­ing a so-called ​"micro-unit" of 162 skilled trades work­ers at Volk­swa­gen, the first union vic­to­ry at a South­ern transna­tion­al auto com­pa­ny. Four­teen months lat­er, Volk­swa­gen has yet to begin bar­gain­ing with the unit — an obvi­ous vio­la­tion of fed­er­al labor law — and is appeal­ing the Labor Board's cer­ti­fi­ca­tion of the union through the courts.
Addi­tion­al­ly, Volk­swa­gen has denied Local 42 mem­bers their Wein­garten right to union rep­re­sen­ta­tion in dis­ci­pli­nary meet­ings with man­age­ment, while for­mer rank-and-file UAW lead­ers like Mont­gomery and King believe they were tar­get­ed and ter­mi­nat­ed because of their union activities.
While the anti-union oppo­si­tion worked with com­mu­ni­ty lead­ers to orga­nize pub­lic forums as part of the ​"vote no" cam­paign, the union expressed lit­tle inter­est in work­ing with pro­gres­sive com­mu­ni­ty groups and activists.
"If you are in a com­mu­ni­ty where the com­mu­ni­ty is fight­ing you, whether that is in Wis­con­sin or Geor­gia, you have a prob­lem," said Kate Bron­fen­bren­ner, direc­tor of labor edu­ca­tion research at Cor­nell Uni­ver­si­ty. Even as the anti-union cam­paign esca­lat­ed, the UAW still didn't make mean­ing­ful com­mu­ni­ty involve­ment a focus of their cam­paign. ​"If you're not pre­pared for oppo­si­tion from exter­nal forces and don't expect it or change your cam­paign to deal with it," says Bro­fen­bren­ner, ​"then you are going to lose."
To this day, the UAW has lit­tle to no pub­lic involve­ment with pro­gres­sive com­mu­ni­ty orga­ni­za­tions in Chat­tanooga. Mean­while, Volk­swa­gen spon­sors count­less com­mu­ni­ty events, has plans to open a mas­sive vis­i­tor cen­ter in the heart of the city and recent­ly announced that it is fund­ing sci­ence labs in local schools.
By choos­ing to orga­nize the com­pa­ny and not the work­ers, the UAW set itself up for fail­ure. (The union refused mul­ti­ple requests for com­ment on this sto­ry.) It was rushed into an elec­tion with­out ful­ly assess­ing all the work­ers in the plant and with too small a mar­gin of sup­port. The sup­port it had was not deep enough to with­stand the onslaught of anti-union activ­i­ty from third-par­ty groups. By turn­ing the union elec­tion into a vote on labor-man­age­ment part­ner­ship, the union failed to orga­nize around issues in the plant and to make the union real for work­ers who had no pre­vi­ous expe­ri­ence in the labor move­ment. By rest­ing its legit­i­ma­cy on its part­ner­ship with the com­pa­ny, UAW staff lost cred­i­bil­i­ty when man­age­ment didn't keep their promis­es. And because the UAW hasn't done the work of recruit­ing enough strong work­place lead­ers and sup­port­ing them to orga­nize on the shop floor, the union is no stronger or clos­er to vic­to­ry three years later.
Trust the workers
The UAW didn't have to lose at Volk­swa­gen. The union could have won. Oth­ers have done it fac­ing much tougher odds. Take, for exam­ple, the Unit­ed Food and Com­mer­cial Work­ers' orga­niz­ing dri­ve at the mil­lion-square-foot Smith­field Foods hog slaugh­ter­house in Tar Heel, North Car­oli­na. Locat­ed in a rur­al region of a state that for over 50 years has had one of the low­est union den­si­ty rates in the coun­try, the Smith­field fac­to­ry is the largest pork fac­to­ry in the world. It employs 5,000 work­ers who over­see the entire pro­duc­tion process ​"from the squeal to the meal." The work is so bru­tal and intense that the fac­to­ry had a near­ly 100 per­cent year­ly turnover rate over the course of the union orga­niz­ing drive.
The orga­niz­ing cam­paign was a 16-year roller coast­er, full of ups and downs, stops and starts. Work­ers faced down the usu­al employ­er threats to off­shore pro­duc­tion and tar­get­ed fir­ings, as well as cor­po­rate tricks straight out of the 19th cen­tu­ry: union activists were phys­i­cal­ly beat­en and arrest­ed by com­pa­ny-dep­u­tized offi­cers. Twice the union lost a secret-bal­lot elec­tion and twice the Labor Board ordered a redo in response to the company's egre­gious vio­la­tions of fed­er­al labor law. The third time around, the union fun­da­men­tal­ly changed its approach — and in 2008, the work paid off when the work­ers vote 52 to 48 per­cent in favor of union­iz­ing. At the time, it was the largest pri­vate sec­tor union elec­tion in decades.
"Every­one in the coun­try is about to face the same con­di­tions that we have to deal with in the South," said Gene Bruskin, cam­paign direc­tor on the UFCW's third and final union­iza­tion attempt at Smith­field. ​"You can't count on any favor­able con­di­tions. You can't count on many peo­ple hav­ing favor­able expe­ri­ence with unions, can't count on hav­ing a friend­ly com­pa­ny. You can't count on hav­ing com­mu­ni­ty sup­port. You can­not be under any illusions."
What the union did count on was the lead­er­ship in the plant and their allies in the com­mu­ni­ty. ​"Fun­da­men­tal­ly, I believe that you need an inside and out­side game," said Bruskin. The union built a strong in-plant orga­niz­ing com­mit­tee that mapped the plant and iden­ti­fied rank-and-file lead­ers in the dif­fer­ent pro­duc­tion areas, recruit­ing them to the cam­paign and involv­ing them in actions that esca­lat­ed pres­sure on the com­pa­ny from the shop floor. Work­ers held union meet­ings in the cafe­te­ria dur­ing lunchtime, pro­vid­ing updates and lead­ing chants while man­age­ment looked on help­less­ly. Work­ers engaged in small group work stop­pages. They cir­cu­lat­ed an in-plant newslet­ter called Gone Hog Wild. Hun­dreds wrote ​"Union Time" on their hel­mets in pub­lic defi­ance of man­age­ment. These actions grew con­fi­dence and sol­i­dar­i­ty among the workforce.
While the inside strat­e­gy was mov­ing, the union worked with state and nation­al allies to pres­sure the com­pa­ny from the out­side. Allies put a media spot­light on the union cam­paign through tar­get­ed con­sumer boy­cotts, penal­iz­ing the com­pa­ny when it over­re­act­ed to work­er actions in the plant and pres­sur­ing man­age­ment to come to the table and nego­ti­ate. The inside-out­side strat­e­gy even­tu­al­ly result­ed in the union secur­ing an agree­ment with the com­pa­ny that allowed union staff to have a pres­ence on the premis­es to meet with work­ers and to appoint a third-par­ty to mon­i­tor the Labor Board elec­tion and enforce the terms of the agreement.
The neu­tral­i­ty agree­ment at Smith­field stands in sharp con­trast to the agree­ment at Volk­swa­gen. ​"We fought for neu­tral­i­ty at Smith­field. We fought hard and the work­ers were a part of that fight," said Bruskin. ​"So when the com­pa­ny let us walk into the plant in the lead up to the elec­tion, the work­ers knew that this was the result of a victory."
Work­ers don't join a union because it is friend­ly with the com­pa­ny, but because there are real issues that they face on the job and would like to change. ​"Since Volk­swa­gen is under pres­sure due to inter­na­tion­al labor-man­age­ment agree­ments, the UAW is in an even stronger posi­tion to engage in fights around issues in the plant," said Bruskin. And yet, the UAW has yet to cap­i­tal­ize on the lever­age that Ger­man unions have over the com­pa­ny to dri­ve orga­niz­ing on the shop floor in Tennessee.
Even if the UAW had won, what kind of union would it have built? The orga­niz­ing dri­ve at Smith­field pro­duced a high-func­tion­ing union local. Work­ers know what it took to win the union and they know what it will take to keep it. The union has been able to main­tain over 80% union den­si­ty in a right-to-work state — a les­son that should be tak­en to heart by unions across the coun­try that are star­ing down the bar­rel of a right-to-work régime.
"We're going to be liv­ing in a right-to-work world in a while," said Bruskin. ​"It doesn't mean you can't win or have high mem­ber­ship. It means you have to get off your ass and you have to work."
* Cur­rent Volk­swa­gen employ­ees quot­ed in this sto­ry spoke under pseu­do­nyms because they feared retal­i­a­tion under the company's strict media policy.
Chris Brooks
is a staff writer and labor edu­ca­tor at
Labor Notes,
where he cov­ers the Unit­ed Auto Work­ers. He is a mem­ber of the Nation­al Writ­ers Union (UAW Local
1981
).