The War That Never Ends
Iraq Veterans Against the War's 'Winter Soldier' hearings revealed the awful truths of the occupation and the ongoing struggle for those who have returned home.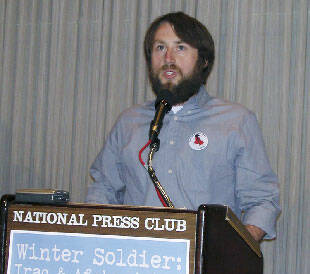 Last Memo­r­i­al Day, Sgt. Kristofer Gold­smith tried to kill him­self. He had just been stop-lossed along with 80,000 oth­er sol­diers as part of the surge of U.S. forces to be sent to Iraq in the Bush administration's last-ditch attempt at vic­to­ry. Gold­smith already suf­fered from Post Trau­mat­ic Stress Dis­or­der (PTSD), though Vet­er­ans Affairs (VA) refused to diag­nose him. His con­tract with the army was almost up, and he couldn't bear the thought of an 18-month deployment.
Like the dozens of dis­grun­tled vet­er­ans of Iraq and Afghanistan who tes­ti­fied at the Iraq Vet­er­ans Against the War's (IVAW) emo­tion­al and ground­break­ing ​"Win­ter Sol­dier" hear­ings, held from March 13 – 16 at the Nation­al Labor Col­lege near Wash­ing­ton D.C., Gold­smith had enlist­ed as a proud Amer­i­can eager to defend his coun­try and trust­ing of the gov­ern­ment that would send him into bat­tle. Gold­smith hails from Long Island, and a day after watch­ing smoke pour out of the col­lapsed World Trade Cen­ter tow­ers, he had told friends that he ​"want­ed to kill every­one in the Mid­dle East."
Gold­smith arrived in the sprawl­ing ghet­to of Baghdad's Sadr City at age 19. He admits to fol­low­ing the com­mand of his supe­ri­ors and tak­ing pho­tos of unearthed dead bod­ies, more as war tro­phies than as evi­dence. ​"The images of dead bod­ies are burned into my mem­o­ry," Gold­smith said. His unit harassed the local pop­u­la­tion, and stopped cars, even as someone's wife was going into labor in the back seat. And one day he trained his weapon on a six-year-old Iraqi boy point­ing a stick at him as if it were an AK-47. ​"We were so desen­si­tized. … The U.S. gov­ern­ment put me in that posi­tion," he said. ​"It took a lot of think­ing not to kill the boy that day."
Vet­er­ans like Kristofer Gold­smith dis­cov­ered first-hand how the gov­ern­ment sent them ill-pre­pared into a war under false pre­tens­es, changed their rules of engage­ment with every deploy­ment, brain­washed them into dehu­man­iz­ing the Iraqi pop­u­la­tion, and brought them home with­out ade­quate means of car­ing for those for whom the war still rages on.
IVAW's Win­ter Sol­dier hear­ings, held just days before the five-year anniver­sary of the inva­sion of Iraq on March 19, were inspired by the orig­i­nal Viet­nam Win­ter Sol­dier hear­ings, which took place in the rel­a­tive obscu­ri­ty of a Howard John­son motel in Detroit in 1971. (The phrase, ​"Win­ter Sol­dier" comes from a 1776 Rev­o­lu­tion­ary War quote by Thomas Paine: ​"These are the times that try men's souls. The sum­mer sol­dier and the sun­shine patri­ot will, in this cri­sis, shrink from the ser­vice of his coun­try; but he that stands it now deserves the love and thanks of man and woman.") The nation­al media all but ignored those hear­ings, and the doc­u­men­tary Win­ter Sol­dier, pro­duced by 18 film­mak­ers who attend­ed the hear­ings, was left undis­trib­uted until Mile­stone Films picked it up in 2005. (See In These Times​'s review of the film.)
The lega­cy of the first Win­ter Sol­dier hear­ings was ever-present in Wash­ing­ton D.C. Viet­nam Vet­er­ans Against the War pro­vid­ed secu­ri­ty at the Nation­al Labor Col­lege, form­ing a metaphor­i­cal cir­cle of sup­port around the new gen­er­a­tion of their brethren-activists in arms. And that sup­port was cru­cial. Unlike the Viet­nam vets, the new gen­er­a­tion finds they can fol­low the path of resis­tance already tak­en by oth­ers before them.
IVAW enjoyed oth­er advan­tages over the orig­i­nal Win­ter Sol­dier hear­ings. A well-orga­nized pub­lic rela­tions team dis­sem­i­nat­ed word of the event to jour­nal­ists and doc­u­men­tary crews, result­ing in healthy cov­er­age in the pro­gres­sive media world, and even some in the main­stream media. IVAW pur­chased an adver­tise­ment in the mag­a­zine Mil­i­tary Times in order to recruit more mem­bers. On the IVAW web­site, view­ers could watch live stream­ing of tes­ti­mo­ni­als and pan­els through­out the week­end, and on a base in Texas, active duty sol­diers did just that until a Non-Com­mis­sioned Offi­cer alleged­ly turned off the tele­vi­sion. Paci­fi­ca Radio and Democ­ra­cy Now both picked up the hear­ings as well.
The orig­i­nal Win­ter Sol­dier hear­ings were marred in main­stream polit­i­cal dis­course by alle­ga­tions of lies and unsub­stan­ti­at­ed claims of war crimes by the U.S. mil­i­tary, as well as by the exter­nal appear­ance of many Win­ter Sol­dier tes­ti­fiers as long-haired rad­i­cals – all of which resur­faced dur­ing Win­ter Sol­dier par­tic­i­pant Sen. John Kerry's (D‑Mass.) pres­i­den­tial cam­paign in 2004. This time around, IVAW seemed deter­mined to present its hear­ings in a more appeal­ing light to main­stream Amer­i­ca. From the secu­ri­ty and hyper-orga­ni­za­tion sur­round­ing the event, to the pol­ished shoes and busi­ness-casu­al dress worn by many vets, to the ver­i­fi­ca­tion and cor­rob­o­ra­tion team that checked out the sto­ry of each tes­ti­fi­er, every­thing seemed to say: ​"We're not rad­i­cals, we're your mil­i­tary, and you need to hear our stories."
IVAW was found­ed in July 2004 at the annu­al con­ven­tion of Vet­er­ans for Peace in Boston to give voice to active-duty ser­vice peo­ple and vet­er­ans who oppose the war in Iraq but are under pres­sure to remain silent. IVAW calls for ​"the imme­di­ate with­draw­al of all occu­py­ing forces in Iraq; repa­ra­tions for the human and struc­tur­al dam­ages Iraq has suf­fered, and stop­ping the cor­po­rate pil­lag­ing of Iraq so that their peo­ple can con­trol their own lives and future; and full ben­e­fits, ade­quate health­care (includ­ing men­tal health) and oth­er sup­ports for return­ing ser­vice men and women."
The organization's goals are polit­i­cal in the sense that IVAW seeks to do what the Bush admin­is­tra­tion, anti­war activists and the Demo­c­ra­t­ic-con­trolled Con­gress have been unwill­ing or unable to accom­plish: end the war in Iraq. But the Win­ter Sol­dier hear­ings in Wash­ing­ton D.C. were as much a forum for indi­vid­ual tes­ti­mo­ni­als and a ther­a­peu­tic way to come clean with sto­ries of uneth­i­cal behav­ior, and even war crimes.
Hor­rif­ic tales from the front lines filled the week­end, and many a tear followed.
Jason Hurd, an Army Nation­al Guard medic who served in Bagh­dad in 2004-05, said his unit reg­u­lar­ly opened fire on civil­ians. After tak­ing stray rounds from a near­by gun­fight, a machine gun­ner fired 200 rounds into a near­by apart­ment build­ing. ​"Things like that hap­pened every day in Iraq," he said. ​"We react­ed out of fear for our lives, and we react­ed with total destruction."
"Over time, as the absur­di­ty of war set in, indi­vid­u­als from my unit indis­crim­i­nate­ly opened fire at vehi­cles dri­ving down the wrong side of the road," Hurd con­tin­ued. ​"Peo­ple in my unit would lat­er brag about it. I remem­ber think­ing how appalled I was that we were laugh­ing at this, but that was the reality."
Vin­cent Emanuele, a rifle­man dur­ing his sec­ond tour in Iraq in 2004, described fac­ing no reper­cus­sions for shoot­ing at cars or indis­crim­i­nate­ly fir­ing into towns, releas­ing pris­on­ers out in the mid­dle of the desert, punch­ing, kick­ing and throw­ing soft­ball-sized rocks at them. Emanuele says he saw decap­i­tat­ed corpses in the road and drove over them, as well as shoot­ing men in the back of the head for alleged­ly plant­i­ng Impro­vised Explo­sive Devices. ​"These are the con­se­quences for send­ing young men and women into battle."
Ser­gio Kocher­gin described how the rules of engage­ment became more lenient as the war wore on and the casu­al­ties mount­ed. At first it was nec­es­sary to call the com­mand post to report sus­pi­cious activ­i­ty; lat­er it was OK to ​"just take them out. … any­one dig­ging close to the road, we had to take them out." Kochergin's room­mate shot him­self in the show­er in Iraq. Kocher­gin him­self lat­er came close to doing the same once he returned home.
Jason Wash­burn, who served three tours with the Marines, described open­ing fire ​"on any­thing we saw in town." He recalled a woman car­ry­ing a huge bag walk­ing toward his unit. They killed her with a grenade launch­er. It turned out she had gro­ceries in the bag. Wash­burn also report­ed that his unit car­ried shov­els (which would impli­cate some­one dig­ging IEDs) and weapons to plant on a body in case they shot an inno­cent civil­ian. He tes­ti­fied that the prac­tice was encour­aged behind closed doors.
Jon Michael Turn­er, a Marine from Burling­ton, Vt., offered the most dra­mat­ic – and most graph­ic – tes­ti­mo­ny. He stood and tossed his medals into the crowd, yelling, ​"Fuck you, I don't work for you no more." A machine gun­ner in Anbar Province, Turn­er showed videos of a 500-pound laser guid­ed mis­sile hit­ting Rama­di and of his unit machine-gun­ning the minaret atop a mosque. He showed dig­i­tal pho­tos of a muti­lat­ed body in a car after it had been shot up by a 50-cal­iber machine gun, with a close-up image of brains; part of a human face on a Kevlar hel­met at Abu Ghraib; and a grue­some pic­ture of the open skull of a boy he had just shot in front of the boy's father – Turner's first con­firmed kill on April 18, 2006. For that, Turn­er was per­son­al­ly con­grat­u­lat­ed by his com­man­der, who then offered a four-day pass to any­one who killed the ene­my with a knife in hand-to-hand com­bat. ​"I am sor­ry for the things I did. I am no longer the mon­ster I once was," Turn­er con­clud­ed as he closed his eyes to sup­press tears.
But the most emo­tion­al tes­ti­mo­ny of the week­end may have been that of Joyce and Kevin Lucey, whose son Jef­frey killed him­self on June 22, 2004, a year after return­ing from Iraq, where he took part in the bat­tle of Nasiriyah. Kevin tried repeat­ed­ly, and unsuc­cess­ful­ly, to get the VA to help Jef­frey after he began drink­ing heav­i­ly and exhibit­ing signs of PTSD. In late May, he had been invol­un­tar­i­ly com­mit­ted to a veteran's hos­pi­tal, but dis­charged after only a few days and despite con­fess­ing the urge to kill himself.
"Nei­ther our vet­er­ans nor their fam­i­lies should have to beg for the care they deserve," Joyce said at the Win­ter Sol­dier hear­ings. ​"Our Marine phys­i­cal­ly returned to us, but his soul did not. He lost it in Iraq." Joyce closed by read­ing part of Jeffrey's sui­cide note, prompt­ing audi­ble snif­fling and sobs from hun­dreds in atten­dance: ​"I am embar­rassed at the man I have become … only as a child did I tru­ly enjoy life."
On June 21, after launch­ing a tirade over how the VA was treat­ing him, Jef­frey sought out Kevin and embraced him. Then, his father described find­ing his son, the next day, hang­ing from the rafters of the base­ment with a gar­den hose, and held him one last time. To this, a woman in the audi­ence began to moan in agony until she was com­fort­ed and led out of the tes­ti­mo­ny room by coun­selors attend­ing the hearings.
Bar­ring pro-war demon­stra­tors and any hint of Fox News, the Win­ter Sol­dier hear­ings offered a safe and ther­a­peu­tic envi­ron­ment for vet­er­ans and their fam­i­lies to share their sto­ries and lean on their com­rades for sup­port. But the war inside of them con­tin­ues, and their tran­si­tion back into civ­i­lized soci­ety hasn't come as eas­i­ly as their slide away from it.
As for Sgt. Kristofer Gold­smith, who nar­row­ly avoid­ed killing a six-year-old Iraqi boy point­ing a stick at him, he's almost broke and can't go to col­lege because he's been denied his GI Bill ben­e­fits. So he works Wednes­day nights as a piz­za deliv­ery boy. ​"I was one of the most pro­fes­sion­al sol­diers," he said, ​"but now I deliv­er piz­za because it's the only job that I can call in two hours before and say that I'm still at the VA."