The Welfare State of America
A manifesto on building social democracy in the age of austerity.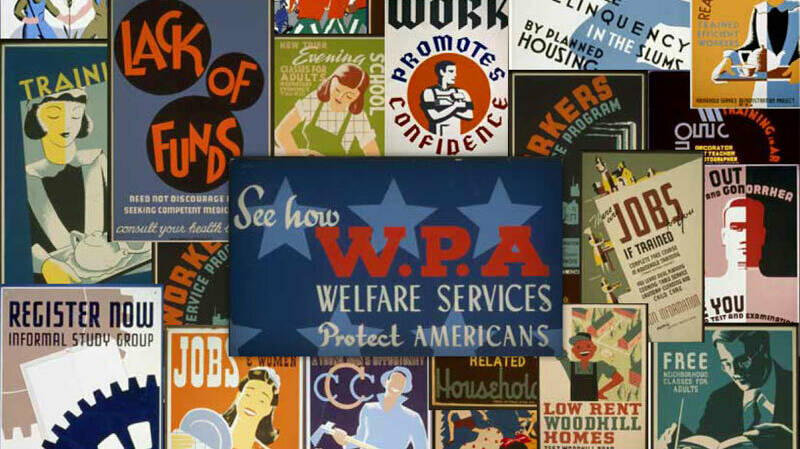 Mitt Rom­ney was ridiculed by the lib­er­al media when he com­plained to wealthy donors, ​"There are 47 per­cent of the peo­ple who will vote for the pres­i­dent no mat­ter what." To Rom­ney, these vot­ers are unit­ed by a depen­den­cy on gov­ern­ment and a belief that ​"they are enti­tled to health­care, to food, to hous­ing, to you-name-it."
We can't go back to the post-war golden age of the American welfare state, but we can build a system in the 21st century that embodies what people remember most from that era—an overriding sense of freedom.
Seething with con­tempt for half of Amer­i­ca, Rom­ney is a car­i­ca­ture of an out-of-touch elite.
He's also, in a twist­ed way, right.
A move­ment to expand the wel­fare state has the poten­tial to fos­ter a new majori­tar­i­an Left coali­tion. Repub­li­cans know this — that's why they manip­u­late the way wel­fare is per­ceived at every turn.
The real­i­ty is that 96 per­cent of Amer­i­cans have ben­e­fit­ed from gov­ern­ment pro­grams, but the Right works hard to hide that fact. It's part of a delib­er­ate strat­e­gy to divide the coun­try into two camps by con­vinc­ing the major­i­ty of vot­ers that their labor is ben­e­fit­ing par­a­sites depen­dent on the social safe­ty net.
Democ­rats have too often bol­stered this effort by echo­ing calls for ​"wel­fare reform" and ​"fis­cal respon­si­bil­i­ty," and by sup­port­ing poli­cies that chan­nel ben­e­fits through the tax code (such as the home-mort­gage deduc­tion) and pri­vate orga­ni­za­tions (such as employ­er-pro­vid­ed health insur­ance). The result is a sys­tem that pro­vides few ben­e­fits, makes them large­ly invis­i­ble and dis­pro­por­tion­ate­ly ben­e­fits the more affluent.
In the face of this neolib­er­al con­sen­sus, the Left's counter-mis­sion must be to show that social democ­ra­cy ben­e­fits every­one. Though this has been the errand of gen­er­a­tions of lib­er­als, their efforts have rarely gone beyond rebrand­ing and mes­sag­ing. Few have pushed for the struc­tur­al changes nec­es­sary to build a strong wel­fare state.
One nation, underfunded
You get what you pay for, and we haven't paid for much.
Com­pared to oth­er rich coun­tries, the Unit­ed States does lit­tle to ensure its cit­i­zens have access to vital ser­vices or to pre­vent them from falling into depri­va­tion due to unem­ploy­ment or low-wage labor. At 19.4 per­cent of GDP, Amer­i­can social spend­ing is far below the 25 to 30 per­cent bud­get­ed in most of West­ern Europe. Mean­while, 16 per­cent of Amer­i­cans lack health insur­ance, almost a quar­ter of our chil­dren live in pover­ty, and mil­lions are unemployed.
Yet not only does an expan­sion of the safe­ty net seem polit­i­cal­ly impos­si­ble, even exist­ing pro­tec­tions are under attack everywhere.
This might seem like a poor moment to call for expand­ing the wel­fare state. But the tim­ing has nev­er been bet­ter. Aus­ter­i­ty has only wors­ened unem­ploy­ment and stag­nat­ed wages, and only a con­cert­ed effort to employ idle work­ers and boost pur­chas­ing pow­er can revive growth and restore employ­ment. Despite fear-mon­ger­ing about the effects of bud­get deficits, the gov­ern­ment is still able to bor­row mon­ey vir­tu­al­ly inter­est-free. And con­trary to right-wing claims of out-of-con­trol spend­ing, tax­es as a per­cent­age of GDP are at their low­est lev­el since 1950. We can, and should, ensure that every­one has access to health­care, edu­ca­tion, a secure retire­ment and a liv­able income, regard­less of labor mar­ket uncertainties.
Most on the Left would agree with these goals — the ques­tion has always been how to achieve them.
We think we have an answer. We pro­pose a new anti-aus­ter­i­ty coali­tion unit­ed by the imme­di­ate demand that cer­tain social spend­ing bur­dens, cur­rent­ly borne by states and munic­i­pal­i­ties, be fed­er­al­ized. Almost all states are legal­ly required to keep bal­anced bud­gets, mak­ing it unfea­si­ble for them to employ deficit spend­ing to address to a cycli­cal eco­nom­ic down­turn. Even if these laws were changed, states would still face far more dif­fi­cul­ties in this are­na than the fed­er­al gov­ern­ment. States could nev­er bor­row mon­ey on as favor­able terms as the Unit­ed States can, and they haven't been print­ing their own cur­ren­cies since the Arti­cles of Confederation.
Sim­ply put, with­out cen­tral­iza­tion, true social democ­ra­cy in Amer­i­ca is impos­si­ble. Once achieved, pro­gres­sives could pur­sue poli­cies that not only imme­di­ate­ly improve work­ing-class lives, but also lay the ground­work for more rad­i­cal reforms in the future.
The Cloward-Piv­en strategy
Rad­i­cals of anoth­er era also sought such change. In a 1966 Nation essay, ​"The Weight of the Poor: A Strat­e­gy to End Pover­ty," Richard A. Cloward and Frances Fox Piv­en sug­gest­ed a way to rev­o­lu­tion­ize how wel­fare was admin­is­tered. Rec­og­niz­ing that few took ad- van­tage of what they were enti­tled to by law, they pro­posed a cam­paign to edu­cate the eli­gi­ble about their rights. The result­ing increase in claimants would cause a fis­cal cri­sis for state and local gov­ern­ments, forc­ing the fed­er­al gov­ern­ment to intervene.
Nation­al­iz­ing the wel­fare sys­tem was, in Cloward and Piven's words, a way to ​"wipe out pover­ty by estab­lish­ing a guar­an­teed annu­al income." Today, 46 years lat­er, we find our­selves in a polit­i­cal envi­ron­ment far less favor­able to the Left, with an even more tat­tered safe­ty net. Yet the weight of the poor exerts less pres­sure on the Amer­i­can con­scious­ness. The insti­tu­tions of the Left are weak and frag­ment­ed, and the decline of the labor move­ment, long the linch­pin of pro­gres­sive orga­niz­ing, has left the pub­lic sec­tor as the last union strong­hold. Rather than fight­ing to expand the wel­fare state, activists around the coun­try are fight­ing to pre­serve the gains of the 20th century.
The Left needs an affir­ma­tive strat­e­gy that can go beyond the piece­meal defense of the sta­tus quo against aus­ter­i­ty. The ambi­tious plan out­lined by Cloward and Piv­en may seem like an arti­fact of anoth­er era, and it would have been all but for­got­ten if not for its res­ur­rec­tion by right-wing com­men­ta­tors like Glenn Beck. But Cloward and Piven's ambi­tion should inspire us to envi­sion an equal­ly com­pre­hen­sive strat­e­gy that is adapt­ed to the cur­rent state of our pol­i­tics and econ­o­my, and that draws on exist­ing areas of pro­gres­sive strength.
For too long, lib­er­als have focused on tech­no­crat­ic pol­i­cy analy­sis, seek­ing gran­u­lar reme­dies to iso­lat­ed prob­lems. Such solu­tions lack the kind of sweep­ing polit­i­cal vision that wins and sus­tains pol­i­cy reforms. Con­verse­ly, rad­i­cals have for too long made rhetor­i­cal appeals with­out any ground­ing in polit­i­cal real­i­ties. The plan out­lined below is a cor­rec­tive to both trends, writ­ten with the under­stand­ing that pol­i­cy and pol­i­tics are inex­tri­ca­bly linked.
How it can happen
Though the strug­gle over bud­get cuts has sparked debate at the nation­al lev­el, the pol­i­tics of aus­ter­i­ty has been even more promi­nent in the low­er lev­els of gov­ern­ment. The Great Reces­sion severe­ly con­strained state and local rev­enues, and the result­ing job cut­backs have in turn been a pri­ma­ry cause of the weak recovery.
Indeed, so long as social wel­fare pro­grams are fund­ed at the state and local lev­el, the fis­cal lim­i­ta­tions of sub-nation­al gov­ern­ments make aus­ter­i­ty an unavoid­able option.
Local move­ments may spo­rad­i­cal­ly suc­ceed at flank­ing the wave of cuts, but they will be fight­ing a los­ing bat­tle as long as they are try­ing to win con­ces­sions from gov­ern­ments with lit­tle spend­ing flex­i­bil­i­ty. In the long run, build­ing a bet­ter and more robust social safe­ty net will mean uni­fy­ing and reor­ga­niz­ing our frag­ment­ed wel­fare state.
Some lib­er­als defend the cur­rent sys­tem by hold­ing up the states as ​"lab­o­ra­to­ries of democ­ra­cy" that can pio­neer new pro­gres­sive ini­tia­tives that are impos­si­ble at a nation­al lev­el. His­tor­i­cal­ly, how­ev­er, the least pro­gres­sive aspects of Amer­i­can wel­fare have been those that are passed off to the states, while the most gen­er­ous and uni­ver­sal are nation­al programs.
As the polit­i­cal sci­en­tist Suzanne Met­tler observes in her book Divid­ing Cit­i­zens: Gen­der and Fed­er­al­ism in New Deal Pub­lic Pol­i­cy, the ele­ments of the New Deal that were left to the states were large­ly those that serve women and minori­ties, and these pro­grams tend to sub­ject recip­i­ents to sur­veil­lance and scruti­ny by bureau­crats and social work­ers. Nation­al pro­grams like Social Secu­ri­ty and Medicare, which have a large pro­por­tion of white men on their rolls, are by con­trast regard­ed as enti­tle­ments and their recip­i­ents treat­ed with respect.
This pat­tern is like­ly to be per­pet­u­at­ed as long as large chunks of the safe­ty net are admin­is­tered by states, includ­ing the right-lean­ing states that are both hos­tile to wel­fare pro­grams and con­tain a dis­pro­por­tion­ate share of the nation's poor. It's no coin­ci­dence that Mitt Rom­ney and Paul Ryan's bud­get plan push­es even more social wel­fare admin­is­tra­tion onto the states, by con­vert­ing pro­grams like Med­ic­aid and food stamps into block grants.
Giv­en the cur­rent dis­ar­ray, a one-size-fits-all solu­tion for con­sol­i­dat­ing the wel­fare state does not exist. Under a new pro­gres­sive sys­tem, state and local spend­ing could be trans­ferred to fed­er­al pro­grams in var­i­ous ways.
• Wel­fare and unem­ploy­ment: In these cas­es, where ben­e­fits are already a shared respon­si­bil­i­ty of fed­er­al and non-fed­er­al gov­ern­ments, Wash­ing­ton must sim­ply assume more of the responsibility.
• Pen­sions: The cur­rent short­fall in pen­sion funds is large­ly a result of the stock-mar­ket col­lapse after the burst of the hous­ing bub­ble, and so this part of state and local bud­gets should improve as the econ­o­my improves.
Seri­ous prob­lems of under­fund­ing remain in many places, how­ev­er, and it is always tempt­ing for politi­cians to plug present-day bud­get holes by short­chang­ing future pen­sion oblig­a­tions. Some type of fed­er­al bailout of these plans may be required if work­ers are to receive the ben­e­fits they are con­trac­tu­al­ly enti­tled to, espe­cial­ly if there is anoth­er recession.
The fed­er­al gov­ern­ment already has an enti­ty, the Pen­sion Ben­e­fit Guar­an­ty Cor­po­ra­tion, respon­si­ble for ensur­ing that pri­vate-sec­tor employ­ees receive their pen­sions even when their plans fail or their employ­ers go bank­rupt. Some­thing anal­o­gous may need to be cre­at­ed for employ­ees of local and state gov­ern­ments. As a long-term solu­tion, how­ev­er, it makes lit­tle sense for state and local pub­lic-sec­tor pen­sions to be on local bud­gets and sub­ject to the fluc­tu­a­tions of the stock mar­ket. These work­ers should be ful­ly brought into the Social Secu­ri­ty sys­tem, like their pri­vate-sec­tor and fed­er­al counterparts.
• Health­care: Alle­vi­at­ing the bur­den of health­care spend­ing on the states will require address­ing the irra­tional­i­ties of the Amer­i­can health­care sys­tem, which is far more expen­sive than sys­tems of com­pa­ra­ble qual­i­ty in oth­er coun­tries. The Afford­able Care Act made incre­men­tal progress in this direc­tion, but some­thing like a nation­al sin­gle-pay­er sys­tem is nec­es­sary to relieve cost pres­sures on both states and the fed­er­al gov­ern­ment. A first step along that road would be to make Med­ic­aid a ful­ly fed­er­al­ly run pro­gram, anal­o­gous to Medicare, as has been pro­posed by Greg Anrig of the New Amer­i­ca Foun­da­tion.
• Edu­ca­tion: Because edu­ca­tion is the most local­ized cat­e­go­ry of social spend­ing, it will be the most dif­fi­cult to address — but because it makes up the largest com­po­nent of non-fed­er­al spend­ing, it is also the most impor­tant. In the near term, demand­ing infu­sions of fed­er­al sup­port for local edu­ca­tion could go a long way toward equal­iz­ing access to edu­ca­tion. In the long run, we should not lose sight of the inequal­i­ty that inevitably results from allow­ing schools to be fund­ed and admin­is­trat­ed local­ly, nor should we take that local­ism as a neces­si­ty. In the past, the Supreme Court has held that edu­ca­tion is not a fun­da­men­tal right, and that a sys­tem of unequal K‑12 school sys­tems fund­ed by local prop­er­ty tax­es is con­sti­tu­tion­al. But our frag­ment­ed and unequal edu­ca­tion­al sys­tem is a strange and infe­ri­or insti­tu­tion com­pared to what exists in oth­er rich countries.
Who will do it?
Much has changed since the 1960s. The Cloward-Piv­en strat­e­gy was artic­u­lat­ed in the con­text of the civ­il rights move­ment and the mil­i­tant wel­fare rights cam­paign that arose in its wake. The strat­e­gy was for­mu­lat­ed in a time of afflu­ence, when the Demo­c­ra­t­ic Par­ty was still deeply com­mit­ted to social spending.
And yet, though the Left has been in retreat for decades, there are signs of life from which new coali­tions can be cob­bled togeth­er: the emer­gence last fall of the Occu­py move­ment, and more recent labor insur­gen­cies. We pro­pose that protest-ori­ent­ed move­ments such as Occu­py, orga­nized labor and pro­gres­sive elect­ed offi­cials at the state and local lev­el form a mot­ley, but pow­er­ful, anti-aus­ter­i­ty coalition.
• Occu­py Wall Street: Occu­py began as a large­ly youth-based move­ment, reflect­ing the frus­tra­tion of young peo­ple fac­ing ris­ing inequal­i­ty and dimin­ish­ing eco­nom­ic prospects. The reces­sion hit this demo­graph­ic espe­cial­ly hard, and its effects will con­tin­ue to fol­low them through­out their lives. Those who have entered the job mar­ket in recent years face low­er employ­ment rates, worse wages and high­er debts than those who pre­ced­ed them. Occu­py was a reac­tion to this, and it reflects a broad­er shift to the left among Amer­i­cans under 30.
The actu­al Occu­py move­ment has left the streets. It did, how­ev­er, unleash a wave of politi­ciza­tion that remains with us. The labor and com­mu­ni­ty strug­gles of the last year bear its mark. Thou­sands of peo­ple are still active in groups that found their gen­e­sis in Occu­py. The idea that elites use their wealth and pow­er to the detri­ment of the vast major­i­ty of peo­ple has intro­duced a lev­el of class analy­sis into the nation­al pub­lic debate that hasn't been seen in 80 years.
The ear­ly suc­cess of Occu­py owed much to a cre­ative well­spring from the anar­chist move­ment. The nov­el idea of occu­py­ing space and cre­at­ing camps is tes­ti­mo­ny to that. But too many with­in the move­ment saw those encamp­ments as mod­els of a future post-cap­i­tal­ist utopia, rather than mere­ly tac­ti­cal deploy­ments. Not sur­pris­ing­ly, they failed to con­nect these tac­tics to a wider polit­i­cal strategy.
Occupy's fail­ure in this respect and its inabil­i­ty to trans­late last fall's ener­gy into more sus­tained orga­niz­ing around a broad anti-aus­ter­i­ty mes­sage reflects both his­tor­i­cal — and innate — weak­ness­es with­in the anar­chist move­ment and activists' fears of being co-opt­ed into a neolib­er­al elec­toral framework.
By link­ing younger activists on the extra-par­lia­men­tary Left with labor unions and pol­i­cy­mak­ers under an umbrel­la pro­gram that's both rad­i­cal and achiev­able, Occu­py activists could con­tribute to tan­gi­ble pro­gres­sive change with­out sac­ri­fic­ing their uncom­pro­mis­ing zeal. And the adven­tur­ous (and at times extra-legal) spir­it of Occu­py can fos­ter a rad­i­cal rank-and-file-led work­ers' movement.
• Orga­nized Labor: Today, only 12 per­cent of the work­force belongs to labor unions. How­ev­er, 37 per­cent of pub­lic employ­ees are union­ized, com­pared to just 7 per­cent in the pri­vate sec­tor. This is both a strik­ing sign of the Amer­i­can Left's decline and a rea­son why resis­tance to the cur­rent eco­nom­ic cri­sis has been hard to muster.
That the pub­lic sec­tor hous­es what remains of the labor move­ment is tak­en by many to be an indi­ca­tion of the movement's ter­mi­nal decline. Fit­ting­ly, even this last union bas­tion is eroding.
Cash-strapped states and cities have launched an effec­tive bipar­ti­san attack on the salaries, ben­e­fits and col­lec­tive bar­gain­ing rights of pub­lic work­ers. Scott Walker's vic­to­ry in Wis­con­sin was just the most flam­boy­ant exam­ple of a gen­er­al­ized phe­nom­e­non. In the con­text of local com­pe­ti­tion over resources and gen­er­al eco­nom­ic down­turn, pub­lic employ­ees are easy targets.
The strength of a mid­dle-class pol­i­tics built around resent­ment should not be under­es­ti­mat­ed: Walk­er had a real social base, and thou­sands were ener­gized around anti-union sen­ti­ment. His sup­port­ers saw union pen­sions, health ben­e­fits and work­er pro­tec­tions as spe­cial priv­i­leges stolen from more pro­duc­tive sec­tors in the pri­vate econ­o­my, rather than as the just rewards for hard labor that every­one deserves. Even some lib­er­als, sym­pa­thet­ic to unions in the pri­vate sec­tor, view the inter­ests of union­ized pub­lic employ­ees and the inter­ests of the pub­lic they serve as being irre­solv­ably conflicted.
Instead of ask­ing, ​"Why not me?" this anti-work­ing class alliance demands, ​"Why them?" For this pre­cise rea­son, shift­ing fis­cal bur­dens from under­wa­ter state and local bud­gets onto firmer, fed­er­al ter­rain is vital. But in the mean- time, we should accept that the labor move­ment is now con­cen­trat­ed in the pub­lic sec­tor. While this pos­es dif­fi­cult chal­lenges, it can also be turned into a source of strength.
Some see pub­lic-sec­tor unions as lit­tle more than car­tels that pro­tect the priv­i­leges and pay of their mem­bers. But these unions can be a pro­gres­sive voice demand­ing a gov­ern­ment that works not just for its employ­ees, but for soci­ety as a whole. And if the pub­lic sec­tor was more sta­ble, with its jobs linked to polit­i­cal­ly untouch­able and uni­ver­sal fed­er­al pro­grams, pub­lic-sec­tor unions could have clout sim­i­lar to that of their pow­er­ful Euro­pean coun­ter­parts, vis­i­ble and reli­able pro­tec­tors of the wel­fare state.
His­tor­i­cal­ly, pub­lic-sec­tor unions are more ori­ent­ed than their pri­vate-sec­tor coun­ter­parts toward a social-move­ment union­ism — con­nect­ing organ­i­cal­ly with their com­mu­ni­ties rather than lim­it­ing their strug­gles to shop-floor lev­el dis­putes. This broad­er ori­en­ta­tion was crit­i­cal to the mass local sup­port the Chica­go Teach­ers Union gar­nered in its recent strug­gle. By devot­ing sig­nif­i­cant resources toward com­mu­ni­ty out­reach and tying its demands to a vision of egal­i­tar­i­an pub­lic edu­ca­tion, the union made the strike about more than just wages and benefits.
The oth­er com­po­nent of a poten­tial labor con­tin­gent can be found in groups like Work­ing Amer­i­ca, an allied orga­ni­za­tion of the AFL-CIO that boasts 3 mil­lion mem­bers. Though the group's poten­tial is large­ly untapped, by using Work­ing Amer­i­ca as its proxy, the AFL-CIO is able to cir­cum­vent restric­tive labor laws and build alliances with both non-union work­ers and the unem­ployed. Actions pitched at this com­mu­ni­ty lev­el can show the pub­lic that unions are more than self-inter­est­ed actors and make labor a cor­ner­stone of a broad­er pro­gres­sive movement.
The labor move­ment also has the abil­i­ty to con­nect the out­sider pow­er of protest with the insid­er busi­ness of writ­ing and lob­by­ing for leg­is­la­tion. Unions have both the resources and the expe­ri­ence to help cre­ate poli­cies and move law­mak­ers. This will be a neces­si­ty for any move­ment that seeks to reshape the struc­ture of the Amer­i­can wel­fare state, an impor­tant com­ple­ment to the vis­i­bil­i­ty and dis­rup­tive poten­tial of street protest.
• Local and State Offi­cials: Our strat­e­gy would gen­er­ate polit­i­cal pres­sure first and most intense­ly at the state and local lev­els. The recent neolib­er­al and tech­no­crat­ic drift of local gov­ern­ments has much to do with their intense bud­get constraints.
Our era lacks the robust urban polit­i­cal coali­tions that char­ac­ter­ized the peri­od when the Cloward-Piv­en man­i­festo was writ­ten. At that time, the civ­il rights move­ment was able to forge alliances between urban peo­ple of col­or and afflu­ent, edu­cat­ed white lib­er­als — often against work­ing-class polit­i­cal machines that exclud­ed non-whites. Today, how­ev­er, elite lib­er­als are arrayed against what they regard as the mod­ern machine: a ​"bloat­ed" pub­lic sec­tor — a sec­tor that has become one of the only sources of sta­ble, mid­dle-class jobs for peo­ple of col­or. Neolib­er­al may­ors such as New York's Michael Bloomberg and Chicago's Rahm Emanuel unapolo­get­i­cal­ly rep­re­sent the inter­ests of wealthy busi­ness own­ers against the work­ing class, push­ing aus­ter­i­ty and pri­va­ti­za­tion as the solu­tions to fis­cal cri­sis. Break­ing the pow­er of this polit­i­cal bloc will neces­si­tate offer­ing fis­cal­ly stressed gov­er­nors and may­ors an alter­na­tive path.
State and local offi­cials are gen­er­al­ly hap­py to have the bur­den of social spend­ing tak­en off their hands, what­ev­er their nom­i­nal ide­o­log­i­cal com­mit­ments. The Right may have denounced Obama's stim­u­lus bill, but most Repub­li­can gov­er­nors and may­ors didn't turn down the money.
If pro­gres­sives can artic­u­late a pos­i­tive polit­i­cal vision while simul­ta­ne­ous­ly push­ing for poli­cies to ease the fis­cal bur­den on states and cities, they will offer vot­ers and offi­cials an alter­na­tive that is appeal­ing and prac­ti­cal. While refus­ing to sac­ri­fice pub­lic ser­vices or jobs on the altar of bal­anced bud­gets, the Left could ally with state and local lead­ers to lob­by for nation­al solu­tions to fis­cal crisis.
The road to social democracy
The Left must not only defeat aus­ter­i­ty and pre­serve the social safe­ty net; it must do so in such a way that assem­bles the forces nec­es­sary for more fun­da­men­tal trans­for­ma­tions in the future.
This vision should be pre­med­i­tat­ed. We can't go back to the post-war gold­en age of the Amer­i­can wel­fare state, but we can build a sys­tem in the 21st cen­tu­ry that embod­ies what peo­ple remem­ber most from that era — an over­rid­ing sense of free­dom. Free­dom to give their chil­dren an edu­ca­tion with­out rival. Free­dom from pover­ty, hunger and home­less­ness. Free­dom to grow into old age with pen­sions, Social Secu­ri­ty, and afford­able and acces­si­ble health­care. Free­dom to leave an exploita­tive work envi­ron­ment and find anoth­er job. Free­dom to orga­nize with fel­low work­ers for redress.
These mem­o­ries are some­what false ones: The wel­fare state has nev­er been so uni­ver­sal. But the appeal of such a soci­ety, com­bined with the polit­i­cal strat­e­gy need­ed to make it a real­i­ty, will pave the way for the insti­tu­tion of a new set of eco­nom­ic and social rights to com­ple­ment our bedrock polit­i­cal and civ­il rights.
Even greater demo­c­ra­t­ic hori­zons lie beyond that.
Peter Frase
and
Bhaskar Sunkara
are edi­tors at
Jacobin
.