By Marie Landau Yes Men Andy Bichlbaum and Mike Bonanno, whose hijinks include staging a satirical end to the World Trade Organization, have launched a project to engage other people in "Yes-Men-Style projects." The Yes Lab for Creative Activism is designed to equip activist groups with the organizational savvy to "affect public debate, push for legislation, [or] embarrass an evildoer." Bichlbaum and Bonanno started the Yes Lab after successfully collaborating with a handful of activist organizations seeking to disrupt the predictable flow of news and information. Scoring big time with collaborative projects like the BBC announcement that Dow Chemical was going to compensate victims of the 1984 Bhopal disaster, the Yes Men decided to "get systematic about helping activist groups highlight life-or-death issues." How do they do this? Activist organizations come to the Yes Men with a target and a goal in mind, and the ceaselessly imaginative duo works "with the group to develop the smartest, most effective plan to accomplish it. We'll help assemble the team from within the group as well as our mailing list, we'll train folks as necessary, and we'll check in on the project until it's successful." The Yes Men also allow individuals to sign up, so people can participate in Yes Labs in their area. The Lab is still in its infancy, with Bichlbaum and Bonanno aiming to raise $50,000 for staff and resources to give the project momentum. To donate to or participate in a Yes Lab, visit TheYesMen.org/lab.
For a limited time: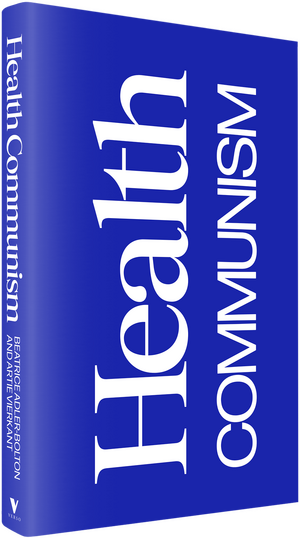 Donate $25 or more to support In These Times and we'll send you a copy of Health Communism.
A searing analysis of health and illness under capitalism from hosts of the hit podcast "Death Panel," Health Communism looks at the grave threat capitalism poses to global public health, and at the rare movements around the world that have successfully challenged the extractive economy of health.
"This is a book you should read before you die, because the ideas synthesized by Adler-Bolton and Vierkant could save our collective lives." –Jon Shaffer
Marie Landau
, a graduate of The Evergreen State College, is a summer
2010
editorial intern.