Got Raw Milk?
Small farmers and consumer advocates say unpasteurized milk bans are about protecting big industry.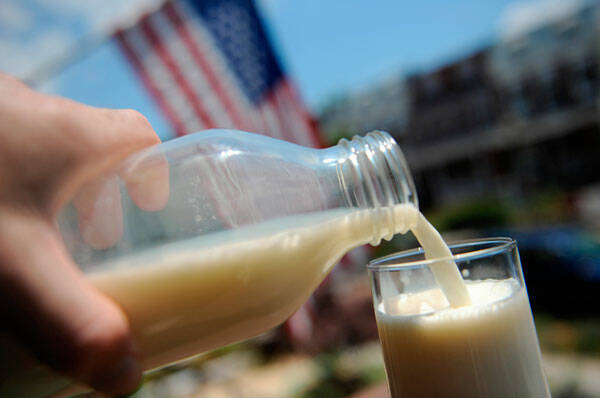 In Mass­a­chu­setts, a con­tro­ver­sy over raw milk reg­u­la­tions has cast doubt on our seem­ing­ly basic right to unprocessed food. Gov­ern­ment, pub­lic health and dairy indus­try offi­cials want to restrict the sale and dis­tri­b­u­tion of raw (unpas­teur­ized) milk, cit­ing grave safe­ty con­cerns. But small dairy farm­ers, organ­ic con­sumers' advo­cates and raw milk drinkers say the issue isn't safe­ty – it's con­trol of the dairy market.
'Look at hamburger meat, spinach, peanut butter,' says Gumbert. 'There's no talk of banning these foods, even though they've been huge public health hazards.'
In Jan­u­ary, the Mass­a­chu­setts Depart­ment of Agri­cul­tur­al Resources (MDAR) pro­posed new reg­u­la­tions that would ban off-the-farm sale and dis­tri­b­u­tion of raw milk. Pri­or to mak­ing the revamped reg­u­la­tions pub­lic, MDAR issued cease-and-desist orders to four milk-buy­ing clubs that buy raw milk direct­ly from small farm­ers and dis­trib­ute it among mem­bers. MDAR Com­mis­sion­er Scott Soares insists the clubs' activ­i­ties are ille­gal and that the new rules are ​"intend­ed to be a clar­i­fi­ca­tion over what has always been the case."
Soares says MDAR began revis­ing raw milk pro­to­col in an ​"effort to align reg­u­la­tions with those out­lined by the Food and Drug Admin­is­tra­tion." And accord­ing to the Mass­a­chu­setts Depart­ment of Pub­lic Health, the bot­tom line here is safe­ty. But Alex­is Baden-May­er, polit­i­cal direc­tor of the Organ­ic Con­sumers Asso­ci­a­tion, describes Soares as an "[a]nti-raw milk cru­sad­er." And David Gumpert, author of The Raw Milk Rev­o­lu­tion, says that reg­u­la­tion is ​"not about safe­ty – it's about pro­tect­ing markets."
"Con­ven­tion­al dairy doesn't want raw milk tar­nish­ing the image of pas­teur­ized milk," says Gumpert, who notes that while no one has died in Mass­a­chu­setts because of raw milk, three peo­ple died in 2007 from Lis­te­rio­sis from pas­teur­ized milk. He adds that the ​"the [Cen­ter for Dis­ease Con­trol] and FDA have blind spots around raw milk. They don't want to do research on it."
The CDC and FDA, along with sev­er­al oth­er orga­ni­za­tions includ­ing the Amer­i­can Med­ical Asso­ci­a­tion, the Amer­i­can Acad­e­my of Pedi­atrics and the Amer­i­can Vet­eri­nary Med­i­cine Asso­ci­a­tion, are unequiv­o­cal­ly opposed to raw milk con­sump­tion, mak­ing it dif­fi­cult for raw milk advo­cates to push for wider legal­iza­tion. Nev­er­the­less, 10 states allow raw milk retail sales.
Fig­ures used by the CDC and oth­ers to demon­strate the dan­gers of raw milk con­sump­tion show it to be a blip on the screen of food-borne ill­ness in the Unit­ed States. The CDC reports that from 1993 to 2006, unpas­teur­ized milk caused 69 inci­dents of human infec­tions, with 1,505 report­ed ill­ness­es, 185 hos­pi­tal­iza­tions and two deaths. That aver­ages out to about 116 ill­ness­es a year, or less than .000002 per­cent of the 76 mil­lion peo­ple who con­tract food-borne ill­ness­es every year in the Unit­ed States.
All the big agen­cies mobi­lized against raw milk con­sump­tion hinge their argu­ments on the poten­tial bac­te­r­i­al dan­gers of the milk. The CDC claims that ​"dis­ease-caus­ing organ­isms can only be elim­i­nat­ed in milk through pas­teur­iza­tion" while real​rawmilk​facts​.com, a site man­aged by pub­lic health pro­fes­sion­als and a per­son­al injury lawyer rep­re­sent­ing E.coli vic­tims, states that raw milk is ​"pro­duced in envi­ron­ments that are unavoid­ably con­t­a­m­i­nat­ed with fecal material."
Mark McAfee, own­er and oper­a­tor of Organ­ic Pas­tures, the largest raw milk dairy in Cal­i­for­nia, says, ​"The state mon­i­tors and tests all of our raw dairy prod­ucts mul­ti­ple times per month, and has nev­er found one pathogen in any of our prod­ucts. Even more inter­est­ing is the fact that not one human pathogen has ever been found in the hun­dreds of envi­ron­men­tal swabs that have been tak­en in our plant facil­i­ty." McAfee main­tains that raw milk has nat­ur­al enzymes that kill pathogens – enzymes that are destroyed by pasteurization.
Win­ton Pit­coff, raw milk coor­di­na­tor for North East Organ­ic Farm­ing Asso­ci­a­tion in Mass­a­chu­setts, has no illu­sions about the milk pro­duced by indus­tri­al dairies where cows eat grain and stand in their own manure. ​"That milk should be pas­teur­ized," he says. ​"Small, raw dairies are sim­ply bet­ter suit­ed to keep pathogens out of the milk in the first place."
Agen­cies oppos­ing raw milk con­sump­tion also deny its sup­posed health ben­e­fits. ​"There are no health ben­e­fits from drink­ing raw milk," accord­ing to the CDC. But a 2006 Euro­pean study by the Uni­ver­si­ty of Basel in Switzer­land, one of the only major stud­ies done on the health ben­e­fits of raw milk, showed a ​"sta­tis­ti­cal­ly sig­nif­i­cant inverse asso­ci­a­tion with asth­ma" in raw milk drinkers.
Con­sid­er­ing the rel­a­tive safe­ty of raw milk and its pos­si­ble health ben­e­fits, cam­paigns against its legal­iza­tion are sur­pris­ing­ly intense, and not just in Mass­a­chu­setts. In late May, Wis­con­sin Gov­er­nor Jim Doyle (D) vetoed a bill that would have allowed the sale of on-the-farm raw milk.
Doyle, who in the weeks before the veto was lob­bied by Wisconsin's dairy indus­try, wrote that he ​"must side with pub­lic health and safe­ty of the dairy indus­try." But Wis­con­sin raw milk pro­po­nents say he suc­cumbed to pres­sure from big agri­cul­tur­al cor­po­ra­tions who feel finan­cial­ly threat­ened by the grow­ing pop­u­lar­i­ty of raw milk, which is some­thing indus­tri­al dairy oper­a­tions can't safe­ly produce.
Gumpert puts it this way: Food­borne ill­ness­es are unavoid­able when food is pro­duced for hun­dreds of mil­lions of peo­ple, but ​"nei­ther raw nor pas­teur­ized milk is par­tic­u­lar­ly risky. Look at ham­burg­er meat, spinach, peanut but­ter – there's no talk of ban­ning these foods, even though they've been huge pub­lic health hazards."
What it comes down to, Gumpert says, is choice: ​"Peo­ple have a fun­da­men­tal right to access healthy food."
Marie Lan­dau
, a grad­u­ate of The Ever­green State Col­lege, is a sum­mer
2010
edi­to­r­i­al intern.