'There is Power in a Union'
The past, present and future of America's labor movement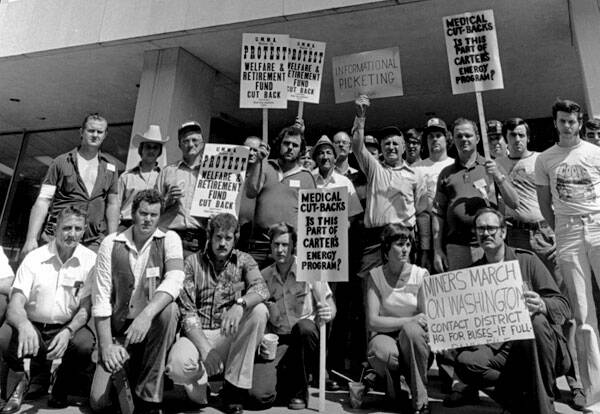 For the mil­lions of Amer­i­cans who do not read In These Times, labor unions have prob­a­bly been rel­e­gat­ed to the realm of the anachro­nis­tic, if not down­right unpa­tri­ot­ic. For the much small­er num­ber of Amer­i­cans who do read In These Times, writ­ing about the virtues of labor unions prob­a­bly falls into the realm of preach­ing to the congregation.
Unlike when corporations show a solid front, when unions demonstrate solidarity, those in the power structure see the monolithic behavior as un-American. How does that compute?
But in his new (and at 784 pages, mas­sive) book There Is Pow­er in a Union: The Epic Sto­ry of Labor in Amer­i­ca (Dou­ble­day, Sep­tem­ber), Philip Dray pro­vides plen­ty of infor­ma­tion about the virtues of unions for labor evan­ge­lists to draw upon.
Dray offers a grand con­text for think­ing about labor-man­age­ment rela­tions in a soci­ety beset by ill will in mil­lions of work­places. He notes that the saga of orga­nized labor in the Unit­ed States is ​"much more than a cat­a­log of strikes, pick­et lines and flail­ing police batons. The debate about work and indus­try and the strug­gle for work­ers' rights and dig­ni­ty have been con­sum­ing sub­jects since the birth of our nation; they have shaped laws and cus­toms, act­ed as a cru­cible for social change, and ulti­mate­ly helped define what it means to be an American."
Tak­en as a whole, the book is a cel­e­bra­tion of orga­nized labor. Dray is clear-head­ed, so he knows the valen­tine is ephemer­al. Although he wish­es it were not so, the book car­ries the seeds of a eulogy.
Dray offers an insight­ful exam­ple of trou­ble for the labor move­ment as part of his dra­mat­ic open­ing scene, one of many – call­ing them ​"turn­ing points" seems war­rant­ed – through­out the book. On Jan. 13, 1874, dur­ing a reces­sion, thou­sands of unem­ployed work­ers gath­ered at Tomp­kins Square in New York City. Munic­i­pal police and politi­cians, instead of lis­ten­ing to the griev­ances of the unem­ployed, used force to dis­perse them.
Two of the men at Tomp­kins Square per­son­i­fied the rift in labor, which meant a lack of sol­i­dar­i­ty in the unions' bat­tles with the almost always uni­fied own­er­ship class. Samuel Gom­pers, a mem­ber of the cig­ar mak­ers union, would a decade lat­er direct the Amer­i­can Fed­er­a­tion of Labor. While many employ­ers hat­ed Gom­pers, those employ­ers should have felt blessed because Gom­pers prac­ticed non-vio­lent nego­ti­a­tion. Also at Tomp­kins Square was Jus­tus Schwab, who rep­re­sent­ed a strat­e­gy of vio­lence when it seemed use­ful and believed cap­i­tal­ism would nev­er allow employ­ee-employ­er fair­ness and thus need­ed to be dismantled.
Gom­pers and his allies endured; Schwab and his fol­low­ers became mar­gin­al­ized. Vio­lence against man­age­ment by down­trod­den labor­ers, or at least the threat of vio­lence, became unac­cept­able in Amer­i­ca (as opposed to Europe). Even union orga­niz­ers who abhorred vio­lence under­stood that labor would suf­fer from a lack of options when fac­ing off against anti-union management.
As a youth, Dray encoun­tered the ten­sions sur­round­ing union­ism in his every­day life. He recounts a moment in March 1976, as he sat in the office of Doris John­son, an adver­tis­ing man­ag­er at the Min­neapo­lis Star Tri­bune. He want­ed a part-time job, and John­son, a soft-spo­ken old­er woman, seemed favor­ably inclined to offer him one.
He had already ben­e­fit­ed from a brief union mem­ber­ship at age 16 while labor­ing as a bus boy in a sub­ur­ban sup­per club. Dray said noth­ing to John­son about union­iza­tion, but, as a 20-some­thing, he had devel­oped pos­i­tive feel­ings about unions. He thought of unions – the AFL-CIO, Unit­ed Mine Work­ers, Team­sters – as enti­ties that ​"fought for work­ers, brought dig­ni­ty to people's lives, decent hours, the five-day week, ben­e­fits, and paid vacations."
Then, unex­pect­ed­ly, Dray heard John­son ​"talk­ing about a recent attempt to union­ize the work­ers in the adver­tis­ing depart­ment; she won­dered if I'd ever be inclined to join such an effort" at the Star Tri­bune.
Dray imme­di­ate­ly rec­og­nized the ​"cor­rect" answer was ​"no." Still, he felt sur­prise ​"that so direct and obvi­ous­ly deter­mi­na­tive a ques­tion had come from this oth­er­wise pleas­ant-look­ing person."
Why Dray at a young age and John­son at an old­er age had reached such dif­fer­ent con­clu­sions about the val­ue of labor unions is a mys­tery for the ages. When cor­po­ra­tions show a sol­id front against union­iza­tion, the pow­er struc­ture does not crit­i­cize such mono­lith­ic behav­ior. But when unions demon­strate sol­i­dar­i­ty, those in the pow­er struc­ture see the behav­ior as un-Amer­i­can. How does that compute?
Dray notes that the Unit­ed States is unique in the way ​"orga­nized cap­i­tal so resist­ed orga­nized labor, per­haps because in con­trast to Eng­land and Europe, pros­per­ous Amer­i­can cor­po­ra­tions began to devel­op before the emer­gence of strong cen­tral­ized gov­ern­ment … By the time unions came to strength or leg­is­la­tures took an inter­est in indus­try affairs," Cor­po­rate Amer­i­ca had already gained con­trol over its own fate.
Still, Dray writes, against over­whelm­ing odds labor lead­ers such as Gom­pers, Eugene V. Debs, Moth­er Jones, Bill Hay­wood, John L. Lewis, Sid­ney Hill­man and Wal­ter Reuther helped their unions' mem­bers move toward the ide­al that ​"work­ers have a right to be equi­tably paid for the work they do, treat­ed with dig­ni­ty, and to believe their efforts might bet­ter their own prospects and the lives of those dear to them."
There Is Pow­er in a Union mix­es well-known strug­gles, such as the orga­niz­ing of fac­to­ry women in Low­ell, Mass., before the Civ­il War, with dozens of less-known occur­rences, such as the adop­tion of union-approved work­ing con­di­tions insti­tut­ed by the pro­gres­sive own­ers of Nation­al Cash Reg­is­ter in Day­ton, Ohio, dur­ing the ear­ly decades of the twen­ti­eth cen­tu­ry. The book favors breadth over depth, but that is because Dray chose to pro­duce some­thing semi-ency­clo­pe­dic, to rep­re­sent the sweep of labor history.
The final chap­ter car­ries the nar­ra­tive to the present, although Dray halts the detailed treat­ment of man­age­ment-labor strug­gles in 1981, when Pres­i­dent Ronald Rea­gan attacked the prin­ci­ple of col­lec­tive bar­gain­ing by break­ing PAT­CO, the air traf­fic con­trollers' union. After that deba­cle for labor, defeats in the pri­vate sec­tor at Hormel Foods and Cater­pil­lar seemed to sig­nal per­ma­nent weak­ness for unions.
Dray explains that with glob­al­iza­tion, bot­tom-line eco­nom­ics has, for now, tri­umphed over humane treat­ment of workers.
The over­all val­ue of unions to soci­ety at large is not in ques­tion. Yet many, many gen­er­al­ly intel­li­gent, humane indi­vid­u­als do not share, what to us, is an obvi­ous con­clu­sion. This split is akin to that between believ­ers in a Chris­t­ian God and athe­ists. Each side har­bors great minds, each side is cer­tain of its right­ness and rarely does any­body switch sides with­out a rare rev­e­la­tion involved.
Dray is a refresh­ing chron­i­cler of his­to­ry, because he com­bines his thor­ough­ness as an even-hand­ed researcher with a clear­ly stat­ed per­son­al point of view: ​"It is this book's faith that there is pow­er in a union, as the old labor song goes, and that in los­ing them we risk los­ing some­thing worth­while in ourselves."
Steve Wein­berg
is an inves­tiga­tive reporter in Colum­bia, Mo. His lat­est book is
Tak­ing on the Trust: The Epic Bat­tle of Ida Tar­bell and John D. Rock­e­feller
.