Right-Wing Think Tanks Are Using Covid-19 To Push War with Iran
The Foundation for Defense of Democracies and American Enterprise Institute are aggressively campaigning for military escalation and a tightening of sanctions.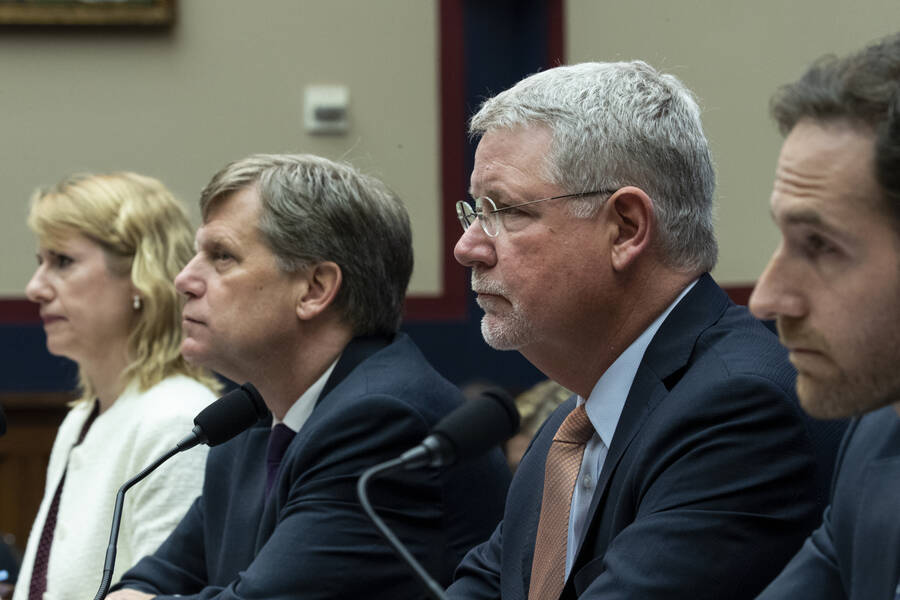 Since the glob­al Covid-19 pan­dem­ic began, a clus­ter of U.S. think tanks has been aggres­sive­ly lob­by­ing the Trump admin­is­tra­tion to esca­late mil­i­tar­i­ly toward Iran and tight­en U.S. sanc­tions. This push has come despite warn­ings that such sanc­tions are wors­en­ing the death toll of Iran's out­break, which is one of the worst in the world. The think tanks lead­ing this effort — the Foun­da­tion for Defense of Democ­ra­cies (FDD) and Amer­i­can Enter­prise Insti­tute (AEI) — have cranked out non-stop state­ments, research doc­u­ments, videos and media appear­ances since the cri­sis began. They are not shout­ing into the wind, but speak­ing direct­ly to an admin­is­tra­tion that has proven will­ing to act upon their words.
Amid an unprecedented global crisis, the self-declared "guardians of order" see an opening to push for more war, death and destruction.
In the 47 days since March 11, when the World Health Orga­ni­za­tion declared Covid-19 a glob­al pan­dem­ic, the FDD has post­ed 56 arti­cles, pod­cast inter­views and videos on its web­site which either demo­nize Iran as a unique­ly bad actor or urge the Unit­ed States to take a con­fronta­tion­al pos­ture towards the coun­try. While the steady stream of anti-Iran invec­tives is not new, the insis­tence that the Covid-19 cri­sis builds their case is. One piece from April 14, for exam­ple, argues that the cri­sis strength­ens the case for ​"régime change," because it will dimin­ish ​"the régime's cred­i­bil­i­ty even fur­ther and add fuel to the out­rage and anger that have been build­ing for years." The unproven the­o­ry that mass suf­fer­ing will accel­er­ate an upris­ing against the gov­ern­ment has long been used to jus­ti­fy a host of pun­ish­ing U.S. poli­cies against the Iran­ian peo­ple, includ­ing sanc­tions — a form of col­lec­tive pun­ish­ment has only unleashed pover­ty and pre­ma­ture death upon ordi­nary people.
Yet, through­out the cri­sis, the FDD has pub­lished a flur­ry of mate­ri­als argu­ing that the Unit­ed States must not let up sanc­tions dur­ing the pan­dem­ic. The orga­ni­za­tion is fund­ed by pro-Israel bil­lion­aires and start­ed out in 2001 as an explic­it­ly pro-Israel orga­ni­za­tion called EMET (Hebrew for truth). Since the pan­dem­ic began, it has pub­lished writ­ten and video posts that include: ​"Tehran Can Afford to Fight Covid-19 Even With­out Sanc­tions Relief," ​"The Coro­n­avirus Is Absolute­ly No Excuse To Lift Sanc­tions on Iran" and ​"Human­i­tar­i­an chan­nels to Iran con­tin­ue to be wide open." In a March 27 video, Mark Dubowitz, the chief exec­u­tive of FDD, released a video argu­ing that ​"the Iran­ian peo­ple know that this is the wrong time to give sanc­tions relief."
In fact, doc­tors in Iran have been beg­ging the Trump admin­is­tra­tion for relief from sanc­tions, which are cut­ting off crit­i­cal med­ical sup­plies, like ven­ti­la­tors, lead­ing to an increase in Covid-19 deaths. While human­i­tar­i­an exemp­tions tech­ni­cal­ly exist on paper, they are ren­dered large­ly mean­ing­less by a dif­fi­cult-to-nav­i­gate web of sanc­tions, as well as threats and intim­i­da­tion from the Trump admin­is­tra­tion, which have scared glob­al banks and firms from doing busi­ness with Iran. Researchers were warn­ing that sanc­tions were caus­ing a short­age in med­ical sup­plies before the out­break began: As Human Rights Watch said on April 6, ​"these exemp­tions have failed to off­set the strong reluc­tance of U.S. and Euro­pean com­pa­nies and banks to risk incur­ring sanc­tions and legal action by export­ing or financ­ing exempt­ed human­i­tar­i­an goods."
Hoda Kate­bi, an Iran­ian-Amer­i­can com­mu­ni­ty orga­niz­er with the No War Cam­paign, told In These Times that the FDD's role is ​"wild­ly ruinous — there's no nicer way to put it." Accord­ing to Kate­bi, ​"You'd think a human­i­tar­i­an cri­sis would be a time when war hawks pause rather than ramp up their project. It is telling what their goal is. With all their talk about want­i­ng to help the Iranain peo­ple, it's very clear it's quite the contrary."
Amid calls for sanc­tions relief, the Trump admin­is­tra­tion has only dug in more, with Sec­re­tary of State Mike Pom­peo issu­ing a state­ment on March 18 announc­ing a new round of sanc­tions that ​"will deprive the régime of crit­i­cal income from its petro­chem­i­cal indus­try and fur­ther Iran's eco­nom­ic and diplo­mat­ic iso­la­tion." This was soon fol­lowed by the Trump administration's inter­ven­tion to block an emer­gency $5 bil­lion loan to Iran from the Inter­na­tion­al Mon­e­tary Fund (a posi­tion the FDD also sup­port­ed). But this did not sat­is­fy the FDD. On April 23, a group of ​"experts and for­mal offi­cials" signed a let­ter to Trump urg­ing his admin­is­tra­tion to ​"dou­ble down on the max­i­mum pres­sure cam­paign." Of the 50 peo­ple who signed, 22 were from the FDD, accord­ing to a report in the con­ser­v­a­tive pub­li­ca­tion The Nation­al Inter­est.
Cavan Khar­raz­ian, inter­na­tion­al pro­gram researcher for the Cen­ter for Eco­nom­ic and Pol­i­cy Research, told In These Times, ​"Their let­ter echoes the State Depart­men­t's cat­e­gor­i­cal­ly false line that these broad eco­nom­ic sanc­tions have no human­i­tar­i­an effects. Despite claim­ing that their ​'hearts go out' to the Iran­ian peo­ple, they active­ly con­tribute to an extreme­ly dan­ger­ous for­eign pol­i­cy that harms mil­lions of ordi­nary Ira­ni­ans and push­es us clos­er to esca­lat­ing mil­i­tary con­flict." This dan­ger is under­scored by Trump's April 22 claim that, ​"I have instruct­ed the Unit­ed States Navy to shoot down and destroy any and all Iran­ian gun­boats if they harass our ships at sea" — a ref­er­ence to the U.S. Navy's Fifth Fleet in the Per­sian Gulf.
One of the sig­na­to­ries is the FDD's senior advi­sor Richard Gold­berg, who worked in the Trump admin­is­tra­tion from 2019 to 2020 while he was also at the FDD. When serv­ing as Trump's nation­al secu­ri­ty advi­sor, John Bolton cre­at­ed a job just for Gold­berg: ​"direc­tor for coun­ter­ing Iran's weapons of mass destruc­tion." As Bloomberg reports, ​"The goal was to counter what Bolton saw as a desire at the depart­ments of State and Trea­sury to weak­en the ​'max­i­mum pres­sure' cam­paign against Iran." While Gold­berg served on the Nation­al Secu­ri­ty Coun­cil, he remained on the salary of the FDD.
Goldberg's dou­ble role is not the only evi­dence of a close rela­tion­ship between the FDD and the Trump admin­is­tra­tion. When Iran declared in August 2019 that it was impos­ing sanc­tions on the FDD and Dubowitz for ​"uni­lat­er­al and ille­gal eco­nom­ic ter­ror­ism," Pom­peo came to the think tank's defense. ​"The U.S. does not take these threats light­ly, and will hold the régime and its ​'appa­ra­tus­es' to account," he tweet­ed. On April 17, Juan Zarate, Chair­man of the FDD's ​"Cen­ter on Eco­nom­ic and Finan­cial Pow­er," appeared on a round­table, orga­nized by the Cen­ter for a New Amer­i­can Secu­ri­ty (CNAS), along­side Andrea Gac­ki, direc­tor of the Office of For­eign Assets Con­trol for the U.S. Depart­ment of the Trea­sury, where he argued in favor of U.S. sanc­tions. Among the FDD's biggest fun­ders is bil­lion­aire and Home Depot co-founder Bernard Mar­cus, who was one of Trump's largest donors in 2016 and has been clear about his fer­vent belief that ​"Iran is the dev­il," as Eli Clifton report­ed.
Accord­ing to Khar­raz­ian, ​"In the realm of pub­lic opin­ion, FDD CEO Mark Dubowitz is con­tin­u­al­ly quot­ed in major pub­li­ca­tion pieces on Iran, such as the New York Times, and FDD staff mem­bers rou­tine­ly host or sit on pan­els through­out the belt­way regard­ing Iran. Addi­tion­al­ly, their ​'experts' have reg­u­lar­ly tes­ti­fied in Con­gress on for­eign pol­i­cy towards Iran."
But per­haps the clear­est sign of influ­ence is how close­ly the Trump administration's rhetoric mir­rors that of the FDD. On April 6, the State Depart­ment pub­lished a fact sheet titled ​"Iran's Sanc­tions Relief Scam." This bizarre, screedy doc­u­ment is worth com­par­ing with an FDD memo pub­lished the day before: the over­lap in mes­sag­ing, his­tor­i­cal exam­ples, and spe­cif­ic data cit­ed is strik­ing. As Khar­raz­ian notes, this is not an iso­lat­ed case: ​"If you read the state­ments com­ing from Trump's State Depart­ment on Iran and the ​'max­i­mum pres­sure' cam­paign, they appear almost com­plete­ly ide­o­log­i­cal­ly aligned with these think-tanks' own posi­tions and talk­ing points, espe­cial­ly dur­ing the Covid-19 crisis."
FDD is not alone in its cam­paign. The AEI, which has received mil­lions from Koch foun­da­tions, as well as cor­po­ra­tions such as Exxon­Mo­bil, has launched a cam­paign to counter activists who are call­ing for sanc­tions relief. Yas­mine Taeb, senior pol­i­cy coun­sel at Demand Progress, tells In These Times, ​"FDD and AEI have always pushed for poli­cies aimed at war. FDD led the charge against the Iran nuclear deal under Oba­ma, and it oppos­es U.S. diplo­ma­cy with Iran on prin­ci­ple: It sees any U.S. rela­tion­ship with Iran as com­ing at the expense of the U.S. rela­tion­ship with Israel, and it has a track record of sup­port­ing esca­la­tion for the sake of escalation."
"The dif­fer­ence between the FDD and AEI today is that the AEI is a promi­nent con­ser­v­a­tive orga­ni­za­tion that sup­port­ed Bush's march to war in Iraq in 2003," she con­tin­ues. ​"It is not lead­ing the charge for war with Iran today: The FDD is play­ing the role that the AEI played in the lead-up to the Iraq War." Notably, AEI's board of trustees includes for­mer Vice Pres­i­dent Dick Cheney along­side and a num­ber of cor­po­rate lead­ers, includ­ing Christo­pher B. Galvin, for­mer CEO and chair­man of Motorola.
While the AEI might not be play­ing as large a role as the FDD, it also is not silent. On March 20, 26 pro­gres­sive orga­ni­za­tions released a state­ment ask­ing ​"Pres­i­dent Trump, Sec. Mnuchin, and Sec. Pom­peo to loosen the admin­is­tra­tion's crip­pling sanc­tions régime on Iran for 120 days in order to aid the Iran­ian people's fight against the virus." AEI respond­ed with a press effort to oppose that effort. On March 24, AEI res­i­dent schol­ar Michael Rubin direct­ly blast­ed the let­ter in an op-ed in the Wash­ing­ton Exam­in­er titled, ​"Don't lift Iran sanc­tions, not even for the coronavirus."
Then, on March 25, AEI senior fel­low Danielle Plet­ka wrote an op-ed in The Dis­patch titled, ​"Sor­ry, now is not the time to lift sanc­tions on Iran." That piece also responds to the let­ter from 26 orga­ni­za­tions call­ing for sanc­tions to be lift­ed. In late March, Sen. Bernie Sanders, Reps. Alexan­dria Oca­sio-Cortez and Ilhan Omar and oth­ers cir­cu­lat­ed a let­ter call­ing for imme­di­ate sanc­tions relief for Iran (that let­ter would be pub­licly released on March 31 with 34 con­gres­sion­al sig­na­tures). On March 25, Rubin wrote an arti­cle for The Nation­al Inter­est titled ​"Sor­ry, AOC: Don­ald Trump can't give Iran a sanc­tions pass for coronavirus."
Nahid Soltan­zadeh is a dig­i­tal cam­paign­er for the Mus­lim grass­roots orga­ni­za­tion MPow­er Change, which is part of the #End­COVID­Sanc­tions coali­tion that released a March 31 let­ter applaud­ing those mem­bers of Con­gress who spoke out against U.S. sanc­tions. They said that the push by both the AEI and FDD to increase sanc­tions ​"is enrag­ing and only enables the Office of For­eign Assets Con­trol to con­tin­ue let­ting Ira­ni­ans die from Covid-19." Soltan­zadeh under­scored, ​"They cre­ate an envi­ron­ment where OFAC can escape account­abil­i­ty to the U.S. pub­lic or Con­gress — both of which are over­whelm­ing­ly demand­ing a tem­po­rary lift on Iran sanctions."
Kate­bi says the AEI's cam­paign is a sign of the effec­tive­ness of sanc­tions oppo­nents: ​"For them to be going so strong, it's only because they're see­ing the work and impact we've been hav­ing as a campaign."
Like the FDD, AEI's sup­port for sanc­tions stems from a larg­er push towards mil­i­tary esca­la­tion. On April 10, Gary Schmitt, ​"res­i­dent schol­ar in strate­gic stud­ies and Amer­i­can insti­tu­tions" for AEI, wrote a piece in The Amer­i­can Inter­est titled, ​"Don't slash the defense bud­get to pay for Covid-19." He argued that any cuts would pose a secu­ri­ty threat to the Unit­ed States, in part because ​"Rus­sia, Chi­na, and Iran have become more aggres­sive and more potent adver­saries." On April 2, Ken­neth M. Pol­lack, a res­i­dent schol­ar at AEI, echoed FDD in spec­u­lat­ing on whether the mass suf­fer­ing caused by Covid-19 could has­ten the régime's end: ​"While Covid-19 seems unlike­ly to be the trig­ger for the fall of the Islam­ic Repub­lic, when the régime's his­to­ry is final­ly writ­ten, it may very well be that we will look back on this cri­sis and say that it helped has­ten its end." Notably, Pol­lack was a major push­er of the Iraq war, who was cit­ed by New York Times colum­nist Bill Keller as a rea­son the lat­ter sup­port­ed that war.
Mean­while, some at AEI are mak­ing the case that ​"bad actors" like Iran will try to take advan­tage of the cri­sis, so the Unit­ed States should too. Hal Brands, res­i­dent schol­ar for AEI, wrote an arti­cle for Bloomberg opin­ion on April 20 titled, ​"The world's bad actors see coro­n­avirus as an oppor­tu­ni­ty." He wrote, ​"There will always be preda­to­ry actors look­ing to exploit weak­ness and dis­or­der, even if that dis­or­der affects them as well. If the guardians of order are absent, the bal­ance will be bro­ken, and the results will not be pretty."
Amid an unprece­dent­ed glob­al cri­sis, the self-declared ​"guardians of order" see an open­ing to push for more war, death and destruc­tion. In the words of Taeb from Demand Progress, ​"It's pret­ty dis­gust­ing, because we're talk­ing about a glob­al pan­dem­ic that has claimed the lives of hun­dreds of thou­sands of peo­ple. We're talk­ing about inno­cent peo­ple dying."
Ambi Colón Nuñez and Juan Caice­do con­tributed research to this report.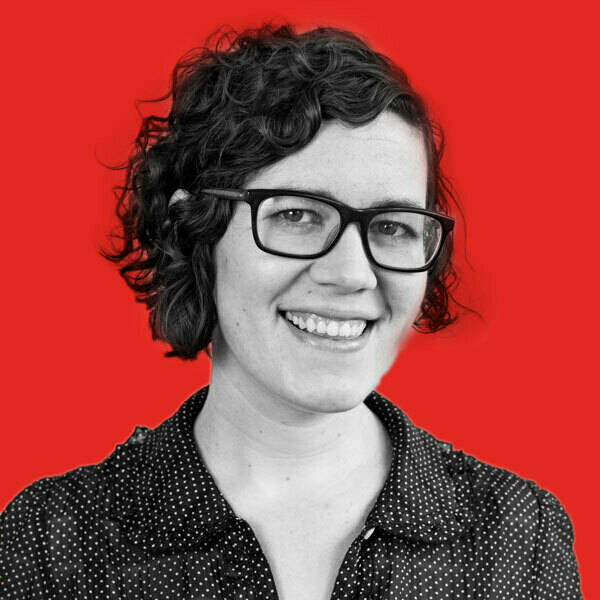 Sarah Lazare is web edi­tor at In These Times. She comes from a back­ground in inde­pen­dent jour­nal­ism for pub­li­ca­tions includ­ing The Inter­cept, The Nation, and Tom Dis­patch. She tweets at @sarahlazare.