This Hawaiian Lawmaker Fought Mark Zuckerberg Off Native Land. Now He's Running for Congress.
DSA member Kaniela Ing is calling for 100 percent renewable energy, universal basic income and a jobs guarantee.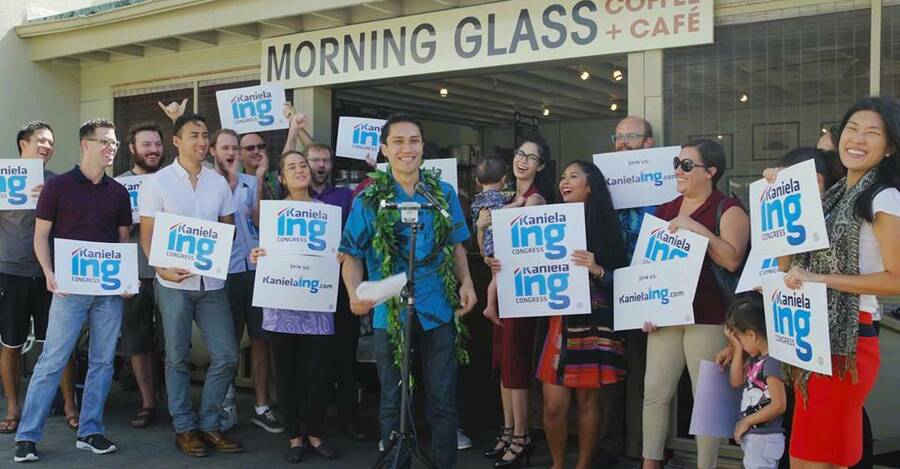 Kaniela Ing knows a lit­tle some­thing about Face­book, and not just because he's a mil­len­ni­al. At 22, Ing (now 29) was elect­ed in 2012 to the Hawaii state house, where he cur­rent­ly serves as Major­i­ty Pol­i­cy Leader for the Democ­rats. In 2014, Face­book CEO Mark Zucker­berg pur­chased 700 acres of beach­front prop­er­ty on land Native Hawai­ians have gath­er­ing rights to. Then he built a wall around it, and sued local fam­i­lies to keep them out. Ing helped lead the charge from the state leg­is­la­ture for Native Hawai­ians to reclaim their rights to that land, and Zucker­berg even­tu­al­ly dropped the lawsuits.
We know what it's like to be up against oligarchy in Hawaii. We've lived in a feudal society and a really unequal capitalist society throughout history.
Now, Ing, a Native Hawai­ian, is run­ning to rep­re­sent Hawaii's first con­gres­sion­al dis­trict, with a cri­tique of Face­book and oth­er cor­po­ra­tions that extends well beyond their CEOs' real estate invest­ments. In Wash­ing­ton, Ing hopes to cur­tail cor­po­rate pow­er, and reg­u­late Face­book and oth­er major tech firms like utilities.
In These Times spoke with Ing by phone about Zucker­berg, the lega­cy of colo­nial­ism in Hawaii, demo­c­ra­t­ic social­ism and how to change the way Democ­rats think about economics.
Kate Aronoff: Tell me a bit about HI-01.
Kaniela Ing: This dis­trict that we live in is the urban core of Hawaii. It's the city, and the rest of that island and every­thing else is in the sec­ond dis­trict. This dis­trict has a lot of high ris­es and a lot of vis­i­ble pover­ty. The inequal­i­ty is real­ly stark. We have lux­u­ry con­do­mini­ums pop­ping up all the time — $20 mil­lion glass build­ings going up to the sky, right next to Native Hawai­ians and vet­er­ans liv­ing on the streets. We have the high­est cost of liv­ing in the nation, but the low­est wages, adjust­ed for cost of liv­ing. Our salaries have been inad­e­quate for years. We have a low unem­ploy­ment rate that politi­cians like to brag about, at 2.5 per­cent. But that's only because peo­ple are work­ing two or three jobs. It's a real strug­gle out here, espe­cial­ly for young people.
Myself, I pay $2000 a month for day­care and $700 a month for stu­dent loans. Between that and rent and milk cost­ing $7 per half gal­lon, every­thing comes down to eco­nom­ics right now. It's not that scarci­ty is a prob­lem. Clear­ly the resources are here. It's that work­ing peo­ple just aren't get­ting their just desserts. That's what's con­cern­ing to most folks. 70 per­cent of my class­mates have moved away to the main­land to look for hous­ing and oppor­tu­ni­ties. Now that I have a two year old, I want to ensure that he has a shot to make it here in Hawaii.
Kate: Face­book and its CEO, Mark Zucker­berg, have been in the news a lot recent­ly fol­low­ing the Cam­bridge Ana­lyt­i­ca scan­dal. Could you explain how you came into con­tact with the him in your work as a state legislator?
Kaniela: In 2014, Mark Zucker­berg pur­chased 700 acres on Kauai. That's the island where they filmed Juras­sic Park and Avatar. It's beau­ti­ful, and his prop­er­ty was right on the shore­line. It turns out that on 17 acres of that land, Native Hawai­ians had gath­er­ing rights that had been passed down from gen­er­a­tion to gen­er­a­tion. Rather than sit­ting down and nego­ti­at­ing how they can solve this conun­drum, he went and sued these Hawai­ian fam­i­lies who were of lit­tle means. Even if they were to win some kind of cash set­tle­ment, it would prob­a­bly be less than what they would incur in legal costs. These law­suits are the same mech­a­nisms that sug­ar barons used to dis­place Native Hawai­ians cen­turies ago. It cre­at­ed this huge uproar among Native Hawai­ians and environmentalists.
So I went to the media and spoke my mind on the issue. I called Mark Zucker­berg a mod­ern-day col­o­niz­er, and it made some inter­na­tion­al news. After a cou­ple of weeks of these head­lines and the two sides going back and forth, he dropped the law­suit. We did win that bat­tle. It's still ongo­ing. There are no law­suits any­more but they still haven't got­ten the land back, and Zucker­berg still has a wall built around his prop­er­ty. These Hawai­ians are just look­ing to fish, or get to the beach. This issue has real­ly brought some of the injus­tices we've been fac­ing for years to the atten­tion of the world.
Kate: Could you say more about that, and the his­toric rela­tion­ship between cor­po­ra­tions and native Hawaiians?
Kaniela: The first West­ern con­tact in Hawaii was Cap­tain Cook. But short­ly there­after, a bunch of mis­sion­ary fam­i­lies came to the island. Five fam­i­lies con­trolled our gov­ern­ment and our econ­o­my — we call them the Big Five. They dealt in whal­ing and san­dal­wood and sug­ar and pineap­ple, and, now, tourism. Their face has changed — it's not the same Big Five that it was 200 years ago — but it still exists. Alexan­der & Bald­win, two of the fam­i­lies of the Big Five, are a cor­po­ra­tion now, a real estate invest­ment trust. They're the sec­ond largest land­hold­ers in Hawaii. They're also the largest cam­paign con­trib­u­tors. They can make and break elec­tions, so in some ways these fam­i­lies still do have eco­nom­ic and gov­ern­men­tal con­trol of Hawaii.
We know what it's like to be up against oli­garchy in Hawaii. We've lived in a feu­dal soci­ety and a real­ly unequal cap­i­tal­ist soci­ety through­out his­to­ry. Now we're see­ing that repeat. We have three men in Amer­i­can who hold more wealth than the bot­tom half — than 50 per­cent of the entire nation. And 82 per­cent of new wealth gen­er­at­ed in 2017 went to the top 1 per­cent. It's more stark than ever. Mark Zucker­berg is one of today's oli­garchs, just like on the main­land with Stan­dard Oil and some of the oth­er oli­garchs in the past. Except now these guys have con­trol over com­merce, like Ama­zon, and com­mu­ni­ca­tions, like Face­book. And that's where it gets real­ly dan­ger­ous for a democ­ra­cy. It's impor­tant that Con­gress act now and not rely on self-reg­u­la­tion by these monopolists.
Kate: What do you think qual­i­fies Face­book as a monop­oly, and how would you hope to reg­u­late it?
Kaniela: Mark Zucker­berg calls Face­book a social util­i­ty. And if he's admit­ting it's a util­i­ty he should agree that it should be treat­ed like one. The same goes for the inter­net in gen­er­al, not just social net­works but broad­band con­nec­tion. It's a neces­si­ty now in the mod­ern world, the way elec­tric­i­ty was almost a cen­tu­ry ago. There was way too much con­trol by a few cor­po­ra­tions that actu­al­ly didn't ben­e­fit the major­i­ty of the pub­lic. So the gov­ern­ment took over lines and — at the very least — heav­i­ly reg­u­lat­ed these monop­o­lies to make sure that every­body had equal access to elec­tric­i­ty. We're going to have to do that for broad­band gen­er­al­ly, and we're going to have to do that for social net­works. Right now there's noth­ing stop­ping some­one like Zucker­berg from adjust­ing their algo­rithms to pun­ish peo­ple with cer­tain polit­i­cal views or cer­tain com­pa­nies. Arguably it's already hap­pen­ing. A lot of inde­pen­dent news sources don't have the same abil­i­ty to reach their own fol­low­ers that more cor­po­rate news sources do. That's unfair.
Kate: You're call­ing for both a fed­er­al job guar­an­tee and a uni­ver­sal basic income. Could you talk about what both of those poli­cies mean to you?
Kaniela: The job guar­an­tee isn't just employ­ment in low-wage jobs. These would be liv­ing-wage jobs, build­ing on the idea that peo­ple hav­ing live­able jobs is a human right. Today there's more than enough work for every cit­i­zen: There are bridges to be built, roads to be repaired, chil­dren to teach, trees to plan. But the mar­ket just doesn't meet the demand. It's not just impor­tant for places that have high unem­ploy­ment. Here in Hawaii we don't have that prob­lem. But we do have an issue with work­ers being exploit­ed reg­u­lar­ly. For every job open­ing there are four peo­ple look­ing. So if you're a boss you have a lot of lever­age, because you know your employ­ee doesn't have many options. But if you were to reverse that — so there are four jobs for every per­son look­ing — then the work­er is real­ly empow­ered. And employ­ers are going to have to treat their work­ers a lot bet­ter if they want them to stay. You'll see a lot of fair­er sched­ul­ing. You'll see less wage theft. That's the idea behind a job guar­an­tee: It's a pub­lic option for jobs. It would turn unem­ploy­ment offices into employ­ment offices.
The oth­er pro­pos­al is a uni­ver­sal basic income. Now that automa­tion and glob­al­iza­tion are real­ly dis­rupt­ing our econ­o­my, we have to act quick­ly and explore inno­v­a­tive solu­tions if we want to build a future econ­o­my that leaves no one behind. There is a study that pilots a uni­ver­sal basic income that — if every cit­i­zen is giv­en $1000 a month — then the Amer­i­can econ­o­my would grow by $2.5 tril­lion. Our econ­o­my runs on spend­ing, and the mid­dle class is shrink­ing. If the mid­dle class don't have enough mon­ey in their wal­lets the econ­o­my is going to stall. So this is one way to real­ly jump start the econ­o­my, and pre­pare for automation.
I think we can do both.
Kate: Both of these sound like they'd be expen­sive. Do you think Con­gress needs a new way of think­ing about deficits and bud­gets in order to make these kinds of pro­pos­als a reality?
Kaniela: Con­gress has shown through tril­lions of dol­lars in tax cuts and mil­i­tary spend­ing and bail­ing out big banks that we have the mon­ey. Repub­li­cans nev­er have to jus­ti­fy where it's com­ing from, so I don't think we have to either. They only want to talk about bal­anced bud­gets when it's pro­grams that we care about and that actu­al­ly help work­ing fam­i­lies. We've got to make sure we don't fall into the trap, of get­ting caught up in dis­cus­sions of how to pay for things.
If you real­ly want to dive into it, you've got to learn mod­ern mon­ey the­o­ry: what mon­ey real­ly is, where our mon­ey real­ly goes, and demand-side eco­nom­ics more gen­er­al­ly. His­to­ry shows that peo­ple on the ground — demand side — need to have mon­ey to spend in the econ­o­my if we want it to con­tin­ue grow­ing. It can't con­tin­ue to get hoard­ed by the top 1 per­cent, who don't real­ly spend the mon­ey on nor­mal things like hair­cuts and din­ners and gro­ceries. Instead they like to do stock buy­backs, which should be ille­gal by the way. Or they hide their mon­ey in the Cay­man Islands. That doesn't keep the econ­o­my going. Gaso­line needs to be revving the engine. It can't just be sit­ting in the tank.
Kate: The pro­gres­sive answer to ​"pay for" ques­tions has been to say we're going to tax some­thing bad to spend mon­ey on some­thing good. You're say­ing that doesn't have to be the case.
Kaniela: It's real­ly easy to say, for instance, ​"How are you going to fund tuition-free col­lege?" Cut the mil­i­tary by 0.5 per­cent. That makes sense to peo­ple so I under­stand why some politi­cians want to engage that way. But it also feeds into the oth­er side's trap, and the way they exploit a frame­work they've nev­er fol­lowed it them­selves. They've been com­plete hyp­ocrites about it through­out mod­ern polit­i­cal his­to­ry. I do think it's impor­tant to tack­le the oth­er side of inequal­i­ty, and actu­al­ly tax huge cap­i­tal gains and inher­i­tances — not just to fund pro­grams but because it's the moral thing to do. They don't even have to be said in the same breath, but we can still do both. One doesn't have to jus­ti­fy the oth­er. You don't have to tax in order to spend. You can spend and tax on their own merits.
Kate: What oth­er kinds of changes do you think need to be made in the Demo­c­ra­t­ic Party?
Kaniela: Num­ber one, stop being hyp­ocrites. Under­stand where we went wrong and admit those faults and learn from them. The Oba­ma admin­is­tra­tion deport­ed a record num­ber of undoc­u­ment­ed immi­grants, but no one wants to talk about that because Trump's the big bad deporter. Trump is ter­ri­ble on these issues! And the way he talks and thinks about undoc­u­ment­ed immi­grants is grotesque. Oba­ma was a lot more thought­ful, don't get me wrong. But we need to under­stand where we lost a lot of our sup­port over the years. It's when­ev­er we decide to com­pro­mise with the uncom­pro­mis­ing. We've real­ly got to stand strong in our val­ues. The Afford­able Care Act, there were 40 Repub­li­can amend­ments made for zero Repub­li­can votes. We had an oppor­tu­ni­ty to go for a pub­lic option or even a sin­gle pay­er pro­pos­al then but we didn't take it because we were afraid of the health­care and insur­ance lob­by. That's why it's impor­tant that we shift the con­ver­sa­tion away from one of com­pro­mis­ing. We know that Repub­li­cans — at least not recent­ly — will nev­er com­pro­mise in good faith.
Kate: You're a mem­ber of the Demo­c­ra­t­ic Social­ists of Amer­i­ca (DSA) and are run­ning as a Demo­c­rat. Do you see space for social­ists with­in the Demo­c­ra­t­ic Party?
Kaniela: As you allud­ed to, DSA isn't its own par­ty. It can work with­in the Demo­c­ra­t­ic par­ty, and the way our sys­tem is and the way our con­sti­tu­tion is that is the best route to go about achiev­ing the things we want to achieve. I know the ​"isms" tend to scare a lot of peo­ple in the gen­er­al pub­lic. But if you poll peo­ple across par­ties, they sup­port the ideas that demo­c­ra­t­ic social­ists sup­port: the idea that things aren't going to be means test­ed or mar­ket based; that every­body chips in what they can and every­body gets back the ben­e­fit. That's some­thing that's sup­port­ed even in red states. That's why Medicare and social secu­ri­ty are so pop­u­lar. If we can expand that par­a­digm to poli­cies like edu­ca­tion or hous­ing, I think that's real­ly the direc­tion that the Demo­c­ra­t­ic Par­ty and Amer­i­ca should be headed.
The thing I love about DSA is that there's less focus on just bills. We under­stand that while it's impor­tant to be able to work with col­leagues to move things with com­pro­mise — which I've done in the state leg­is­la­ture — it's often more impor­tant to under­stand that we're just the last piece of the puz­zle. You've got to reach crit­i­cal mass if you want to achieve change. That's the only way it's real­ly ever hap­pened, from suf­frage to vot­ing rights to mar­riage equal­i­ty to envi­ron­men­tal pro­tec­tions. So how can I as an elect­ed offi­cial facil­i­tate and build those move­ments? It's going to hap­pen be engag­ing in and includ­ing activists as part of my core team.
Kate: What do you think the rela­tion­ship should be between social move­ments and peo­ple who hold elect­ed office?
Kaniela: I like to see myself as a move­ment can­di­date. Elect­ed offi­cials like to take cred­it for poli­cies that they know only came about by react­ing to where the pub­lic was. My view as elect­ed lead­ers is that we're just a ves­sel for ideas. The wind blows through us like a whis­tle. We just make the noise. But the wind is the peo­ple. So that's how I try to operate.
When Eliz­a­beth War­ren took such a strong stance against Wall Street and proved that she could win, more and more Democ­rats are start­ing to fol­low her lead. We've got to show the same brav­ery in dif­fer­ent sec­tors, like the mil­i­tary indus­tri­al com­plex or Big Oil. That's why in this cam­paign we don't take any cor­po­rate mon­ey. That's the only way we're going to see change.
Kate: Speak­ing of Big Oil, Hawaii is hav­ing a more advanced con­ver­sa­tion about cli­mate change than the one hap­pen­ing at the nation­al lev­el. You call for 100 per­cent renew­able ener­gy by 2035 in your plat­form. What kind of con­ver­sa­tion do you think Con­gress should be hav­ing about cli­mate change?
Kaniela: There hasn't been any real action on cli­mate. It's extreme­ly irre­spon­si­ble for the next gen­er­a­tion. With­in my son's life­time, Waiki­ki could be under­wa­ter. That's the lifeblood of Hawaii's econ­o­my. The neigh­bor­hood I grew up in could be under­wa­ter. Hawaii may become the cli­mate refugee cap­i­tal of the Pacif­ic, from all the peo­ple liv­ing on these atolls need­ing a place to come. We've got to make sure we have the resources to account for that.
Between Trump pulling out of the Paris Accord and there being no real action done at the Con­gres­sion­al lev­el, it's scary for us here in Hawaii.
We were the first state to pass a 100 per­cent renew­able ener­gy goal. I was also the first leg­is­la­tor to come out in oppo­si­tion to the return of nat­ur­al gas in Hawaii. We stopped that from hap­pen­ing. Our util­i­ty was going to get bought out by an anti-solar com­pa­ny called Nex­tera, which owns Flori­da Pow­er and Light. We stopped that despite Nex­tera max­ing out all the Democ­rats. We are set­ting the exam­ple for the rest of the nation.
I think a job guar­an­tee would work very well for a lot of green ini­tia­tives: to retro­fit build­ings and build advanced ener­gy infra­struc­ture like wind and solar. If we have these jobs our econ­o­my will grow and our tax rev­enue will grow as well. It's going to be a lot of up-front ini­tial costs, but it will pay for itself down the line.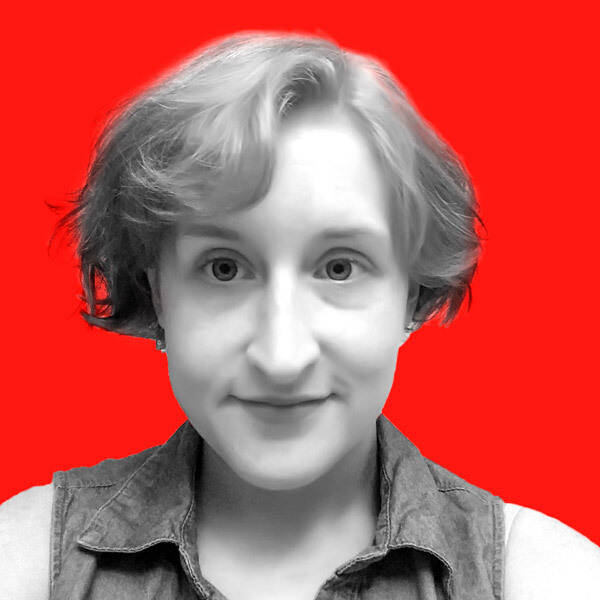 Kate Aronoff
is a Brook­lyn-based jour­nal­ist cov­er­ing cli­mate and U.S. pol­i­tics, and a con­tribut­ing writer at The Inter­cept. Fol­low her on Twit­ter @katearonoff.