This May Day, Don't Go to Work, Take to the Streets and Strike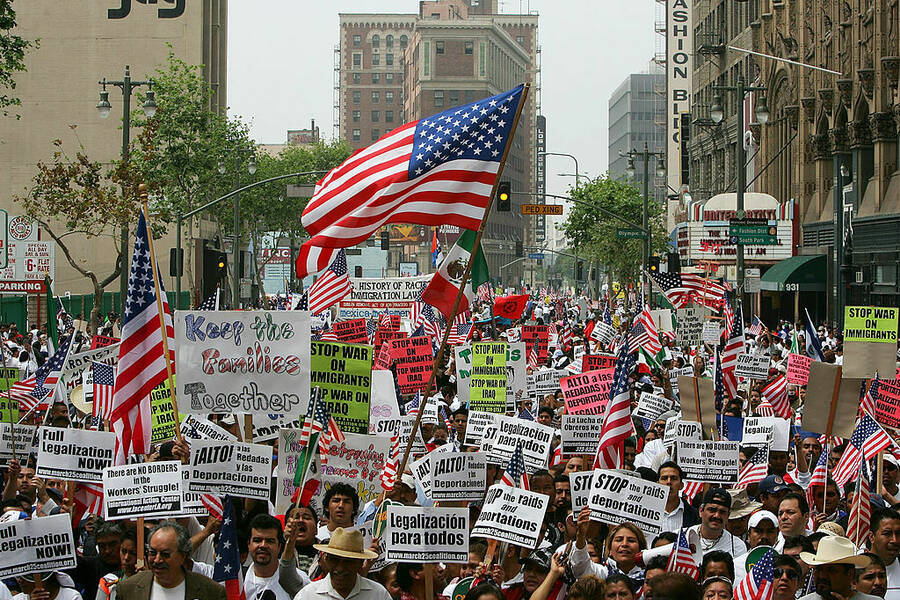 From the Mus­lim ban to the bor­der wall, Pres­i­dent Don­ald Trump's first 100 days have unleashed a blitzkrieg of ter­ror. But on May 1, the com­mu­ni­ties he thought he'd backed into a cor­ner will put him on the defen­sive with equal and oppo­site force.
Maria Fer­nan­da Cabel­lo, a leader of the grass­roots orga­niz­ing net­work Movimien­to Cosecha, issued a call to action at an April ral­ly in Wash­ing­ton, D.C., announc­ing planned actions in more than 80 cities, poten­tial­ly involv­ing hun­dreds of thou­sands of people.
"We think that we can win by using the biggest pow­ers in the immi­grant com­mu­ni­ty: our com­merce and our labor … We work every day and we buy every week," she said. Legal or not, ​"We're in every major indus­try in this coun­try, and with­out us, it would­n't run."
The last mobi­liza­tion on such a mas­sive scale in 2006 aimed to pres­sure Con­gress on immi­gra­tion reform leg­is­la­tion. This time, with right-wing hard­lin­ers con­trol­ling all branch­es of gov­ern­ment, the resis­tance has tak­en a bold­er, more mil­i­tant thrust. Activists, immi­grants and oth­ers are draw­ing their own bat­tle lines this time, not in leg­isla­tive cham­bers but on the street and the shop floor, fueled not just by labor con­flicts but by deep­er ques­tions of eco­nom­ic and social jus­tice and civ­il rights. And an alliance of grass­roots cam­paigns—includ­ing the Fight for 15, Jobs with Jus­tice and com­mu­ni­ty-based work­er cen­ters — is bring­ing the ranks of tra­di­tion­al labor on board. Through­out April, grass­roots work­er-led demon­stra­tions have sprung up across the coun­try, mobi­liz­ing around migrant rights and eco­nom­ic jus­tice, build­ing momen­tum toward the big day.
Rosa Lopez, a leader of SEIU Unit­ed Ser­vice Work­ers West (USWW), which rep­re­sents more than 40,000 jan­i­tors and oth­er ser­vice staff, spoke at the Cosecha ral­ly, dar­ing Trump to break up her com­mu­ni­ties — empha­sis on the plural.
"We are tired of all of the racism and hate that is being spread toward our com­mu­ni­ty of immi­grants and also our African-Amer­i­can com­mu­ni­ty," she said in Span­ish. Speak­ing as a work­er and moth­er, not just a migrant, she urged, ​"It's impor­tant to do rad­i­cal things in this moment so that we can make peo­ple under­stand … that we need to come unit­ed in this struggle."
A migrant-led insur­rec­tion is dar­ing, but hard­ly shock­ing. His­tor­i­cal­ly, immi­grants have often led the most rad­i­cal actions, from wild­cat strikes in the fields to hunger strikes at deten­tion cen­ters; their will­ing­ness to take risks is the rea­son they made it here after all. More sur­pris­ing, per­haps, is the groundswell of protest from more main­stream unions and even some employ­ers, such as pro­gres­sive restau­ra­teurs and Yemeni-Amer­i­can bode­ga own­ers who protest­ed Trump's anti-immi­grant poli­cies. Although USWW held an offi­cial strike vote for May Day, there's no ques­tion that, as the admin­is­tra­tion clamps down on cities that don't coop­er­ate with its depor­ta­tion dri­ves, the bound­aries of law and order on May 1 will be will­ful­ly test­ed and breached.
For estab­lished unions, the May Day moment hear­kens back to ear­li­er cam­paigns like Jus­tice for Jan­i­tors, also led by SEIU. In 1990, a peace­ful mass protest in Los Ange­les led to a vio­lent clash with police and a major union vic­to­ry. Today, the dis­rup­tion that Trump's poli­cies have trig­gered have opened anoth­er chance for labor to react with strate­gic spon­tane­ity. If noth­ing else, it's incum­bent on labor to present an authen­tic plat­form for work­ing people's inter­ests to counter the van­i­ty pop­ulism of a bil­lion­aire celebri­ty president.
The risk isn't an obsta­cle but the objective.
"We under­stand that there's risk involved," USWW pres­i­dent David Huer­ta, told Buz­zFeed, ​"but we're will­ing to take that risk in order to be able to move for­ward in this moment, while the most mar­gin­al­ized are in the crosshairs of this administration."
So work­ers are prepar­ing for the strike while also gear­ing up for the poten­tial con­se­quences — by warn­ing their boss­es of the fall­out they'll face if they refuse to stand on the right side. Any work­places that retal­i­ate against strike par­tic­i­pants would be boy­cotted until the jobs are restored.
"For all the cor­po­ra­tions and busi­ness­es that are threat­en­ing to fire their employ­ees on May 1," Cabel­lo said, ​"If you choose to go against the peo­ple, the peo­ple will go against you."
Accord­ing to the Food Chain Work­ers Alliance, a nation­wide labor coali­tion rep­re­sent­ing rough­ly 300,000 work­ers, some restau­rant own­ers and high­er-pro­file employ­ers have made a point of pub­licly cham­pi­oning the pro-immi­grant protests and even embraced the idea of their work­ers par­tic­i­pat­ing in the strike actions. But wor­ries are brew­ing that oth­er work­ers could face retal­i­a­tion upon return­ing to the job.
"We have a ton of ​'high-road' employ­ers, many of whom are ​'sanc­tu­ary work­places' through a few of our mem­ber orga­ni­za­tions, such as ROC [Restau­rant Oppor­tu­ni­ties Cen­ters Unit­ed], who are 100 per­cent sup­port­ive. Most of these employ­ers are just shut­ting down on May Day," explained Jose Oli­va, co-direc­tor of the Alliance, via email. ​"How­ev­er, there are oth­er work­ers who are tak­ing a huge risk going on strike on May Day, so we are not tak­ing any­thing for granted."
The Alliance has estab­lished a fund to pro­tect strik­ers and recruit­ed pro-bono lawyers — anoth­er fresh­ly politi­cized sec­tor that has ral­lied in defense of immi­grants' rights since the election.
As the pop­ulist ener­gy dri­ving Trump's ascent spi­rals into chaot­ic paral­y­sis in Wash­ing­ton, the one cer­tain­ty com­ing out of Trump's first 100 days is that the polit­i­cal cen­ter has been shak­en. May 1 will man­i­fest the sharp end of the dou­ble-edged polit­i­cal sword the elec­tion gal­va­nized: Now, work­ers have a chance to con­front Trump by turn­ing the tricks of his trade back on him — deal­ing in the lan­guage of power.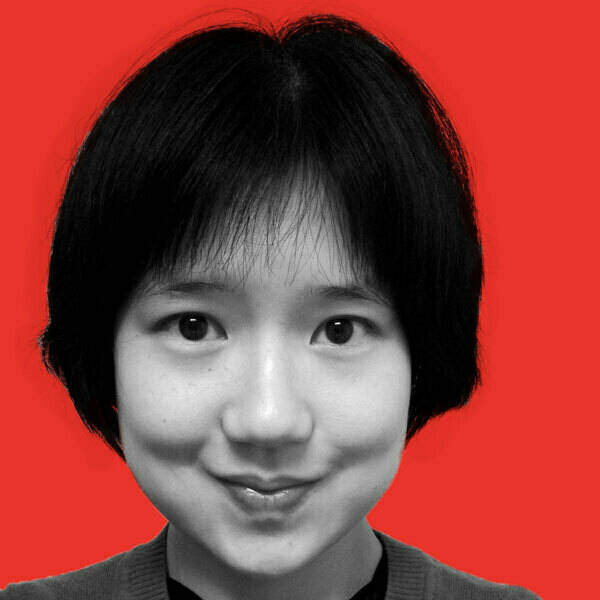 Michelle Chen is a con­tribut­ing writer at In These Times and The Nation, a con­tribut­ing edi­tor at Dis­sent and a co-pro­duc­er of the ​"Bela­bored" pod­cast. She stud­ies his­to­ry at the CUNY Grad­u­ate Cen­ter. She tweets at @meeshellchen.