Thousands Rally Against Keystone XL as Obama Faces Decision
The two-year-plus political drama is nearing its climax.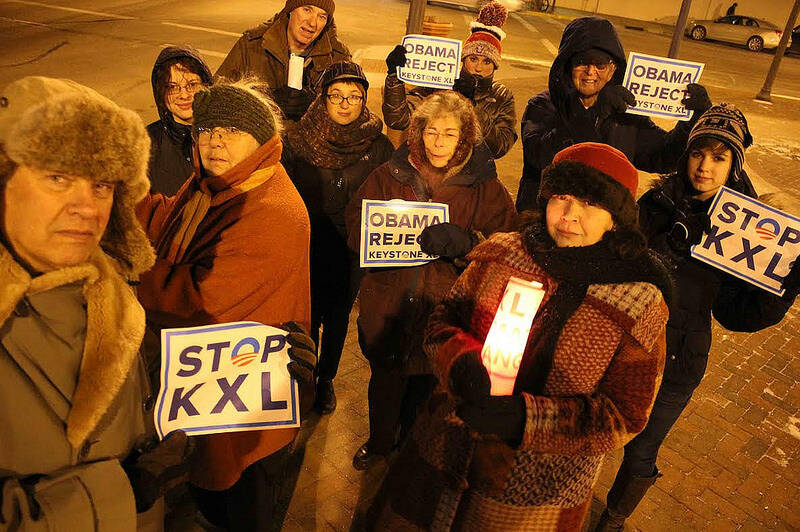 On Mon­day night, thou­sands ral­lied across the coun­try against con­struc­tion of the Key­stone XL pipeline — the lat­est show of strength for an envi­ron­men­tal move­ment that's reach­ing the home stretch after more than two years of suc­cess­ful­ly delay­ing the project. The next three months will deter­mine whether the Key­stone project is green­lit or killed.
When it comes to the KXL, Obama has generally held his cards very close. In a speech last June at Georgetown University, he offered a now-famous criterion for approval: Does the pipeline "significantly exacerbate" greenhouse gas emissions?
Since TransCanada's pro­posed pipeline cross­es the U.S.-Canada bor­der, it requires a pres­i­den­tial per­mit. And with the release of the State Department's final envi­ron­men­tal impact state­ment on the Key­stone XL on Fri­day, Pres­i­dent Oba­ma will soon, at long last, be forced to make a deci­sion about a pipeline that he pledged to approve ​"only if it does not sig­nif­i­cant­ly exac­er­bate the prob­lem of car­bon pollution."
The impact state­ment offers frus­trat­ing­ly few clues into the poten­tial fate of the Key­stone XL. On the one hand, the State Depart­ment all but acknowl­edged that the dai­ly trans­port of more than 800,000 bar­rels of most­ly heavy crude oil would result in new car­bon emis­sions and accel­er­ate cli­mate change — a point the anti-KXL camp finds daz­zling­ly obvi­ous. On the oth­er hand, the impact state­ment sug­gest­ed that Alberta's oil sands will be extract­ed and shipped to export mar­kets with or with­out Key­stone XL — in all like­li­hood, via a com­bi­na­tion of rail and oth­er pipelines like Enbridge's Alber­ta Clip­per, which stretch­es from south­east­ern Alber­ta to Supe­ri­or, Wis­con­sin. (The Oba­ma admin­is­tra­tion qui­et­ly issued a per­mit for that project in August 2009.)
Eight fed­er­al agen­cies have just under 90 days to com­ment on whether or not con­struc­tion is in the ​"nation­al inter­est" before Sec­re­tary of State John Ker­ry announces the administration's final judgment.
As Wash­ing­ton delib­er­ates, green groups are send­ing a mes­sage from the streets. Hun­dreds of peo­ple gath­ered in New York's Union Square yes­ter­day for a ral­ly where 350​.org co-founder Bill McK­ibben and Clay­ton Thomas-Muller of Idle No More, an indige­nous-led envi­ron­men­tal jus­tice move­ment in Cana­da, called on Pres­i­dent Oba­ma to reject the pipeline. Crowds held sim­i­lar protest vig­ils in Chica­go, Los Ange­les, Lin­coln, Nebras­ka — locat­ed only about fifty miles away from the pro­posed pipeline route — and oth­er cities. Mean­while, in Pres­i­dent Obama's back­yard, more than two hun­dred pro­test­ers braved the frigid weath­er to ral­ly in front of a bright­ly lit White House and a mas­sive inflat­able KXL repli­ca read­ing, ​"Pipeline Pres­i­dent or Cli­mate Champion?"
​"Our gen­er­a­tion must fight for our plan­et," Rev. Lennox Year­wood, pres­i­dent of the Hip Hop Cau­cus, told the bois­ter­ous crowd. ​"This is our lunch-counter moment."
Like many oth­ers in atten­dance, Susan Still­man, 60, came out to the White House because she wor­ries that KXL will spur more devel­op­ment of the oil-rich tar sands in Alber­ta.
​"I real­ly don't want to see the infra­struc­ture built out to move this real­ly nasty, car­bon-inten­sive prod­uct from Cana­da," Still­man says. ​"Once you build the infra­struc­ture, the com­pul­sion is to use it."
The broad coali­tion that helped orga­nize Monday's protests in 48 states — the Rain­for­est Action Net­work, the Sier­ra Club, Cre­do Action, 350​.org and the Nat­ur­al Resources Defense Coun­cil, among many oth­ers — is fur­ther proof of how strong­ly the Key­stone XL bat­tle has served to uni­fy what's often been a frag­ment­ed envi­ron­men­tal movement.
​"Some­times move­ments oper­ate in silos," Rev­erend Year­wood of the Hip Hop Cau­cus tells In These Times. ​"You have frack­ing here, you have moun­tain­top removal over here, envi­ron­men­tal jus­tice here, the Lako­ta [oppos­ing the pipeline] in Pine Ridge [South Dako­ta] over here. This is an issue where we have come togeth­er and it has broke down some of those silos, even with­in in our own movement."
​"Clear­ly, it's not just about this one pipeline," Year­wood con­tin­ues. ​"It real­ly is about: Are we going to be mov­ing for clean­er ener­gy, or do we con­tin­ue to extract fos­sil fuels, which we know cre­ates glob­al warm­ing and cli­mate change?"
Monday's crowds were also a pre­view of the greater num­bers that have pledged to turn out if Sec­re­tary Ker­ry con­cludes that the pipeline would, in fact, con­tribute to the ​"nation­al inter­est." More than 77,000 peo­ple have com­mit­ted to take part in non-vio­lent civ­il dis­obe­di­ence if the KXL is approved. The green groups have already select­ed sev­er­al protest sites across the nation: State Depart­ment and Envi­ron­men­tal Pro­tec­tion Agency offices in Wash­ing­ton, the Tran­sCana­da head­quar­ters in Hous­ton, and var­i­ous branch­es of TDBank, one of the Cana­di­an ener­gy firm's largest shareholders.
​"We think over the next 90 days, that [77,000] num­ber is going to increase quite a bit," says Eli­jah Zarlin, CREDO's Senior Cam­paign Man­ag­er. ​"The mes­sage will be that it's the last minute for Pres­i­dent Oba­ma to make good on his promise to fight cli­mate change and make good on the test he set for Key­stone XL."
When it comes to the KXL, Oba­ma has gen­er­al­ly held his cards very close. In a speech last June at George­town Uni­ver­si­ty, he offered a now-famous cri­te­ri­on for approval: Does the pipeline ​"sig­nif­i­cant­ly exac­er­bate" green­house gas emis­sions? The State Depart­ment report offers an ambigu­ous answer to that ques­tion, shed­ding lit­tle light on the president's like­ly deci­sion. But in a Fox News inter­view that aired Mon­day night, the Pres­i­dent offered a harsh rebuke of at least a por­tion of the envi­ron­men­tal state­ment that may hint at where he's leaning.
​"It's not 42,000," Oba­ma told Bill O'Reilly, when the host cit­ed State Depart­ment pro­jec­tions about how many jobs Key­stone would cre­ate. ​"That's not cor­rect. It's a cou­ple thou­sand to build the pipeline."
In a mid-term-elec­tion year, the pres­i­dent may choose to base at least part of his deci­sion on pub­lic opin­ion. That pro­vides even more impe­tus for activists to keep the pres­sure up, as polls strong­ly sug­gest the protest move­ment has helped shift pub­lic opin­ion against the pipeline. About 56 per­cent of Amer­i­cans say they sup­port Key­stone XL, with 41 per­cent opposed, accord­ing to new poll con­duct­ed in a Novem­ber-Decem­ber 2013 for USA Today. That may not be the num­bers the move­ment is aim­ing for, but it marks grow­ing oppo­si­tion since March 2013, when a Pew study found a 66 – 23 split.
Zarlin of CRE­DO Action acknowl­edges that ​"there's been a lot of dis­ap­point­ment" when it comes to Obama's ener­gy and envi­ron­men­tal poli­cies. But he's hold­ing out hope that the president's well-doc­u­ment­ed desire to craft a lega­cy on cli­mate issues —along with the State Department's focus on ​"nation­al inter­est" — will even­tu­al­ly trump the administration's rev­er­ence for Big Oil.
​"When you're talk­ing about pro­tect­ing the cit­i­zens of this coun­try from cli­mate change," Zarlin says, ​"it's quite a defeatist mind­set to say, ​'Well, the stuff's just going to get out of the ground any­way,' and not say, ​'We're going to do every­thing we can to not let our coun­try be used by a for­eign oil com­pa­ny to export oil to for­eign markets.' "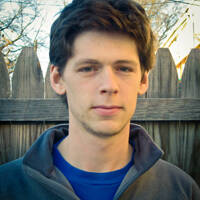 Cole Stan­gler
writes about labor and the envi­ron­ment. His report­ing has also appeared in The Nation, VICE, The New Repub­lic and Inter­na­tion­al Busi­ness Times. He lives in Paris, France. He can be reached at cole[at]inthesetimes.com. Fol­low him
@colestangler
.