Indivisible's Angel Padilla: Time Is Running Out To Stop the GOP's Healthcare Bill
The policy director at Indivisible talks tactics for the coming weeks.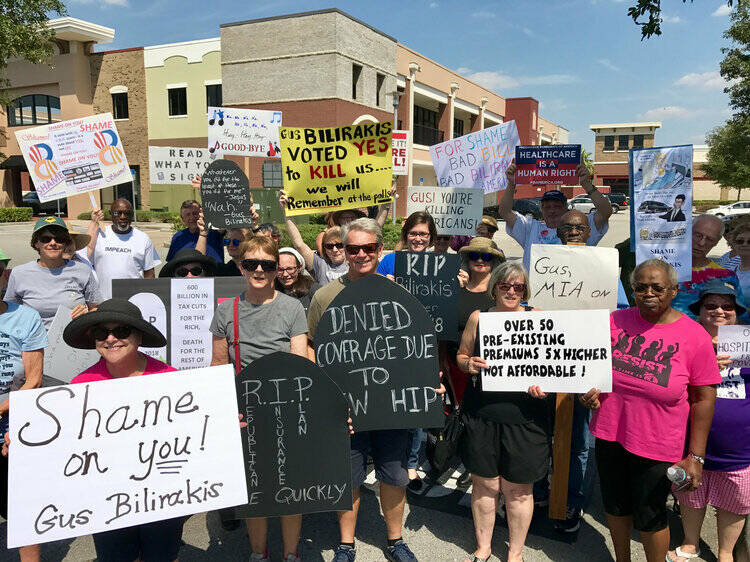 Wel­come to Inter­views for Resis­tance. Since elec­tion night 2016, the streets of the Unit­ed States have rung with resis­tance. Peo­ple all over the coun­try have wok­en up with the con­vic­tion that they must do some­thing to fight inequal­i­ty in all its forms. But many are won­der­ing what it is they can do. In this series, we'll be talk­ing with expe­ri­enced orga­niz­ers, trou­ble­mak­ers and thinkers who have been doing the hard work of fight­ing for a long time. They'll be shar­ing their insights on what works, what does­n't, what's has changed and what is still the same.
"We feel that this is one of those moments when we really have to do everything we can."
Angel Padil­la: I am Angel Padil­la, pol­i­cy direc­tor at Indi­vis­i­ble.
Sarah Jaffe: This week the Repub­li­cans are going to try to ruin all of our lives. You have a guide out on action for this week. Can you tell us a lit­tle bit about it?
Angel: Actu­al­ly I think it is more than just this week. It is the next three weeks, is what we are hear­ing, that are the key weeks here for stop­ping this ter­ri­ble health­care bill from get­ting through the Sen­ate. We put out a guide for our groups that is instruct­ing them and sug­gest­ing tac­tics that they can use to stop this bill from get­ting through the Sen­ate. We real­ly do think that the Sen­ate is the last line of defense here and if it gets through the Sen­ate then there is lit­tle hope of stop­ping this bill. This is why stop­ping it in the Sen­ate is super important.
Sarah: We will obvi­ous­ly link to your guide itself, but what are some of the tac­tics you are recommending?
Angel: We are at a point now where we real­ly just can't hold back. In this guide, we have sug­ges­tions like let­ters to the edi­tor and non-stop calls. We need to be call­ing every day to make sure that Sen­ate offices are hear­ing about this bill and about how peo­ple don't want it. We are also for the first time, in one of our more recent toolk­its, ask­ing that peo­ple con­sid­er doing sit-ins. In our orig­i­nal guide we have instruc­tions for how to hold a sit-in and we feel that this is one of those moments when we real­ly have to do every­thing we can. Sit-ins is one of those things that con­stituents, that groups, can do to make it clear to sen­a­tors that we are not okay with them try­ing to take away people's healthcare.
Sarah: Reports today came out that they are not even going to release any­thing right now, which obvi­ous­ly seems like a delib­er­ate strat­e­gy to keep peo­ple from get­ting fired up about it. Do you think that is work­ing? Is that, in itself — a refusal to release it — get­ting peo­ple more angry?
Angel: There are plen­ty of rea­sons to be angry about this bill. If they release it, then we all see exact­ly how bad it is. We will see that mil­lions of peo­ple are going to lose their health cov­er­age, but it is also very telling that they don't want to release it. It is because they know that it is real­ly bad and they are hop­ing to tamp down some of the oppo­si­tion. Hon­est­ly, when we are talk­ing about a sixth of the U.S. econ­o­my, when we are talk­ing about mil­lions of peo­ple who might lose their cov­er­age, the fact that they don't want to release it is a ter­ri­ble thing, which is why we are ask­ing that there real­ly shouldn't be any kind of Sen­ate activ­i­ty. Democ­rats have tools avail­able to them that they are not using and until we get pub­lic hear­ings, we don't think any­thing should be hap­pen­ing in the Sen­ate. Democ­rats should slow this down as much as they can. Again, the Amer­i­can pub­lic deserves a trans­par­ent process. They deserve to hear and to know how this bill will affect them.
Sarah: To be clear, you are rec­om­mend­ing that peo­ple call Demo­c­ra­t­ic sen­a­tors as well as Repub­li­can sen­a­tors and insist they do some­thing about this?
Angel: Yes. As we have all seen, when con­stituents go down to town halls and they get in front of their mem­ber and they tell them about how pas­sion­ate­ly they don't want to see this bill become law, that is the same kind of pas­sion that we also want from Democ­rats. It is not enough to say that you will vote against the Trump­care bill. It is not enough to say that you oppose it. You need to do more and they do have cer­tain tools avail­able to them that they are not using. We don't think that is accept­able, not when people's lives are on the line.
Sarah: Dur­ing the last Sen­ate recess, there were, I believe, no town halls held by senators?
Angel: Yes. Repub­li­can sen­a­tors are hid­ing from their con­stituen­cy. They are afraid of fac­ing them because they know they are push­ing this bad bill that is going to harm them. It is a bill that is lit­er­al­ly going to harm thou­sands and thou­sands of their own con­stituents and they are doing it sim­ply because they want to give Don­ald Trump a win. That is why they are hid­ing. That is why we have to bring the fight to them.
They are hid­ing, but con­stituents can go down to region­al offices and they can make their voic­es heard. They can have sit-ins. They can keep call­ing. Even if they are not will­ing to meet with their con­stituents, they are pay­ing atten­tion. They know that peo­ple don't want it. The only way we are going to stop this bill is if they real­ly get the sense of how wide­ly opposed this bill is. That is the truth.
Sarah: The news cycle in the past few weeks has been packed with sto­ries com­ing out of this admin­is­tra­tion — even though they have not been able to suc­ceed in pass­ing much or doing much. Has it been hard, with the [James] Comey mania and now with the [Jeff] Ses­sions tes­ti­mo­ny to get peo­ple to focus back on this?
Angel: Yes. It was a prob­lem for us, too. We changed our posi­tion now. We had been call­ing for an inde­pen­dent com­mis­sion to go along with the inde­pen­dent coun­sel. Now we are push­ing for impeach­ment hear­ings because we think that Don­ald Trump has done enough, has com­mit­ted enough of a vio­la­tion that it war­rants impeach­ment hear­ings. We are there. I think a lot of our groups were already there weeks ago.
But now, now that is a process that will play out over the course of months and maybe even longer than a year. For now, the thing that is most impor­tant is defend­ing the ACA and even though Ses­sions is tes­ti­fy­ing, the only thing peo­ple should be talk­ing about right now is ACA. That is the thing that matters.
Sarah: Cer­tain­ly, [Vice Pres­i­dent] Mike Pence would hap­pi­ly sign ACA repeal.
Angel: Yes, definitely.
Sarah: And cer­tain­ly, Paul Ryan would, if we get that far down the chain.
Angel: This is the moment. This is a do-or-die moment. That is what it says in our toolk­it because this is real­ly it. In Jan­u­ary when Trump took office, a lot of groups thought that the House was going to eas­i­ly pass the bill and the fight was real­ly going to be in the Sen­ate. Luck­i­ly because of all the con­stituents that came out, we slowed it down in the House and we almost won. We almost killed it four times in the House. It had to get pulled or delayed a num­ber of times. But now, we are where we thought we would be which is in the Sen­ate. This is where we need to stop it and if we can't stop it here in the Sen­ate then it is going to be real­ly hard to stop it at all.
Sarah: We were talk­ing about the need to call every­body, but are there par­tic­u­lar tar­gets or par­tic­u­lar Repub­li­can votes that you think you can flip on this?
Angel: Yes. We actu­al­ly just cre­at­ed a new web­site. It is called Trump​careTen​.org, where we have the 10 states that mat­ter the most. To be clear, I think the most impor­tant mes­sage that Repub­li­cans need to see and hear is that there is wide­spread nation­al oppo­si­tion to this bill. Again, there is. No one wants this bill. It doesn't mat­ter if you are in Cal­i­for­nia or if you are in Alaba­ma. You should be out there telling your sen­a­tors that you do not want this bill.
But, we do have the 10 states where we real­ly do think that we can apply a lit­tle bit more pres­sure. I think the biggest ones are Alas­ka, West Vir­ginia and Maine. We also have Neva­da, Ari­zona, Col­orado, Ohio and Penn­syl­va­nia. All of these places are impor­tant in this fight and they are going to make the difference.
Sarah: Indi­vis­i­ble has been around now for a while. Tell us how it is going. Are peo­ple still form­ing new groups? Where are things?
Angel: We do have new groups. Every day we have anoth­er few groups that join. We are over 6,000 and actu­al­ly, some of these — we were at 7,000 but the num­ber went down a lit­tle bit because some of these groups end­ed up con­sol­i­dat­ing, join­ing forces local­ly. It is actu­al­ly our six-month anniver­sary this Wednes­day. Groups are still mobi­lized. Peo­ple are still acti­vat­ed. Now we have a few more staff peo­ple that we can use to pro­vide more resources to the group. The excite­ment is still there. I think with all of these groups, the main thing on their mind is still ACA. That is what gets them out to town halls and that is what they are focused on now.
Sarah: How do peo­ple keep up with you and find their local Indi­vis­i­ble group?
Angel: If they go to Indi​vis​bleGuide​.com we have a direc­to­ry where peo­ple can type in the zip code and find their local group. We know that there is a local group near them because there is at least two in every con­gres­sion­al dis­trict and an aver­age of 13 in every con­gres­sion­al district.
Sarah: Wow.
Angel: Yes, we are every­where. If for any rea­son there isn't a group near­by, if there is some issue, you can always start your own.
Inter­views for Resis­tance is a project of Sarah Jaffe, with assis­tance from Lau­ra Feuille­bois and sup­port from the Nation Insti­tute. It is also avail­able as a pod­cast on iTunes. Not to be reprint­ed with­out permission.
Sarah Jaffe
is a for­mer staff writer at
In These Times
and author of
Nec­es­sary Trou­ble: Amer­i­cans in Revolt
, which Robin D.G. Kel­ley called ​
"
The most com­pelling social and polit­i­cal por­trait of our age." You can fol­low her on Twit­ter
@sarahljaffe
.