Unions Are at Their Lowest Levels in Decades—To Gain Power We Must Stop Following the Rules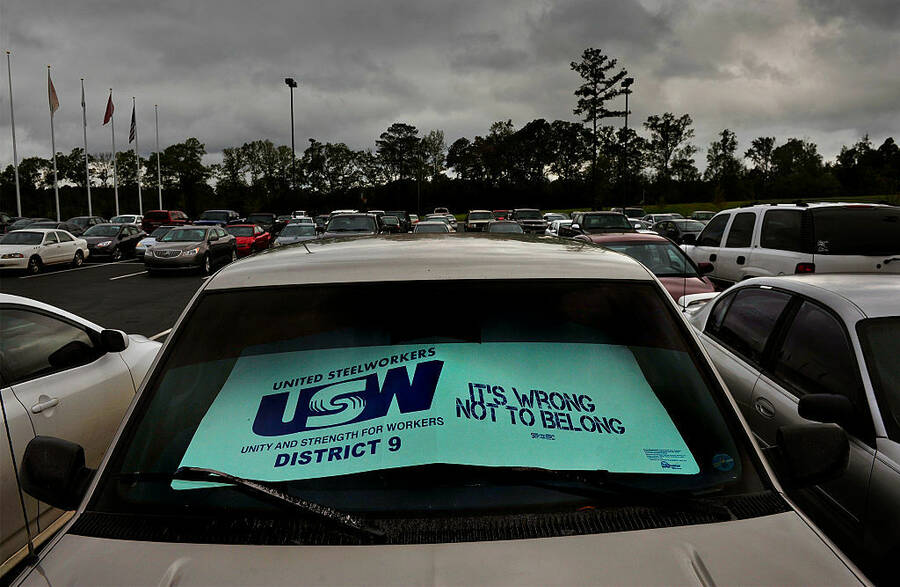 If Don­ald Trump's first week as pres­i­dent wasn't depress­ing enough, Thurs­day brought a report that showed union mem­ber­ship fell in 2016. Union mem­bers are now just 10.7% of the over­all work­force and only 6.7% of the pri­vate sec­tor. Those are the low­est lev­els since the Bureau of Labor Sta­tis­tics (BLS) began track­ing them in the ear­ly 1980s — and pos­si­bly the low­est since the 1920s.
Boss­es and union haters will crow that unions are dying insti­tu­tions and even our friends may write eulo­gies. But this funer­al is for the wrong corpse.
What may be dying is the sys­tem of col­lec­tive bar­gain­ing that devel­oped in the years after World War II. That sys­tem is one where unions exclu­sive­ly bar­gain on behalf of work­ers on a com­pa­ny-by-com­pa­ny basis, not just for wages but also for an ever-expand­ing port­fo­lio of employ­er-paid ben­e­fits. These col­lec­tive bar­gain­ing agree­ments empha­size peace­ful res­o­lu­tion of dis­agree­ments through griev­ance pro­ce­dures, medi­a­tion and arbi­tra­tion and can cov­er many years at a time with guar­an­tees of no strikes and lockouts.
When it worked, it real­ly worked. The post­war peri­od is marked by an his­toric rise in com­pen­sa­tion and liv­ing stan­dards for Amer­i­can work­ers and a sus­tained reduc­tion in inequal­i­ty. Unit­ed Auto Work­ers (UAW) nego­ti­a­tions used to receive the same breath­less news cov­er­age that the stock mar­ket receives today. Wage increas­es won by the union affect­ed the wages of even non-union work­ers in total­ly unre­lat­ed industries.
But there were prob­lems with the sys­tem that made its down­fall inevitable. The empha­sis on employ­er-spon­sored ben­e­fits meant that new com­pa­nies could waltz in and instant­ly be com­pet­i­tive by offer­ing their employ­ees a stingi­er ben­e­fits pack­age (and by fierce­ly resist­ing union orga­niz­ing). This, in turn, drove union­ized com­pa­nies to out­source and sub­con­tract jobs, or ship them over­seas, to replace humans with robots and to over­work their exist­ing employ­ees to avoid hir­ing more work­ers. Arguably, such ​"labor-sav­ing" mea­sures account for much of the decline in union den­si­ty in the last 30 years.
This col­lec­tive bar­gain­ing frame­work also sys­tem­at­i­cal­ly sapped unions of their mil­i­tan­cy. Con­gress made sol­i­dar­i­ty strikes and sym­pa­thy boy­cotts ille­gal. The courts stripped strik­ing work­ers of legal pro­tec­tions. And, as labor schol­ar and activist Stan­ley Aronowitz con­vinc­ing­ly argues in his book, The Death and Life of Amer­i­can Labor, the ​"no-strike" and ​"man­age­ment rights" claus­es of most col­lec­tive bar­gain­ing agree­ments box unions into a posi­tion where they are restrict­ed in what they can fight for and when. Most have a legal oblig­a­tion to tamp down spon­ta­neous work­er protest while con­tracts are in effect.
We saw a dispir­it­ing exam­ple of this when the union that rep­re­sents the Rock­ettes rushed to issue a state­ment to empha­size the dancers' con­trac­tu­al oblig­a­tion to not refuse to work at Trump's inau­gu­ra­tion. Iron­i­cal­ly, if the work­ers weren't cov­ered by a col­lec­tive bar­gain­ing agree­ment, they would have had a far stronger legal right to refuse to dance.
Con­trast that with the inspir­ing exam­ple of the New York Taxi Work­ers Alliance (NYT­WA), which quick­ly orga­nized a strike Sat­ur­day night at the John F. Kennedy Inter­na­tion­al Air­port to protest Trump's anti-Mus­lim ban. The taxi work­ers don't have col­lec­tive bar­gain­ing rights so they don't have a no-strike clause. (They also have few ben­e­fits or job pro­tec­tions and work long hours for very low pay; col­lec­tive bar­gain­ing does have its ben­e­fits.) But even though the NYT­WA is not legal­ly cer­ti­fied, it still man­aged to build an orga­ni­za­tion that is nim­ble enough to strike for bet­ter pay and for human rights.
Toward a more per­fect union
Because activists tend to con­flate our legal rights with our actu­al human rights, we dogged­ly pur­sue age-old strate­gies because ​"it is what it is." We must stop this, and pur­sue an inter­nal debate that is crys­tal clear about what we can't con­trol at the moment — Con­gress, cap­i­tal mobil­i­ty and our psy­chot­ic president's atten­tion span — and what we can — our strat­e­gy, struc­ture and demands.
Take for instance the fight for uni­ver­sal health­care. One of the flaws of Oba­macare was that it pre­served the employ­er-based health insur­ance sys­tem, which was devel­oped as an acci­dent of col­lec­tive bar­gain­ing. Dur­ing World War II, the gov­ern­ment froze wages to fight infla­tion, but did allow unions to nego­ti­ate for ​"fringe" ben­e­fits. Many work­ers emerged from the war with health insur­ance through their job, but union lead­ers at the time viewed this as a stop­gap until Social Secu­ri­ty could be expand­ed to pro­vide uni­ver­sal healthcare.
All these decades lat­er, unions can and should lead the fight for ​"Medicare for All." Get­ting health insur­ance pre­mi­ums off employ­ers' pay­rolls and replac­ing them with a pay­roll tax that all employ­ers pay equal­ly would take ben­e­fits out of com­pe­ti­tion (and get boss­es out of the busi­ness of deter­min­ing care and polic­ing their work­ers' vaginas).
I know a lot of lead­ers and activists who view the ben­e­fits nego­ti­at­ed into con­tracts as the ​"union advan­tage," which makes mem­ber­ship attrac­tive and is an essen­tial part of what unions do. But offer­ing a com­pelling vision of uni­ver­sal rights and lead­ing fights to win and pre­serve them could also be what unions do, and is what unions do in most oth­er indus­tri­al­ized nations in the West.
The ghost of labor peace
The threats that labor faces from a Repub­li­can gov­ern­ment can­not be down­played, and could tempt one into a depres­sive funk. A bill to make ​"right-to-work" laws the law of the land was intro­duced in Con­gress on Wednes­day. But if we lose that fight, there are some strate­gic choic­es that are still with­in our control.
The first is whether to aban­don exclu­sive rep­re­sen­ta­tion and kick out the scabs.
The com­bi­na­tion of exclu­sive rep­re­sen­ta­tion and agency fee is a unique­ly Amer­i­can frame­work, and it, too, arose out of World War II. That wage freeze described ear­li­er fol­lowed unions' no-strike pledge to aid wartime pro­duc­tion. Work­ers who were frus­trat­ed with the lack of rais­es and with union lead­er­ship oblig­ed with pre­vent­ing job actions stopped pay­ing dues in protest. The gov­ern­ment grant­ed those wartime con­tracts a ​"main­te­nance of mem­ber­ship" clause that pre­vent­ed work­ers from quit­ting the union that rep­re­sent­ed them, which evolved into today's ​"agency fee."
It is that com­bi­na­tion — of exclu­sive rep­re­sen­ta­tion, agency fee and no-strike and man­age­ment rights claus­es — that make it pos­si­ble (and arguably nec­es­sary) for unions to agree to ​"shared sac­ri­fice" when nec­es­sary (and some­times lop­sided sac­ri­fice when unnecessary).
This is a cru­cial point: Manda­to­ry union fees are not the com­pen­sa­tion that unions get for the costs they bear for bar­gain­ing and rep­re­sent­ing all the work­ers in the unit (although, those costs are sig­nif­i­cant). They are the com­pen­sa­tion for the polit­i­cal costs of rep­re­sent­ing all the work­ers in a shop and main­tain­ing labor peace.
If unions refused to be exclu­sive rep­re­sen­ta­tives, it would open the door to mul­ti­ple com­pet­ing unions at each work­place. It would make no-strike claus­es impos­si­ble to enforce. It would mean that in every major issue that gets set­tled with the boss, there could be a stub­born group of work­ers who go its own way to keep up the fight or raise larg­er demands. It would also mean a pletho­ra of less con­fronta­tion­al, employ­er-friend­ly asso­ci­a­tions could com­pete with unions on their own turf.
In essence, it would mean the end of labor peace. Since cor­po­ra­tions long ago decid­ed they weren't inter­est­ed in labor peace, while we main­tained the illu­sion that we could con­vince them to give it a try, it might be time to give up the ghost.
A union of leaders?
Anoth­er key deci­sion that would be entire­ly with­in unions' pow­er should mem­ber­ship become vol­un­tary is which work­ers to tar­get for recruit­ment. Cur­rent­ly, most open shop unions try to sign up all the work­ers they rep­re­sent. Often, they fall far short of that goal.
When a work­place has few mem­bers, it makes the first union mem­bers de fac­to rep­re­sen­ta­tives, if not the actu­al shop stew­ards. But what if that ear­ly join­er is not respect­ed by his cowork­ers? What if he's a sex­ist? What if he's bad at his job and his cowork­ers fre­quent­ly have to pick up the slack? In its rush to pick up dues-pay­ing mem­bers, a union could alien­ate 10 times as many poten­tial people.
This is not how we struc­ture new union orga­niz­ing cam­paigns. In those, we tar­get nat­ur­al lead­ers. We look for work­ers who are brave, who ask smart ques­tions, who are good at their jobs and respect­ed by their cowork­ers. Often, the first work­er to inquire about orga­niz­ing a union, and from whom we learn as much as we can about the work­place and its lead­ers, is kept off the orga­niz­ing com­mit­tee because he doesn't fit the bill.
This is a rad­i­cal­ly dif­fer­ent way of view­ing a union­ized work­place for most Amer­i­cans. It is essen­tial­ly the way that French unions orga­nize. Union den­si­ty in France is even small­er than in the Unit­ed States, yet unions there are capa­ble of orga­niz­ing mas­sive gen­er­al strikes. There are many rea­sons for that, includ­ing the legal frame­work for bar­gain­ing, but the fact that French unions are ​"lead­er­full" orga­ni­za­tions is also a factor.
We don't con­trol the legal frame­work for col­lec­tive bar­gain­ing, but we can con­trol who we count as mem­bers. And that kind of dis­tinc­tion between what we can't change and what we can must be ana­lyzed and sharpened.
Col­lec­tive bar­gain­ing, with exclu­sive union rep­re­sen­ta­tion and agency fee, but lim­it­ed to with­in the four walls of a spe­cif­ic employ­er, is ​"what a union is" to most peo­ple. But it is not how unions look and func­tion in oth­er places, nor, indeed, in our own history.
Unions have been around since the ear­li­est days of our repub­lic, and the con­cept of work­ers band­ing togeth­er will out­live all gov­ern­ments. We get to decide what that looks like.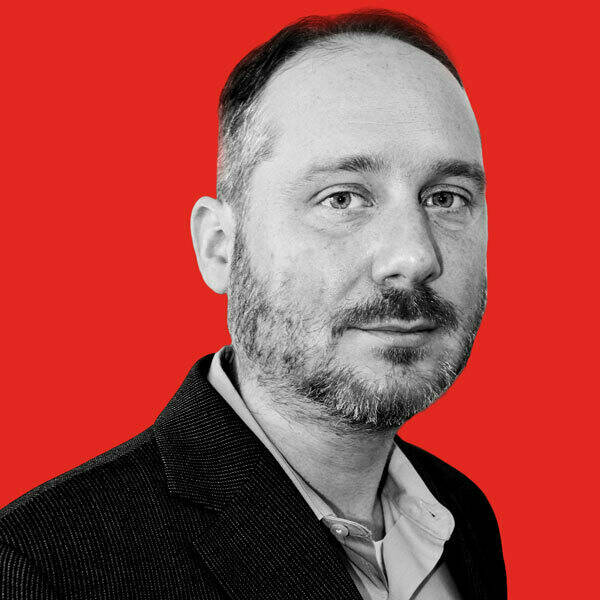 Shaun Rich­man
is an In These Times con­tribut­ing writer and the Pro­gram Direc­tor of the Har­ry Van Ars­dale Jr. School of Labor Stud­ies at SUNY Empire State Col­lege. His Twit­ter han­dle is @Ess_Dog.